UPDATED: 4/24/16  Every once in awhile, there's a recipe that just goes slightly viral and then, there's the recipe that is by far the most popular recipe on a blog.  For The Veg Life!, this Vegan Coleslaw is THAT recipe.  
I never would have imagined that my little obsession with this simple coleslaw recipe would resonate so strongly with my vegan readers.  And I must confess, I literally just mindlessly ate the entire thing like popcorn while editing this post! Perhaps it's safe to say my "little" obsession may be an even bigger one 😉  
The recipe hasn't changed, but I have updated the photo.  I do hope you'll try this one and feel free to make it your own. Enjoy! ~Aimee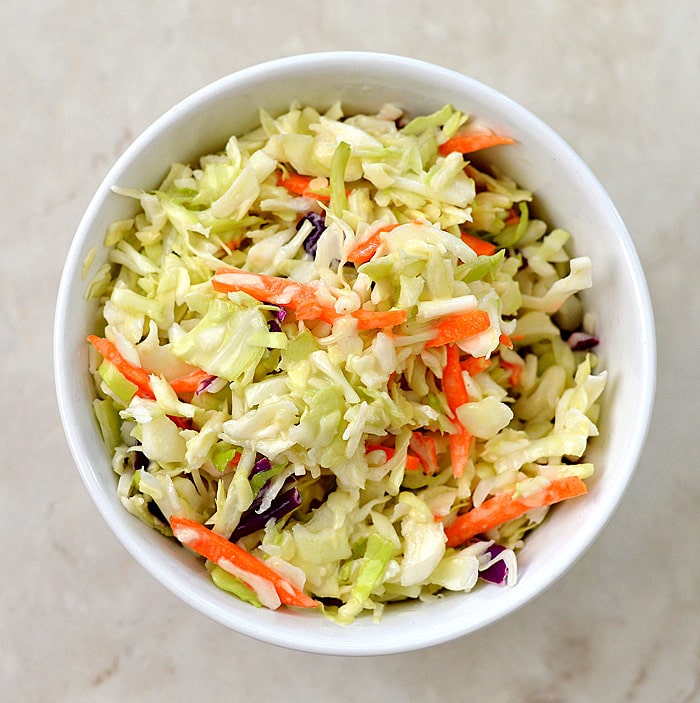 Little known fact about me…I love coleslaw!  I really do.  I'm not sure why, but it's in my top 5 favorite foods I think. And now I have a delicious vegan version to enjoy.
There is a certain seafood restaurant chain with a red lobster (hint hint) in it's logo whose coleslaw happened to be my all-time favorite before I chose to do the vegetarian/vegan thing.  I really wanted to see if I could somehow come close to that recipe using all vegan ingredients. We're lucky that both vegan mayonnaise and sour cream are now more readily available to us.  My local grocery store carries both!  From there, it's all about the seasoning.
Now, at that famous above mentioned restaurant, they add celery seed.  While I'm not necessarily opposed, I'm not necessarily a fan either.  I prefer lots of freshly ground black pepper.  Please feel free to season according to your own personal taste.
Make a big batch of this Vegan Coleslaw.  It doesn't get watery or runny like some do.  Hate that.  It stores well in the refrigerator for several days.  For some reason, mine never seems to make it that long 😉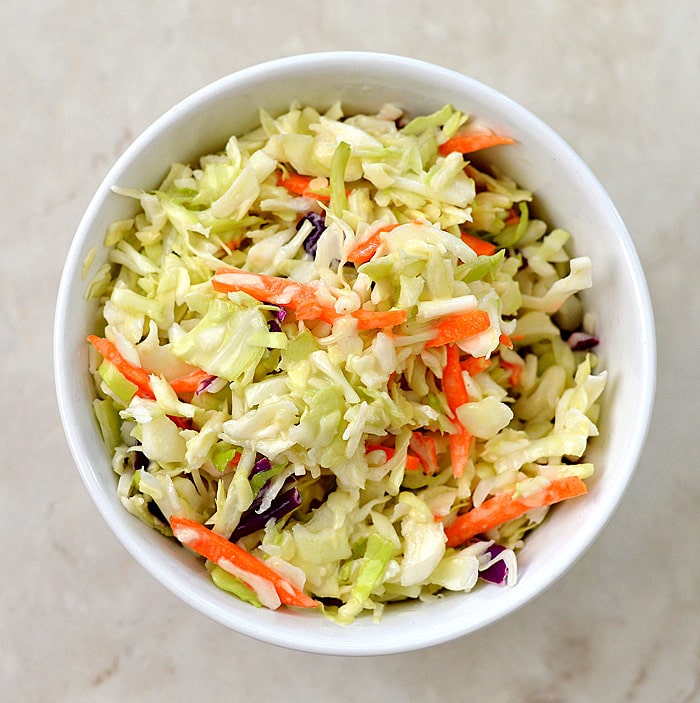 Did you make this recipe for Vegan Coleslaw? Leave me a comment below and let me know what you thought!
And if you enjoyed this recipe, PIN it for later!

Vegan Coleslaw
Ingredients
FOR THE SLAW MIX:
1

Small Green Cabbage

finely shredded

1/2

Small Red Cabbage

finely shredded

2

large Carrots

finely shredded
FOR THE DRESSING:
2

Tbl VEGAN Sour Cream

2/3

C

VEGAN Mayonnaise

1-2

Tbl White Vinegar

to taste

1

Tbl Grated Onion

squeeze the liquid out

2

Tbl Sugar

1-2

tsp

Dry Mustard

1/2

tsp

Celery Seed

OPTIONAL

Salt & Pepper

to taste
Instructions
Combine the shredded cabbages and carrots together (or you can just buy pre-bagged coleslaw mix).

In a separate bowl, whisk together the dressing ingredients. Add to the cabbage mixture.

Taste for seasoning, adding more salt if necessary.

Allow to sit for at least 30 minutes prior to serving.
If you liked this recipe, you might also enjoy:
Perhaps you are like me and have Barbecuing on the brain.  Here are a few others:
Brown Sugar Barbecue Baked Beans
And finally…how about a little lemonade to go with all that?
Sweet Pink Watermelon Lemonade