I have been wanting to create this recipe for Vegan Scalloped Potatoes and "Ham" for some time, but I could never quite figure out what to use for the meat-substitute.  Then, the other night…it just hit me.  I purchased veggie dogs, diced them up and they were PERFECT! I wondered what took me so long to realize this would work, but at least I finally did 🙂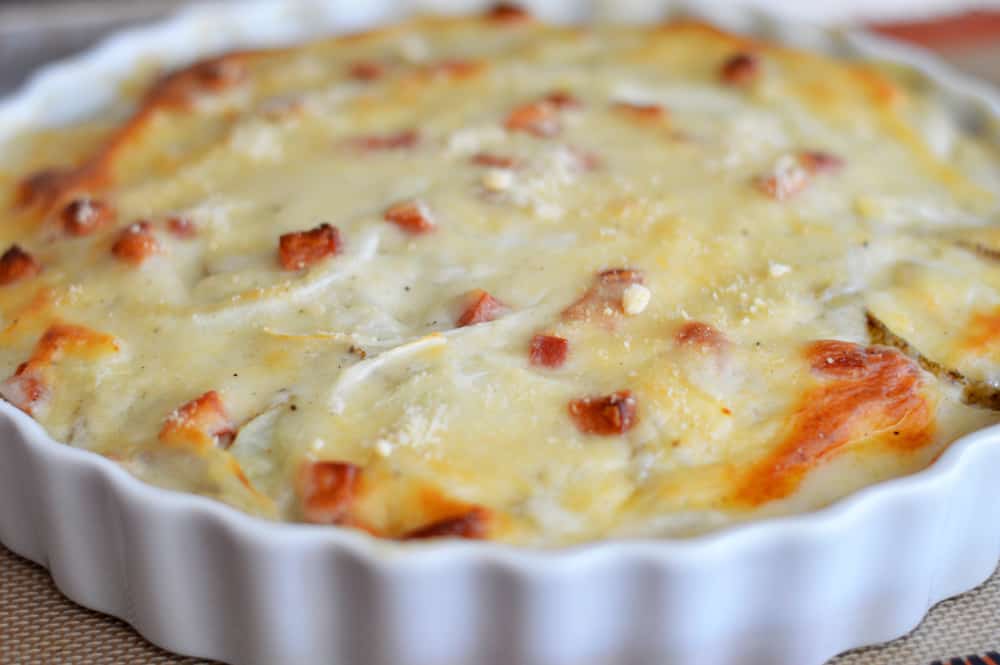 It all begins with thinly sliced russet potatoes. Try to choose some that aren't overly large or your slices will overtake your baking dish.  You don't have to arrange them, but I like the presentation.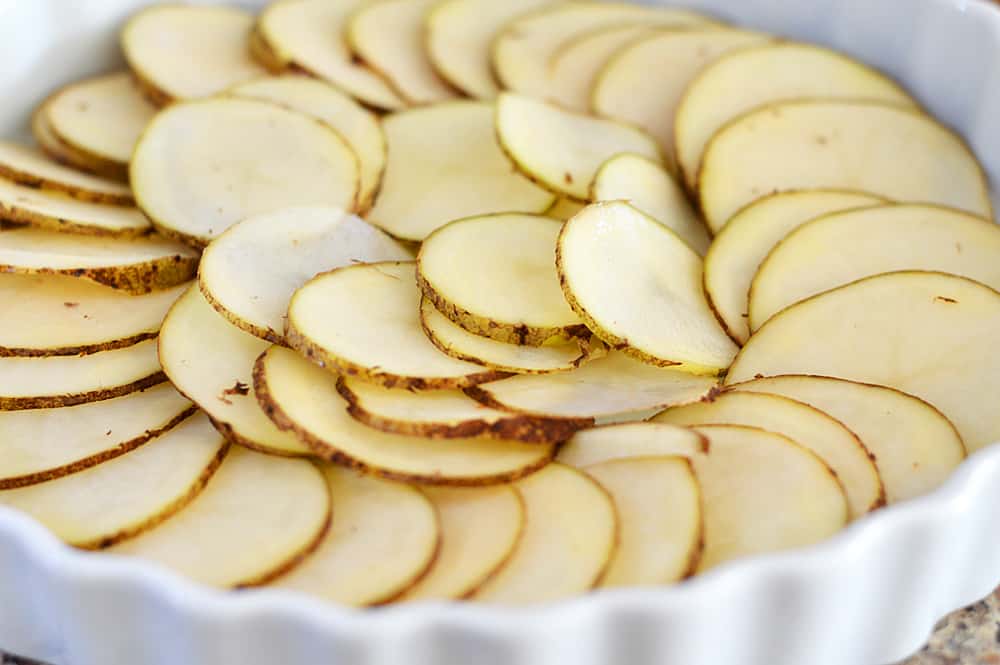 I created a basic white sauce made from vegan margarine, flour, salt, pepper, almond milk and vegan parmesan.
Then, I added the diced veggie hotdog.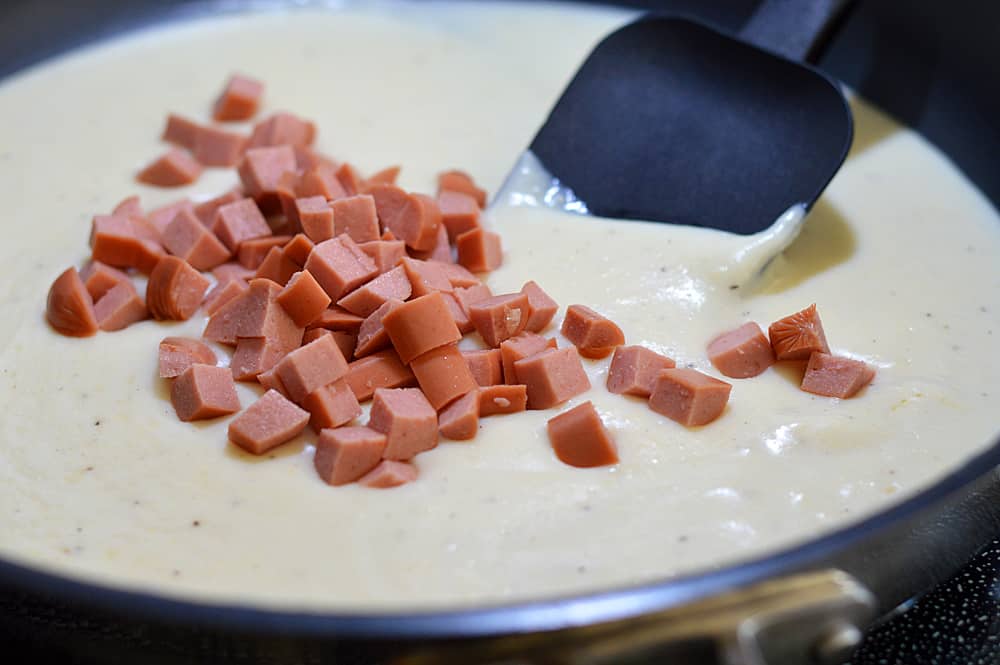 I topped a layer of potatoes with half of the sliced onions, half of the sauce and a sprinkling of the parmesan.  Then repeat with another layer.

Bake until bubbly and golden.  This can take upwards of 50 minutes or more.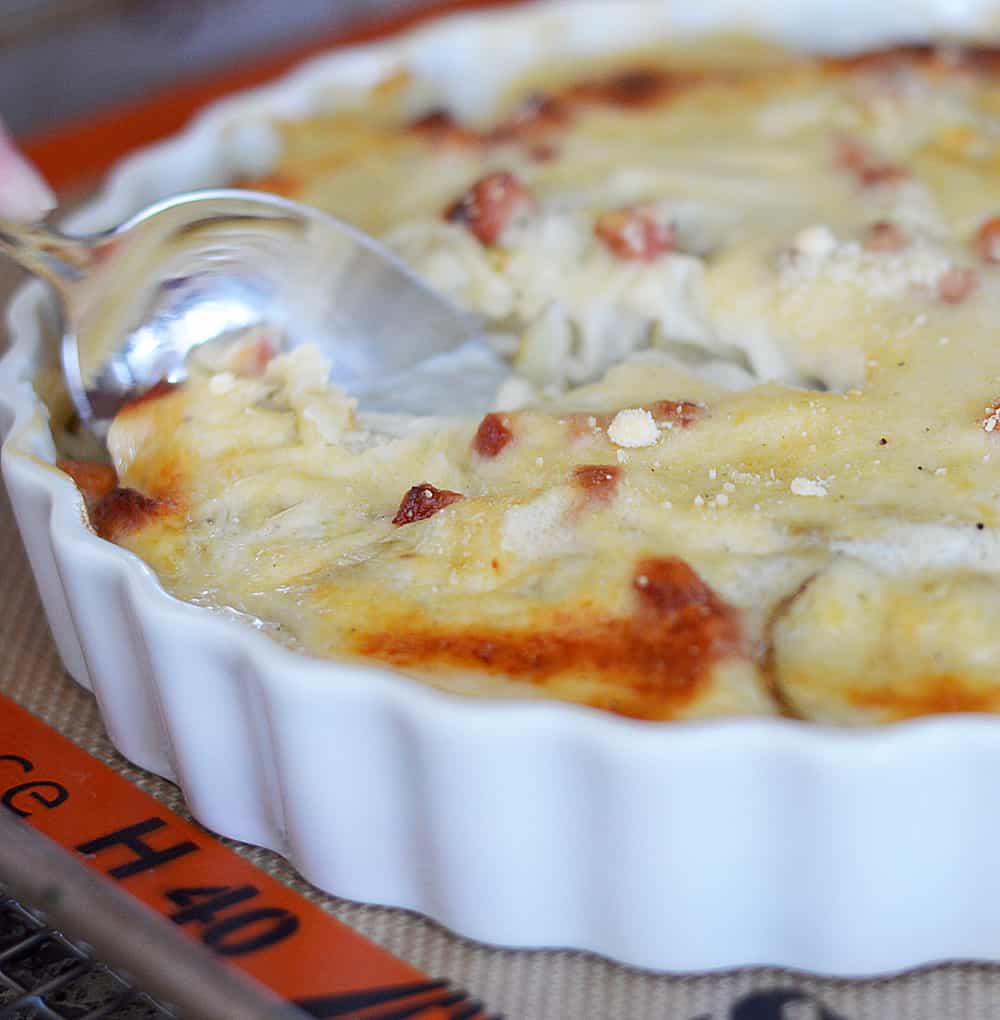 Did you make this recipe for VEGAN Scalloped Potatoes and "Ham"? Leave me a comment below and let me know what you thought!
And if you enjoyed this recipe, why not PIN IT FOR LATER! 🙂

VEGAN Scalloped Potatoes and "Ham"
VEGAN Scalloped Potatoes and "Ham"
Ingredients
2

tbsp

Vegan Margarine

3

tbsp

Flour

1/2

tsp

Salt

1/4

tsp

Pepper

1-3/4

c

Almond Milk

plus more to thin if necessary

1/2

c

Vegan Parmesan Cheese Substitute

2

lbs

Russet Potatoes

thinly sliced (about 5 medium potatoes)

1

medium

Onion

thinly sliced

1

Veggie Hot Dog

diced
Instructions
In a saucepan, melt vegan margarine and stir in flour, salt and pepper until smooth.


Gradually whisk in almond milk. Bring to a boil, stirring constantly; cook and stir until thickened, about 2 minutes. Remove from heat; stir in vegan parmesan and diced vegan hot dogs.

Place half of the potatoes in a baking dish coated with cooking spray; layer with 1/2 of the onion and half of the vegan cheese sauce. Repeat layers. Top with additional vegan parmesan, if desired.


Bake, covered, 50 minutes until bubbly and potatoes are fork-tender.