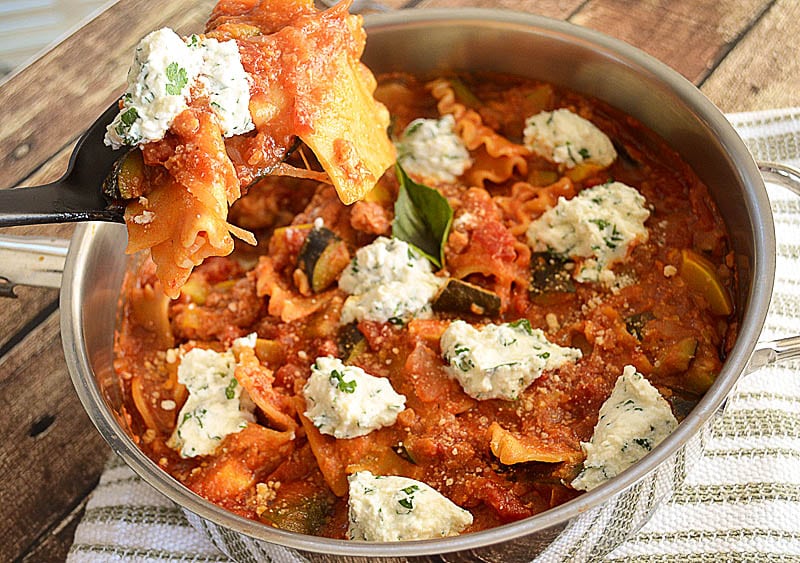 Vegetable Skillet Lasagna
I love this recipe. In fact, the idea came to me because I use the vegetable/tomato mixture (prior to adding the noodles) over rice as a meal. It transitioned perfectly into this skillet lasagna. The vegetables give it body. We added veggie crumbles, but it would still be great without. The choice is yours!
Ingredients
1 28

oz.

can of Diced Tomatos

½

C

Water

2

Tbl Sugar

1

Tbl Vegetable Oil

1

medium Onion

chopped

1

Yellow Squash

chopped

1

Zucchini

chopped

Salt and Pepper

to taste

1

tsp

Garlic

minced

1/8

tsp

Red Pepper Flakes

1

C

Boca Crumbles

6

egg-free Lasagna Noodles

broken into 2" pieces

1 8

oz.

can Tomato Sauce

½

C

+ 2 Tbl vegan Parmesan

1

C

vegan Ricotta

2

Tbl Parsley

or Oregano

1

Tbl fresh Basil

chopped
Instructions
In a 12" (oven-proof) skillet on medium high heat, add the vegetable oil, onions, yellow squash and zucchini until they soften and onions begin to brown, about 5-7 minutes.

Stir in garlic and pepper flakes. Cook for another 30 seconds.

Combine the tomatos, tomato sauce, water, sugar and salt. Set aside. Also, measure out your frozen ground crumbles to start to thaw before cooking. They don't need to fully defrost, just give them a head start.

Add in the ground crumbles to the vegetable mixture. Cook just until defrosted and softened. Do not overcook.

This is the point where I love to just spoon the mixture over rice. For that recipe, I generally add another 8 oz. of tomato sauce. Kind of a two-for-one recipe 🙂

Still on medium high heat, add the broken lasagna noodles, resist the urge to stir.

Pour the tomato mixture over the noodles.

Cover skillet and bring to a simmer, stirring occasionally until pasta is tender, about 20 minutes.

Remove from heat and stir in ½ C of parmesan. Season with salt and pepper.

Set oven to broil.

Meanwhie, in a small bowl, combine ricotta and parsley. Drop tablespoons of the mixture over the lasagna in the skillet.

Sprinkle with parmesan and basil. Place skillet until the broiler and heat for a few minutes to melt the cheeses.

Top with fresh basil, if desired.

NOTE: If you do not have an ovenproof skillet, cover the skillet and allow the residual heat to melt the cheeses.
[bha size='234×60′ variation='05' align='aligncenter']