This recipe for Veggie Nuggets with Vegan Honey Mustard Dipping Sauce has been on my mind literally for YEARS. After a few kitchen failures, I finally got the mixture just right. I know this because my mom (who is my official taste-tester, but not vegan) declared, "mmm….these are so good. I'm going to finish every single one of them!" To me, that indicates success.  Side note: she is also my very unwilling hand model in these shots. Thanks mom 🙂
I first created the base of this glorious veggie concoction for a chickpea cutlet that you will see on my soon-to-be-launched vegan site, Living Vegan.  It turned out so well, I decided to further develop that base into these little nuggets that both kids and adults will love.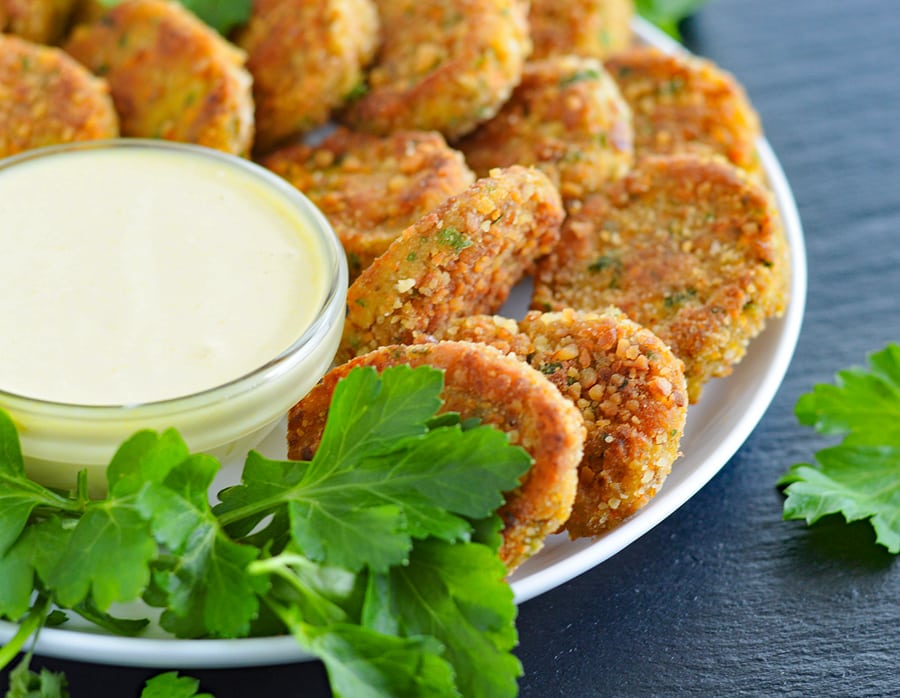 I learned a lot from those kitchen failures, so I guess they weren't really "failures" … more like lessons.  The first one was that moisture is the enemy.  The carrots, mushrooms and even the chickpeas MUST have any excess moisture removed with paper toweling.  This is not optional.
I start with chickpeas, salt, pepper, parsley and garlic in the bowl of a food processor.  Pulse until coarsely chopped. Place this mixture into a large bowl.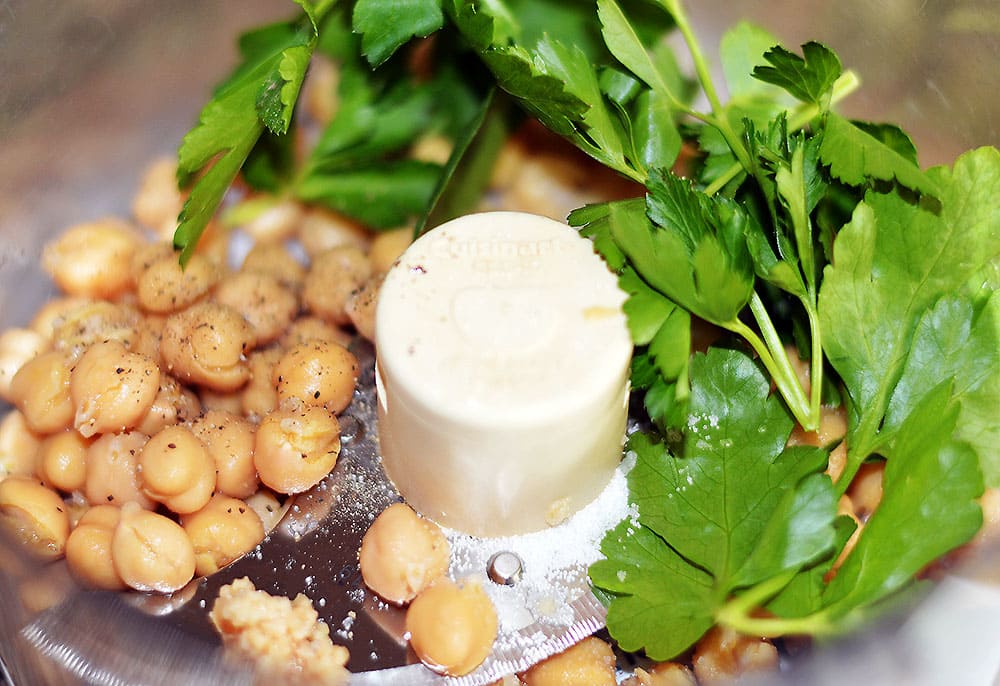 No need to clean the processor for the carrots and mushrooms.  If using canned mushrooms, squeeze them dry and puree to a fine mince.  Add to the bowl with the chickpea mixture.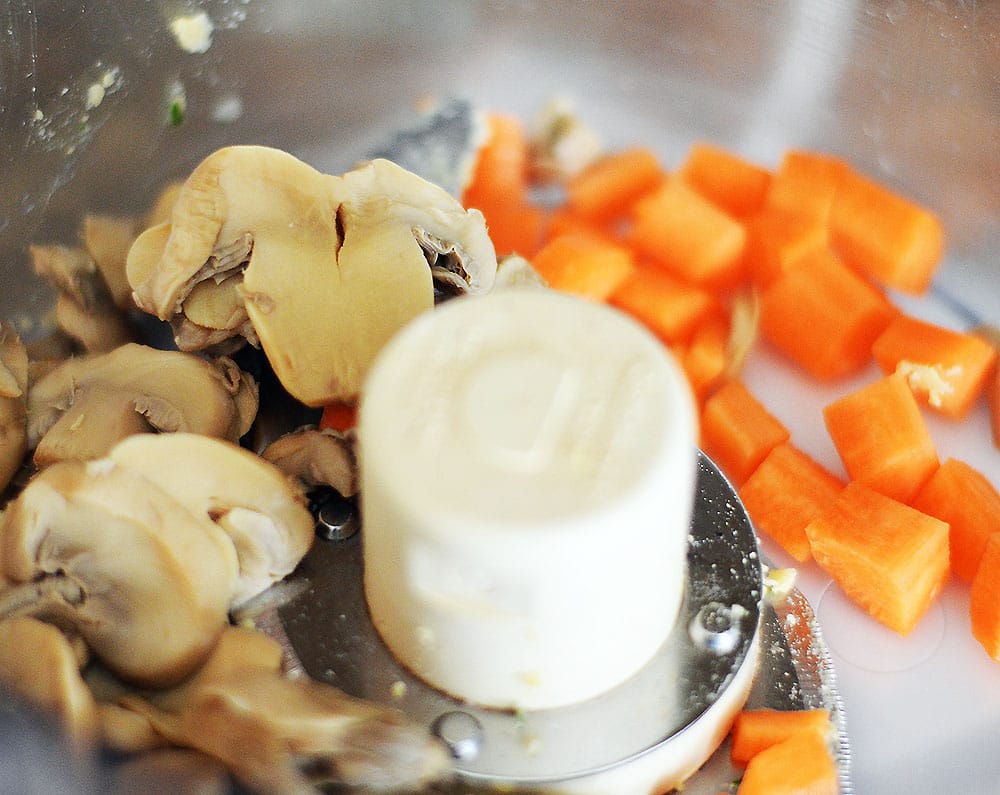 So you should have two mixtures that look something like this.  Fold together with the flax "egg", flour and panko breadcrumbs.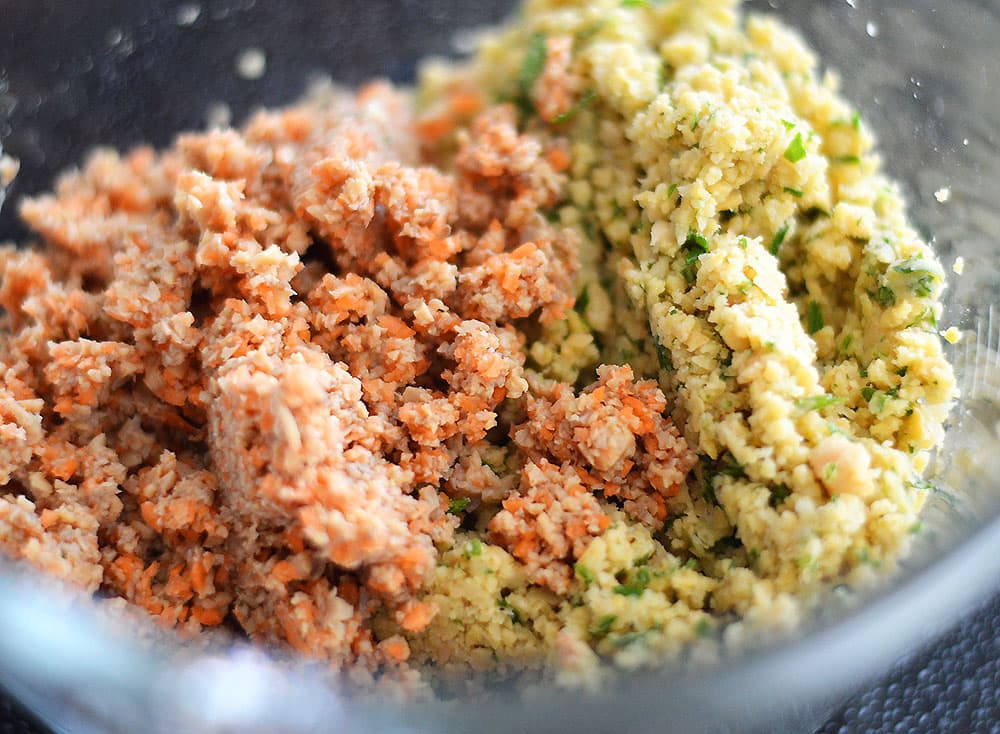 Ok, so here's what we've got.  If it seems too moist, add just a bit more of either flour or breadcrumbs.  It will still be sticky, but should be workable.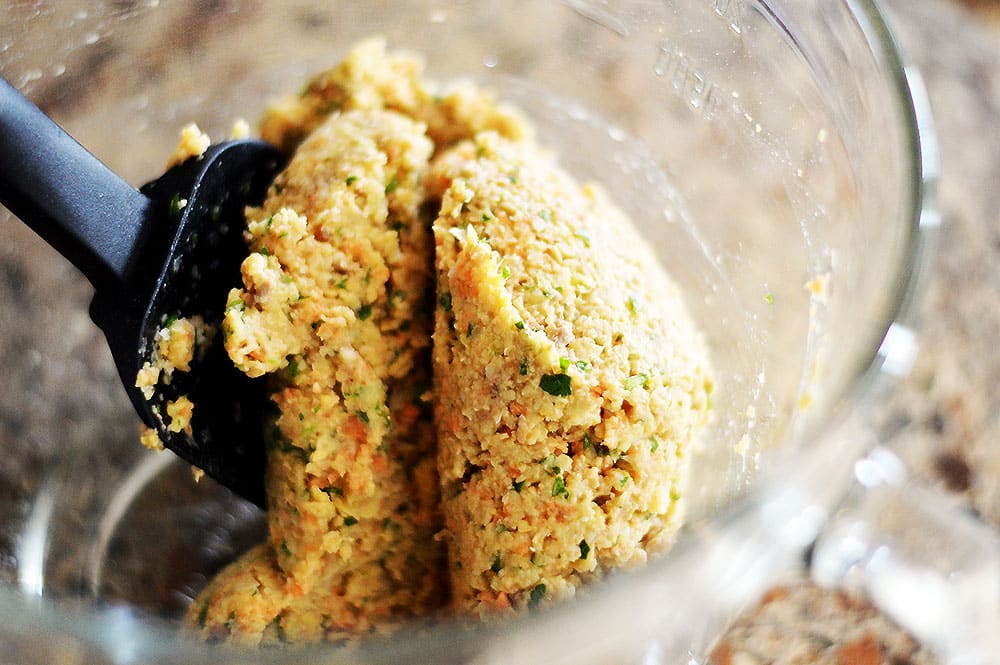 For this next step, I wanted uniform nuggets so I used an oval cookie cutter.  I found that it worked best if I pressed the mixture into the cutter directly on the crumbs.  By the way, these are salted pretzels that I ground into breadcrumbs.
Damp hands make this job easier and I made six at a time, then tossed in the crumbs.  It actually went pretty fast after I got the hang of it.  That being said, you could just use a cookie scoop to make even portions and form them with your hands.  I was going for the aesthetic.  Aren't they pretty! 😉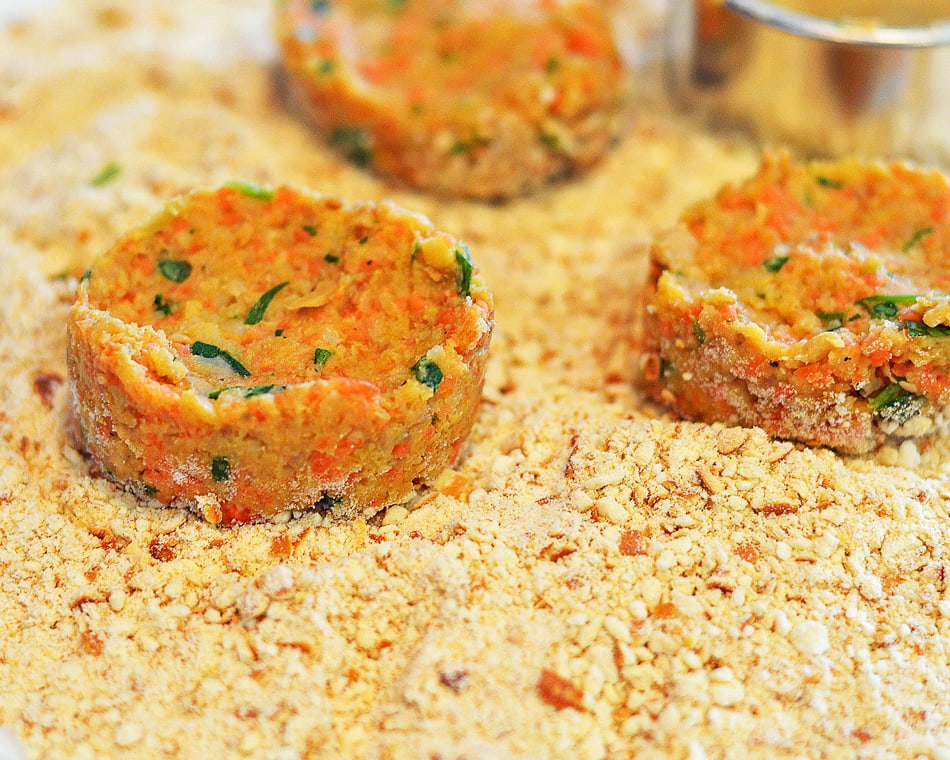 In a large non-stick skillet (<- this is the set I have & LOVE) over medium high heat, I add about 1 Tbl of oil at a time and this was for half of the mixture.  You can drain the excess on paper towels.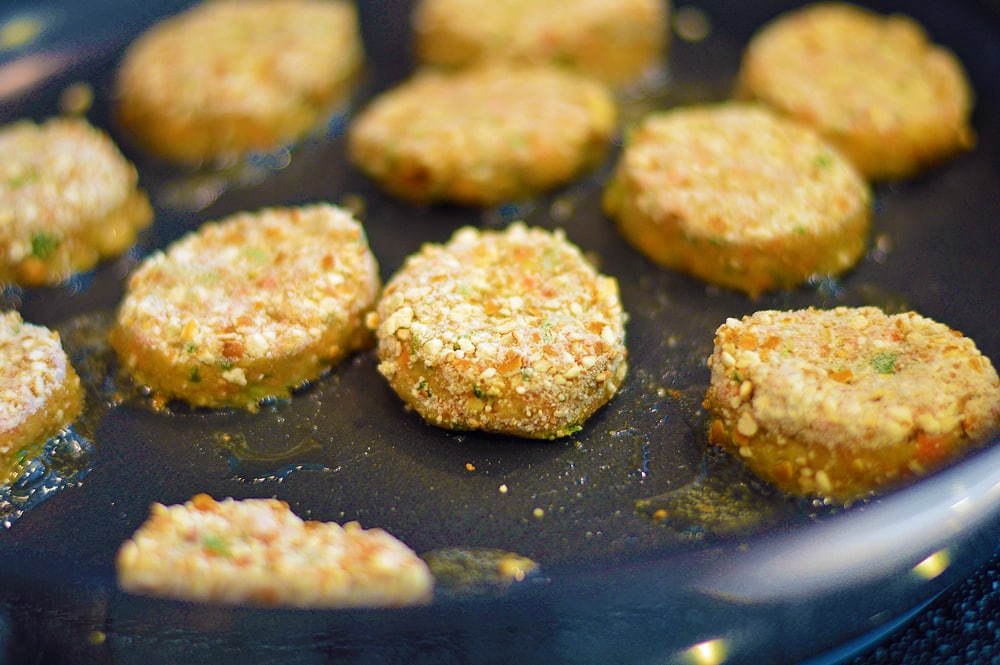 Looking good, right?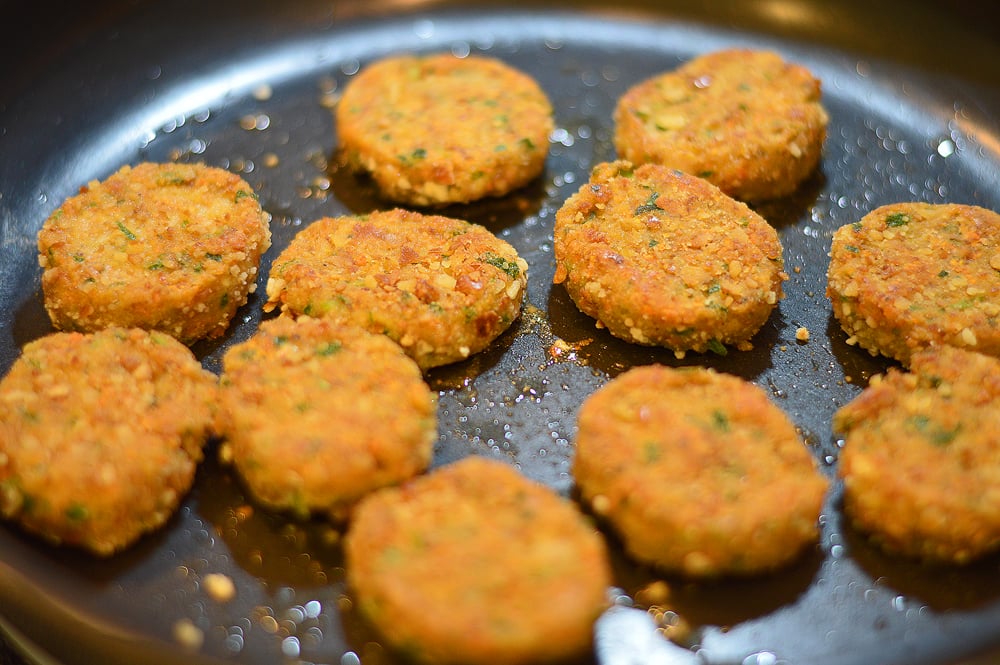 So here's an extreme close up and at this point, I am SO glad I chose pretzels. Those little pieces made them crispy and crunchy on the outside and they held together like a dream!
The interior is much like falafel and with the vegan version of "honey" mustard dipping sauce, we literally finished the entire batch!  One recipe made 22 nuggets.  My oval cutter took about 1 Tbl of the mixture.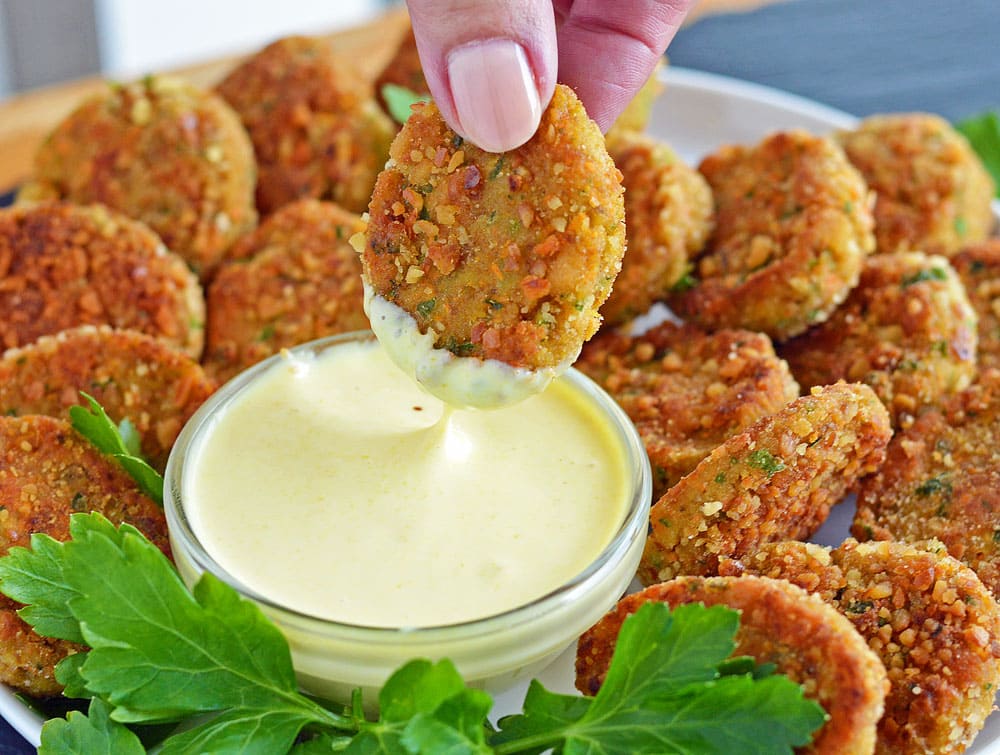 Did you make this recipe for Veggie Nuggets with Vegan Honey Mustard Dipping Sauce?  If so, leave me a comment below and let me know what you thought.
*Some of the links on this page are affiliate links.  Clicking on them does not affect your purchase price, it just means we get a very small percentage that assists in keeping The Veg Life! creating new recipes for you each week.
PIN IT FOR LATER!

Ingredients
FOR THE CHICKPEA MIXTURE:
1

can

Chickpeas (Garbanzo Beans)

rinsed, drained and patted dry with paper towels

1

Green Onion (Scallion)

rough chop

1

clove

Garlic

1/2

tsp

Salt

1/4

tsp

Pepper

1

c

fresh Italian Parsley
FOR THE CARROT MIXTURE:
1

large

Carrot

rough chop

1

7 oz. can

Sliced Mushrooms

drained and squeezed completely dry using paper towels
TO MAKE THE VEGGIE NUGGETS:
1

tbsp

Ground Flax mixed with 3 tbsp WATER

allow to sit for 10 minutes

1/4

c

All Purpose Flour

1/4

c

Panko Breadcrumbs

Salted Pretzels

processed into fine crumbs

Oil of your choosing

for frying
FOR THE VEGAN "HONEY" MUSTARD DIPPING SAUCE:
1

tbsp

Yellow Mustard

2

tbsp

Agave Syrup

1/2

c

White Vinegar

1/4

c

Vegan Mayonnaise

1/4

c

Vegan Sour Cream
Instructions
Combine 1 Tbl of ground flax with 3 Tbl of water. Allow to sit for at least 10 minutes to thicken.

In the bowl of a processor, crush the pretzels to a fine crumb. Place on a flat plate.

In the bowl of a food processor, add the chickpeas, green onion, parsley, salt, pepper and garlic. Pulse a few times until it's a coarse mixture. Remove to a large bowl.

No need to clean the processor, just add the carrots and mushrooms. It is imperative that the mushrooms (if using canned) are squeezed completely dry. Process until finely minced. Add to the chickpea mixture.

Add the flax mixture, flour and panko breadcrumbs. Stir to combine. If it seems to moist, add more flour or panko. It will still be sticky, but should be workable. Damp hands make forming the nuggets easier.

Using a cookie scoop, place 1 Tbl of the mixture directly into the breadcrumbs. You can form by hand OR use the oval cookie cutter as I did. Completely coat the formed nuggets in the pretzel crumbs. Complete all 22 nuggets before proceeding.

Heat a pan over medium high to high heat and add oil suitable for pan-frying. Add half of the nuggets to the pan at a time and fry until golden on one side. Flip and repeat. Remove to paper toweling to cool.

Combine all of the ingredients for the dipping sauce and serve.