I took a few liberties in creating this composed Asian Meatball Salad.  Let's call it Asian-inspired, shall we? 🙂  I am loving these arranged salads lately and this one couldn't be simpler!  The "meat"balls are actually made from mashed red kidney beans, a vegetarian corn muffin mix and your favorite Asian salsa* (drained of any juices).  That's it!  This take on my 3 Ingredient Red Bean Burgers was an experiment of sorts, but it absolutely works.
The sauce I created was a Hoisin-based combination, but you could use pretty much any complementary flavor combination of salsa and sauce you prefer.  For instance, a pineapple-based salsa with a sweet and sour sauce.  That sounds pretty amazing, right?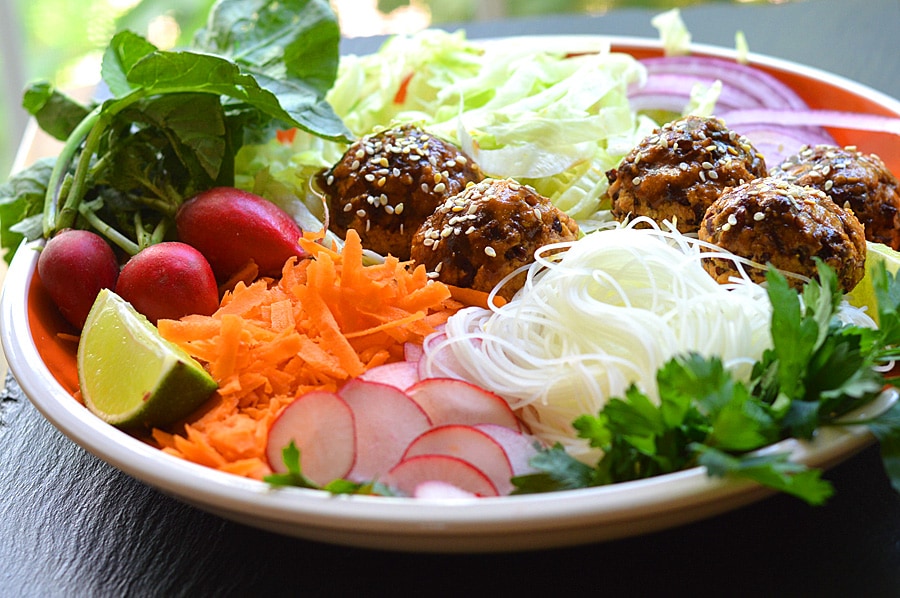 Mashed red kidney beans are combined with your choice of Asian salsa* (be sure to drain all juices) and vegetarian corn muffin mix.  I don't know why this works, it just does. Using a small cookie scoop and damp hands, form these little balls.  They bake at 350 degrees until golden on the bottom and firm to the touch.  I promise, you can't even taste the beans.  But what you can taste is a subtle corn and salsa flavors.  But the star of this show is the sauce.
The Hoisin sauce is comprised of rice vinegar, soy sauce, sesame oil, minced garlic, ground ginger and of course, Hoisin sauce.  If you are having trouble finding the vegetarian sauce, do a Google or Amazon search and you'll find it. Also, my grocery store readily carries the Jiffy brand vegetarian corn muffin mix, but you can also get that on Amazon.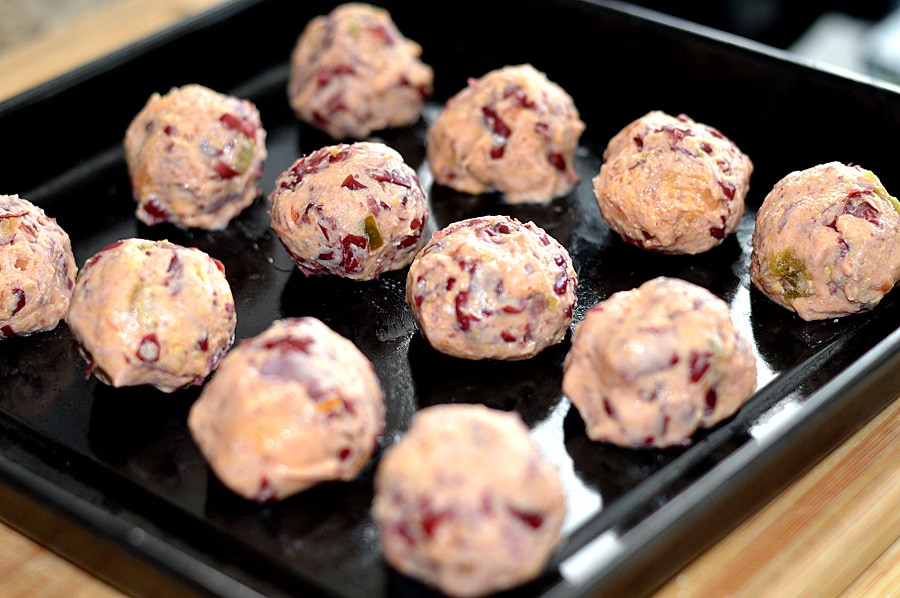 I chose to add green cabbage, red onion, rice noodles (I buy this brand in my local grocery store), carrots and radishes to my Asian Meatball Salad along with a few slices of lime.  The sauce will make enough for you to toss the balls in as well as to serve extra on the side for dressing.  Finally, garnish your plate with fresh parsley.
These "meat"balls turned out so well, I am already planning more flavor combinations for the future!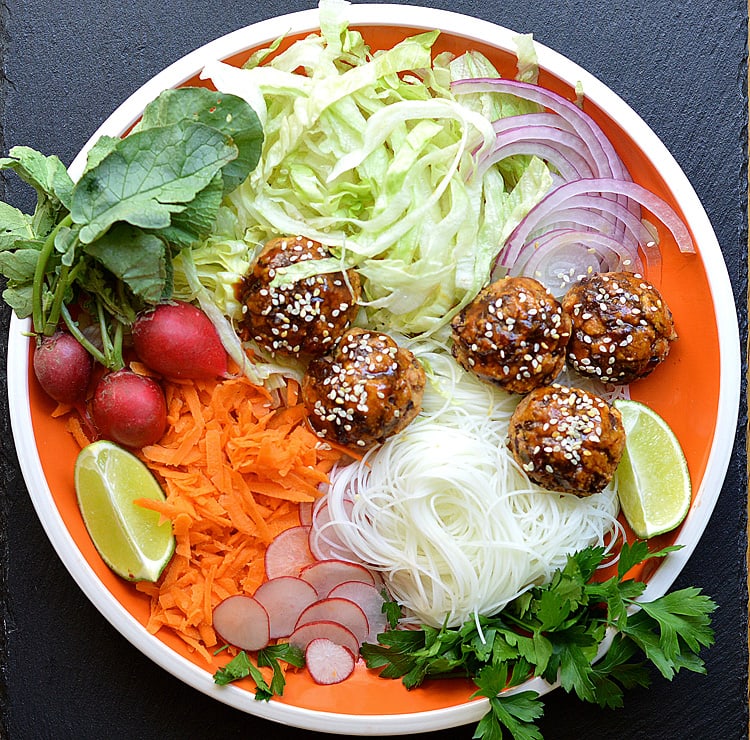 *UPDATE:  I have updated the recipe to include an Asian Salsa recipe per readers request 🙂
Asian Meatball Salad
Ingredients
FOR THE ASIAN SALSA:

1

C

Pineapple

chopped

1/2

C

Red Bell Pepper

chopped

1/2

C

Red Onion

chopped

2

Tbl Fresh Cilantro

use parsley if you don't like Cilantro, chopped

OPTIONAL: 1 small Jalapeño Chile

seeds removed, finely chopped

1/2

tsp

Salt

1

Tbl Freshly Squeezed Lime Juice

1

Tbl Rice Vinegar

*

FOR THE HOISIN SAUCE:

1/4

C

Vegetarian Hoisin Sauce

2

Tbl Rice Vinegar

1

Tbl Soy Sauce

1/2

tsp

Sesame Oil

1-2

Cloves

of Garlic

minced

1/2

tsp

of Ground Ginger

or 1/4 tsp freshly grated if you have it

*

FOR THE BALLS:

1/4

C

of Asian Salsa

prepared or homemade, drained of any liquid

1 15

oz

. Can of Red Kidney Beans

4

oz

. of a Vegetarian Corn Muffin Mix

see description for a link

*

FOR SERVING:

Rice Noodles

soaked in hot water for 10 minutes

Green Cabbage

Radishes

sliced thin

Lime Wedges

Grated Carrot

Parsley

for garnish
Instructions
In a small bowl, prepare the salsa and allow to sit.

In a small bowl, combine the ingredients for the sauce. Set aside.

Preheat the oven to 350 degrees.

Drain 1/4 C of Salsa. You can use either a prepared salsa or make your own. Either way, drain off any excess liquid. We will be using just the solids for this recipe.

In a large bowl, mash the beans then add the drained salsa and corn muffin mix.

The mixture should still be moist but easily form into balls which is made easier by using wet hands. I used a small cookie scoop to make them uniform before rolling.

Bake until the bottoms get golden and they are firm to the touch. You should be able to easily pick them up with them being too fragile at this point.

Coat the balls with the sauce and serve the extra on the side.

Soak the rice noodles in hot water for 10 minutes. Drain well.

To assemble the salad, thinly slice the cabbage, grate the carrots and thinly slice the radishes.

Garnish with lime wedges and fresh parsley.
Disclaimer: Please note that some of the links above are affiliate links.