If finally feels like fall here in Arizona.  Finally!  I absolutely LOVE coleslaw. This Vegan Coleslaw is my most popular recipe on The Veg Life!  I also did another version here using carrots and this one called Confetti Coleslaw.  But this Brussels Sprout Slaw seemed appropriate for the season at hand.  Plus, I adore Brussels Sprouts.  Today, I am actually serving it as a salad.  Yum!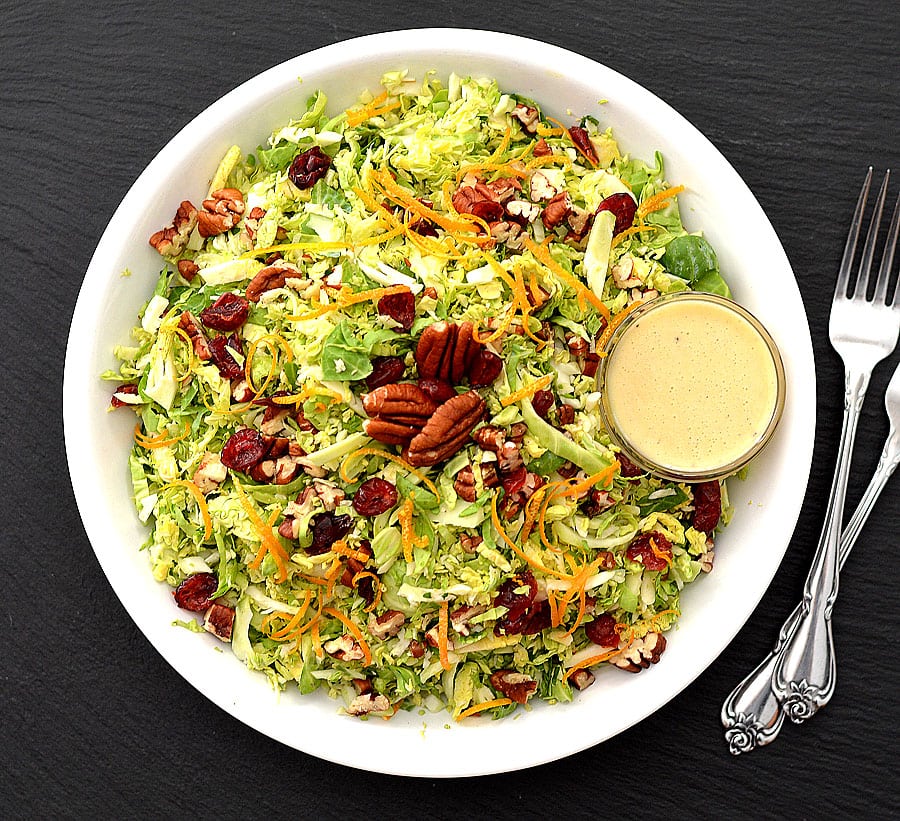 This recipe is quick and easy and the perfect side for your next dinner.  Shredded sprouts are tossed with a dressing made up of vegan mayonnaise, Dijon mustard, agave syrup, oil, champagne vinegar and orange zest.  The slaw is then topped with toasted pecans and dried cranberries.  Season with a sprinkling of salt and pepper and you are done!  Festive, right?
The best part about this slaw, is that you can make it a few hours in advance allowing you more time with your family.  And that's really what it's all about.  Quick, yet delicious meals that bring families together to gather around the table.   If you make this recipe for Brussels Sprout Salad, leave me a comment below and let me know what you think! 🙂
And before I go, let's get social!  Are you following The Veg Life! on Instagram yet?  This Instagram will feature all recipes from The Veg Life! AND [SPOILER ALERT] all posts from our upcoming sister site, Living Vegan!, a brand new food and lifestyle blog.  So much content, you won't want to miss a thing 🙂
[instagram-feed]
Brussels Sprout Slaw
Ingredients
1/4

C

Pecans

toasted

1-1/2

lbs

Brussels Sprouts, shredded

6

Tbl

VEGAN Mayonnaise

3

Tbl

Dijon

2

Tbl

Agave Syrup

6

Tbl

Vegetable Oil

1

tsp

Orange Zest

1/4

C

Champagne Vinegar

2

Tbl

Orange Juice

Salt

to taste

Pepper

to taste

1/4

C

Dried Cranberries
Instructions
In a large fry pan over medium heat, toast the pecans just until golden. Cool and chop.

Using a box grater or a food processor with the shredding attachment, shred the Brussels Sprouts. Coarsely chop and remaining pieces with a knife.

In a small bowl, combine the vegan mayonnaise, dijon, agave syrup, oil, zest and whisk to combine. Whisk in the vinegar and orange juice until smooth.

Toss in the Brussels Sprouts and season with salt and pepper.

Transfer to your serving bowl and scatter the pecans and cranberries over the top.