Not every recipe I come up with turns out the way I want it to the first time.  These One Hour Soft Dinner Rolls with Sea Salt get the honor of being one of those multiple tested recipes.  However, the end result were the softest, fluffiest, pillow-like rolls that come out perfectly every single time. Now officially my "go to" dinner rolls because they were just THAT GOOD!  I contemplated and opted to go for buttered tops (vegan, of course) with sea salt, and it was a good choice.  You could brush again with the vegan margarine just before serving if you'd like for a glossy finish, but I prefer to spread the margarine on those hot rolls as I eat them.  So. Much. Yum! 🙂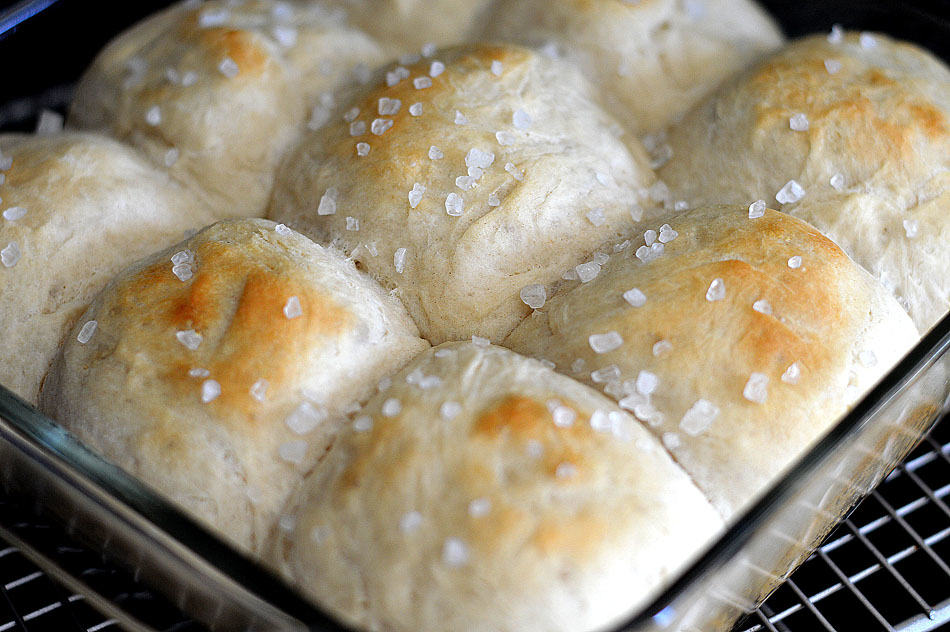 The first step is to create the dough.  Sounds intimidating, but it's really not.  I did everything in the bowl of an electric mixer fitted with the paddle attachment.  I dissolve the sugar and yeast in warm water for about 5 minutes or until it becomes a bit foamy.
The softened vegan margarine, flour and salt are added in just until it comes together.  If it's too sticky, add just enough extra flour until it pulls away from the side.  On a very lightly floured surface, knead the dough until smooth.  About 3 minutes.  Place it in to a bowl, cover and place in a warm (not hot) area of your kitchen to rise for about 20 minutes.
After 15 minutes, lightly punch down the dough and divide into 9 even pieces and roll them into smooth balls.  Arrange into a pan prepared with a small amount cooking spray.  Leave room between them for rising while the oven is preheating.  About 15 minutes or until doubled. Brush with vegan margarine and sprinkle with sea salt.  Bake for 12-15 minutes or until just golden.  Do not over bake.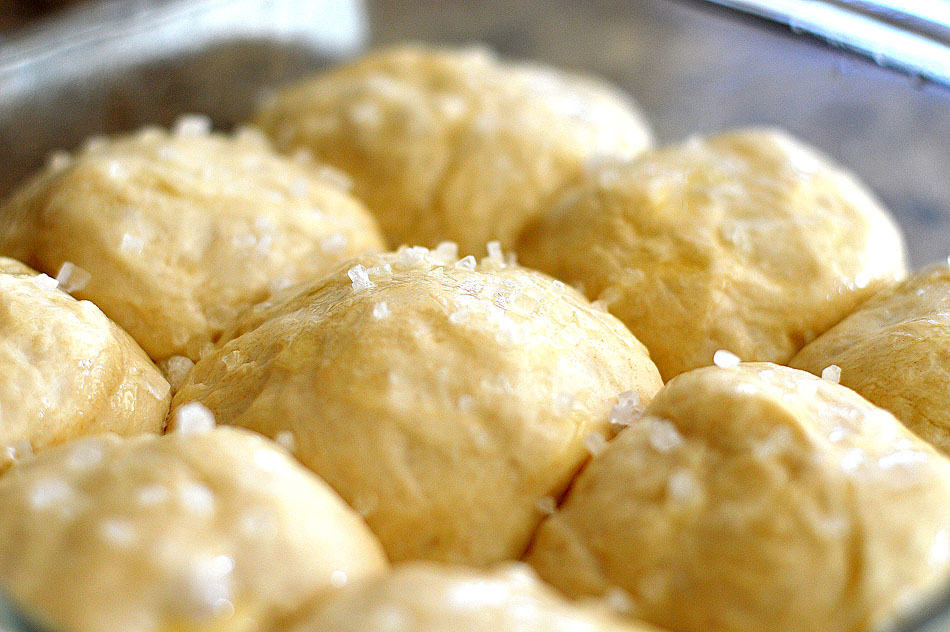 I had to tear one open for you.  Rolls like these generally take a lot of time, but these are tender and soft and delicious.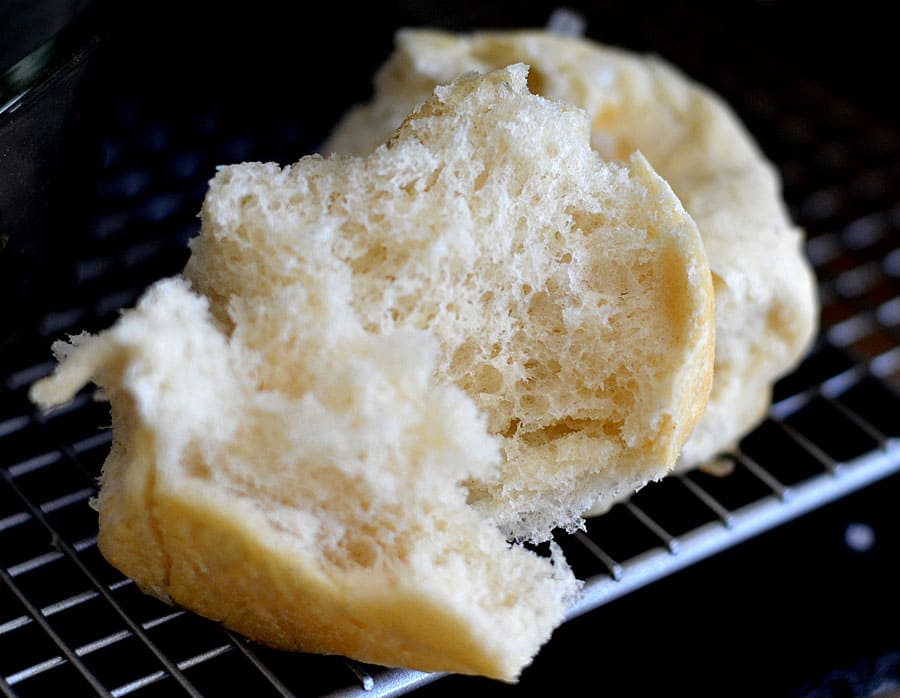 The exterior is a bit firmer and the interior is just Heavenly soft and pillow-y.  Perfect every time and ready in under an hour.  If you don't have coarse sea salt, you can use table salt but don't skip it.  It really brings these rolls to life!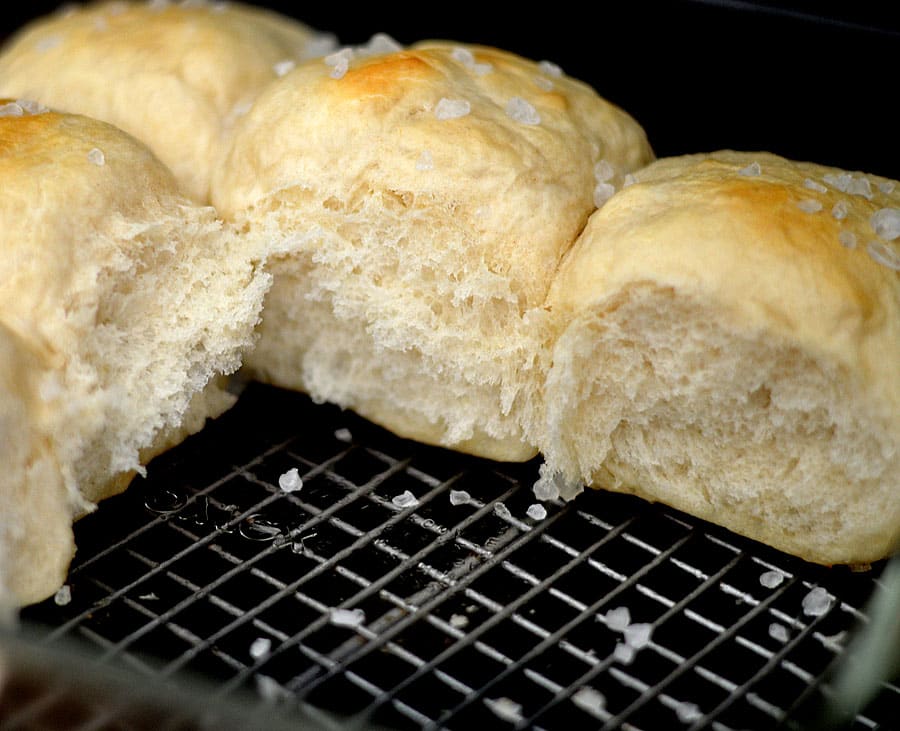 Did you make this recipe for One Hour Soft Dinner Rolls?  Let me know what you thought in the comments section below 🙂
One Hour Soft Dinner Rolls
VEGAN One Hour Soft Dinner Rolls
Ingredients
3/4

cup

Warm Water

not too hot

1-1/2

tsp

Active Dry Yeast

1

tbsp

Vegan Margarine

softened

1-1/2

tsp

Sugar

1/2

tsp

Salt

2

cup

All Purpose Flour

plus some for your work surface

1

tbsp

Melted Vegan Margarine

for brushing

sprinkle

Sea Salt
Instructions
In the bowl of an electric mixer, add the yeast, sugar and warm water. Be sure the water is not too hot or too cold or the yeast will not bloom.

Once the yeast is foamy (about 5 minutes), add the vegan margarine, salt and flour. Mix until just combined. Do not over beat! If the dough is too sticky, add just a bit more flour (but not too much).

Add some flour to your surface and knead the dough until smooth, about 3 minutes or so. Be sure not to incorporate too much additional flour. Let rise for 20 minutes, covered in a warm place.

After 20 minutes, lightly punch down the dough and divide into 9 equal portions and roll into smooth balls. Place into a pan sprayed with cooking spray, cover and allow to rise for 15-20 minutes.

Once risen, brush with melted butter and sprinkle with sea salt.

Preheat oven to 400 degrees and bake for 12-15 minutes, or until just golden on top. Don't over bake.

Brush with additional melted vegan margarine, if desired.
Notes
The less flour you have to incorporate after mixing the better.   Adding too much additional flour will make them a bit tougher.