This recipe is an adaptation of the Carrot Cake Pancakes in Bobby Flay's new book, Brunch at Bobby's.  I of course had to make a few adjustments to create a vegan version, but the end result was pretty delicious.  Bobby's version uses a mixture of cream cheese and maple syrup as a topping, but I opted for just the maple syrup.  If you want to put an already amazing breakfast treat over the top using vegan cream cheese, then that is certainly an option for you 🙂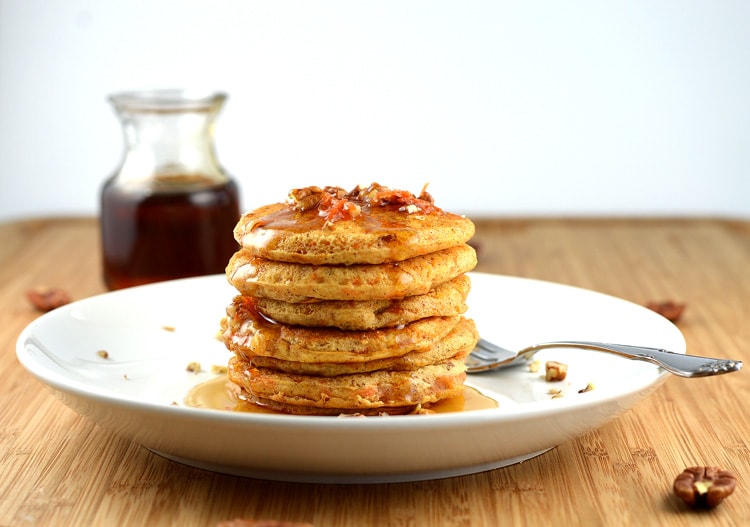 It all begins with the traditional pancake ingredients:  flour, sugar, baking powder and baking soda, add in a little pumpkin pie spice and ginger, along with a pinch of salt.  Whisk together and set aside.  By the way, I make my own pumpkin pie spice and if you'd like my recipe, you can find it here.
I did end up adding chopped pecans to my batter as well as topping the pancakes with them.  This is of course, optional.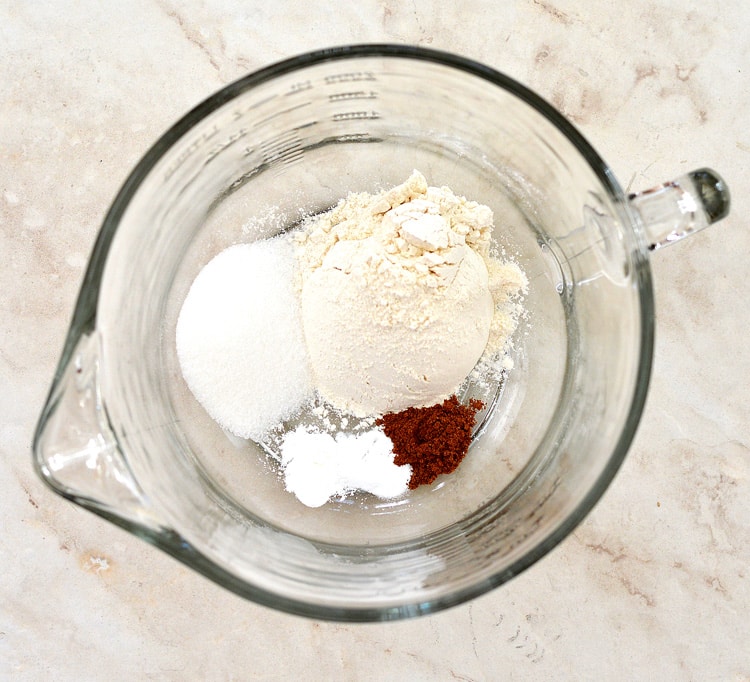 Bobby uses buttermilk.  But we'll be making our own.  It's so simple!  All it requires is almond milk and an acid, such as apple cider vinegar.  Some say you can use lemon juice.  I've never tried, but I am sure it works equally as well.  I have always had good luck with the vinegar.  It should be allowed to sit for about 5 or 10 minutes and look slightly curdled.  That's the chemical reaction we want to see.
Next come the carrots.  I use the fine side of a box grater for this.  Then, with a few paper towels, I press as much moisture as I can from the grated carrots.   Mix everything together and set aside while you preheat your skillet.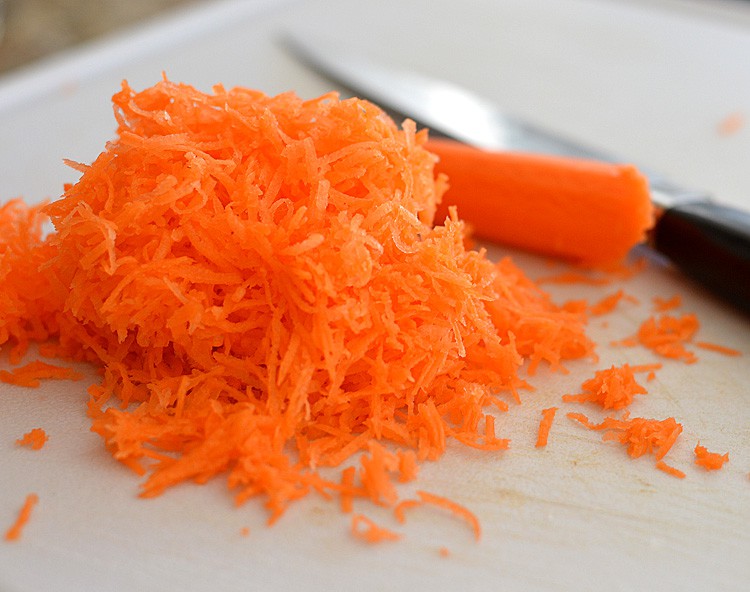 I found this non-stick silver dollar pancake pan on Amazon.  I have been wanting one for ages.  I realized rather quickly that the center pancake cooks MUCH quicker than the others given its placement.  I love these little guys. Instant portion control 🙂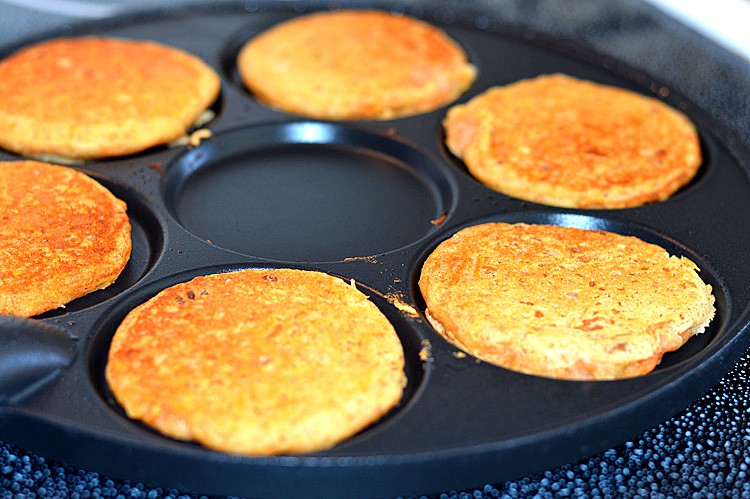 If you are cooking for a crowd, preheat the oven to 250 degrees and place the finished pancakes on a sheet pan to keep warm while you prepare the rest.  Stack 'em high, drizzle with pure maple syrup, sprinkle with a few extra pecans or walnuts and enjoy!
To make Bobby's cream cheese topping, simply combine 1-1/2 ounces of room temperature VEGAN cream cheese along with 1/2 C maple syrup.  You could also do a powdered sugar cinnamon-roll-like glaze.  Personally, I kept it simple.  It was sweet enough for me 'as is'.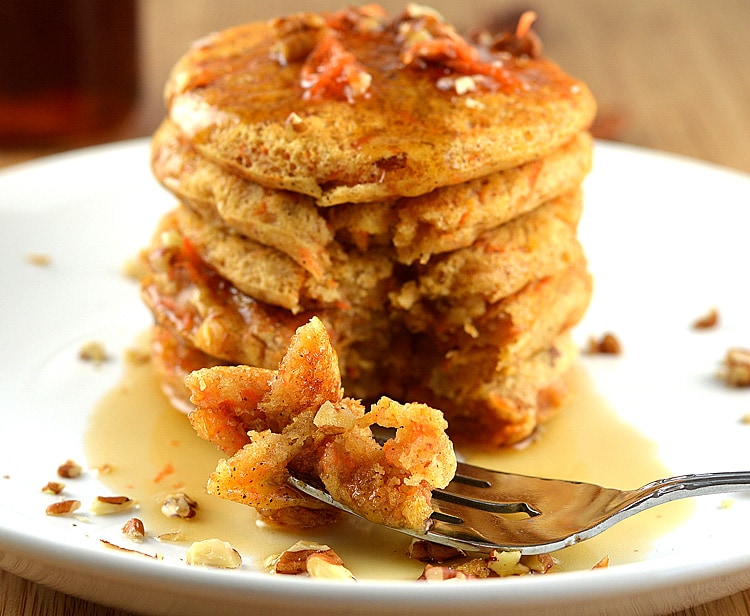 Recipe adapted from Brunch At Bobby's Carrot Cake Pancakes.  You can check out my review of the book here.
*Some of the links on this page are affiliate links.  Clicking on them does not affect your purchase price, it just means we get a very small percentage that assists in keeping The Veg Life! creating new recipes for you each week.
Carrot Cake Pancakes
Ingredients
1 1/2

C

All Purpose Flour

1/4

C

Sugar

1

tsp

Baking Powder

1/2

tsp

Baking Soda

1

tsp

Pumpkin Pie Spice

1/2

tsp

Salt

1/4

C

Applesauce OR

1 Tbl Ground Flax + 3 Tbl Water

1-1/2

C

Almond Milk PLUS 1-1/4 Tbl Apple Cider Vinegar

3

Tbl Vegan Margarine

1/2

tsp

Vanilla

1

C

Finely Grated Carrots

patted dry

Optional: Ground Ginger

1/4

C

Finely Chopped Pecans

or Walnuts

Maple Syrup for serving
Instructions
Combine almond milk and vinegar. Allow to sit while you prepare the rest of the batter. It should look slightly curdled after 5-10 minutes.

Peel and finely grate the carrot. Using paper towels, squeeze out as much moisture as you can.

Whisk together all of the dry ingredients in a large bowl.

Preheat a griddle (or silver dollar pancake pan as we have here today) and spray lightly with cooking spray.

Add the remaining ingredients and the almond milk mixture to the dry ingredients and fold together.

Using a ladle, ice cream (or cookie) scoop or measuring cup, distribute the batter evenly amongst silver dollar pan or directly onto a hot griddle pan.

If making a large amount, you can preheat the oven to 250 degrees to keep them warm.

Top with pure maple syrup and more chopped pecans.