This shop has been compensated by Collective Bias, Inc. and its advertiser.  All opinions are mine alone. #BringYourBestBowl #Kroger #CollectiveBias
I am trying my best to eat healthy and what better way than to start the day off right with a delicious and hearty bowl of Quaker® Oats?  I get bored easily by the same breakfast day after day, so I decided to get creative with this Tropical Oatmeal Bowl.  The combination of flavors was so amazingly delicious.  It starts off simply.  Quaker® Old Fashioned Oats made with coconut milk.  I topped mine with flavors that (at least in my mind) are reminiscent of the tropics.  Pineapple caramelized in just a small amount of coconut sugar, mandarin orange segments, a dollop of vegan coconut yogurt and a handful of lightly toasted coconut.  I like to add a bit more coconut milk around the edges of the oatmeal, but this step is optional.  Want to take it over the top?  How about a drizzle of pure maple syrup.  I promise, you won't be disappointed.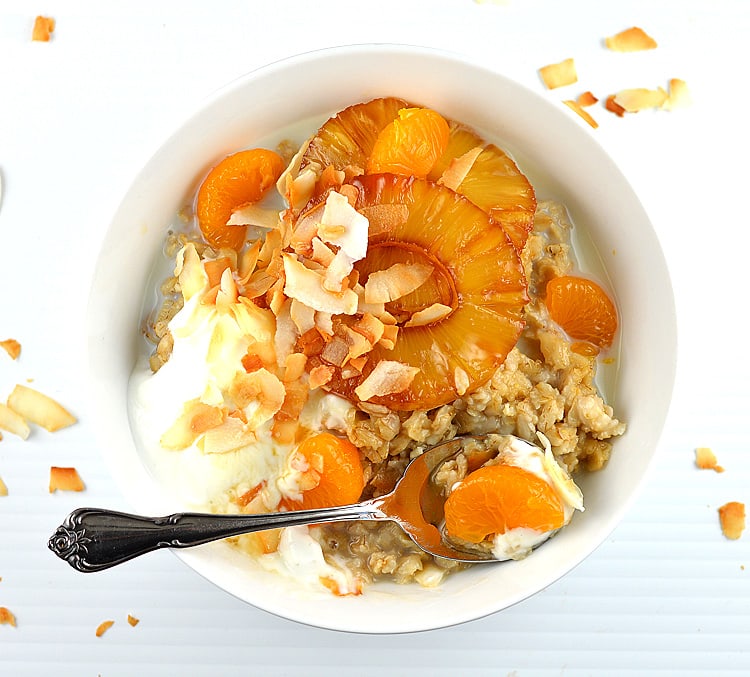 Stay tuned because towards the end of this post, you'll learn how you can enter to win $250,000 with the Quaker® Oats Bring Your Best Bowl Contest!
I started off by toasting the coconut flakes.  Since this process happens rather quickly, be sure to give it your full attention and don't walk away.  You'll need to constantly stir the coconut flakes so they don't burn.  Set aside to cool.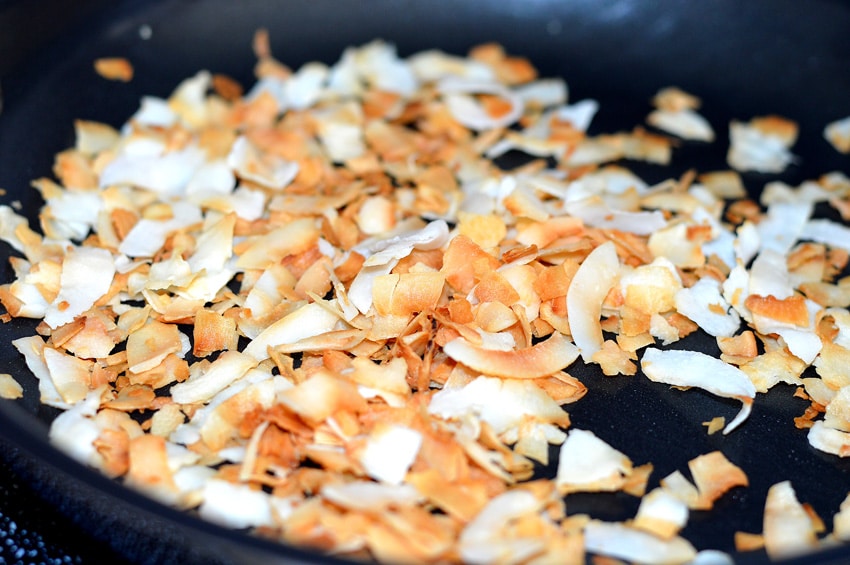 In a small non-stick saute pan, add two slices of canned pineapple along with about 1 Tbl of the juices.  To that, add about 1 Tbl of either coconut or brown sugar over medium-high heat.  Flip after the first side becomes caramelized and tender.  Set aside to cool a bit.  That sugar is very hot.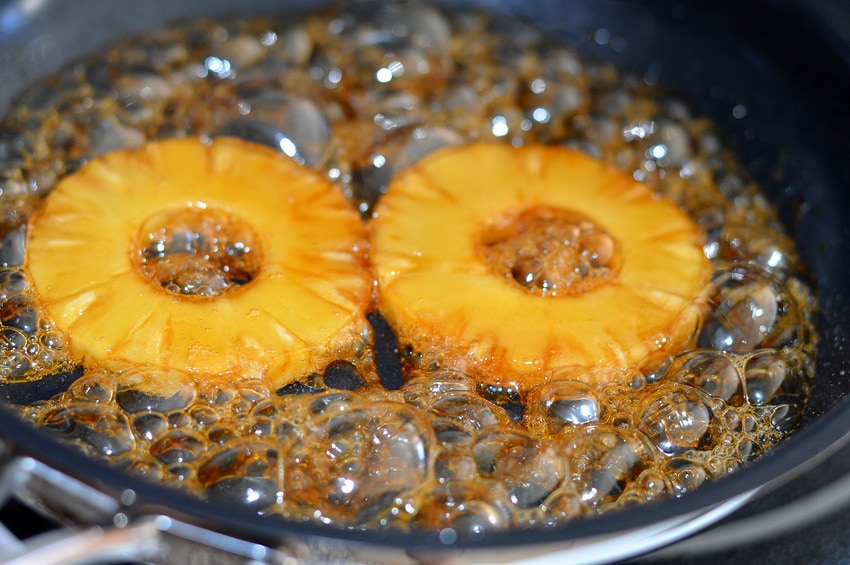 Cook the oatmeal according to package instructions and place in your bowl.  As I mentioned, I added a bit of additional coconut milk around the edges.  This step is completely optional. Top with the pineapple slices (feel free to add any of that remaining caramelized sugar), the orange segments and a dollop of your favorite vegan coconut yogurt.  Top with the coconut flakes and a drizzle of pure maple syrup if desired.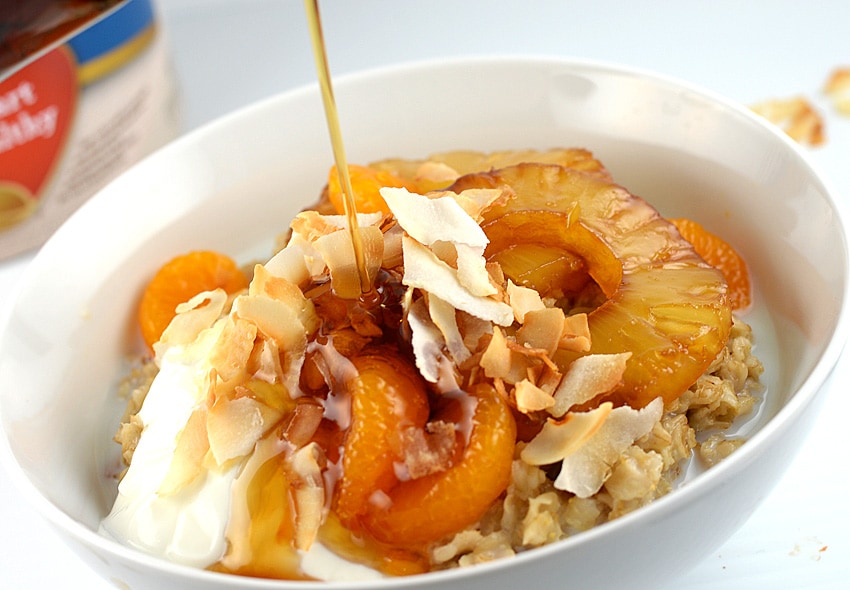 I found the Quaker® Oats in the cereal aisle of the my local Scottsdale, Arizona Fry's Marketplace.  I always buy the largest container because there are sooo many more creative breakfast ideas floating around in my head!  You'll find all of the other ingredients in the recipe readily available there as well.
You can enter to win $250,000 in Quaker® Oats National Bring Your Best Bowl contest.  The top recipes will be created and sold in stores for a limited time in the Fall of 2016!  The contest ends March 12, 2016 and the winner will be announced in November 2016, so get your creative juices flowing.  Your recipe entry should remain in the bowl and contain just 2 and 5 ingredients.  For a complete list of the contest rules, you can click here.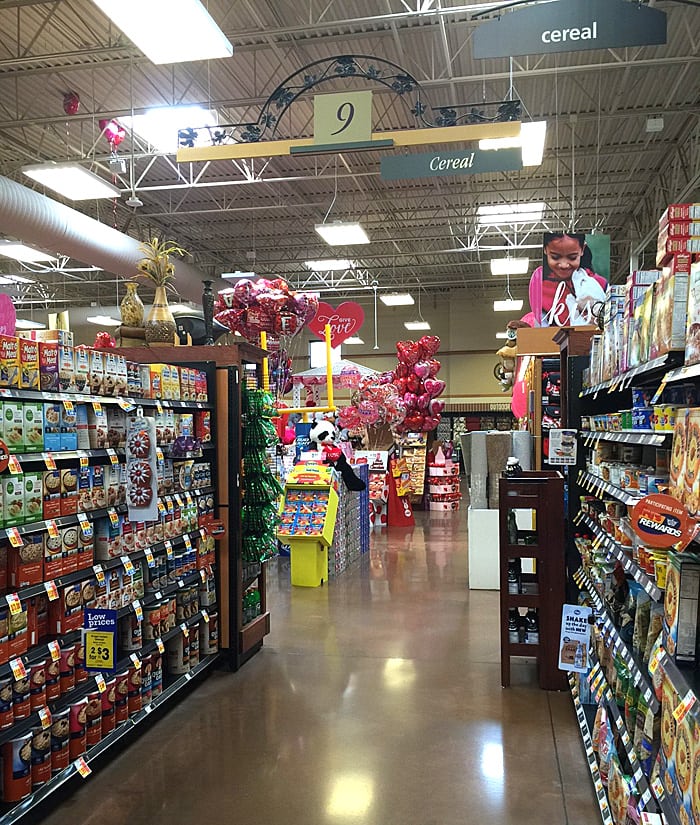 You will love this creative take on a morning favorite!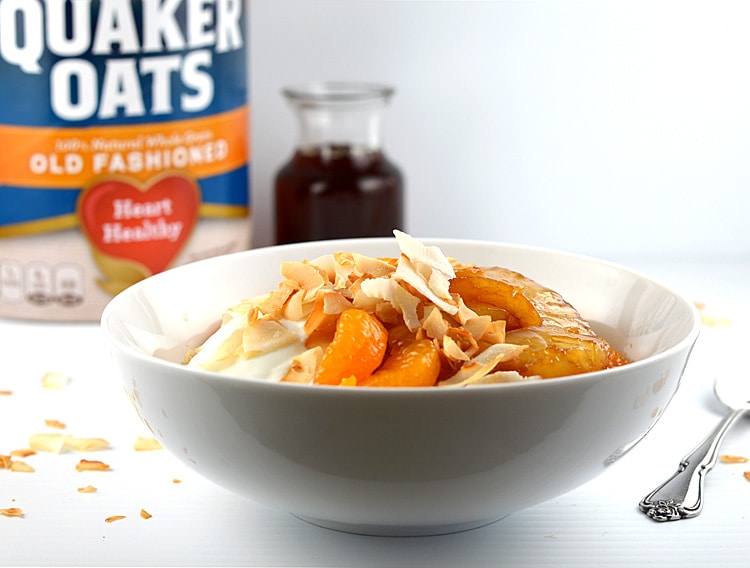 Have you tried this Tropical Oatmeal Bowl yet?  Let me know in the comment section below.  Or, snap a quick pic and tag me on Instagram @theveglife1   I always love seeing what you come up with.  And go enter the contest! Someone has to win…it just might be you! 🙂
Tropical Oatmeal Bowl
Ingredients
1/2

C

to 1 C Quaker@ Old Fashioned Oats

cooked according to package instructions using Coconut Milk instead of water

Coconut Milk for cooking plus more for serving

see above, if desired

2

Slices

of Pineapple plus 1 Tbl of the Juices

Mandarin Orange Segments

1

Tbl Coconut Sugar

or Brown Sugar

1/8 -1/4

C

Vegan Coconut Yogurt

1 - 2

Tbl Coconut Flakes

lightly toasted

Pure Maple Syrup for serving
Instructions
In a small saute pan over medium high heat, lightly toast coconut flakes. Remove from pan and set aside to cool.

Meanwhile, add pineapple slices, reserved juice and sugar to that same saute pan over high heat and cook until the sugar starts to reduce and caramelize to a golden brown. The pineapple should also be tender. Set aside to cool slightly as the sugar is too hot to consume at this point.

Cook oatmeal to package instructions using coconut milk instead of water.

Place oatmeal into a bowl, add a splash more of the coconut milk to serve.

Add your pineapple (don't waste that caramelized deliciousness), the orange segments and a dollop of coconut yogurt.

Top with the toasted coconut and a drizzle of pure maple syrup!