You will LOVE this Creamy Vegan Broccoli Wild Rice Casserole! I switch it up a bit and add crumbled crispy fried onions to the top a la green bean casserole. SO good.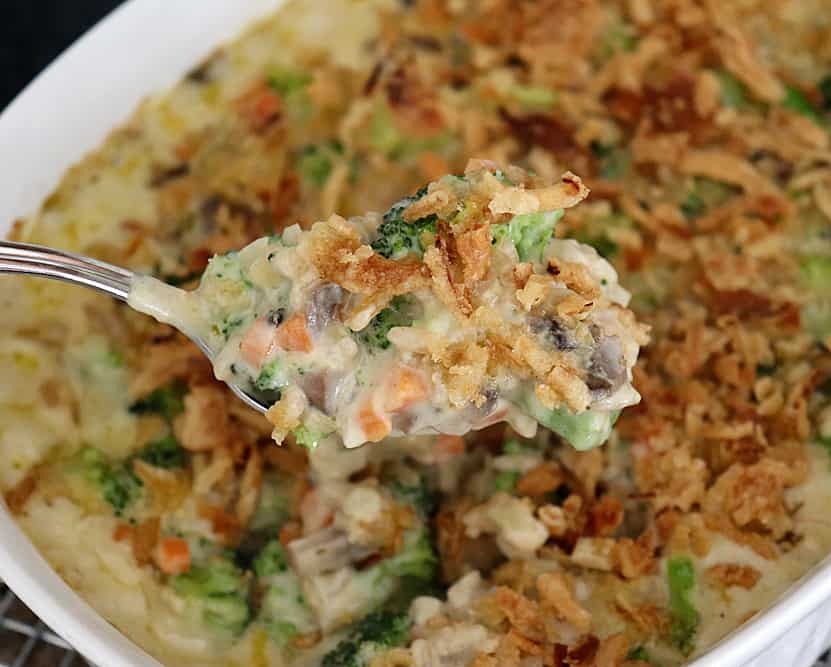 How to make Creamy Vegan Broccoli Wild Rice Casserole
The first step is to dice onions. I prefer these finely diced. Even though we'll be sauteeing them, no one wants to bite into a big piece of onion!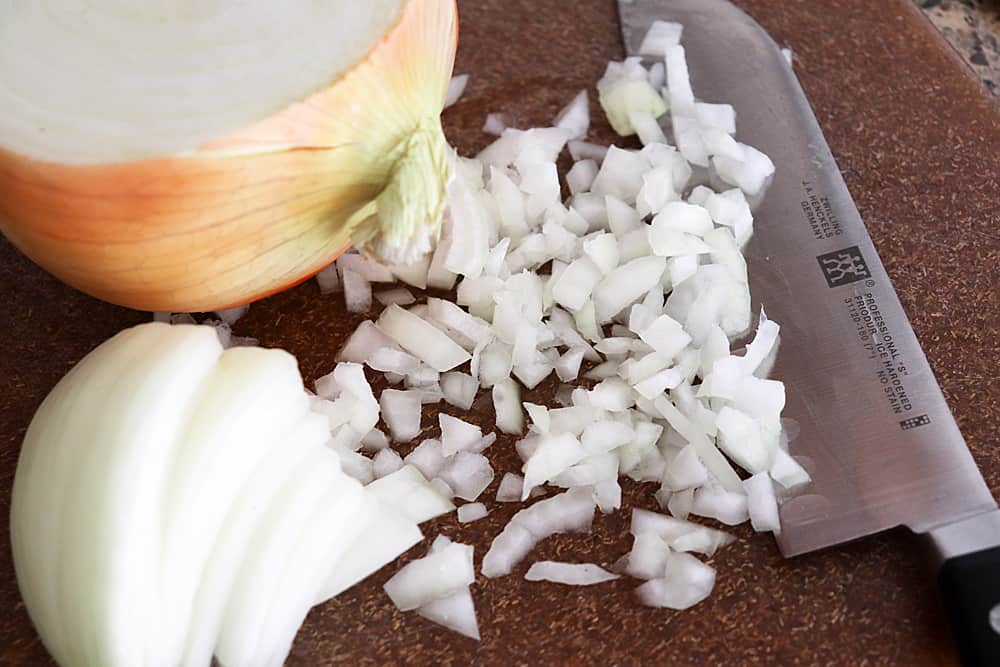 I also finely diced carrots and celery, sauteeing them in a bit of oil until they become tender.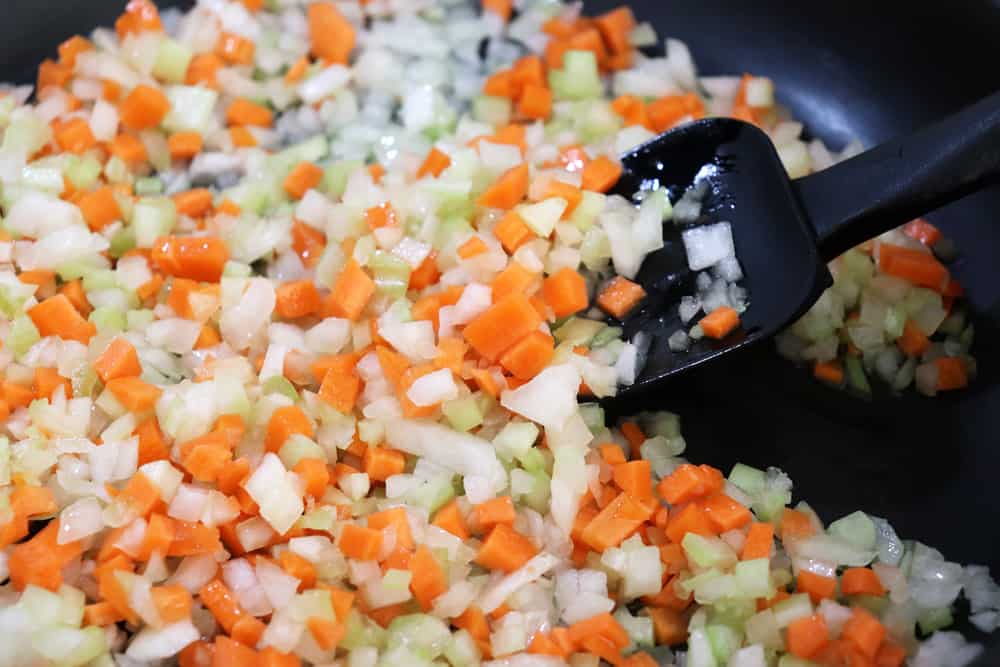 The type of mushroom you use is up to you. I just used a button or cremini mushroom, stems removed, cleaned and diced.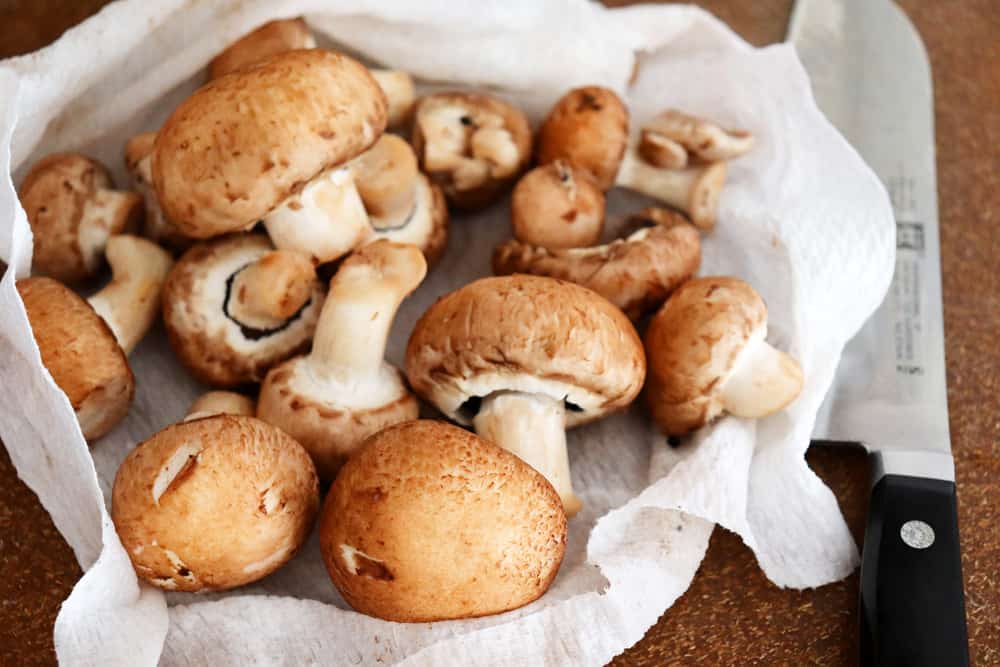 Add the mushrooms to the sauteeing vegetables and cook until tender. The mushrooms will release some moisture and you'll want to cook that off.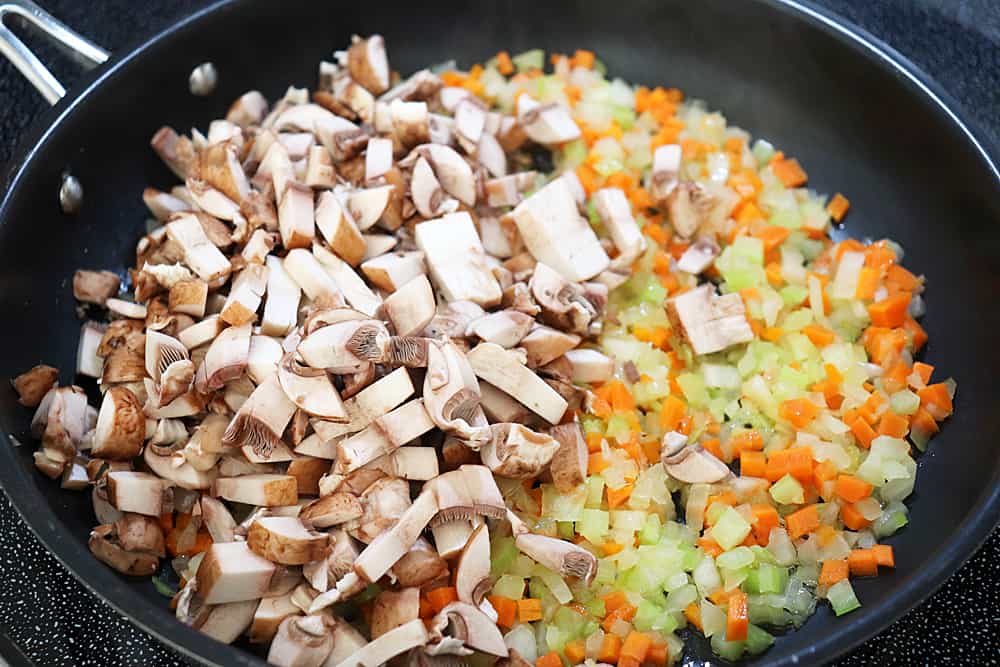 AFTER the mushrooms are cooked, add salt…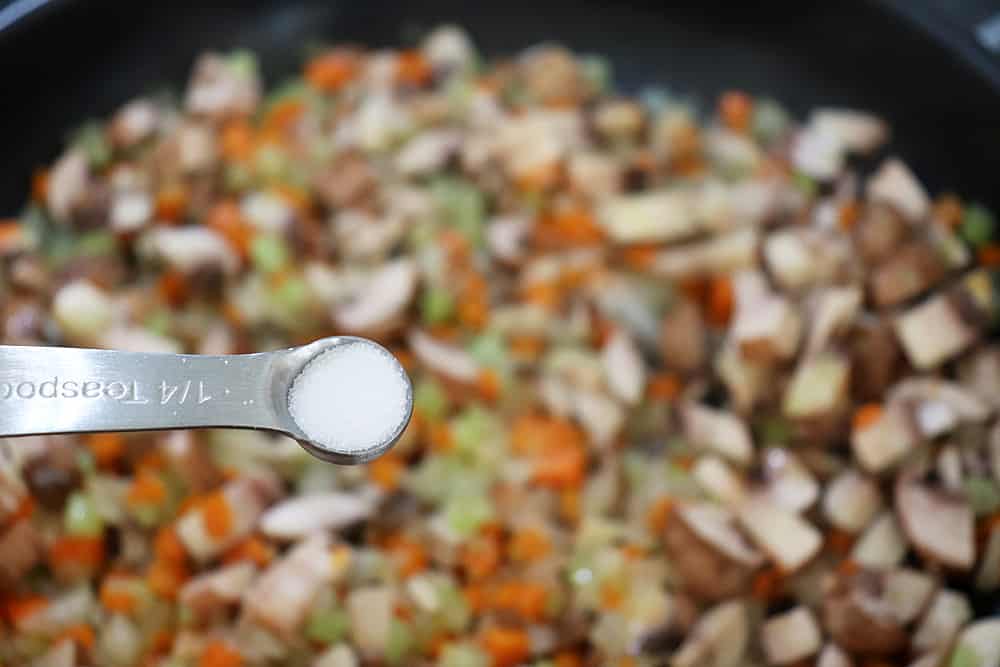 and pepper, to taste.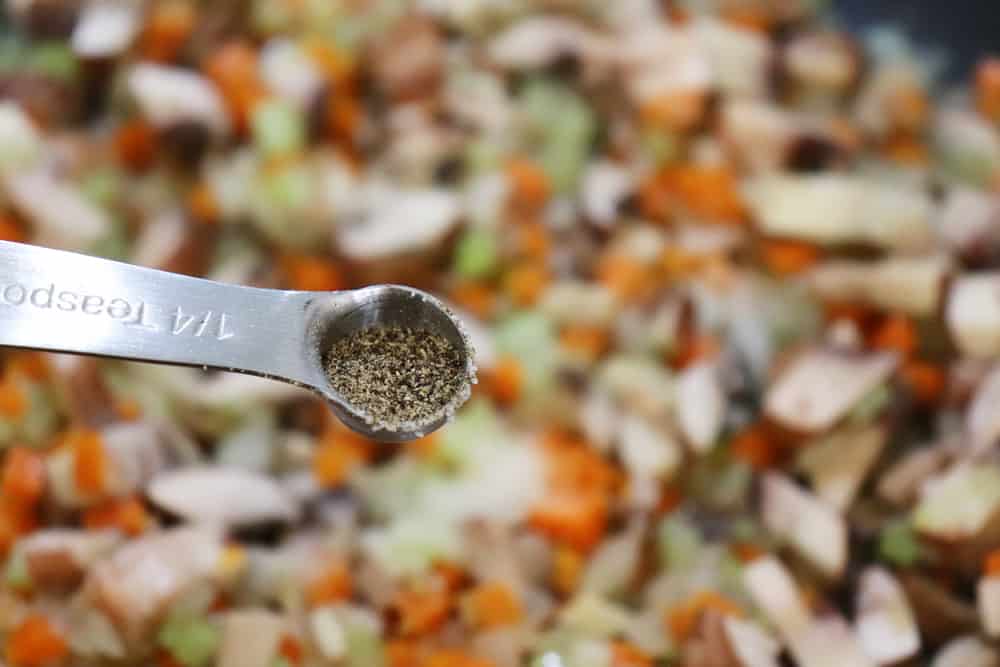 Two tablespoons of flour are added to the vegetables and cooked for 1-2 minutes. This will cook off that raw flour taste.
A word about vegetable broth…
Add your broth. This is a good time to reiterate why I love Imagine brand broth. This is NOT and look how pale it is. If you can find the Imagine brand, it is rich, dark and very flavorful. I wasn't able to find it this day ;(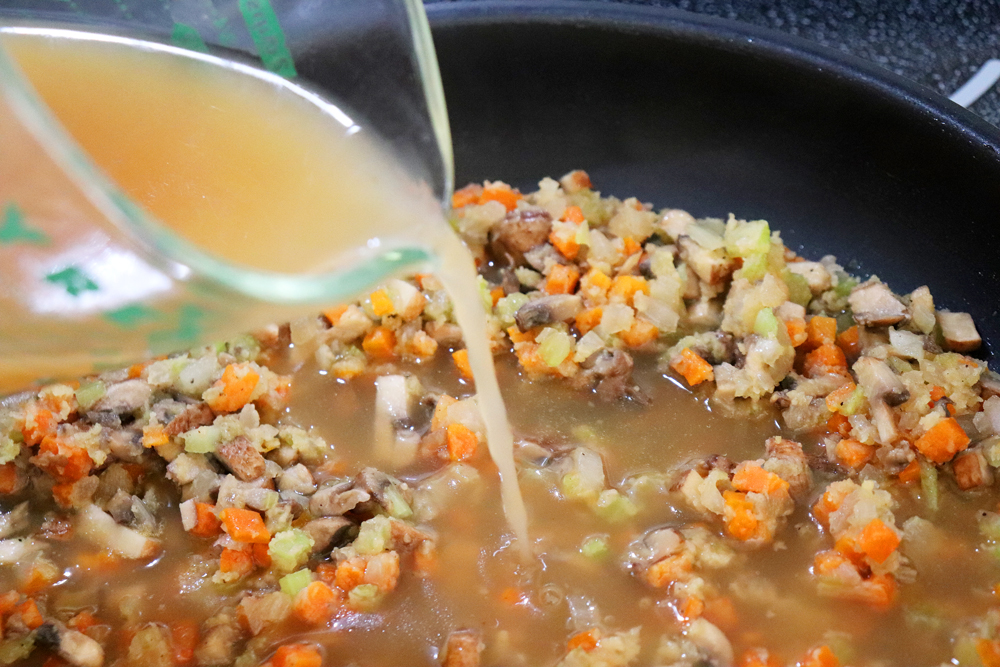 After the broth is added, it's time for the "cream". You have several options here. I used a vegan almondmilk creamer, but you could just use almondmilk or even canned coconut milk.
Pre-cook the wild rice blend…
I bought a wild and long grain rice mix. I prefer it to an all wild rice casserole, but I'll leave that up to you. Add the COOKED rice to the cream and bring to a boil.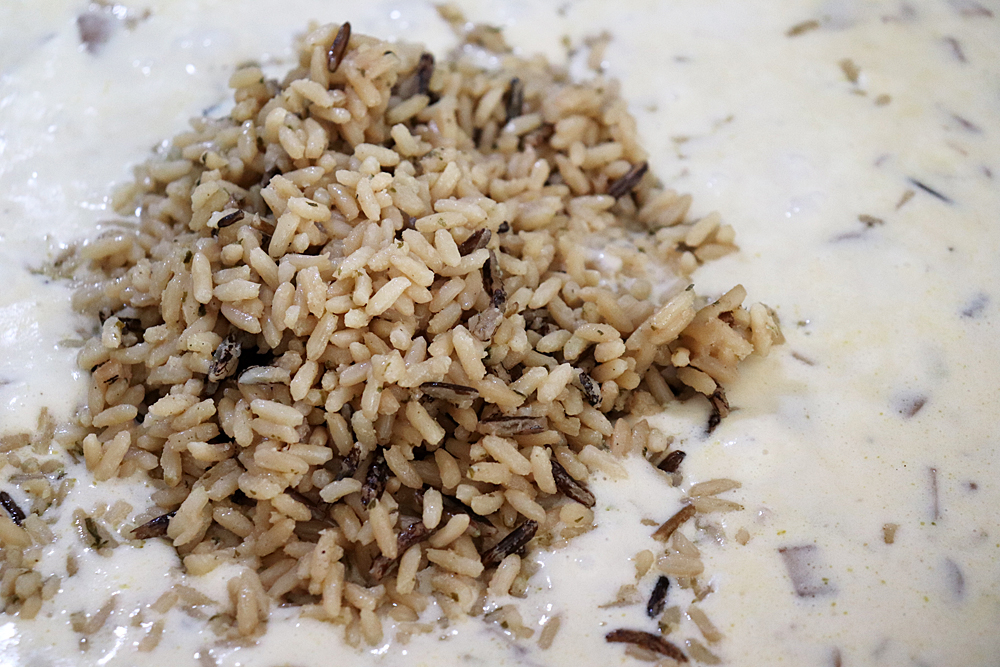 At this point, you'll want to boil the sauce until it thickens.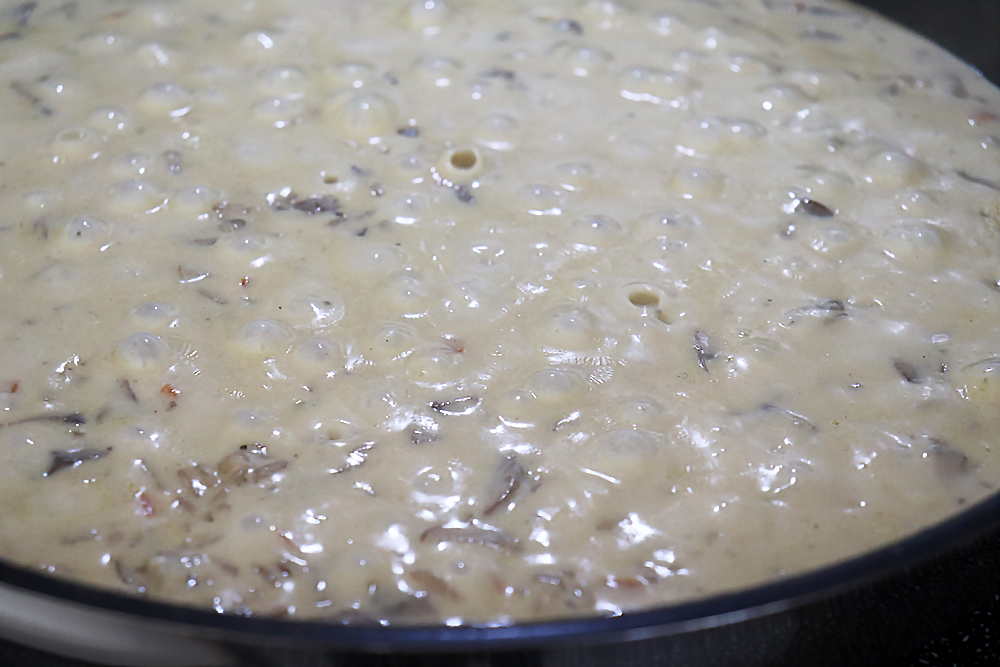 While that is happening, I cooked up some frozen broccoli florets until they were just barely tender. They'll continue cooking in the oven.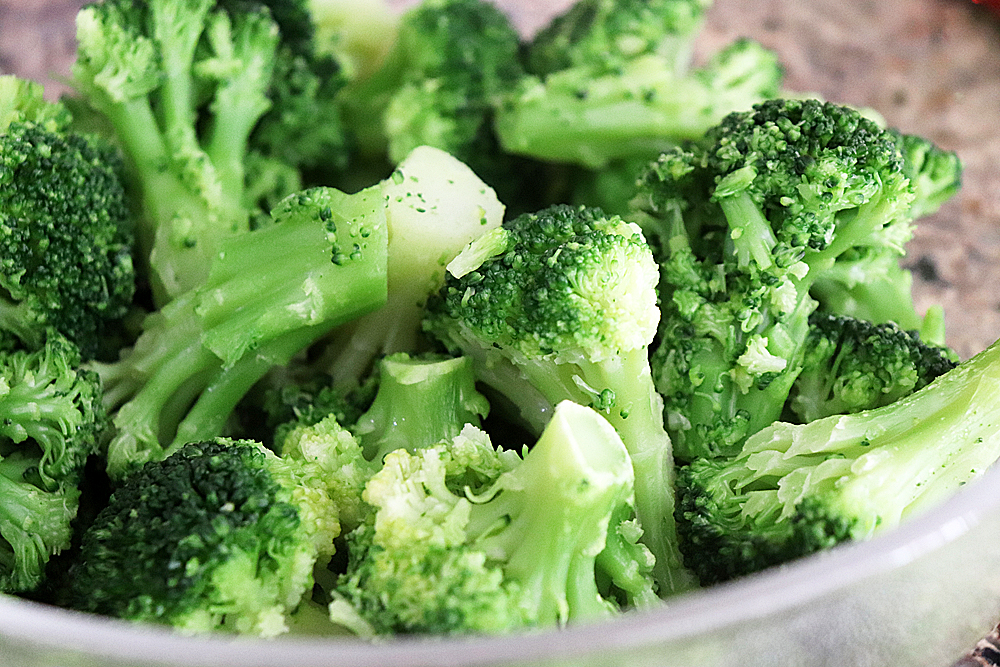 I scatter them evenly over the casserole and then press them into the sauce. The reason I do it this way is so that every bite gets broccoli in it.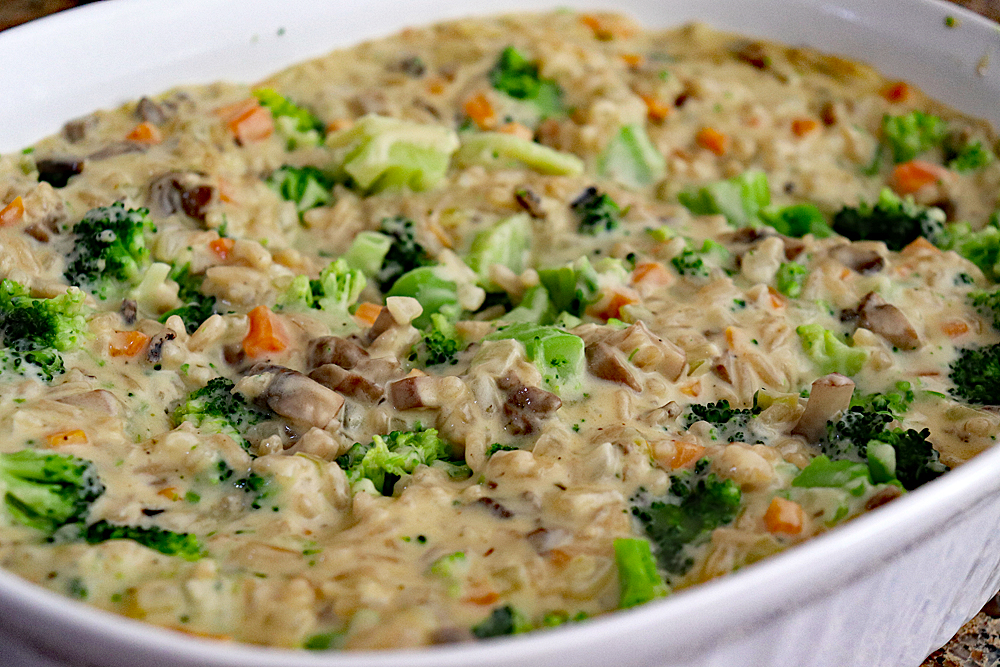 The last step is to top the casserole with something crunchy. I used fried onions because they are simply delicious. My favorite! But you could also mix some panko bread crumbs together with melted vegan margarine and use that as your topping.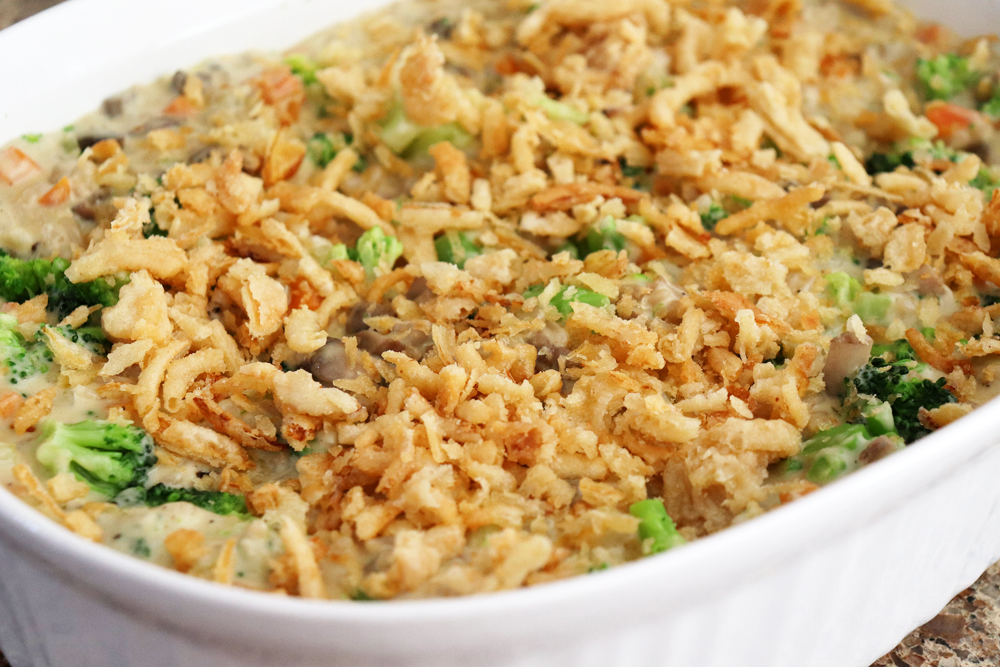 The casserole is better as it sets and even better the next day. Be sure to give it at least 10 minutes before serving. This allows everything to bind together and be less fluid.
NOTE: If you prefer a thicker casserole, cut back on the creamer by a few tablespoons and/or reduce the cream in the saute pan further than I did. I thought it turned out great and can't wait to enjoy the leftovers tomorrow!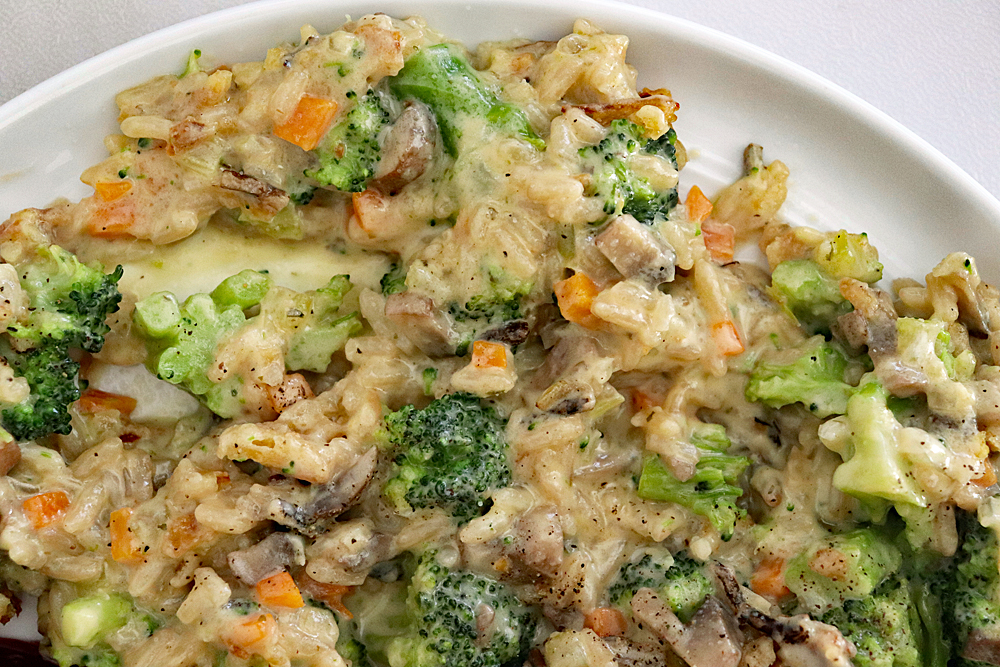 Did you make this recipe for Creamy Vegan Broccoli Wild Rice Casserole? Leave me a note below and let me know what you thought.
And if you enjoyed this recipe, why not PIN IT FOR LATER! 🙂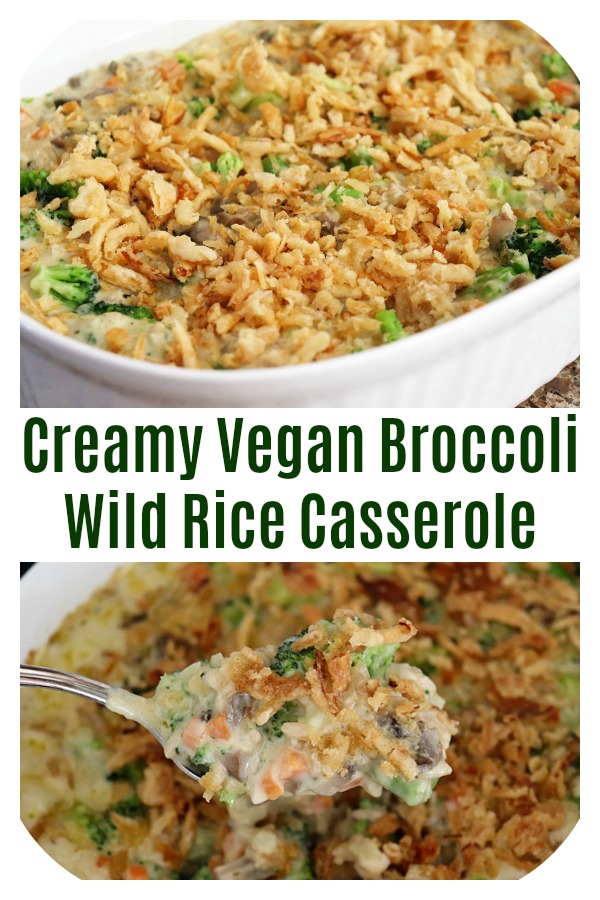 Before you go, why not check out some of our recent videos and be sure to subscribe to the YouTube Channel! 🙂
Creamy Vegan Broccoli Wild Rice Casserole
Creamy Vegan Broccoli Wild Rice Casserole
Ingredients
2

c

Cooked Wild & Long Grain Rice Blend

2-1/2

c

Vegetable Broth

2

c

Frozen Broccoli

par-cooked

8

oz

Button or Cremini Mushrooms

diced

2

tbsp

Olive Oil

1/2

c

Onion

finely diced

1

medium

Carrot

peeled and finely diced

2

stalks

Celery

finely diced

2

tbsp

Flour

1

cup

Vegan Almondmilk Creamer

1/4

tsp

Salt

1/8

tsp

Pepper

1

cup

French Fried Onions OR Panko Breadcrumbs
Instructions
Preheat oven to 350 degrees.

Precook the wild rice blend and the frozen broccoli. Set aside.

To a large saute pan, add oil (or vegan margarine), onions, carrots and celery. Cook until tender.

Add the diced mushrooms to the sauteed vegetables.

Sprinkle the flour on the vegetables and stir to incorporate it, then cook for about a minute.

Add the broth and bring to a boil.

Add the cooked rice to the broth. You could also do this after the creamer, but it really makes little difference in the end result.

Add in the almondmilk or almondmilk creamer, stirring to combine. Allow to cook until it thickens and season with salt and pepper. (If you prefer a thicker sauce, allow to cook down further).

Top with crushed fried onions. You could alternately use something like panko breadcrumbs that you have mixed with a few tablespoons of melted vegan margarine. I prefer the fried onions personally 🙂

Bake for about 25 minutes or until golden and bubbly. Allow to cool for about 10 minutes. It continues to set as it cools.

This casserole is even better the next day and reheats well. A great make-ahead dish!