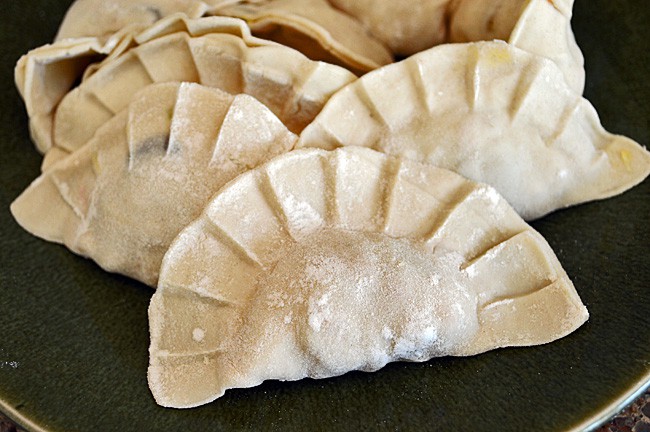 Gyoza Wrappers
Ingredients
1

C

All-Purpose Flour

1/8

tsp

Salt

1/4

C

BOILING Water
Instructions
Sift together the flour and salt to remove any lumps.

Gradually add the boiling water until you can form it into a ball Depending on where you live (virtually no humidity here in Arizona), you may need slightly more (or less) of the boiling water.

Place the dough into a clean bowl and cover with a damp towel to rest for about an hour.

On a lightly floured surface, knead the dough for about 5 minutes.

You'll notice the change in consistency and the dough will be very smooth.

And that's it! You are now ready to roll the dough and create the Gyoza wrappers.

However, it is also very easy to roll these thin using a rolling pin. I show you both options here.

For the

pasta machine

, start out on the widest setting (which is usally 1) and then gradually get to 5. I wouldn't go any thinner than this as they may become too fragile after steaming.

Once the dough is the right thickness, use a

3-5/8" to 4" round cookie cutter

and place on a lightly floured holding plate until all are completed and ready to press. As they sit, they may stick to the plate if you don't flour it.

In a lightly floured

Gyoza press

, you'll place the cut Gyoza wrapper rounds and place filling in the center.

Press firmly, and viola! Perfect potstickers every...single...time. You can create the pleats by hand, but I've gotta tell you, this thing is AWESOME and you can get it

right here

...
[bha size='234×60′ variation='05' align='aligncenter']