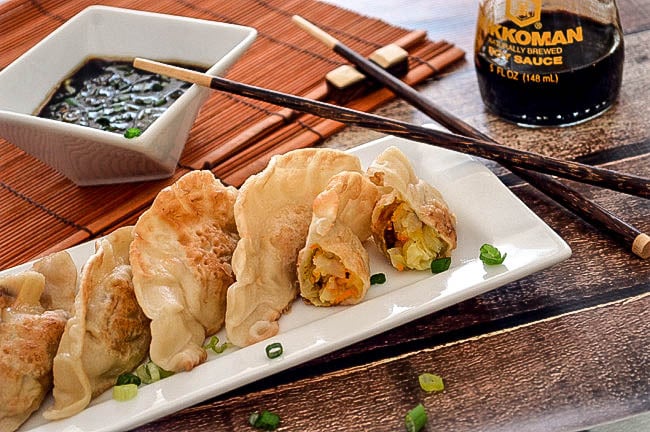 Veggie Potstickers
Ingredients
5

Dried Shitake Mushrooms

soaked for 30 minutes, drained and then rinsed well twice and squeezed to remove most of the water (if using fresh, just wipe with a damp towel, do not soak or rinse)

Sesame Oil

for stir frying

1

Medium Carrot

finely grated

1/2

Small Cabbage

shredded finely and chopped roughly

1/2

tsp

Fresh Ginger

grated finely

1/2

Medium Celery minced finely

1/3

of a Green Onion

white part only, diced finely

To Thicken:

1

Tbl Cornstarch

3/4

Water

For the Ginger Soy Dipping Sauce:

1/4

C

Soy Sauce

3

Tbl White Vinegar

1

Tbl Fresh Ginger

Grated finely

2

tsp

Sugar

2

tsp

Sesame Oil

Salt

optional, to taste

Green Onions

chopped, to top the sauce
Instructions
Soak the dried mushrooms for 30 minutes, drain, rinse and drain (twice). Dice finely.

Prepare the remaining ingredients.

A word about fresh ginger. If you have never worked with it before, don't let it intimidate you. Found in your local grocery store, you simply use the edge of a spoon to remove the peel from the root. Store the rest of the root (unpeeled) in a freezer bag in your freezer! Then just grate what you need.

I found it extremely helpful to have everything ready to go because as with any stir fry, this one moves fast.

Using 1 teaspoon of sesame oil, heated on medium high heat, add the minced ginger. Cook just until you can smell the ginger. Do not overcook.

Add the mushrooms and stir fry until they reduce in size slightly.

Add the grated carrot, stir fry for 1 minute.

Note: At this point, I needed a bit more oil, but you may not.

Add the celery and green onion. Stir fry for 1 minute.

Add the shredded cabbage and saute until tender & wilted. (I actually sauteed the entire cabbage in 1 Tbl of Vegetable Oil, saving half for another meal and just added the aready cooked cabbage to the stir fry, rather than cook it twice).

Mix together the cornstarch and water until combined.

Add slowly to the vegetable mix. The mixture should come together very quickly and become sticky. You may not need all of the cornstarch mixture to achieve this.

Heat a small amount of vegetable oil (you don't need more than a teaspoon or two) and fry the bottoms and sides, if desired.

Once all are browned, add 1/8 C of water to the pan (be careful as you are adding water to oil and it may spatter), cover immediately and let steam for 2-3 minutes. I found that if I did it any longer, they started to get too soft and fall apart. Uncover and let the remaining water evaporate.

To prepare the dipping sauce, mix together all of the ingredients listed above and top with additional green onions to garnish.