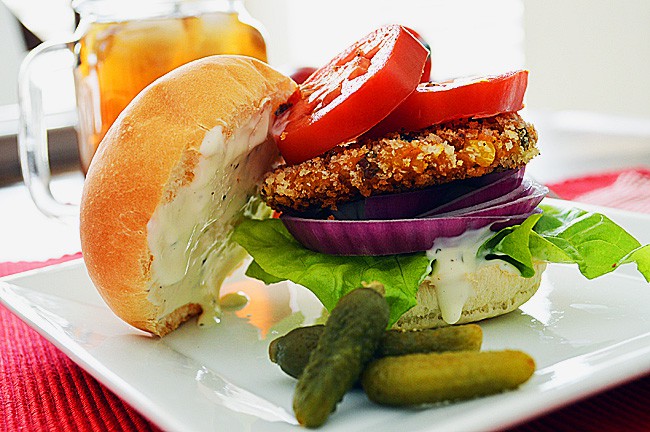 Sweet Potato and Black Bean Burger
Ingredients
1

Large Sweet Potato

1/2

C

Multi-Grain

or brown cooked rice

1/8

C

Onion

diced finely

1/8

C

Yellow Corn

1/4

C

Black Beans

1/2

Tbl Maple Syrup

1

Tbl Parsley

1/2

tsp

Salt

1/4

tsp

Pepper

1/4

tsp

Garlic Powder

Panko Bread Crumbs

Vegetable Oil for frying
Instructions
Bake the sweet potato at 350 degrees for about an hour for medium sized or up to 90 minutes for very large potatos.

Let cool for 5 minutes so that you can handle, scoop the potato from the skin and place in a mixing bowl.

Add the cooked rice (I am in love with the Minute Rice Multi-Grain blend, it contains quinoa, whole grain brown, red and wild rice. but you can just use brown rice if you prefer)

Add the diced onion, parsley, salt, pepper, garlic powder and maple syrup.

Fold in the corn and black beans and stir to combine.

Taste to adjust seasoning as needed.

Refrigerate for at least an hour for easier handling.

This is where it gets a little bit messy (but trust me, it's worth it!) Form into patties and set aside. I found it easiest to scoop directly into the bread crumbs and lightly coat before trying to form them.

Heat 1 Tbl Oil in a skillet on medium high heat.

Immediately transfer the patties to the hot oil to begin frying until golden brown on both sides.

You could also bake these. If you are baking them, use less of the bread crumb mixutre. Transfer to a paper towel lined plate to drain any excess oil.

To assemble the slider, split your roll in half and begin by spreading a layer of vegan ranch dressing on each half. Follow Your Heart makes one I really love. Building from the bottom up, place a layer of butter lettuce, then thin slices of red onion, the burger and finally, slices of tomato. We skewered ours to hold everything together.