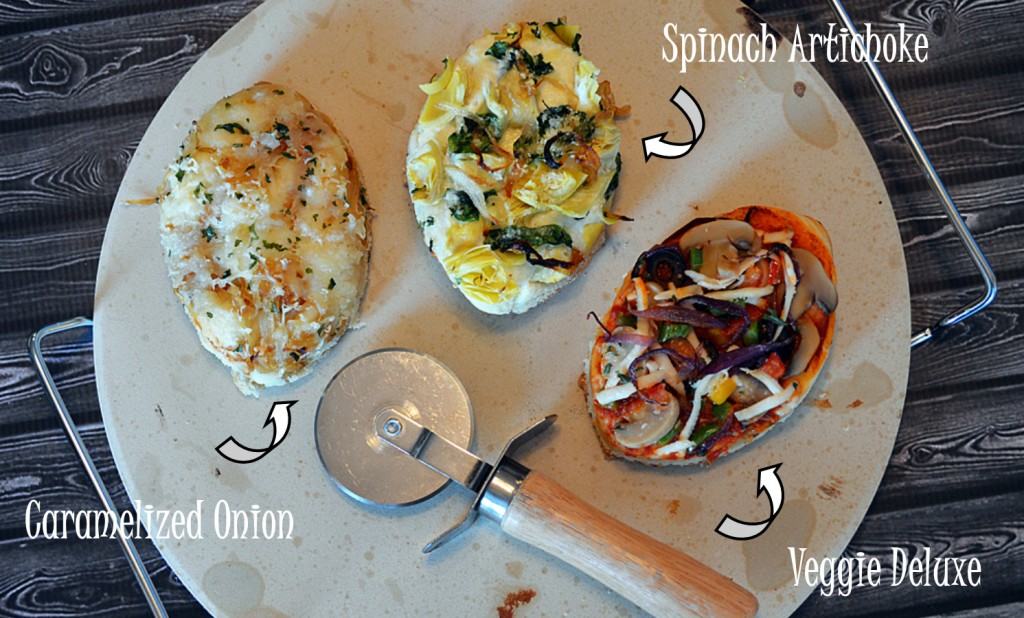 Game Day Food - Mini Football Pizzas
This dough was made using the dough cycle of a bread machine, but you could use the dough hook of an electric mixer to do the kneading. If you don't want to make the dough, you could always buy it or, ask your favorite pizza place if you can buy the dough from them 🙂 We've done three toppings, but you can always improvise with the ingredients. Using a cookie cutter, we've cut them into football shapes for Game Day!
Ingredients
For the Dough:

3/4

C

Water

room temperature

2

Tbl Olive Oil

2

C

Bread Flour

1

Tbl Sugar

Organic/Vegan

1

tsp

Salt

1-1/2

tsp

Dry Yeast

TOPPINGS BELOW...
Instructions
Place the ingredients into a bread machine in the order listed and choose the DOUGH CYCLE. Again, if you don't have a bread machine, you can use the dough hook and your electric mixer or....buy your favorite ready-made dough.

Once the dough cycle completes, let the dough rest for a few minutes and then pat the dough onto a cookie sheet. This takes some patience, but it will cooperate and fit the pan.

Cover the dough and let rise in a warm place. I usually turn the oven on for 5 minutes and then turn it off, letting the dough rise in the residual heat. You'll get a really light dough this way. Also be sure you have fresh bread flour and yeast that is dated well. The dough will almost double.

In the meantime, prepare your toppings. We offer three options below, but you can improvise based on your favorite ingredients.

For the Caramelized Onion Pizza:

Saute an onion over medium heat in 2 Tbl of oil and slowly caramelize them. This takes about 20-30 minutes. You can always add a sprinkle of sugar which helps to expedite the process. Stir occasionally. You will use some of the onion for the Spinach/Artichoke Pizza as well. Layer onions onto your dough, top with mozzarella cheese (there are several vegan options available). Garnish with parsley, if desired.

For the Spinach/Artichoke Pizza:

Saute the spinach for just a minute or two until soft in a very small amount of oil. Drain and chop a can of artichokes. In the meantime, combine 2 Tbl of vegan Ricotta, 2 Tbl Almond Milk, 2 Tbl vegan Parmesan and 2 Tbl vegan Mozzarella. Spread the cheese mixture onto the dough and then add the artichokes and spinach. Top with additional parmesan, if desired.

For the Veggie Pizza:

Saute a thinly sliced red onion in a small amount of oil to soften slightly. Place a layer of marinara sauce onto the dough. Add chopped green pepper, yellow peppers, tomato, mushrooms, black olives and the red onions. Top with mozzarella and parmesan.

Bake at 400 degrees for approximately 20 minutes (this will depend on the size you cut the pieces).
[bha size='234×60′ variation='05' align='aligncenter']