This post by The Veg Life! has been sponsored by Collective Bias, Inc. and its advertiser, Vega Essentials.  All recipes and opinions are mine alone.  #BestLifeProject #CollectiveBias
I have been trying really hard lately to make healthy changes to my diet.  Breakfast has always been my downfall. On weekdays, I'll typically default to a protein shake but when I have just an extra half hour or so, I absolutely love to prepare this Healthy Vegan Baked Pumpkin Spice Oatmeal.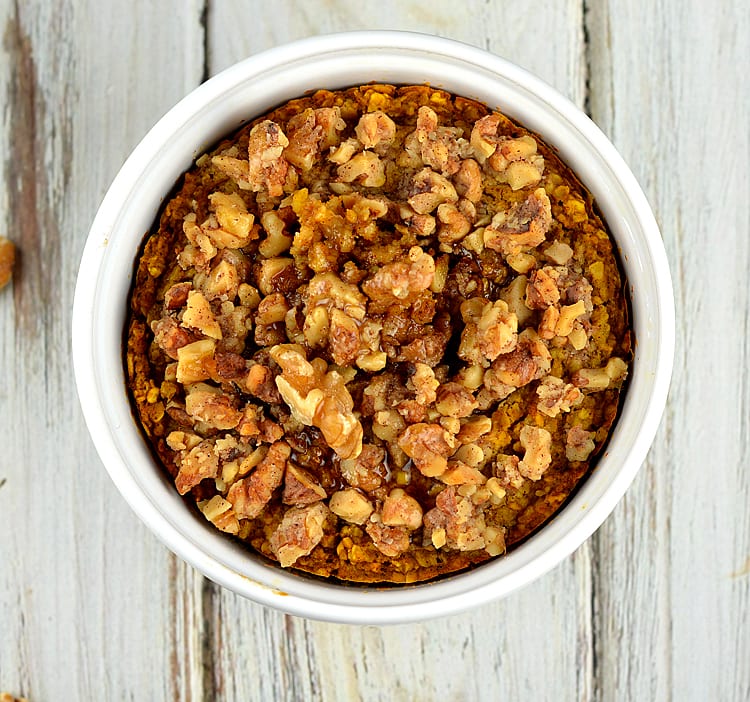 Pumpkin is my all-time favorite flavor and with the addition of the Vega Essentials Vanilla Protein Shake Powder, I know I am getting a healthy start to my mornings.  Not only does the shake taste great, but it can be used in a multitude of ways when preparing your meals.  It incorporates especially well into this baked oatmeal.  Vega Essentials is more than just 20 grams of protein.  It also includes real, whole food ingredients that offer 3 servings of greens, 25% of your daily intake of food-based vitamins and minerals, plus fiber and Omega-3s at only 130 calories per serving.
When choosing a protein powder as a vegan, I am obviously seeking a plant-based option.  Vega Essentials is not only vegan, but gluten-free and Non-GMO Project verified.  It contains no added sugar, dairy or soy ingredients, artificial flavors, colors or sweeteners.
So what is actually IN Vega Essentials?  Bromelain from pineapple, protein from pea, hemp and flax (which also provide the Omega-3s and inulin for fiber).  Broccoli, kale and spirulina provide the greens with carrots, spinach, mushrooms and strawberries rounding out the whole food fruits and vegetables providing 25% of your daily vitamin and mineral needs. It's just better nutrition and a protein source I feel good about adding to my diet regimen.
With all that being said…let's get to the Healthy Vegan Baked Pumpkin Spice Oatmeal 🙂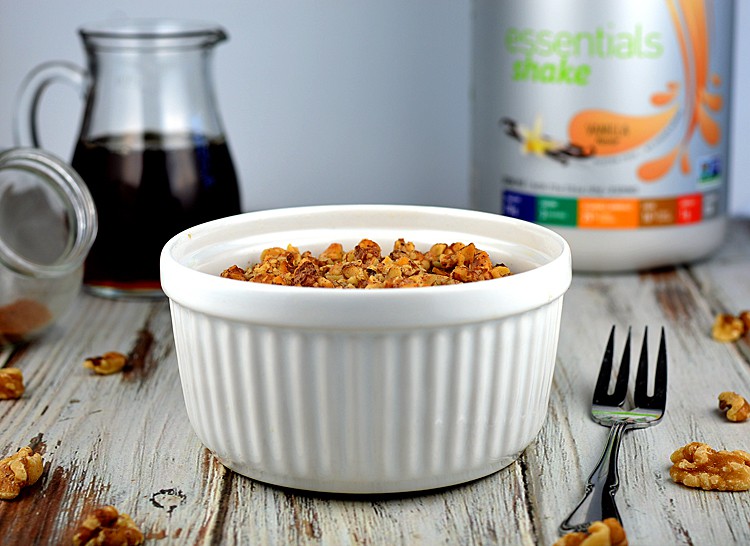 This recipe is so easy and comes together rather quickly.  While it's baking, it's the perfect time to catch up on emails, check my social media and/or get ready for my work day.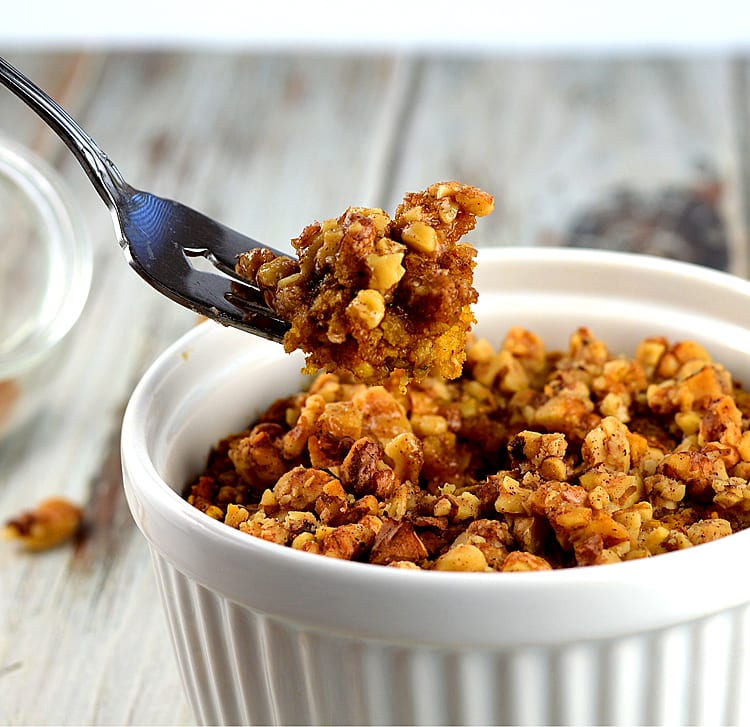 And don't worry if you don't have pumpkin pie spice on hand.  It's so easy to make from spices you have year round! I make this up and store it in my spice cupboard, using it in recipes all year long.  You can find my homemade pumpkin pie spice recipe here.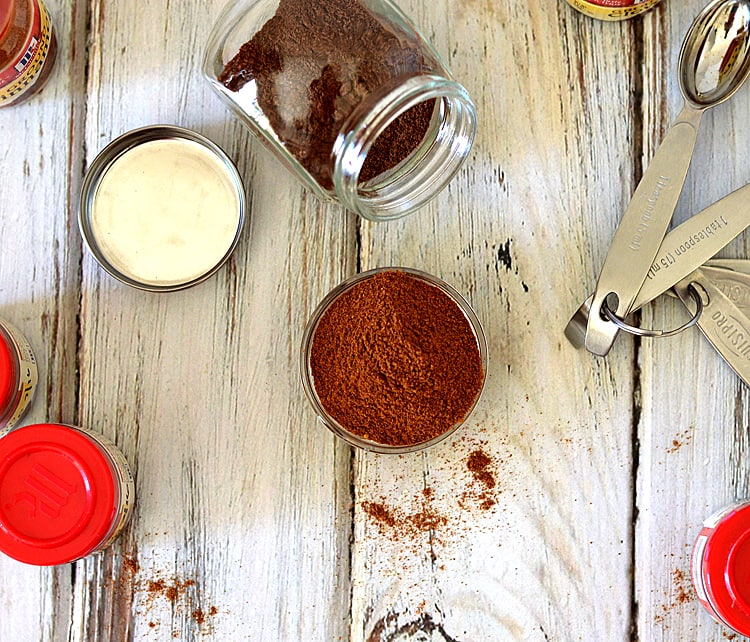 Take this breakfast over the top with a drizzle of pure maple syrup!  This makes enough for two servings…or, if you are really hungry, one large serving 🙂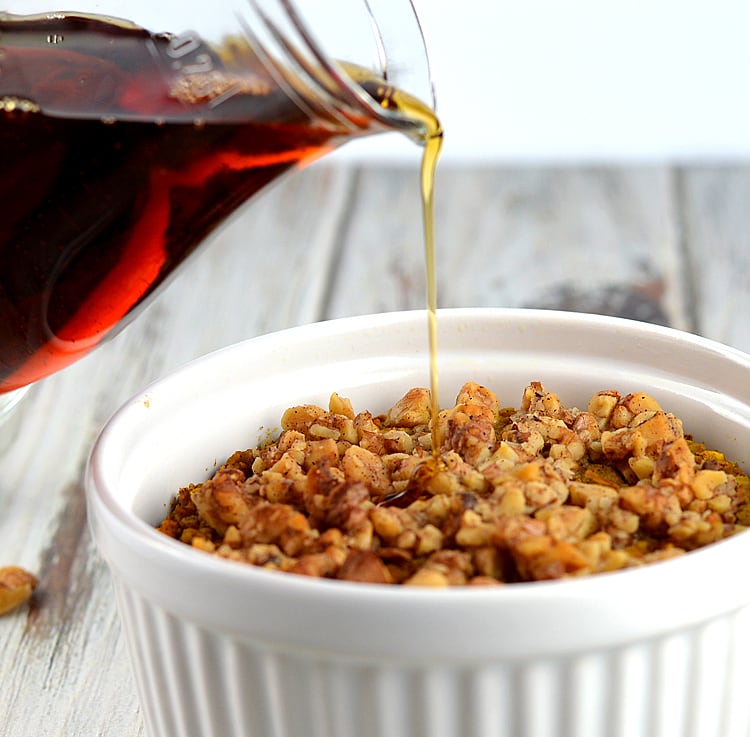 I found my obviously VERY popular Vega Essentials Protein Powder in the Healthcare section of my local Scottsdale, AZ Target.  Nearly completely sold out!  I am so thankful I was able to get the last vanilla!
Be sure to click below to Save $5 through 10/11/15 on Vega Essentials exclusively at Target.  Let me know in the comments section below how you enjoy your Vega Essentials shake!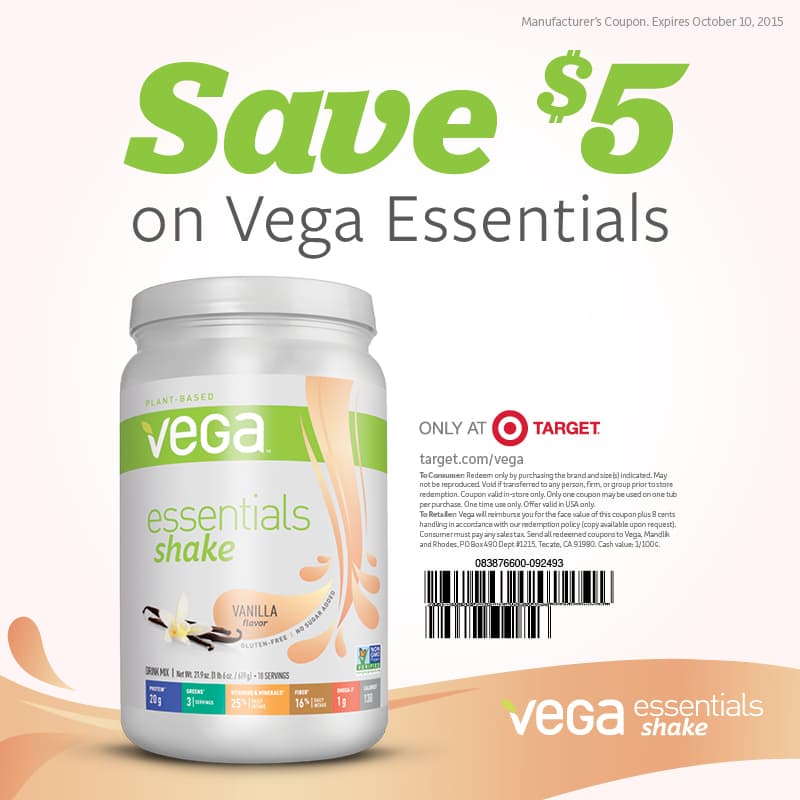 If you would like to learn more about Vega Essentials, please visit them at:  www.Vega.com or on their blog.
To purchase Vega Essentials at Target online, click here … or you can pick them up in store!  Don't forget to print the coupon above!
If you love Vega products as much as I do, show them some love on social media:
Healthy Vegan Baked Pumpkin Spice Oatmeal
Ingredients
FOR THE PUMPKIN OATMEAL:

1-1/2

C

Quick Cooking Oats

1/4

to 1/2 scoop of VEGA ESSENTIALS Vanilla Protein Shake

1

Tbl Coconut Sugar

2

Tbl Pure Pumpkin Puree

NOT pumpkin pie filling

1/2

C

Cashew Milk of choice

or other non-dairy

1/2

tsp

Baking Powder

Pinch of Salt

1/2

tsp

Vanilla Extract

1/4

to 1/2 tsp Pumpkin Pie Spice

see description for recipe to make your own

*

FOR THE TOPPING:

2

Tbl Chopped Walnuts

2

tsp

Almond Flour

or other

Pinch of Salt

1

tsp

Coconut Sugar

1

tsp

Melted Coconut Oil

Additional 1/4 tsp of Pumpkin Pie Spice

*

OPTIONAL :

for serving

Pure Maple Syrup
Instructions
Preheat oven to 350 degrees.

Melt the coconut oil and combine with all other ingredients for the topping. Set aside.

Spray and line the bottom of your desired baking dish with parchment to avoid sticking.

Combine all of the ingredients for the pumpkin oatmeal.

Evenly pour the mixture into the baking dish and top with the walnut mixture.

Bake for 20-25 minutes, or until it is the texture you'd like. A longer baking time will produce more of a cake-like texture.

Enjoy as is, or break it up and add a bit more cashew milk. The choice is yours!

For a little added sweetness, drizzle pure maple syrup if desired.

NOTE:

This makes enough for two servings...or, if you are really hungry, one large serving 🙂
Before you go, why not check out some of our recent videos and be sure to subscribe to the YouTube Channel! 🙂