I'm thrilled to be partnering with Minute® Ready to Serve Brown Rice & Quinoa to show you my spin on How to Build the Perfect Grain-Based Buddha Bowl!
I decided to create three very different, but very delicious bowls for you today.  There's something for everyone: a Falafel Bowl, a Portobello Fajita Bowl and my take a on plant-based version of an "Ahi" Poke Bowl.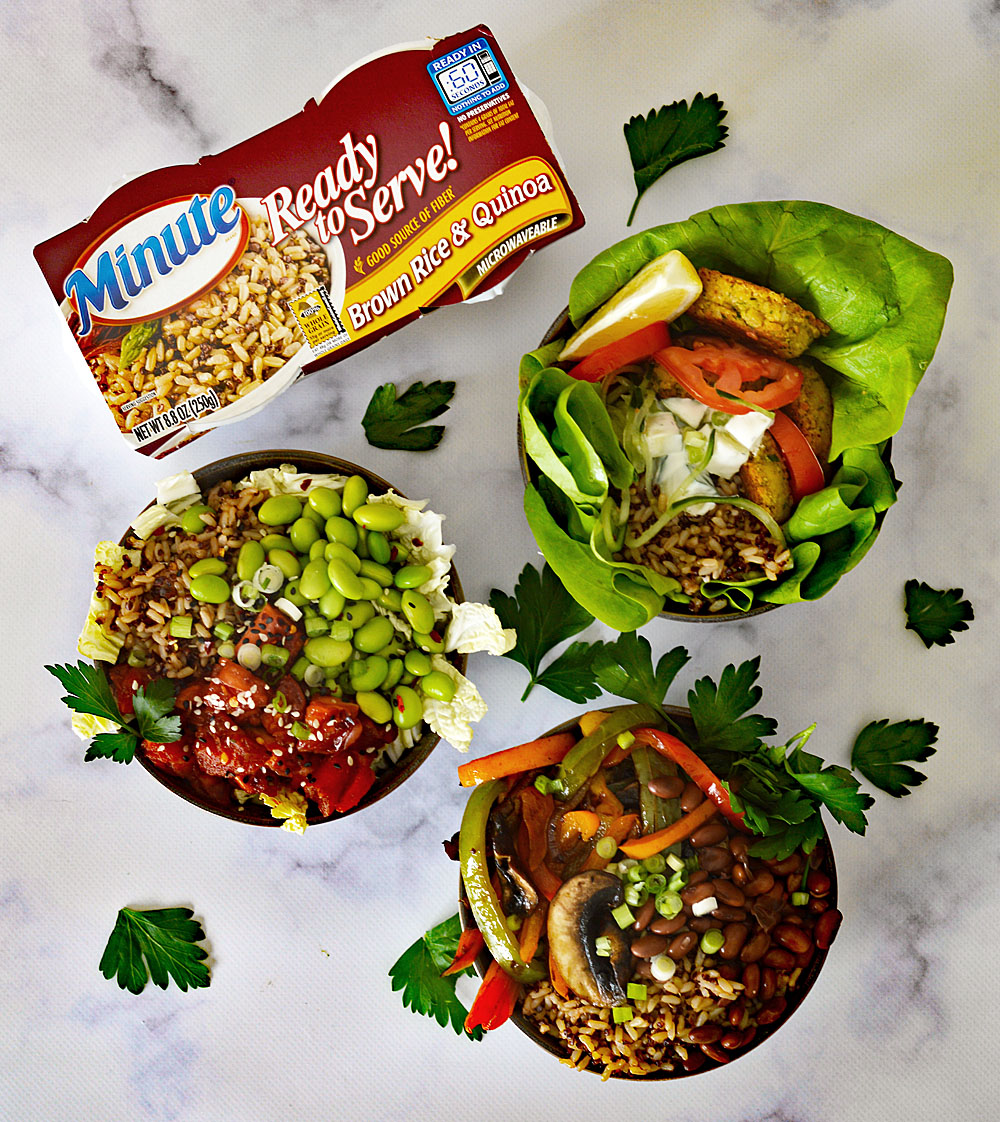 I'm using Minute Ready to Serve Brown Rice & Quinoa and I am a huge fan of this product. Ready in just 60 seconds, it makes meal prep a cinch!
Minute Ready to Serve is a great portable or on-the-go solution. Don't just think dinner, you can use these for any meal…or even a little snack.  I also keep these to add to leftover veggies I have in the fridge for an easy meal.  They are available in many varieties and located in the rice section of your grocery store.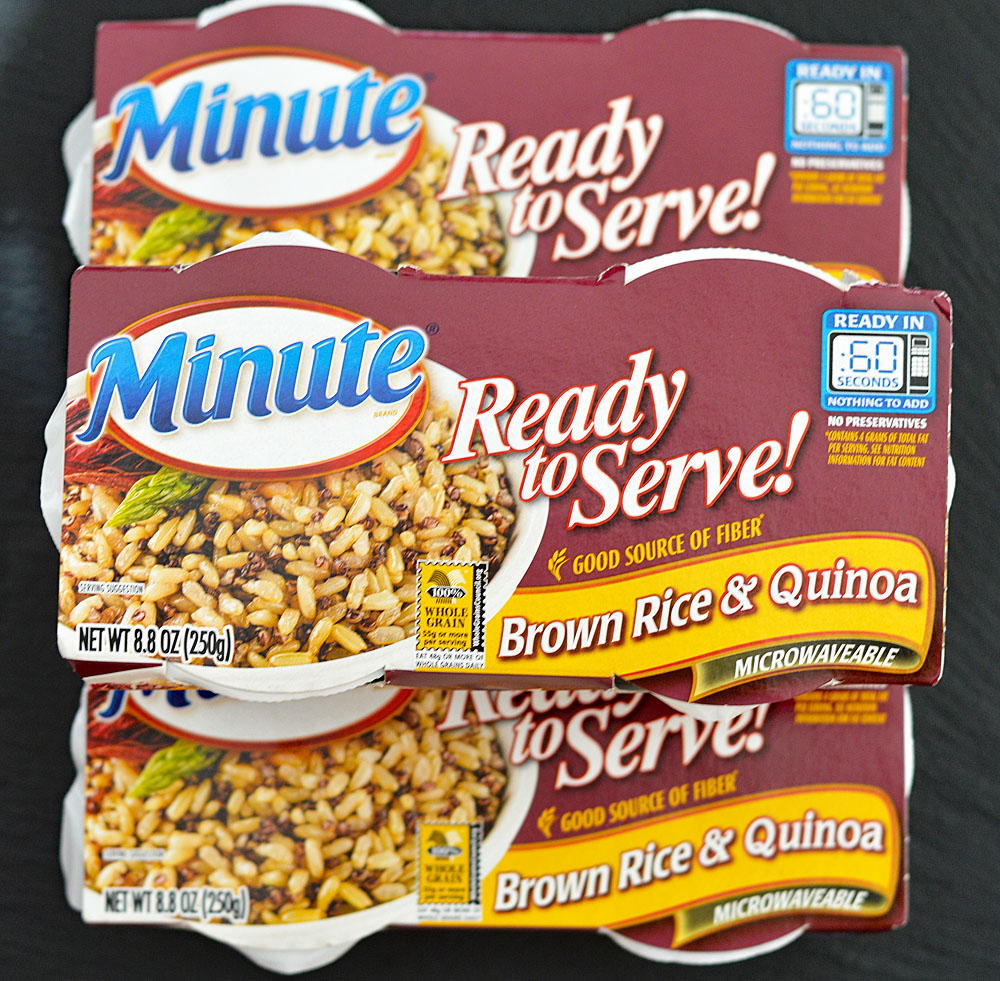 The pre-portioned cups just get popped into the microwave for 60 seconds, stir and you are ready to enjoy! I used one cup per recipe.
Combining two of my favorite 100% whole grains, these cups provide a unique blend of nutty-flavored goodness.  They are also gluten-free with no preservatives and the only product of its kind available in a single-serve portioned container.  By the way, I love that both the cups and the film are BPA-free!

Building your own grain-based Buddha bowl could not be easier. We started with Ready to Serve Brown Rice & Quinoa and the next step is to choose your protein.  I am using all plant-based protein sources in my recipes.  There are chickpeas in the falafel (1 cup of chickpeas = 15 grams of protein); Edamame in the poke bowl (1 cup of edamame = 17 grams of protein) and finally, black soy beans in the portobello fajita bowl (1 cup of black soy beans = a whopping 22 grams of protein)!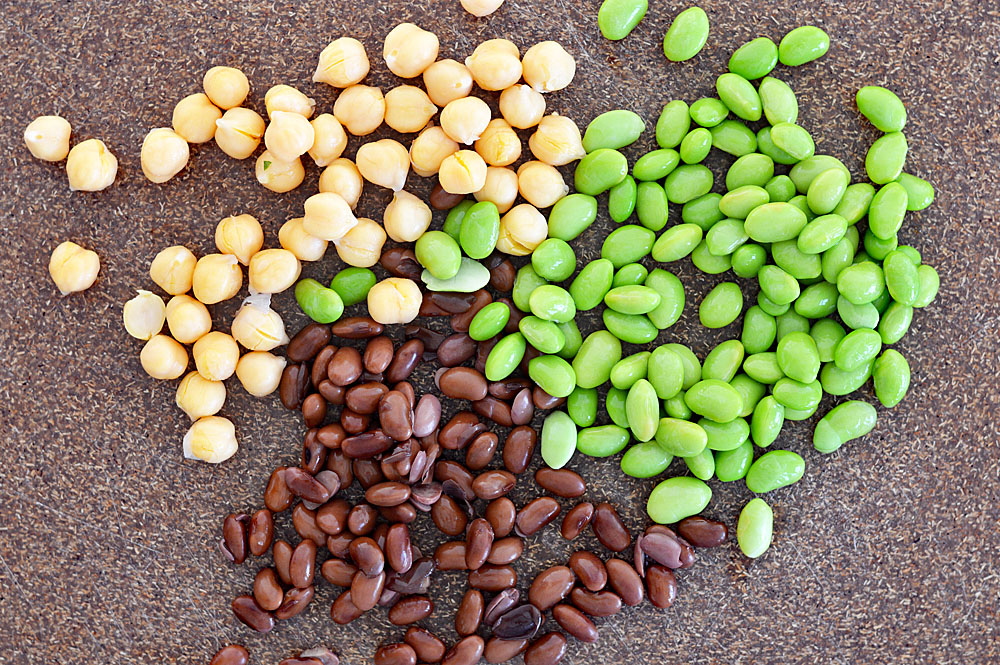 From there, just choose your favorite veggies and toppings.  For this Edamame Tomato "Ahi" Poke Bowl with Tamari Sauce, I added napa cabbage, green onions, and pink sea salt along with black and white sesame seeds.  The tomatoes are marinated in the tamari sauce and transform the tomatoes into a faux "ahi".  I love the look of the Minute Ready to Serve Brown Rice & Quinoa in this particular recipe!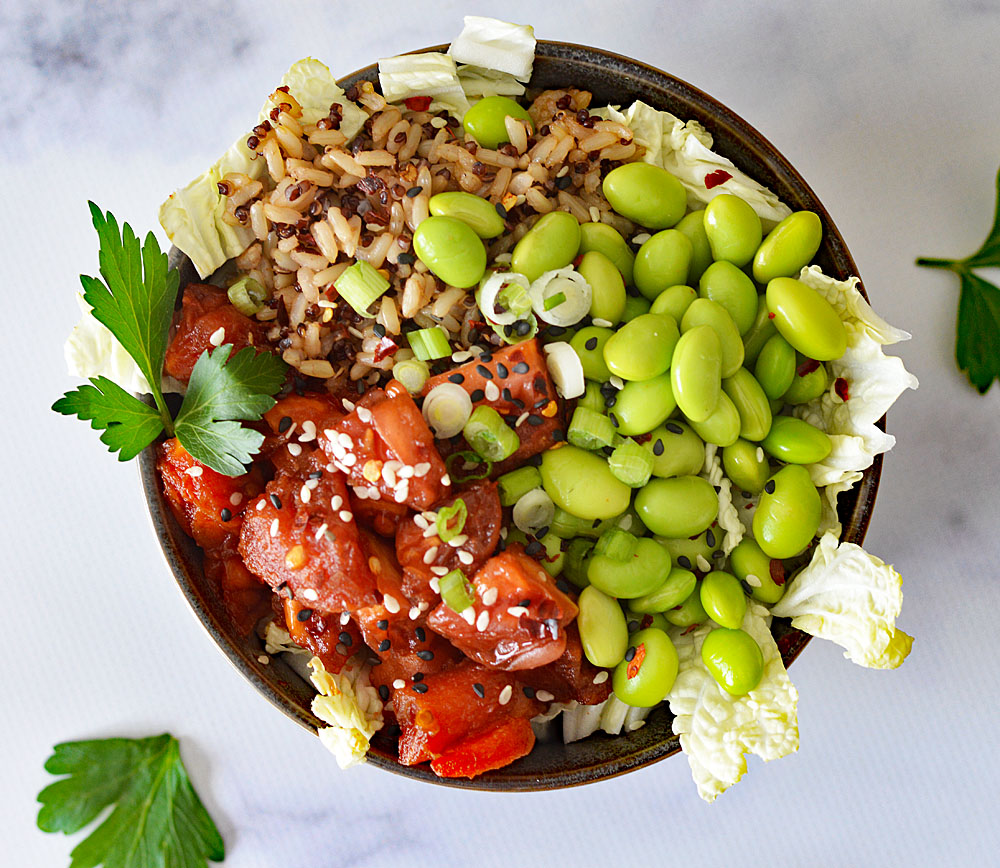 To create the tomato "ahi", you simply slice a small "x" in the non-stem side of a Roma tomato, boil for exactly 1-1/2 minutes.  At this point, the skin just falls right now.  Chop into cubes and marinate in the tamari sauce with freshly grated ginger and garlic.

Our next bowl is a Falafel with Tzatziki Sauce.  I was enjoying extras of this one as I was photographing it. Big chunks of cucumber are added with dill to dairy-free Greek yogurt to create our Tzatziki dipping sauce.  Add sliced tomatoes, a squeeze of lemon and just for fun, a spiralized cucumber.  Butter lettuce acts as our bowl bringing it all together.  I love mixing the Ready to Serve Brown Rice & Quinoa with the Tzatziki. Yum!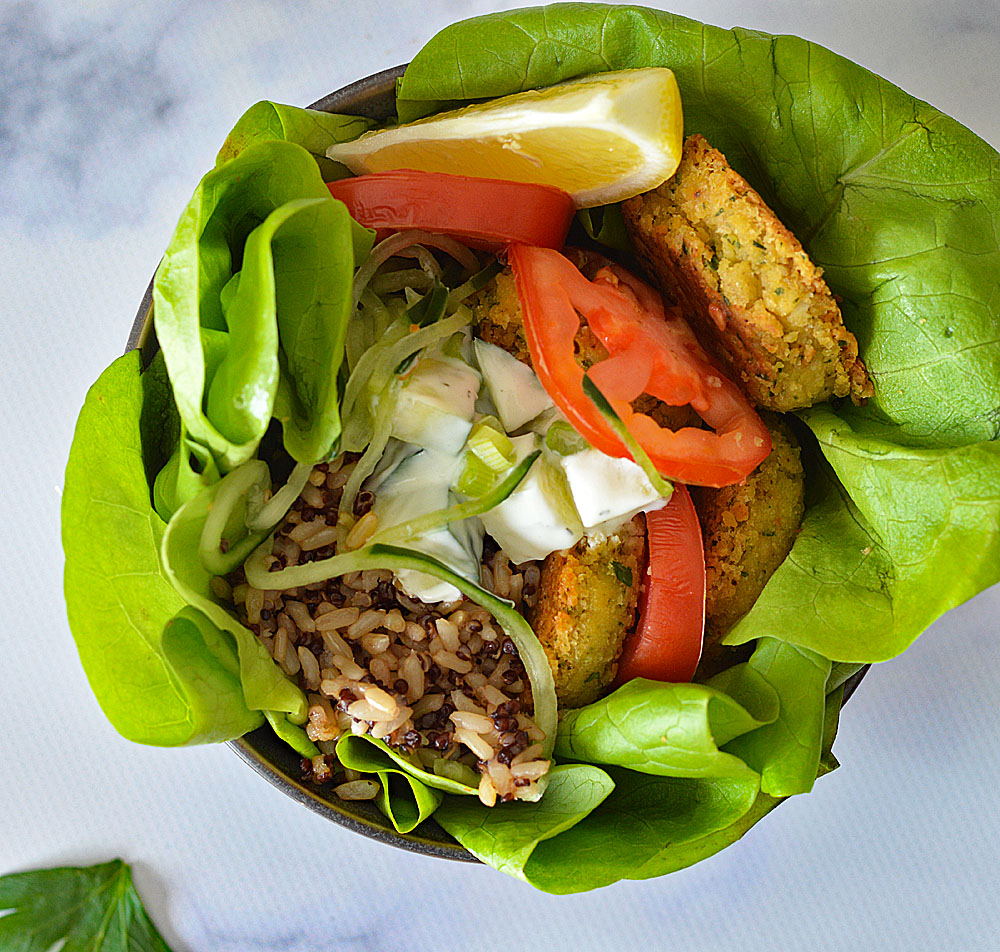 Falafel is one of my favorite recipes to create. Everything goes into a food processor and is molded by using a small cookie scoop, and then added right into a hot pan with oil. I use a bit of cooking spray on the bottom of a juice glass to lightly press into that traditional falafel shape.  By the way, you can also bake this if you prefer.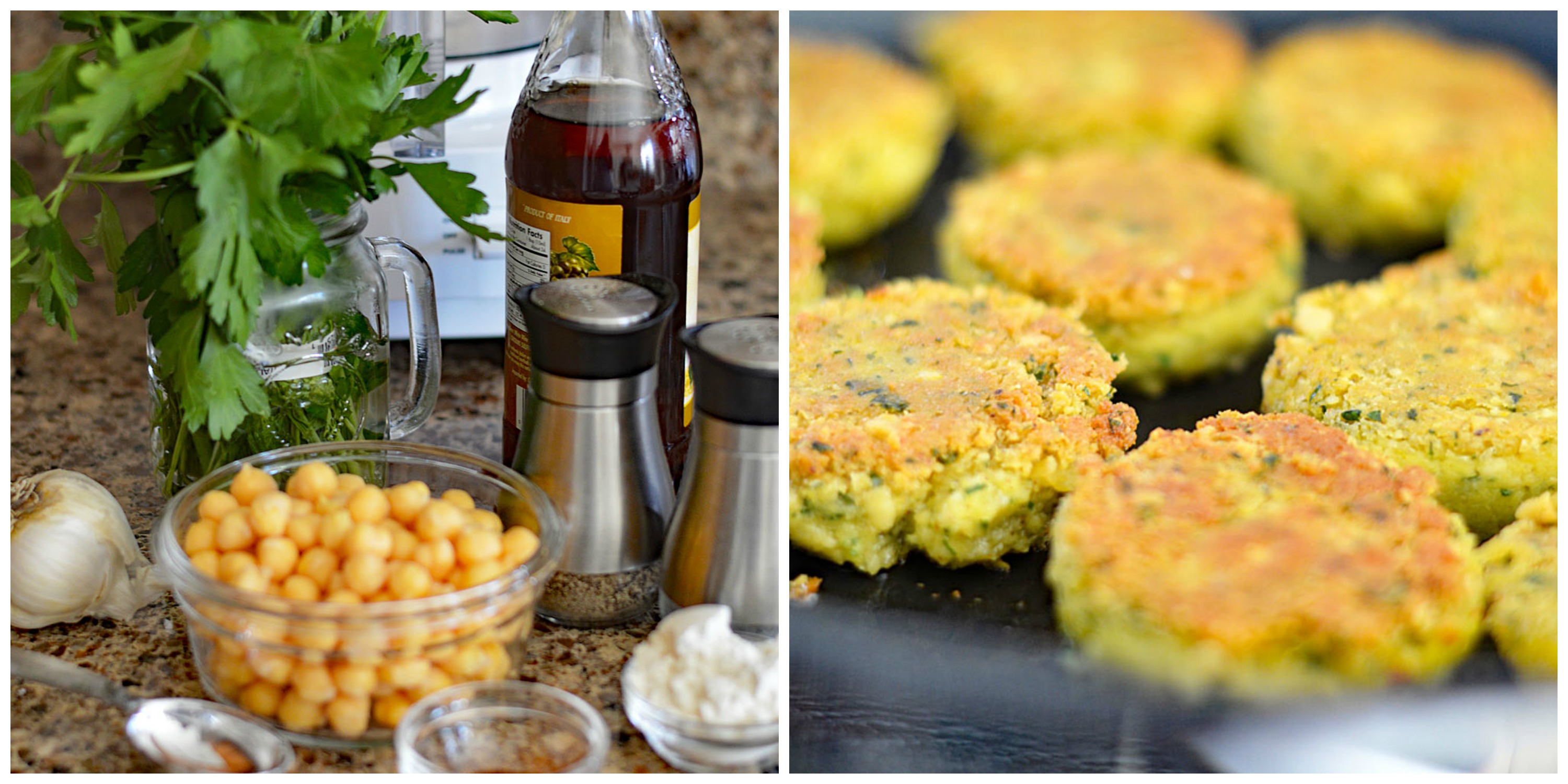 Last, but certainly not least, is a tried and true favorite of mine.  A Black Soy Bean and Portobello Fajita Bowl.  Spoon over the Ready to Serve Brown Rice & Quinoa, add those protein-packed black soy beans, a sprinkling of green onion and you are good to go. This dish comes together really quickly!  I sometimes like to add everything, Ready to Serve Brown Rice & Quinoa included, to a flour tortilla with a spoonful of sour cream.  So good!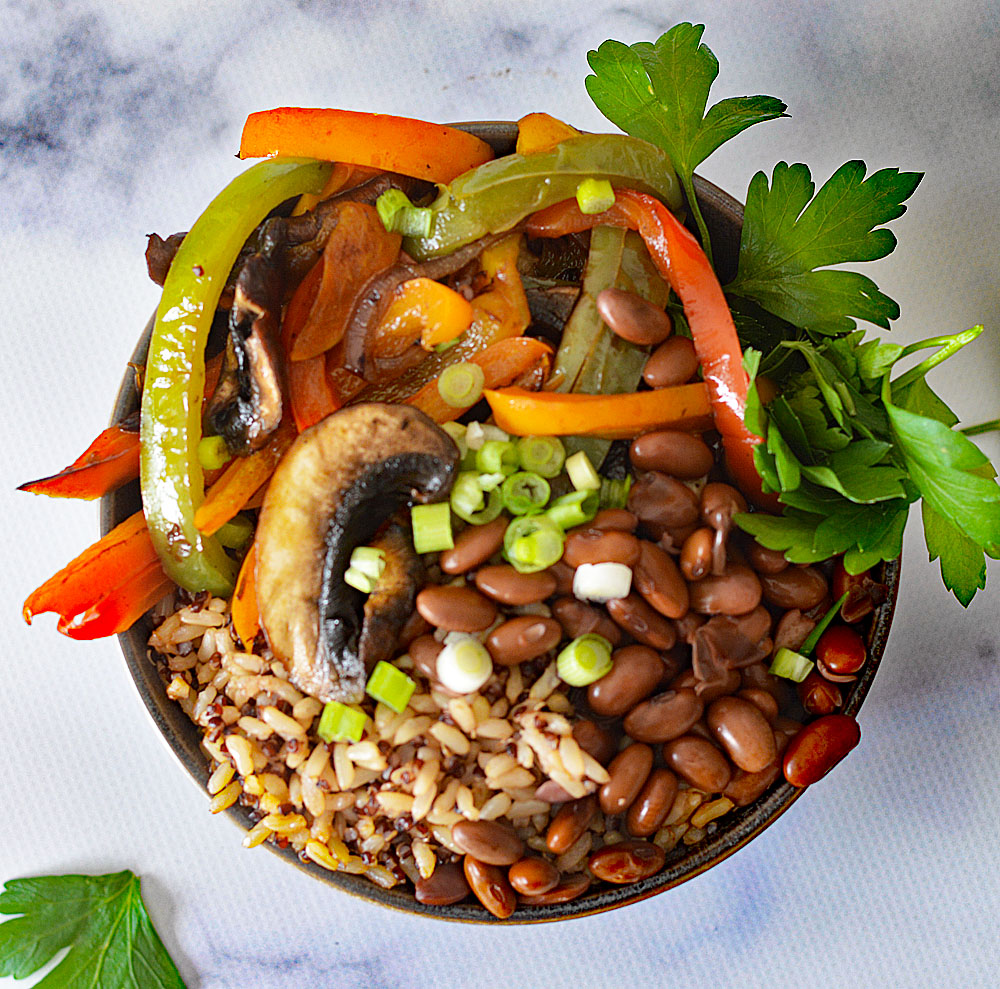 Sliced Portobello mushrooms, red, yellow, green and orange peppers along with red onion are sautéed in a very hot pan until charred.  I use a store-bought fajita seasoning, but you could certainly make your own blend or leave it out entirely.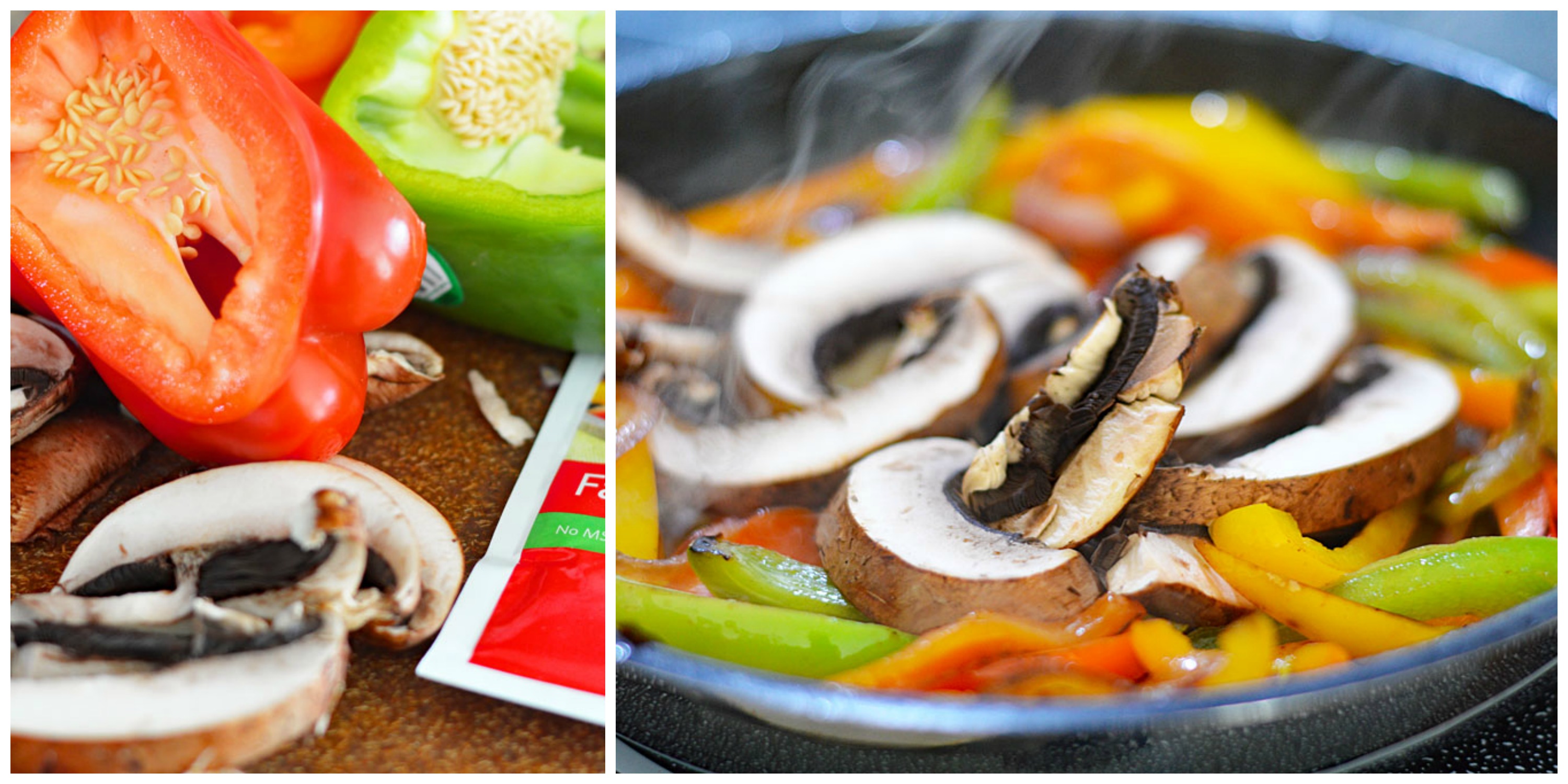 I hope you enjoyed this bit of inspiration and head out to get the MinuteReady to Serve Brown Rice & Quinoa.  Get creative and let me know in the comments section below what you come up with!
And if you enjoyed this post for How To Build The Perfect Grain-Based Buddha Bowl!, why not PIN IT FOR LATER!

This is a sponsored post written by me on behalf of Minute® Ready to Serve.