I was completely inspired to create this Immaculate Blueberry Sugar Cookie Tart!  This gluten free sugar cookie mix from Immaculate Baking Company™ just blew me away.  The company has a great background story revolving around the owner Scott, who started the company in his garage and through his travels, encountered folk artists who he continues to support by featuring their artwork on the product packaging.   Today, that garage-based company creates a line of wholesome and delicious baking products, many of which are gluten free or organic!
This holiday season, I decided to shy away from traditional and use part of the prepared cookie mix to create a crust and the rest, to create a crumble topping.  A little twist on this sugar cookie mix 🙂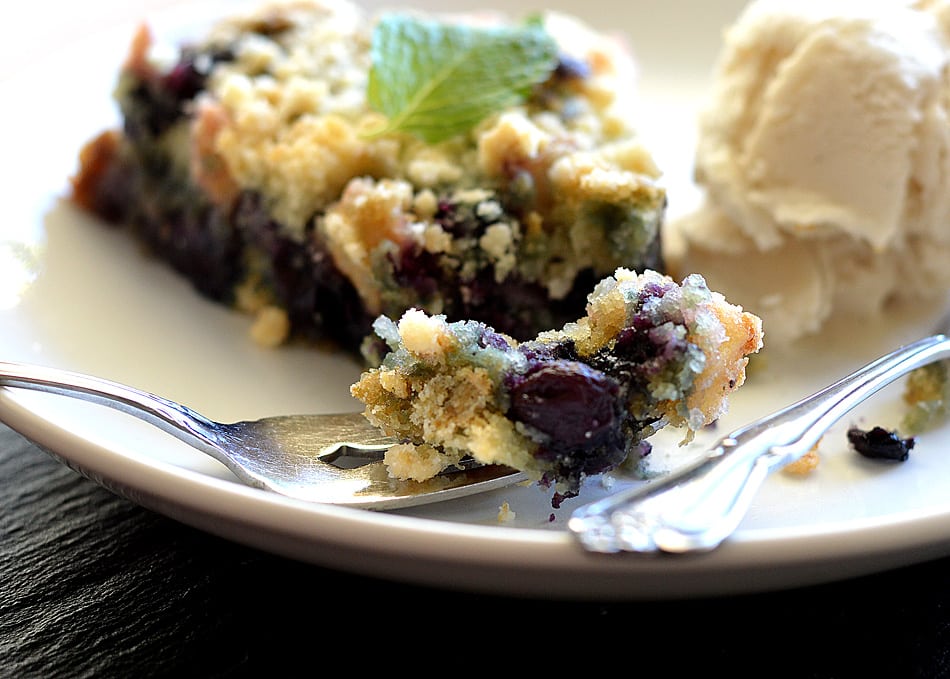 You'll find Immaculate Baking Company™ products at retailers such as Target, Sprouts and Whole Foods.  I used their product locator to find this specific gluten free sugar cookie mix at my local Scottsdale, AZ Target.  Literally just two blocks away!  I actually kind of splurged because I wanted to try a few different products in the Immaculate Baking Company™ line.  🙂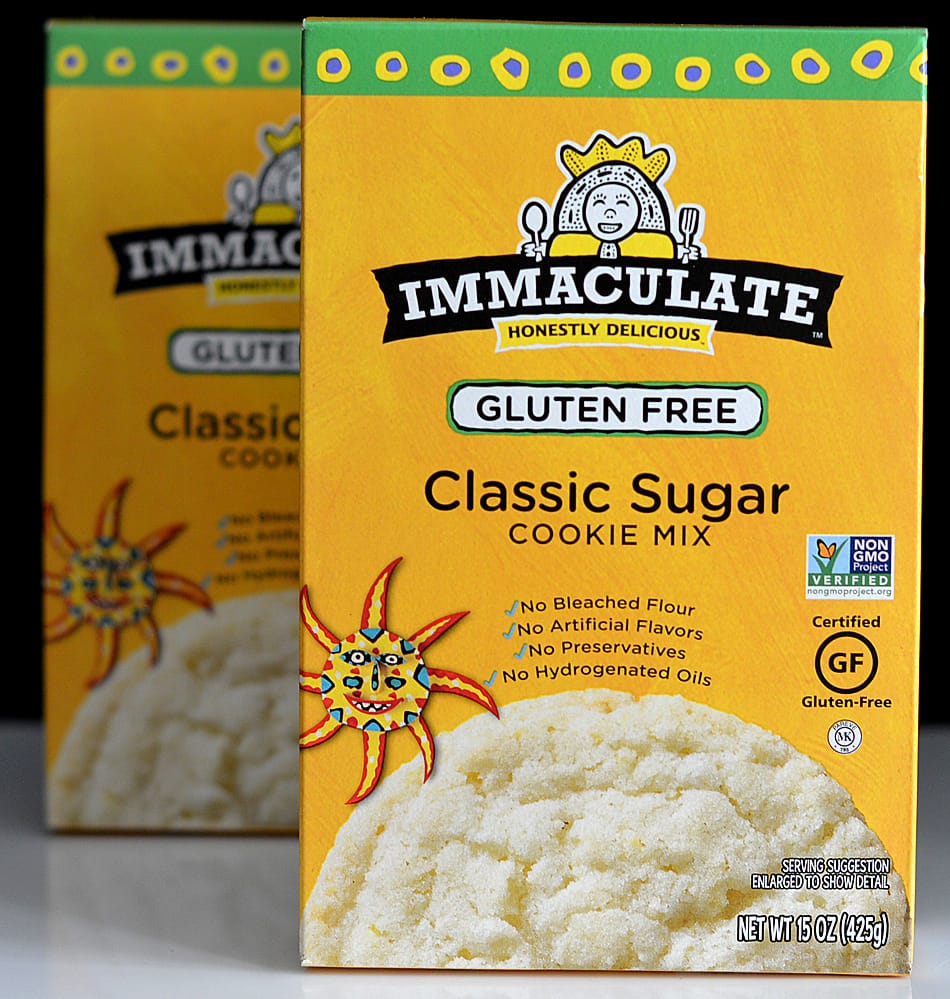 For the filling, I chose blueberries but to sweeten things up a bit, I added one apple cut into a medium dice.  Sugar, a pinch of salt and cornstarch are tossed in.  If you are keeping with the gluten free diet, most cornstarch is safe, but be sure to read the label.  Allow the fruit to sit while you prepare the dough.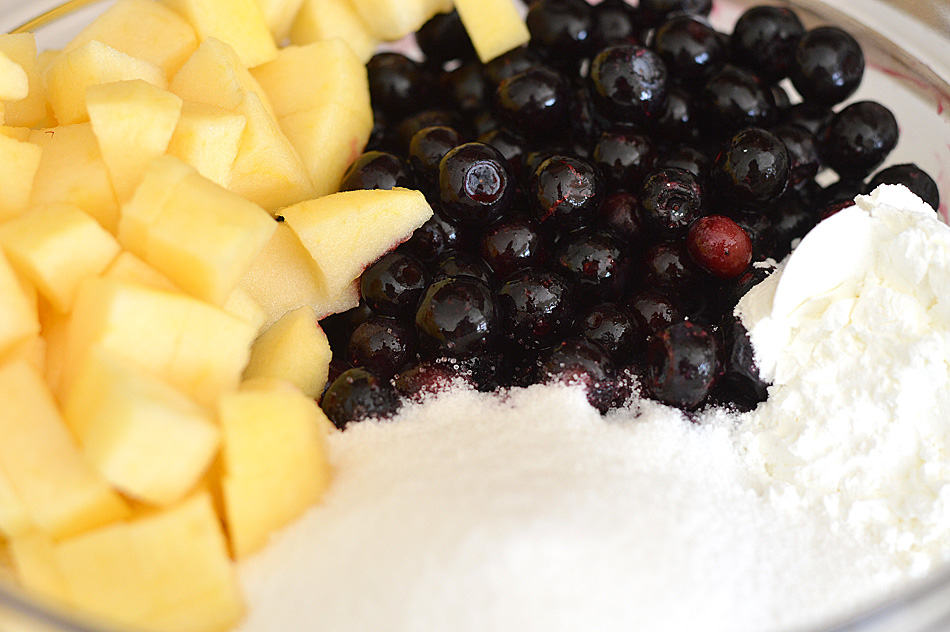 We'll be using an entire 15 oz. box of the Immaculate Baking Company's gluten free Sugar Cookie Mix and prepare according to the directions on the box.  Instead of stirring together, I prefer to use a pastry cutter for this recipe.  It gives a light crumble, which we'll be needing for the topping.
I take about 2/3 of the dough and press it into my desired pan.  I used this rectangular tart pan with a removable bottom, but feel free to use any shallow baking pan for this recipe.  I would recommend that if you are using a pan without a removable bottom to line with parchment for ease of removal.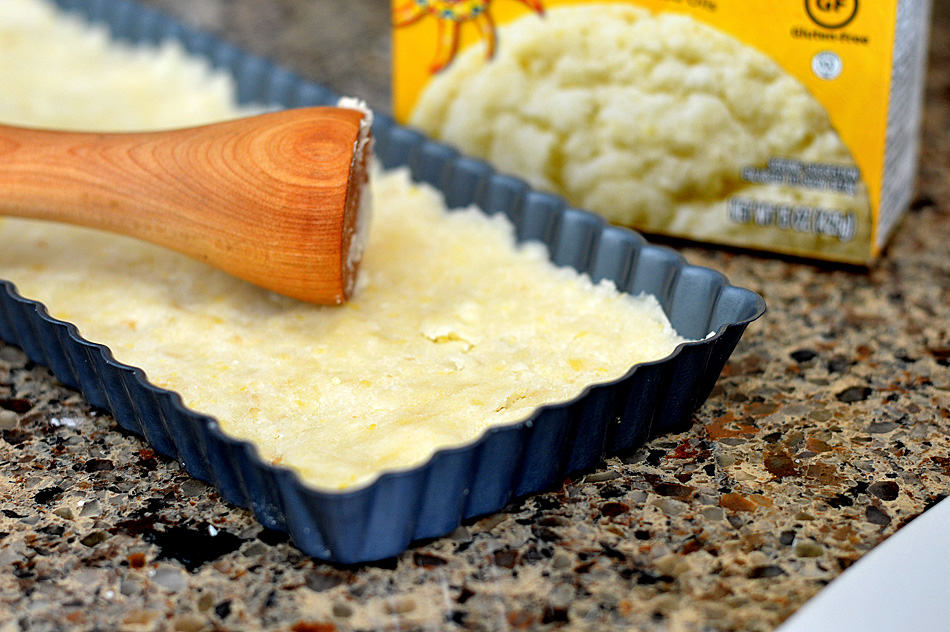 By now, your fruit mixture should be glossy and ready to place into the tart pan.  Do not overfill because the dough will expand.  To be sure, I always place a sheet pan under the tart pan.  Some juices can seep under the removable portion of the pan and cause quite a mess in your oven.  Better to be safe than sorry! 🙂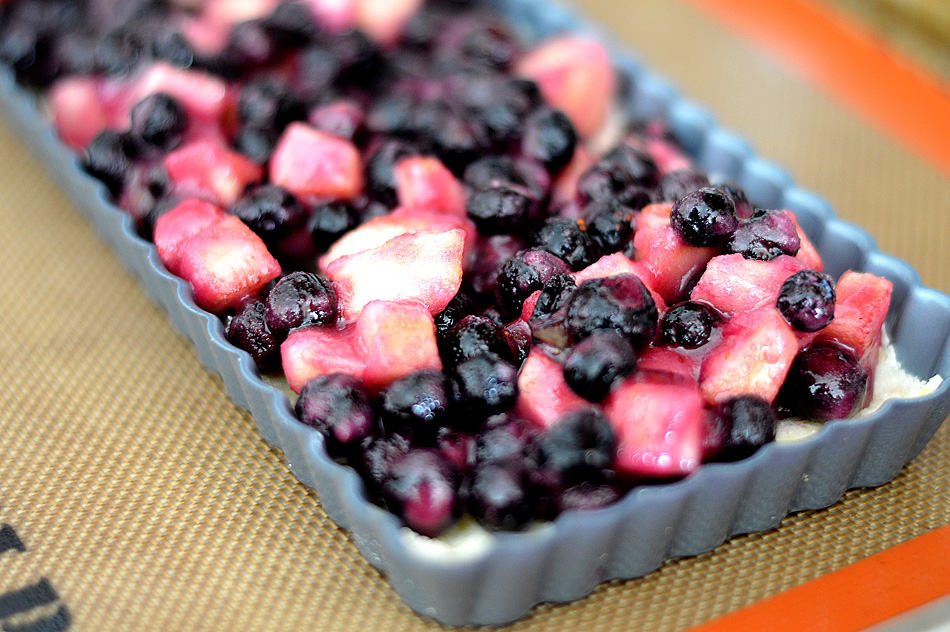 Take the remaining crumbly dough and liberally sprinkle it over top.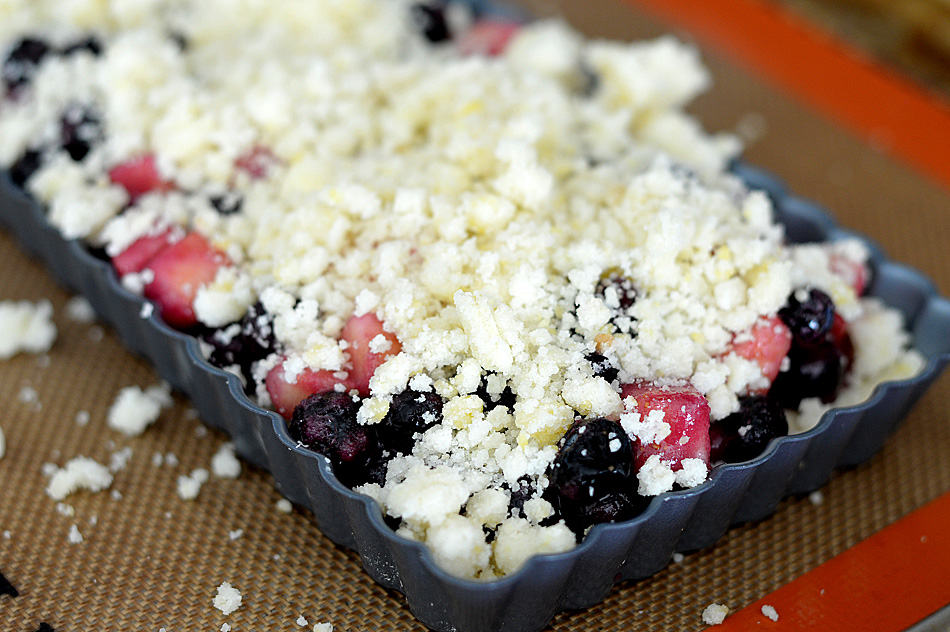 Bake at 350 degrees until the top is golden brown.  For me (using this particular rectangular pan) it took about 30-40 minutes.  If the top isn't done, the base surely won't be with all of those fruit juices.  So take your time.  My favorite part were those sugary, crusty edges. Yum!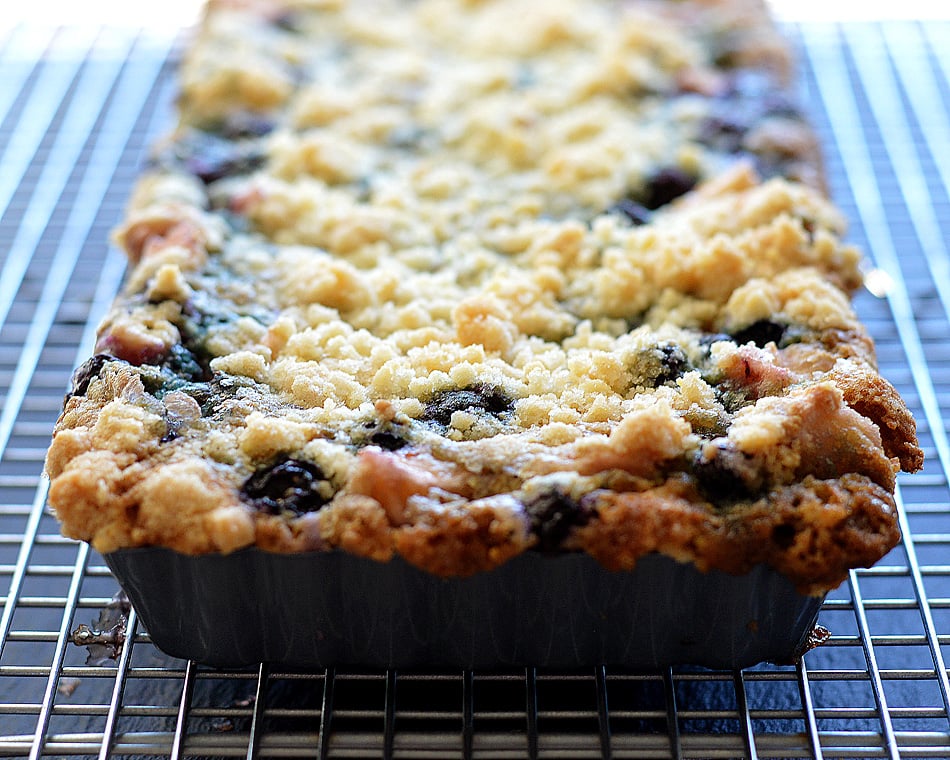 I served it with my favorite dairy & gluten free almond milk ice cream.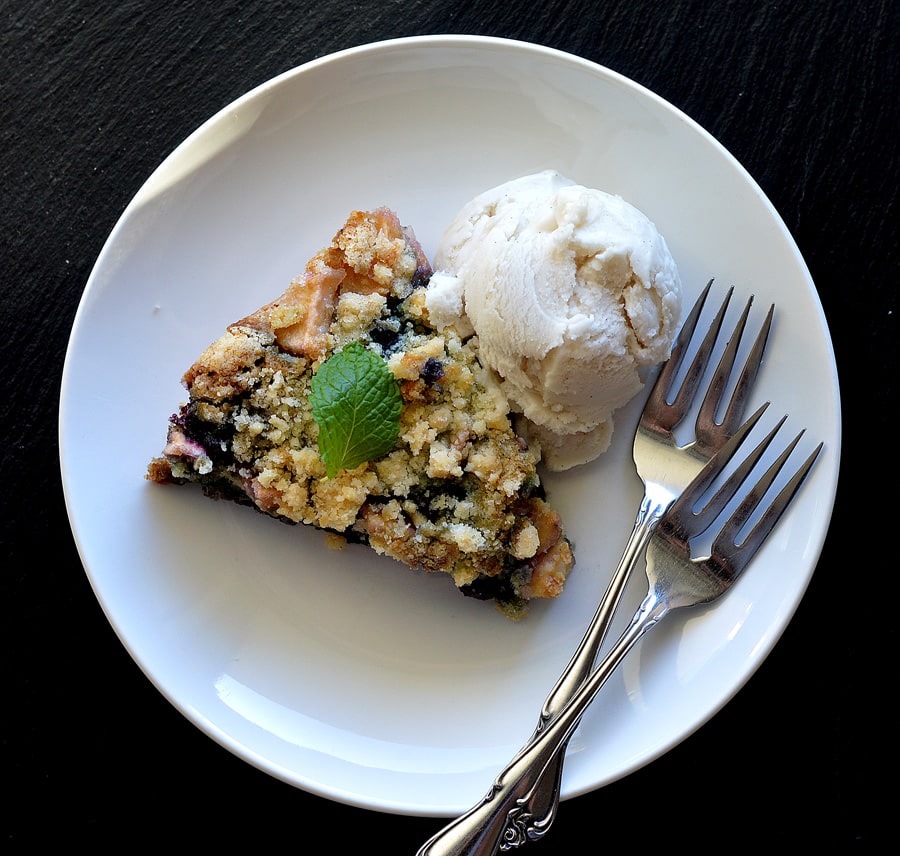 Garnish with a sprig of mint and serve either warm, or at room temperature.  I personally preferred it warm.  It's such a nice contrast to the ice cream.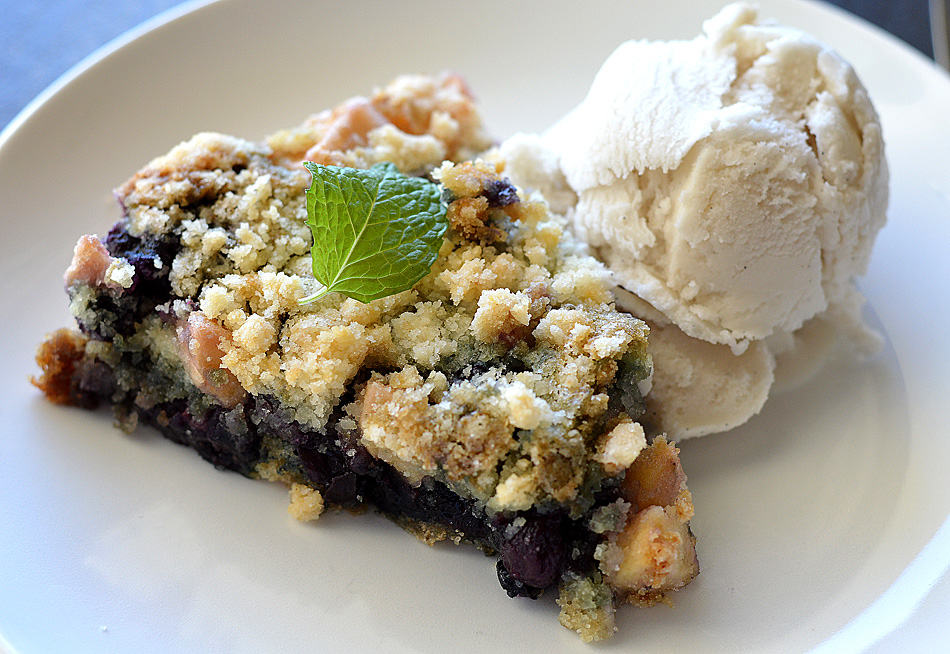 I had so much fun inventing a recipe using the Immaculate Baking Company's gluten free sugar cookie mix to create this Immaculate Blueberry Sugar Cookie Tart.  If you make the recipe, leave a comment below and let me know what you thought 🙂
Immaculate Blueberry Sugar Cookie Tart
Ingredients
FOR CRUST & CRUMBLE TOPPING:
1/2

c

Gluten Free Vegan Margarine

1

Egg*

(or for a vegan option you can use 1 Tbl ground flax + 3 tbsp water, let sit for 10 minutes)

1

15 oz. pkg

Immaculate Baking Gluten Free Sugar Cookie Mix

1

tsp

Gluten Free Vanilla
FOR THE FILLING:
1

large

Apple

peeled, core removed & medium diced

2/3

c

Sugar

3

tbsp

Gluten Free Flour

2

c

Blueberries

1

tbsp

Gluten Free Cornstarch

pinch

Salt
Instructions
In a large bowl, combine the blueberries, apples, sugar, cornstarch and salt. Stir well to combine and allow to sit, stirring occasionally.

Meanwhile, in another bowl, combine the ingredients for the sugar cookies and use a fork or preferably, a pastry cutter. It should resemble a coarse meal.

Take 2/3 of the cookie dough and press into a tart pan. If you have one with a removable bottom, it will release cleaner but you can also line with parchment.

Add the fruit to the tart dough. Do not overfill as the cookie base will expand during baking.

Take the remaining crumbled dough and liberally sprinkle over top.

Bake at 350 degrees for 30-40 minutes or until the top is golden brown. The baking time will vary based on your oven and choice of pan, so keep a close eye.

Allow to cool slightly prior to serving.