Vegan Gingerbread Cookies are pretty amazing on their own, but how about topped with this Vegan Royal Icing? Yes, it is entirely possible to make a vegan royal icing that not only dries hard, but glossy!  Insert 'ooooh's and aahhhs' here 😉  And last but not least, later in the post I'll also talk a little bit about vegan food coloring.  So this is sort of a 3-in-1 post because quite frankly, I would love to say that I am all prepared for Christmas, shopping done, presents wrapped and waiting under the tree, but alas…this normally overly organized person is just not that prepared this year.  Life happens, and it's ok.  It will all work out in the end.
I absolutely love this recipe for gingerbread because these cookies do not spread.  They puff up, but retain their shape which is important for a cut out cookie!   So let's begin there…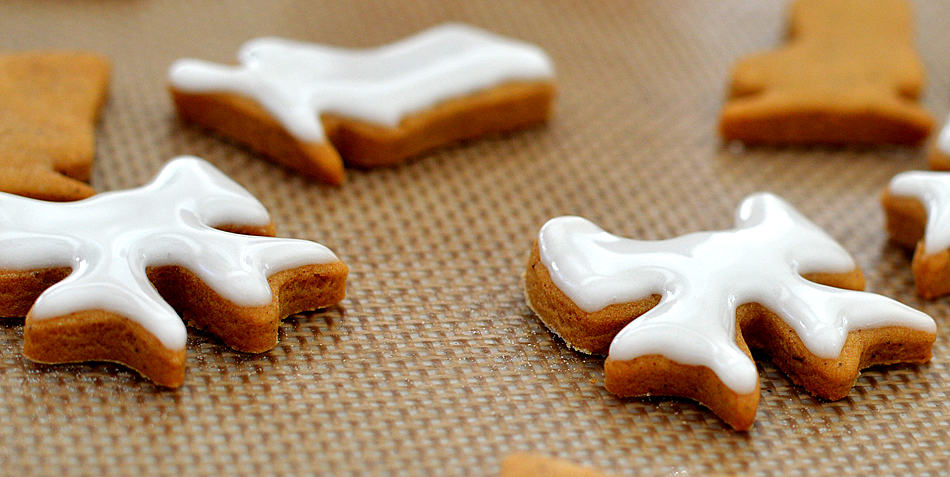 You will need vegan margarine, brown sugar, molasses, all purpose flour, salt and baking powder.  We'll spice them up with cinnamon, ginger, cloves.
There is one specialty ingredient.  I used Ener-G Egg Replacer (which is my current favorite). It is a plant-based, vegan mixture of starches and leavening agents.   1-1/2 teaspoons of Ener-G plus 2 Tablespoons of water are the equivalent to 1 egg.  I have had the most consistent results in baking using this product.  Not affiliated in any way, it just works.
I do like to chill the dough (wrapped in plastic wrap) for several hours or over night, as it is much easier to work with that way.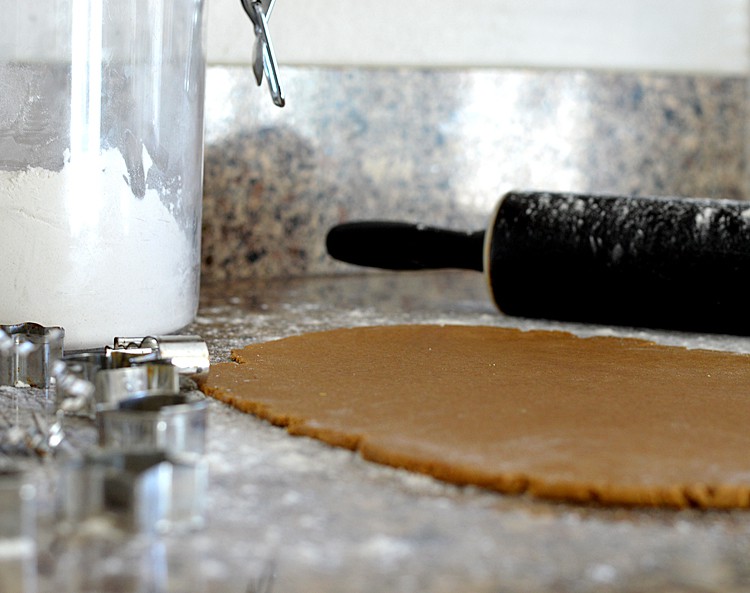 I choose a variety of small Christmas themed cutters.  Snowflakes, snowmen, mittens, trees, stockings, bows and ice skates.  Got it off of Amazon as well.  Are you surprised? 😉  I know, I know…I am slightly addicted to the convenience of Amazon, but I love that I can provide you all with a resource where you can obtain these things as well.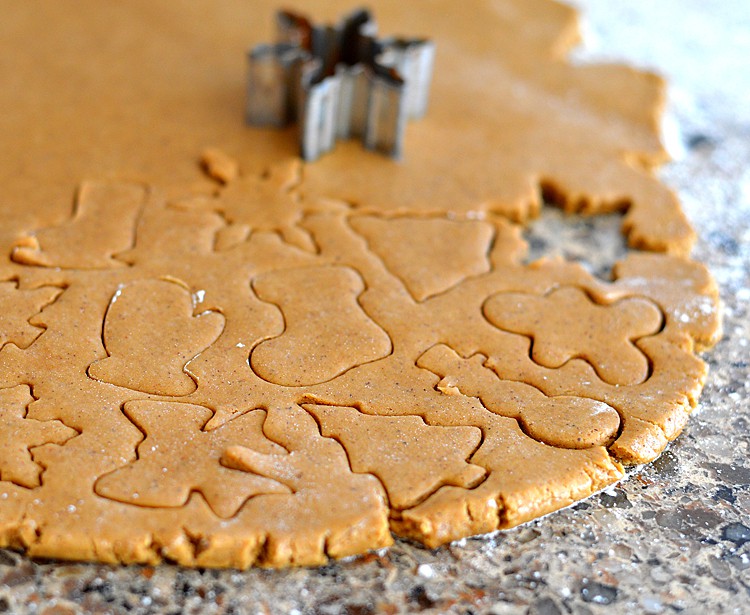 They bake for just about 5-6 minutes and are transferred to a rack to cool completely.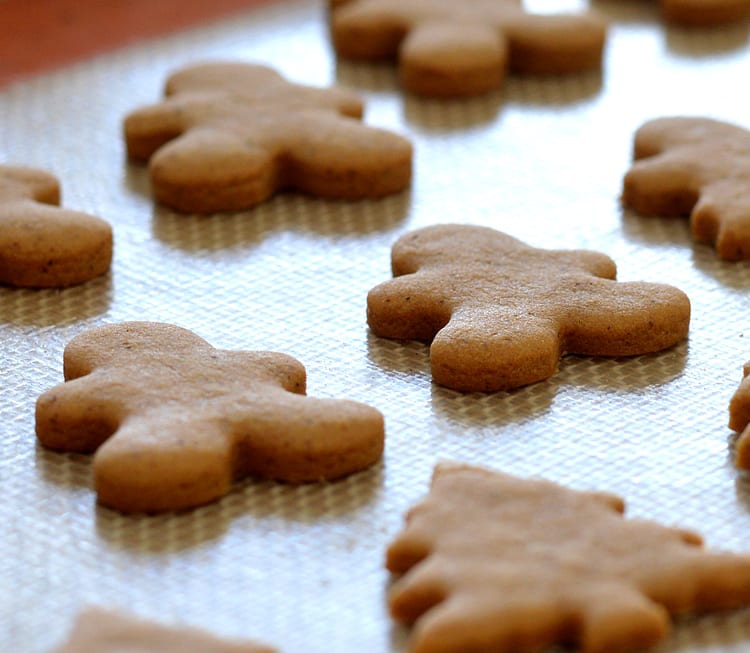 Now onto the icing.  Just 3 simple ingredients include:  confectioner's (powdered) sugar, light corn syrup (I like this one because it is certified vegan, but most syrups are technically vegan) and almond milk.  That's it!
This is a 'flood consistency' icing meaning it is able to be piped and retain its shape, but will 'heal' or settle back into itself creating the smooth surface you see here.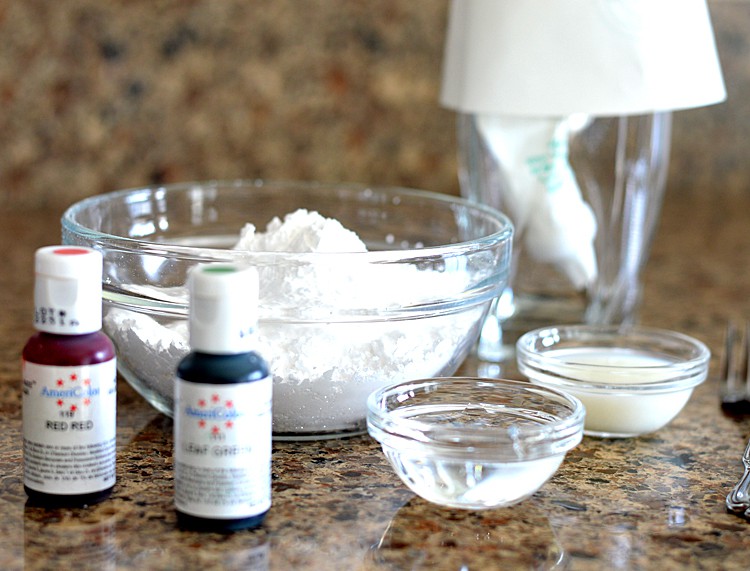 Consistency is key here.  On the left should be what you get from my base recipe.  Icing is very dependent on humidity, so you may need more (or less) liquid than I do here in Arizona.  On the right is an example of an icing that is too thin and it will run right off of your cookie.  It is easier to add than to take away, so start by adding 1/2 tsp at a time to the thicker mixture until you get an icing that when it falls back on itself, leaves a trail but eventually levels out.
I picked up a simple piping bag, round tip and coupler for a few dollars.  Everything is washable and reusable, but you can also find disposable bags.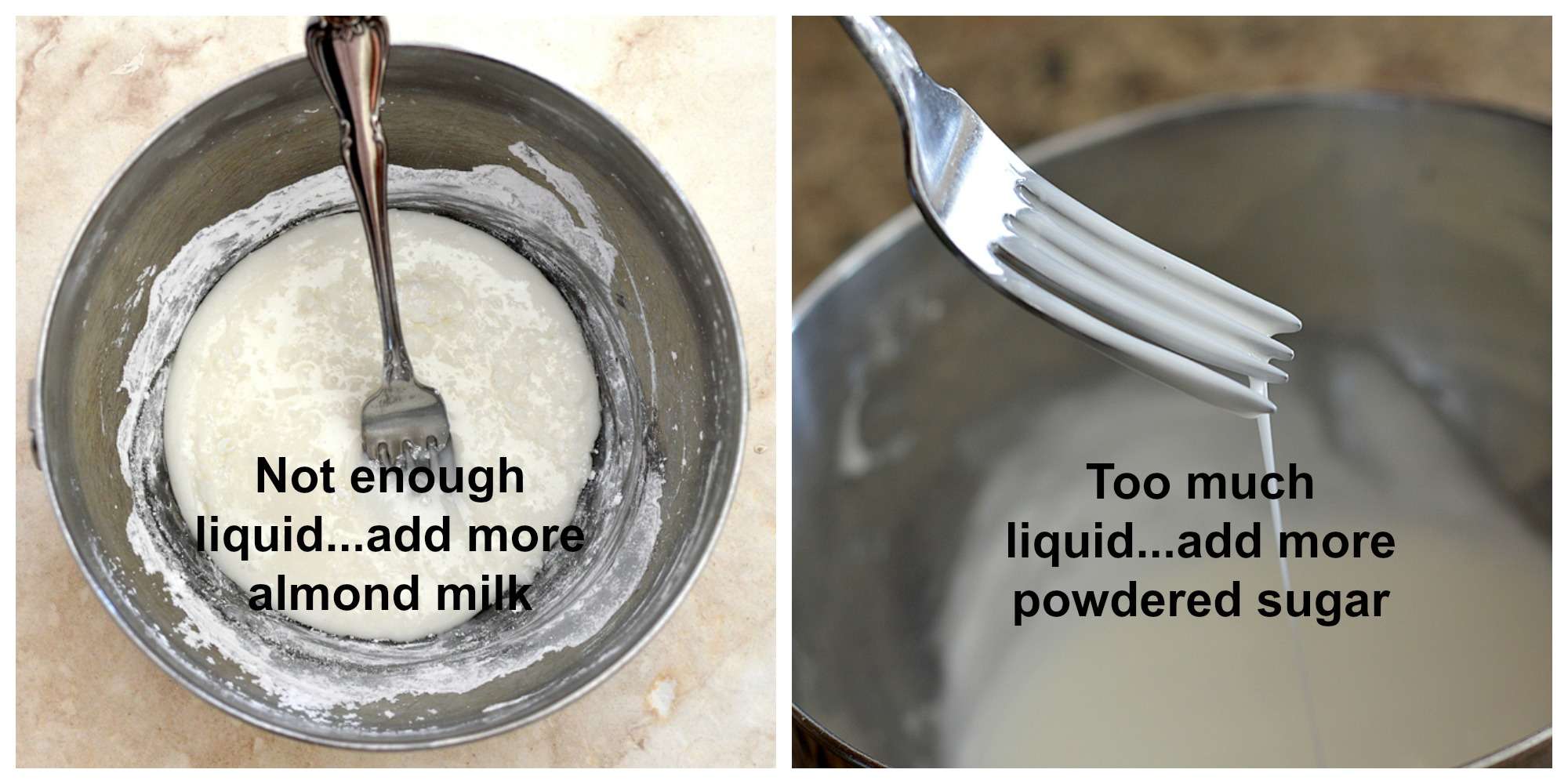 Another option, and a question I get quite often, is about food coloring.  Vegan food coloring to be more precise. Although there are companies producing natural vegan colors, they are not true colors and appear very pastel and dull.  Most of my readers have been less than impressed with those.
I use these professional colors by AmeriColor.  This junior starter set is around $20 on Amazon and is perfect for the beginning decorator.  AmeriColor produces dozens and dozens of colors (it's easy to get carried away), but if you have a craft store, Walmart, cake decorating shop, etc. near you…you can just buy individual bottles.  They are about $2 a bottle and worth the investment!  I use 'Red Red' and 'Leaf Green' at Christmas time and they produce very vibrant iced cookies.  They are also completely VEGAN.  I recently contacted the manufacturer a few weeks ago and this is their response… "Dear Aimee, Thank you for your interest in AmeriColor! Yes, our food color is vegan friendly. … On the seldom occasion that we produce Meringue Powder, as it has been discontinued, it is made in a segregated area and the equipment we use for food color is not used. I have attached our Allergen Statement for your reference as well. Please let me know if you need further assistance. Best wishes!"
If you are able to find it, there is one called 'Xmas Red' that I absolutely love for the holidays.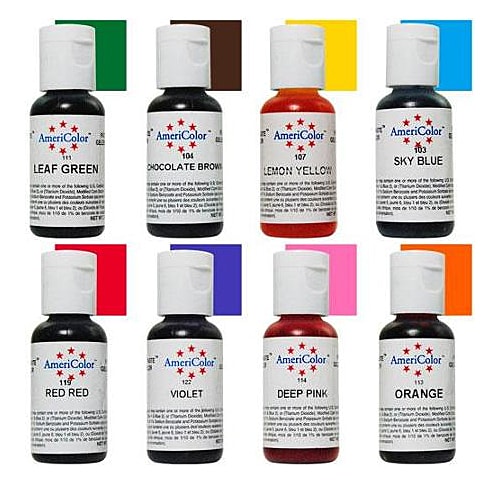 I chose to do most of mine in white, but can you see how shiny they are?  You could also use edible food color markers once they have hardened.  Sprinkles, nonpareils, the possibilities are endless.  Have fun.  Get creative.
One little helpful hint, keep a paper towel with warm water nearby to wipe the piping tip occasionally as this icing dries quickly.  You'll want to keep the tip clean and the icing flowing freely.  Allow to dry completely.
Another tip, keep a toothpick to help pop any little air bubbles that may occur.  Do this before the icing starts to set.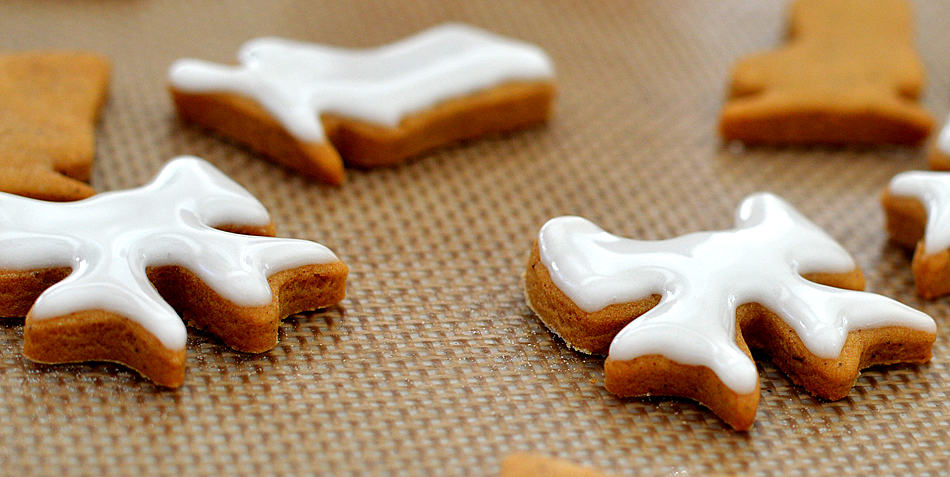 I'll be bringing you a lovely buttercream style frosting in a few weeks, so stay tuned for that!
Vegan Gingerbread Cookies with Royal Icing
Ingredients
FOR THE GINGERBREAD COOKIES:

1

C

plus 1-1/2 Tbl Vegan Margarine

such as Earth Balance

1/2

C

Brown Sugar

1-1/2

tsp

Ground Cinnamon

1-1/2

tsp

Ground Ginger

1/2

tsp

Ground Cloves

1-1/2

tsp

Ener-G Egg Replacer plus 2 Tbl Water

you can experiment with other egg replacing methods, just use the equivalent of 1 egg regardless of the method you choose

1/2

C

Molasses

3-1/4

C

All Purpose Flour

1/2

tsp

Salt

1/2

tsp

Baking Powder

*****

FOR THE 'Flood Consistency' ICING:

2-1/4

C

Confectioners Sugar

2

Tbl Light Corn Syrup

1-2

Tbl Almond Milk

add more as neede 1/2 tsp at a time

Vegan Food Coloring

optional
Instructions
Combine the vegan margarine and brown sugar in the bowl of an electric mixer until creamed.

Add the remaining ingredients and beat until well incorporated.

Split the dough in half and wrap in plastic wrap. Flatten into rounds. This will help them chill more quickly and evenly.

Chill for several hours or over night.

Preheat oven to 350 degrees.

On a floured surface, roll the dough to about 1/4" thick and cut out your shapes.

On a parchment or Silpat lined sheet pan, place the shapes and bake for approximately 5-6 minutes. This will depend on how large your cutouts are.

Cool on a wire rack completely.

In a bowl, combine the powdered sugar, corn syrup and almond milk with a fork until smooth. If it is too thick, add more almond milk 1/2 tsp at a time. If it is too thin, add more confectioners sugar 1 tsp at a time.

The icing should maintain its shape when drizzled but eventually 'heal' or settle back into itself. Test a cookie or two and wait a few minutes to see if it's too runny before proceeding.

I use a small round tip to outline and then fill in the cookies.

Tint the icing to make a variety of colors. The gel food coloring does not affect the consistency of the icing at all.

Allow to air dry until hardened. At this point, you can choose to use edible food color markers if desired.