One of my earliest recipes, Brown Sugar Barbecue Baked Beans, has been one of my most popular recipes this time of year.  So I thought I'd do another version and thus these Loaded Barbecue Baked Beans were born!
This time around, start with your favorite prepared barbecue sauce.  Vegan-friendly, of course.  To enhance the sauce, I added yellow mustard, (vegan) Worcestershire sauce, brown sugar and apple juice for a bit of sweetness.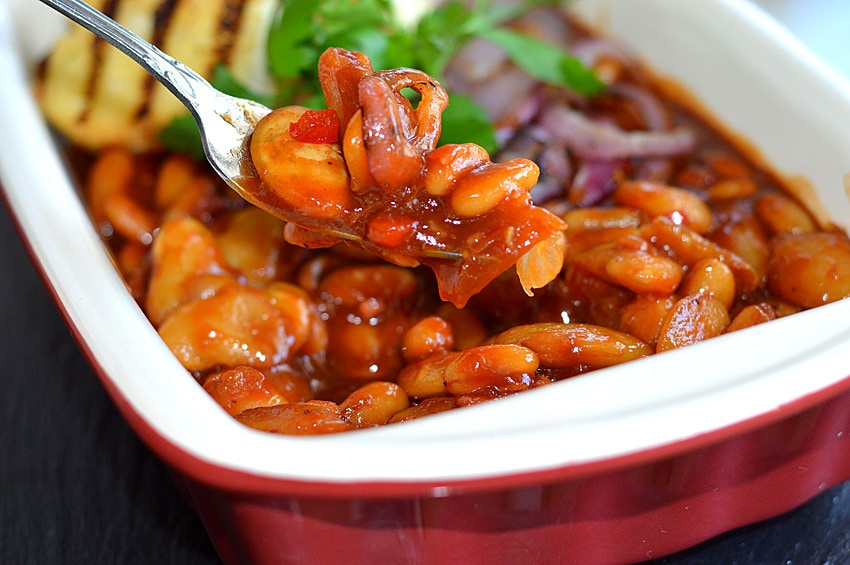 I used two types of beans in this dish.  Cannellini and Butter Beans.  You could use virtually any type of bean here, so pick your favorites.   The drained and rinsed beans are added to the sauce along with a red pepper and soy bacon bits (or you could opt for liquid smoke here).
Bake for about 30 minutes at 350 degrees or, you can do this on the grill.  While the beans are baking, I also grilled a red onion until it was charred and tender.  I also used vegan margarine on a piece of Texas Toast for a side.  Once the toast was ready, I took a whole garlic clove and rubbed it on the crisp bread.  I like this technique when I prefer just a hint of garlic.  You could also infuse the margarine with garlic and brush it on the bread.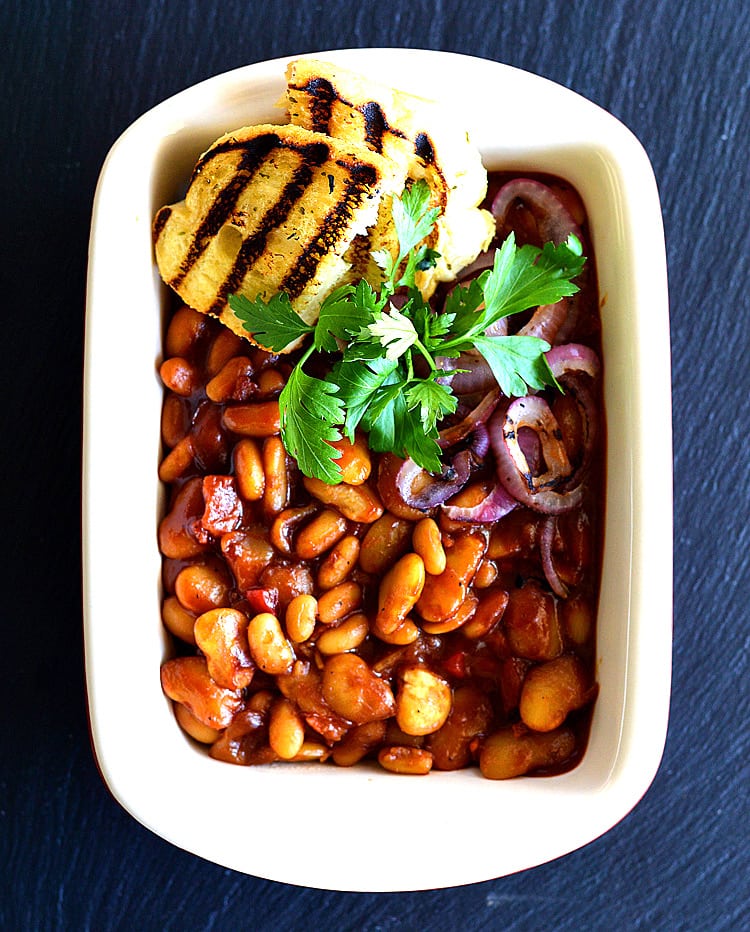 Top the beans with the grilled onions and serve with the thick-cut Texas Toast.  These Loaded Barbecue Baked Beans are as the name states, loaded with flavor.
Want even more options?  If you can find jackfruit, you can add it to this dish.  It shreds beautifully and has a great texture.  You can read all about jackfruit here.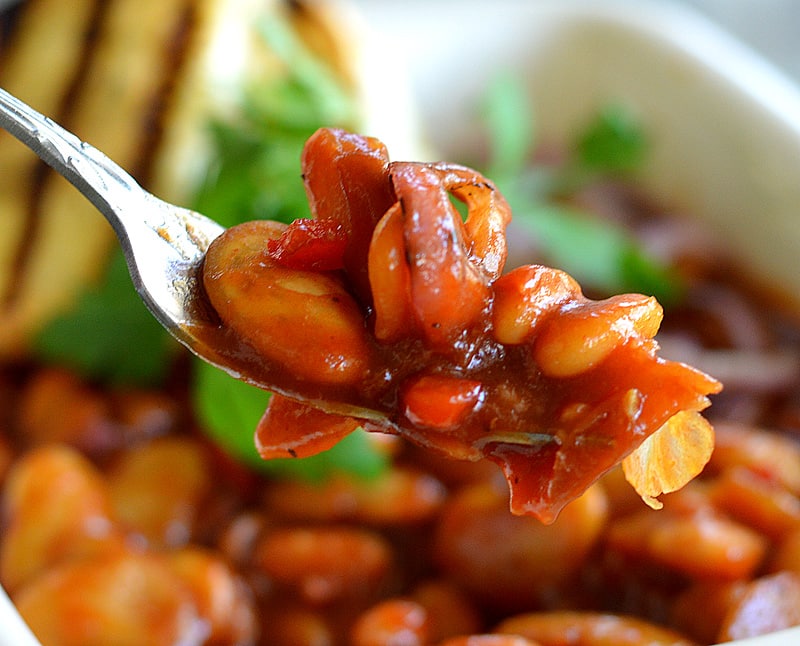 If you make this recipe, let me know in the comment section below or, snap a pic and tag me on Instagram @theveglfe1  I always love seeing what you come up with 🙂
Loaded Barbecue Baked Beans
Ingredients
1

C

of your favorite Vegan Barbecue Sauce

2-3

Tbl Apple Juice

1

Tbl Yellow Mustard

not Dijon

1-1/2

tsp

Worcestershire Sauce

vegan-friendly

2

Tbl Brown Sugar

1 15

oz

. can of Butter Beans

drained and rinsed

1 15

oz

. can of Cannellini Beans

drained and rinsed

1/3

C

Red Pepper

diced

1-2

Tbl Soy Bacon Crumbles

Thick Texas-Style Toast

buttered & grilled

Vegan Margarine

Garlic Cloves

1

small Red Onion

cut into slices and grilled
Instructions
Preheat oven to 375 degrees.

In a small sauce pan, combine the barbecue sauce, apple juice, mustard, worcestershre and brown sugar.

Drain and rinse the beans.

In a large bowl, combine the beans and sauce mixture. Add the red pepper and bacon crumbles.

Stir to combine.

Pour in a baking pan that has been lightly sprayed.

Bake for 30 minutes or until thick and bubbly.

Grill red onion slices. Set aside.

Lightly spread vegan margarine on the toast and grill both sides. You can rub the whole garlic clove on them when they are toasted. Alternately, you could melt the vegan margarine with the garlic and brush the bread prior to or after grilling.

Serve the grilled onions on top of the beans and alongside the toast.