Since becoming a plant-based eater, the one type of food I continually find myself reaching for is Mexican and I've pretty much been able to veganize all of my favorites.  Next up on the growing list in my brain were Vegan Fajitas.
I love that sizzling, smokey goodness as it arrives at my table when I order it out at restaurants.  I like all of the side options and I like food I get to assemble myself (<– control freak :).  But to duplicate that at home seemed a bit daunting.  Nothing a hot cast iron pan and a homemade fajita seasoning couldn't solve!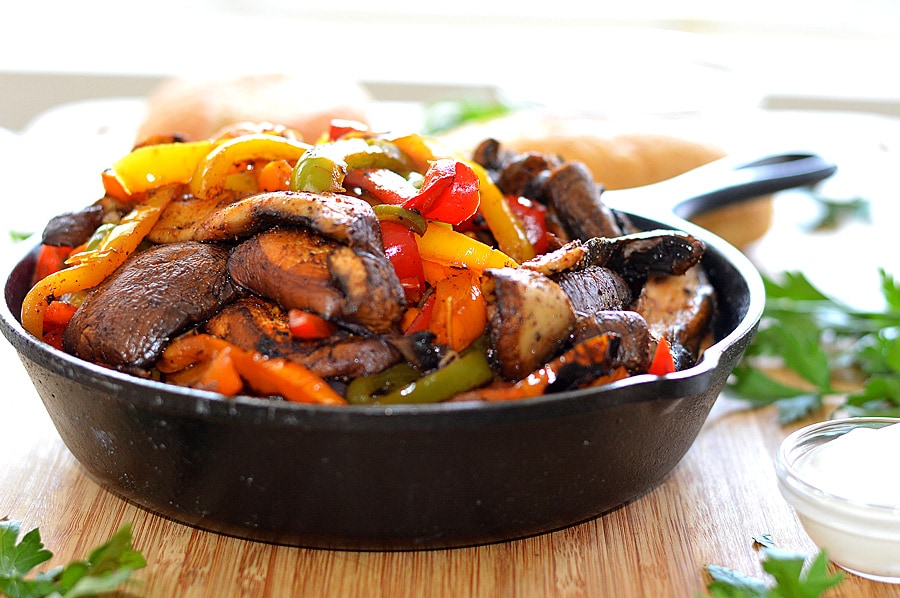 So I set out to find the perfect blend of seasonings.  After a lot of research, I found that most mixes contain many of the same ingredients.  Now, I must admit that when it comes to spice, I am every bit a lightweight!
This was pretty spicy for me, but you may find that it is either right on or…you may decide to tinker with the recipe a bit and add more of one or another spice.  Go you!  I am jealous.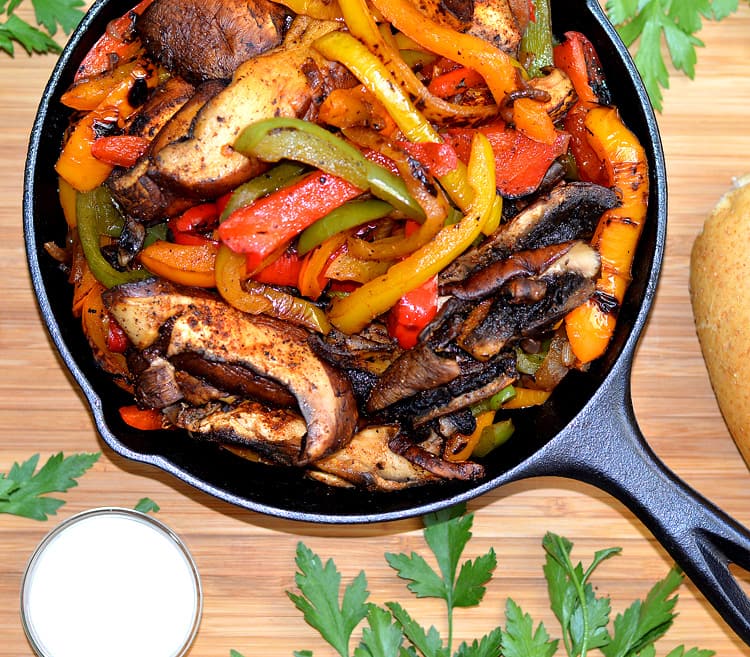 To make this dish vegan, I went with my all-time favorite replacement – portobello mushrooms.  They are the perfect texture, take on the seasoning really well and get all smokey and yummy.  Trust me, you'll find yourself eating this right out of the pan.  Or is that just me 😉
First things first.  Let's get back to that fajita seasoning I was telling you about.  I'll provide some measurements in the recipe below, but please feel free to adjust these to your personal tastes.  You can always add, but it's pretty difficult to take it away afterwards.
Most of the recipes I researched utilized many of the same spices such as chili powder, black pepper, salt, paprika, garlic and onion powder, sometimes cumin or crushed red pepper and even a bit of sugar.  Whisk them all together and store in a tightly sealed jar or container.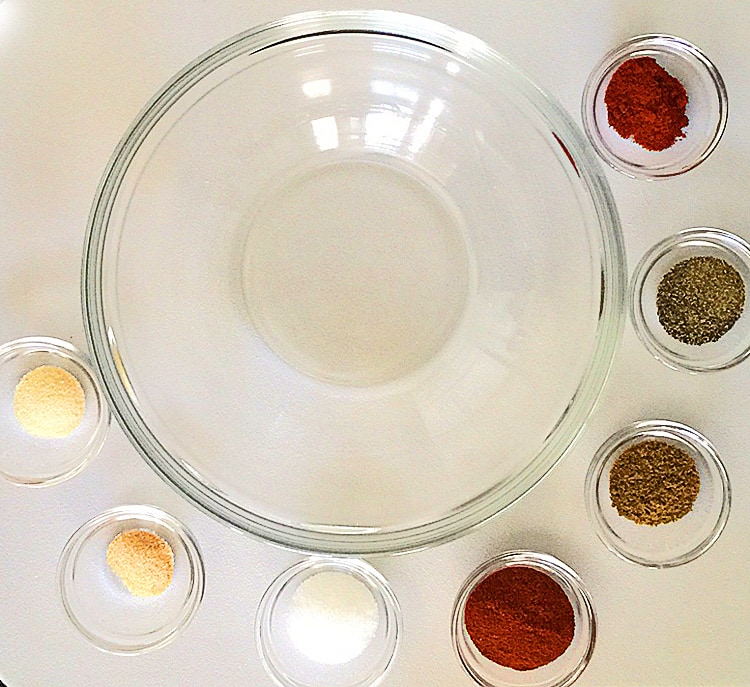 If you don't have a cast iron pan, may I ask why not?  They are so incredibly inexpensive.  Like $13.99 inexpensive and they are perfect for cooking dishes like these Vegan Fajitas!  And also skillet cookies.  And skillet brownies.  And an A-M-A-Z-I-N-G Skillet Hot Fudge Pudding Cake coming your way very soon 🙂
You can also make these on an indoor grill pan.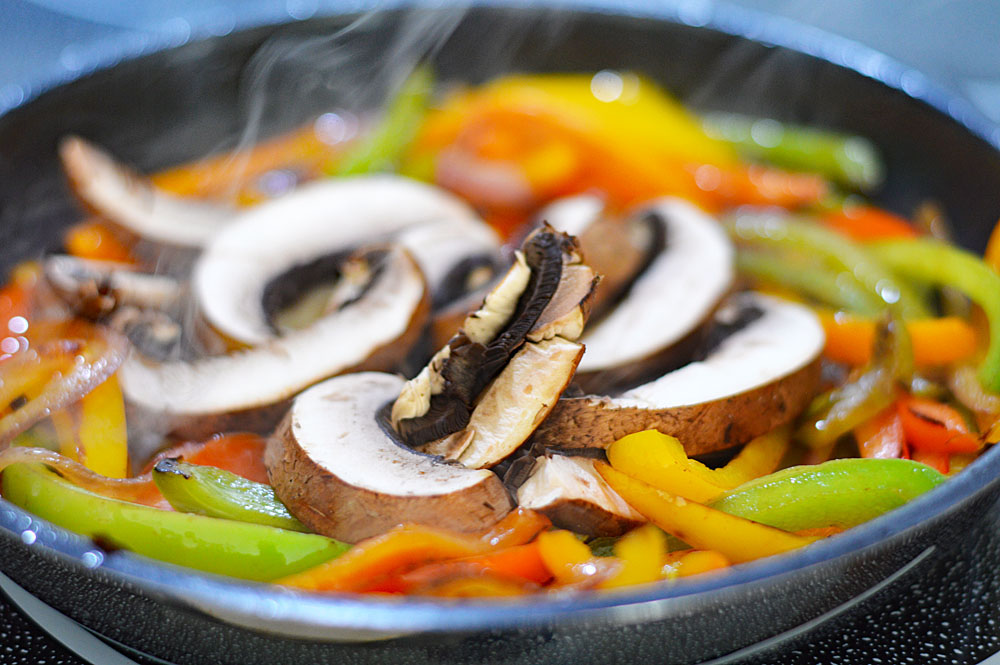 Portobellos are, in my opinion, the only real choice for this recipe.  Again, it comes down to taste and texture.  I add another small amount of oil to the hot pan and add the mushrooms which I have sliced on the bias.  Oh, and scoop out the gills of the mushroom.  They are completely safe to eat, but they just make everything look messy.  Your best tool is a soup or dinner spoon for this job.
I sprinkle the fajita seasoning on the mushrooms and again after I've turned them.  You want both sides to get that smokey char.  Then add back the onions and peppers.  Serve on a trivet family style right in the pan.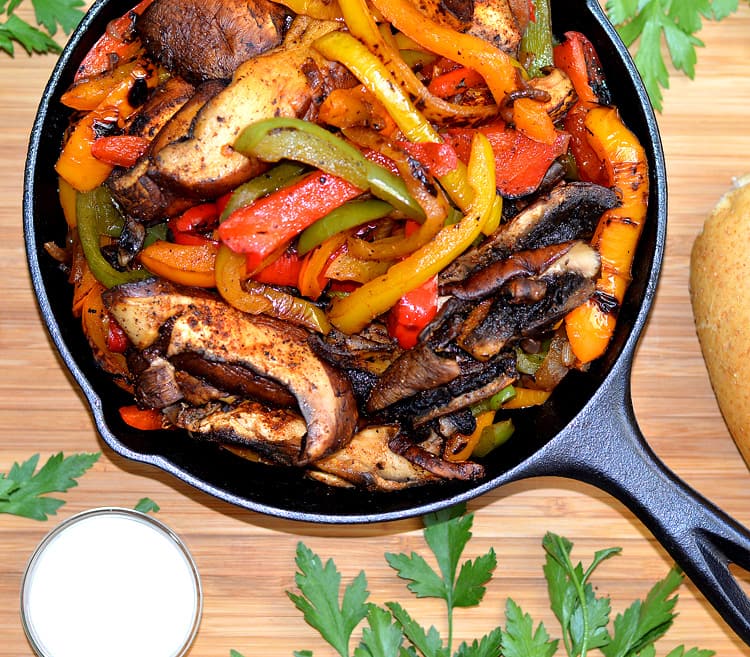 Side items for these Vegan Fajitas are your call.  Vegan shredded cheese, vegan sour cream, salsa or guacamole are just a few options.  Top with cilantro (unless you are one of those people who thinks it tastes like soap – it's a real thing.  Google it!)  As a cilantrophobe myself, I will 10 times out of 10 substitute Italian Parsley.  As it turns out, scientists are finding a genetic link to those of us who attribute it to soap.  See, it's not our fault.  It's just genetics LOL  Just a fun little tidbit for you there 🙂
As a final note on this recipe, try it on a sub roll with a bit of vegan sour cream (or my favorite, vegan mayo).  Or add a slice of melty vegan cheese.  I enjoyed the leftovers this way.  Sooo incredibly good.
If you try these Vegan Fajitas or any variation of this recipe, snap a pic and tag me on Instagram @theveglife1 or leave me a note in the comments section below.  I love to hear how you make these recipes your own.
*Some of the links on this page are affiliate links.  Clicking on them does not affect your purchase price, it just means we get a very small percentage that assists in keeping The Veg Life! creating new recipes for you each week.
Did you make this recipe for Vegan Fajitas? Leave me a comment below and let me know what you thought!
If you liked this recipe, PIN IT FOR LATER!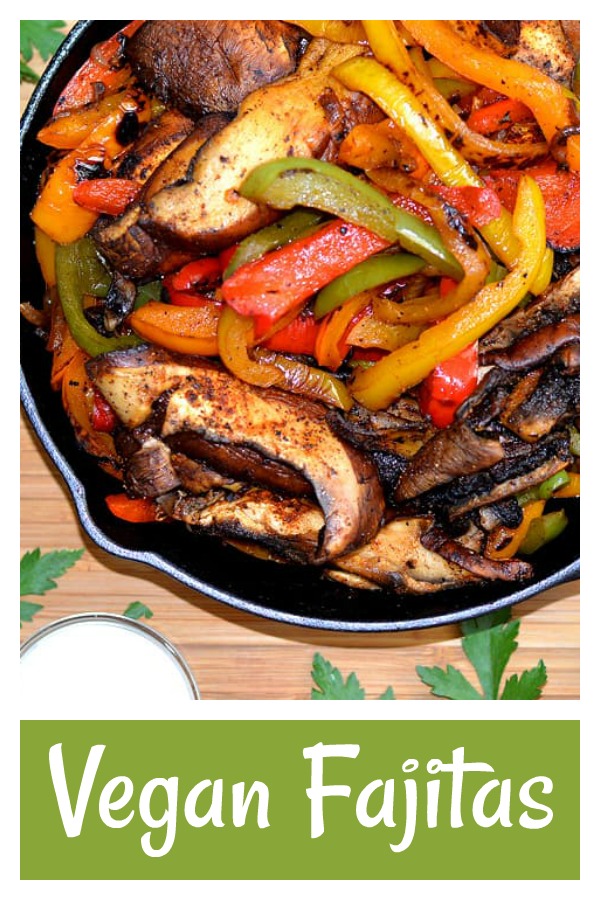 VEGAN FAJITAS
Ingredients
FOR THE FAJITA SEASONING:
1

tbsp

Chili Powder

1/2

tsp

Black Pepper

1

tsp

Salt

1

tsp

Sugar

1/2

tsp

Paprika

1/4

tsp

Onion Powder

1/4

tsp

Garlic Powder

1/4

tsp

Cumin

pinch

Red Pepper Flakes

optional
FOR THE FAJITAS:
2

Large Portobello Mushrooms

gills removed & sliced on the bias

1

each

Red

Green, Yellow & Orange Bell Pepper, sliced

1

Red Onion

cut half and into slices

Oil for cooking
FOR SERVING:
Tortillas

Sides such as vegan sour cream

salsa, guacamole, etc.
Instructions
In a small bowl, whisk together all of the fajita seasoning ingredients. Set aside.

In a hot cast iron skillet or fry pan, add 1-1/2 tsp of oil and the sliced red onions. Cook for 3 minutes.

Add all of the sliced red peppers and cook until tender and charred. Remove from the pan.

Add another teaspoon of oil and the prepared mushrooms. Sprinkle seasoning and cook until the first side is charred and mushroom is beginning to get tender. Flip and repeat.

Add the peppers back to the pan and cook for a few more minutes. Serve sizzling hot.

Add sides such as tortillas, vegan sour cream, salsa, guacamole, etc.