What is more comforting on a cold winter day than a warming bowl of Minestrone Soup?  This soup is packed full of flavor and loaded with veggies.  Some traditional of the recipe, some not so much.  I like to get creative with my ingredients (and you should too).  This Minestrone makes 6-8 servings and is perfect for freezing.  It's nice to put in individual containers so you can just pull one out at a time to defrost.
The best part of this recipe is that it is super simple and who doesn't love a one-pot dish?  So let's get started…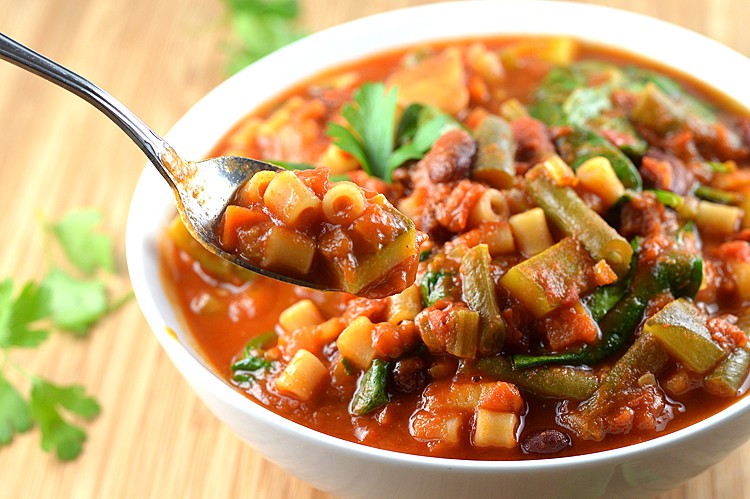 The base of this recipe starts like most soups of its kind with a small amount of oil, onions, celery and carrots left to saute until the veggies are softened.  Be sure not to rush this step or you will have crunchy carrots in your soup. Unless you like that sort of thing 😉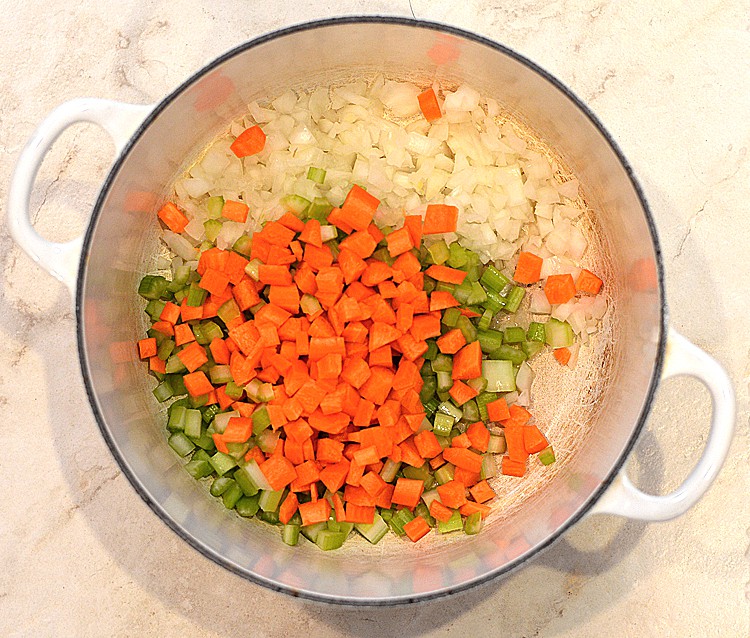 Now that our soup base in ready, it's time to add the tomatoes.  We used crushed tomatoes, tomato paste and sun dried tomato "pesto". To that, add a rich vegetable broth, water and seasonings.  I simmer this mixture until it starts to reduce and really comes together flavor-wise.
Just a few more ingredients now and we are almost there.  I used red kidney beans, butter beans (reserve the liquid so you can make THIS) and the zucchini.  Add the green beans and simmer until the zucchini is tender.  Now add the pasta at this point. I really like Ditalini.  I just think its the perfect pasta to complement any soup.  Cook until al dente.
The very last step is to add the spinach.  It will wilt rather quickly, so don't add it until you are ready.  Just be sure to give it a final taste for seasoning before serving.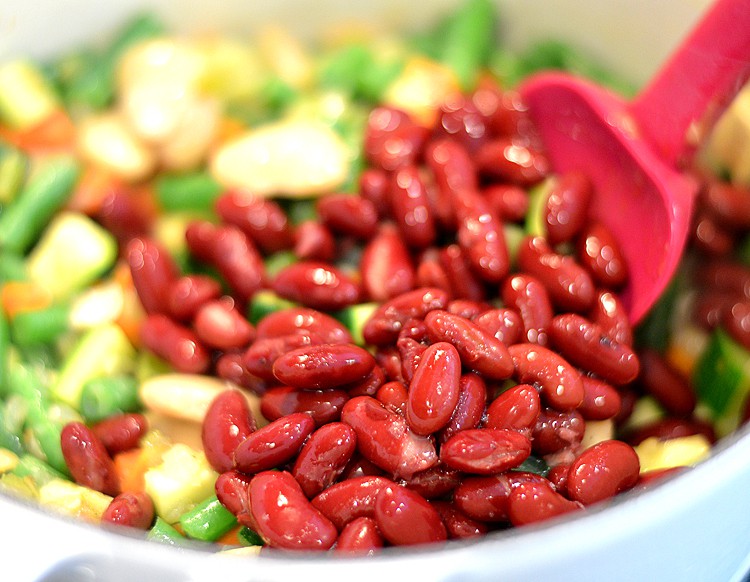 You can top with a sprinkle of vegan parm, nutritional yeast or keep it simple with flat leaf Italian parsley.  I served mine with this cornbread.   Cool completely before freezing any leftovers.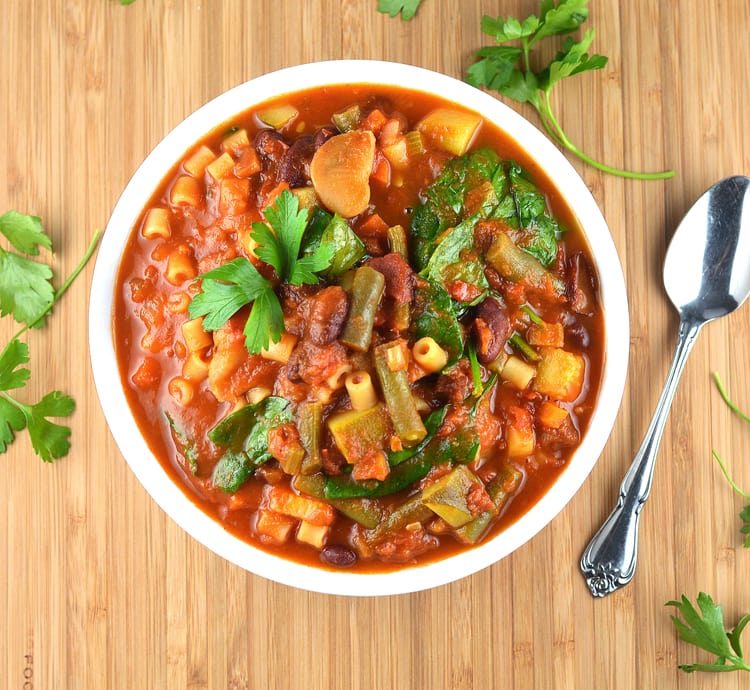 Before you go, why not check out some of our recent videos and be sure to subscribe to the YouTube Channel! 🙂
Minestrone Soup
Ingredients
1

Tbl Oil

3/4

C

Onion

diced

3/4

C

Celery

diced

1/2

C

Carrot

diced

Salt & Pepper

to taste

1

Bay Leaf

1

tsp

Minced Garlic

you could also use garlic powder

Other optional herbs you could add to taste are Rosemary or even Oregano

2

C

Crushed Tomatoes

1

Tbl Tomato Paste

2

Tbl Sun Dried Tomato Pesto

or just very finely chop sun dried tomatoes

2

C

Vegetable Stock

1

C

Water

1

C

Kidney Beans

1

C

Butter Beans

or other white

3/4

C

Zucchini

diced

1/2

C

Green Beans

1" pieces

1/2 - 3/4

C

Ditalini Pasta

or other small

1-1/4

C

Fresh Spinach Leaves

Vegan Parmesan

Nutritional Yeast and/pr fresh Parsley for serving
Instructions
In a large stock pot, add the oil, onions, celery and carrots. Once softened, add the crushed tomatoes, tomato paste and sun dried tomato pesto. If you don't have (or can't find) the pesto, it's easy to make! Just drain sun dried tomatoes and chop until they resemble pesto.

Now add the stock and water along with all of your herbs.

Add the green beans, kidney beans, butter beans and zucchini and cook until the zucchini is almost tender.

Raise the heat to a low boil and add the pasta. Cook until al dente.

Finally, add the spinach. It should take less than a minute to wilt.

Top with vegan parmesan, nutritional yeast and/or freshly snipped Italian flat leaf parsley.