Vegan Marshmallow Fluff.  Well, it's technically not marshmallow … but it is darn close!  We placed it under the broiler for a few minutes to get that toasted marshmallow color and served it with homemade baked sweet potato chips.
This one might take a bit of convincing for some of you who have never heard the term 'aquafaba'.  What exactly IS aquafaba you ask? In short, aquafaba generally refers to the brine (i.e. "aqua") in a can of chickpeas or other mildly flavored white beans, (i.e. "faba") sweetened with sugar and stabilized with either arrowroot powder or cream of tartar.  I know what you are thinking, but stick with me here.  This is about to get really interesting 🙂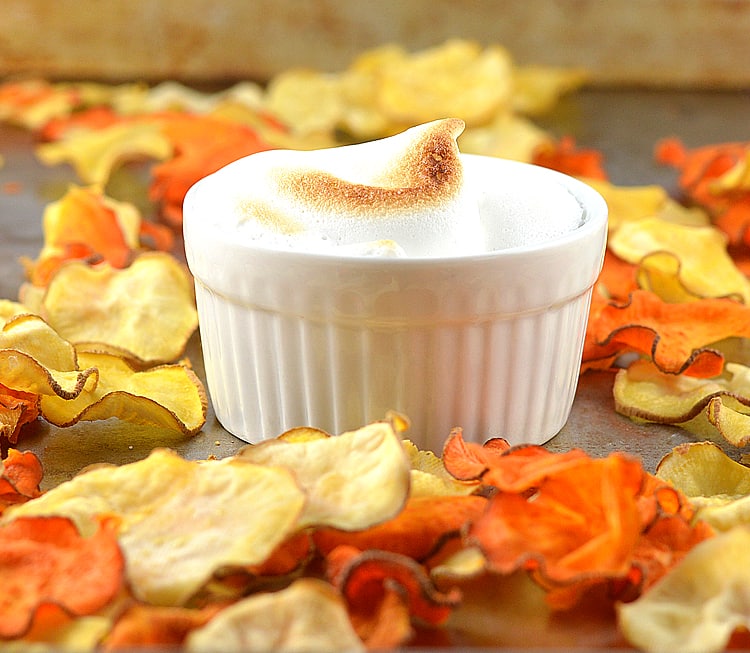 First discovered by Joël Roessel, a ténor from France, who was experimenting with vegetable foams, the technique still needed refining.   Meanwhile, Goose Wohlt, a software engineer in the US, was experimenting with vegan egg whites and existing meringue techniques. Inspired by Roessel's video, he discovered the right composition and techniques to create a stable 'meringue'.
I have been following this Facebook page called 'Vegan Meringue: Hits and Misses!' with great interest for months now.  I finally decided to take on this Vegan Marshmallow Fluff and I promise you, you will not be disappointed!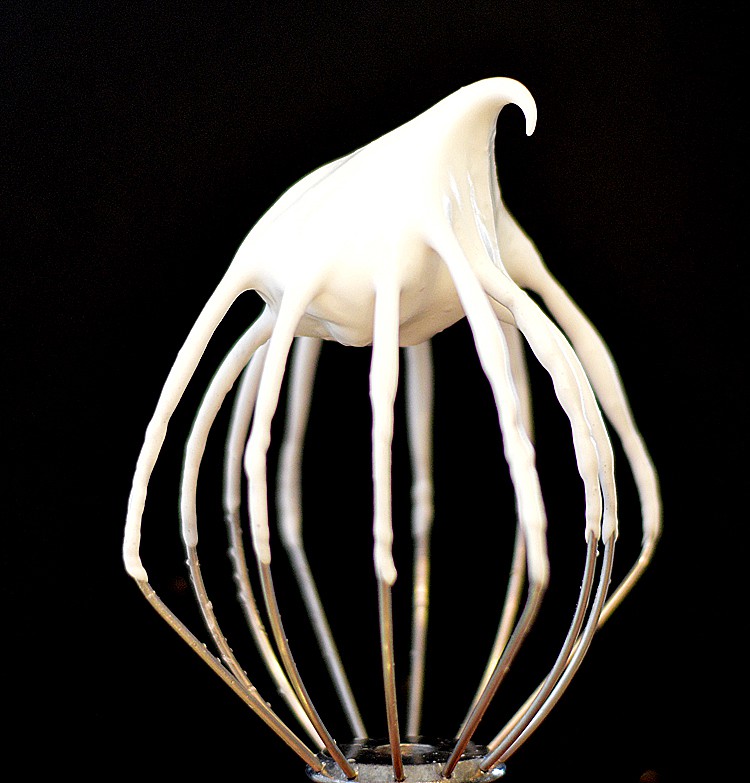 There are just 4 ingredients in the fluff itself.  Start with 1/2 C of liquid from a can of chickpeas or other very mild flavored white beans. Butter beans are what I used here today. You will find that the thickness of this liquid varies from brand to brand.  The thicker the better and you'll want to refrigerate it so that it is very cold.  Add the liquid to the bowl of an electric mixer fitted with the whisk attachment. Slowly add sugar, vanilla and finally, a pinch or two of cream of tartar (you could also use arrowroot powder).
This is what it looks like after about 1 minute.  But that magical marshmallow texture (pictured above) will take about 10-12 minutes on medium-high speed to achieve.  After those 10-12 minutes, you have perfectly whipped and stable fluff.  Deliciously sweet and not one hint of bean flavor.
To make the baked sweet potato chips, I used both traditional and white sweet potatoes sliced very thin.  The thinner the better actually.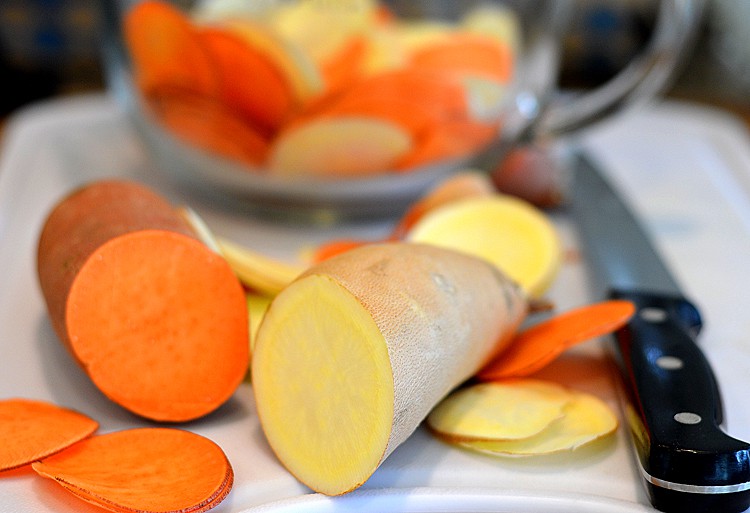 If you have any sort of mandolin, use it.  Watch your fingers though.  These things are dangerous 😉  But they do make perfect uniformly thin slices.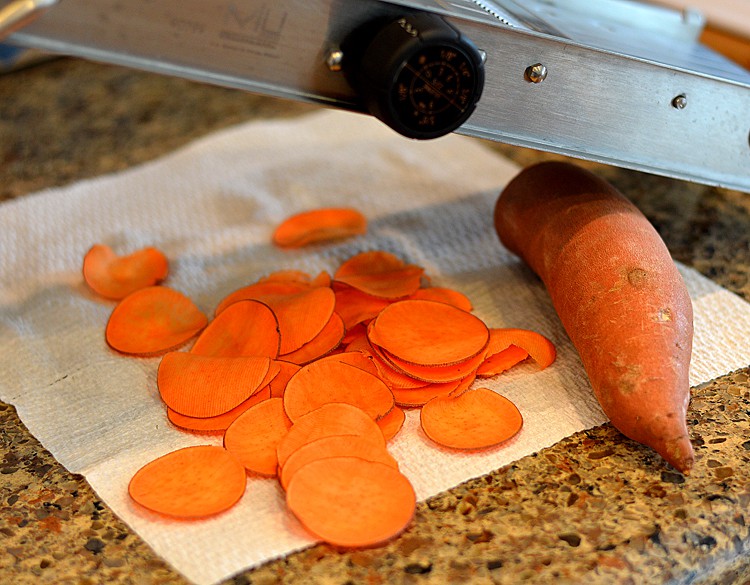 Toss the chips in a bowl with a small amount of oil and spread in a single layer on a baking sheet.  In a preheated oven set at 250 degrees, bake for at least an hour or until crisp.  Depending on the thickness, it could take longer.  NOTE:  In hind sight, I would have used parchment because they wanted to stick a little bit.  I gave them a sprinkle of coarse salt.  This is an optional step, but I love that salty and sweet combination in this recipe.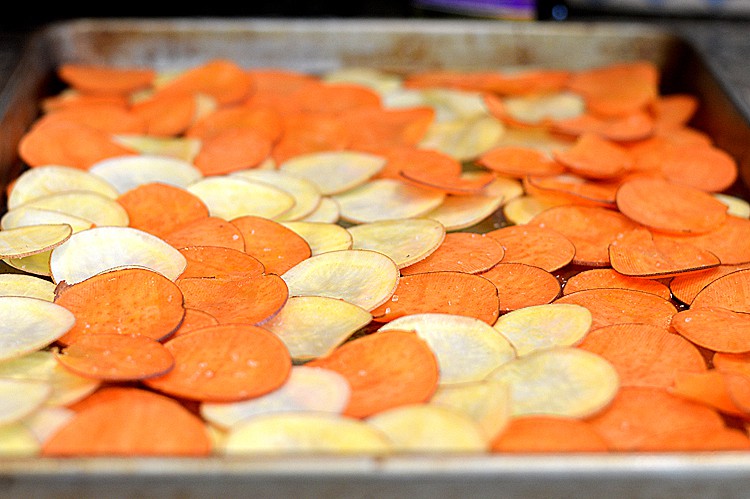 They do shrink, so keep that in mind when you are selecting your sweet potatoes.  Oh, and I leave the skin on.  I think it gives them a nice rustic look.  And on a totally unrelated note, my dogs LOVE these chips.  I give these to them without the salt of course 🙂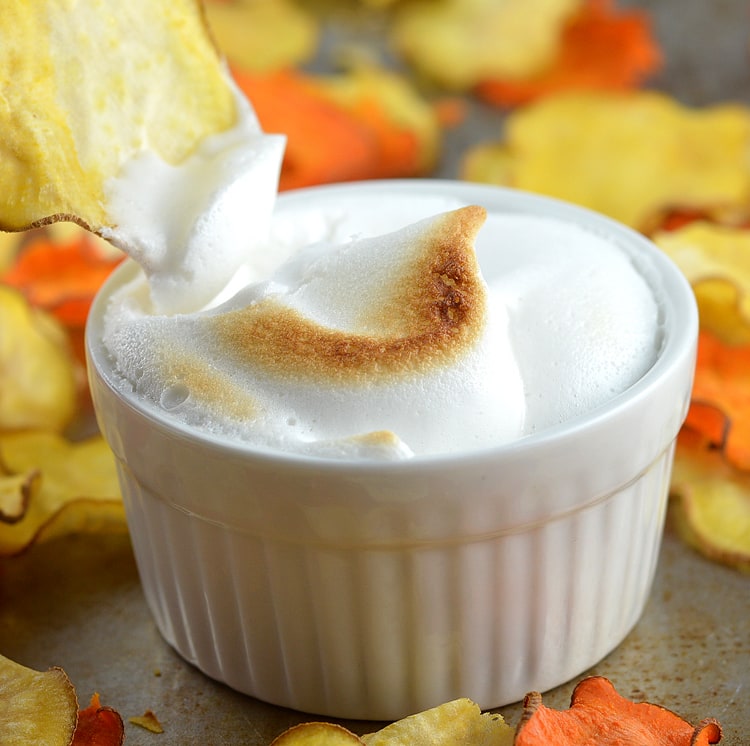 You don't have to broil the fluff as it is all ready to enjoy, but I love that it gives a toasted marshmallow look.  Just a minute or two will do nicely.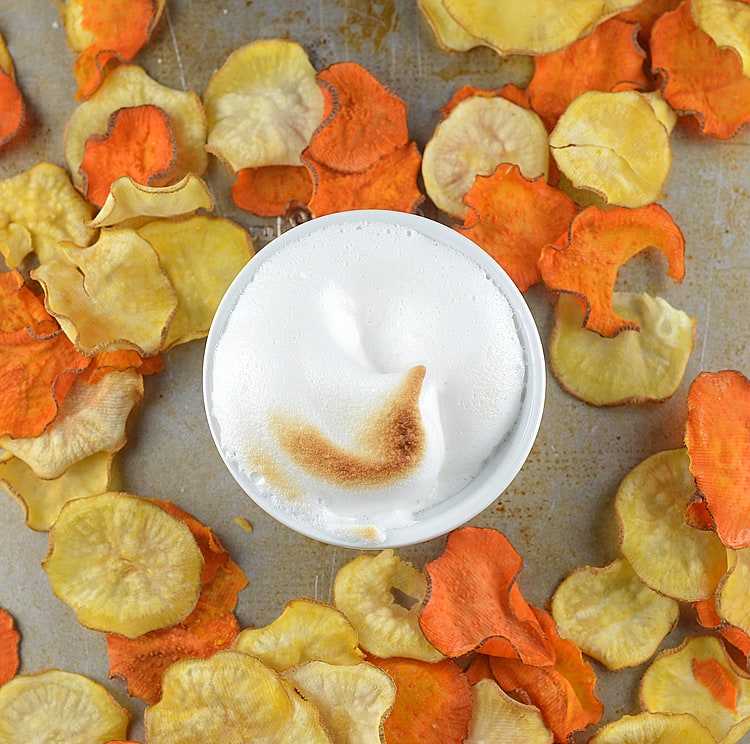 This will not be the end of my experimentation with aquafaba.  I am addicted and can't wait to try it with pies, frosting and coming in December, I'll try to give you a nice Royal Icing for use in decorating your holiday cookies.
If you make this recipe, let me know what you think in the comment section below and if you feel like snapping a pic, tag me on Instagram @theveglife1  I love seeing what you guys come up with!
Before you go, why not check out some of our recent videos and be sure to subscribe to the YouTube Channel! 🙂
Vegan Marshmallow Fluff
Ingredients
FOR THE FLUFF:

1/2

C

of liquid from a can of chickpeas or butterbeans

refrigerated

1/3

C

Granulated Sugar

1/2

tsp

Pure Vanilla Extract

Pinch of Cream of Tartar

or two

*

FOR THE SWEET POTATOES:

Sweet Potatoes

Drizzle of Oil

Pinch of Coarse Salt

optional
Instructions
Drain a can of butter beans (which I used) or chickpeas reserving the liquid. Refrigerate until very, very cold.

Place in the bowl of an electric mixer fitted with the whisk attachment.

While beating, slowly add the sugar, vanilla and cream of tartar for about 10 minutes or until you reach a consistency somewhere between soft and stiff peaks.

Slice the sweet potatoes very thin and toss with a small amount of oil.

Spread in a single, even layer on a baking sheet.

Bake until crisp, turning once. I recommend using parchment for ease of removal.

Optional: Place the fluff into an oven safe bowl and broil until golden.

Serve immediately.

NOTE: The fluff makes about 3 cups.