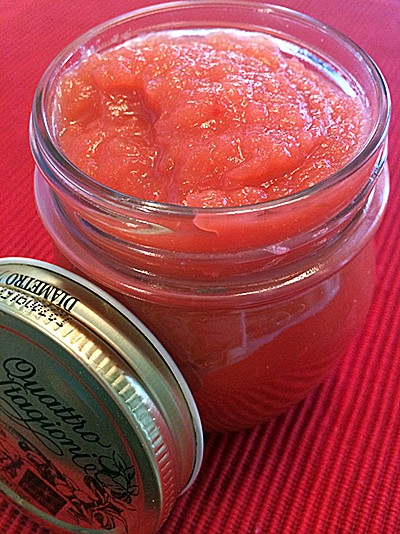 Making your own applesauce couldn't be easier! The pink color will vary based on the apples you choose. Varieties such as McIntosh, Macoun, Empire or most dark red skinned apples will work.
Ingredients
10

apples

McIntosh, Macoun, Empire or red skinned

3

Tbl Butter

3

Tbl Sugar
Instructions
Preheat oven to 350 degrees.

First, prepare the apples by washing them well. You will be leaving the skins ON.

Core the apples and place each one atop a square of aluminum foil.

Into the cored apples, insert butter and sprinkle will sugar. Wrap each apple and place all on a parchment or Silpat lined baking sheet and bake for one hour.

Once cooked, let cool slightly and using a food mill (shown here) or with a spoon, scrape the flesh from the skin. Be sure to add any juice as well. Blend into a smooth puree.