For those of you who either think it's too early OR don't like pumpkin, look away.  And for the rest of you who are like me and literally LIVE for pumpkin season (and for me, "season" means all year long), these big Soft Pumpkin Ginger Cookies are sure to make you drool.
My goal was to combine two of my favorite flavors into one cookie.  I love ginger cookies, but am not really a crunchy cookie kind of girl.  I found that adding the pumpkin where an egg might have been, gave me a cookie that was crisp on the exterior and chewy on the interior.  Perfect!
I also switched up the spices a bit to lean more towards pumpkin pie spice than a traditional ginger cookie.  But don't worry, there is plenty of ginger in there.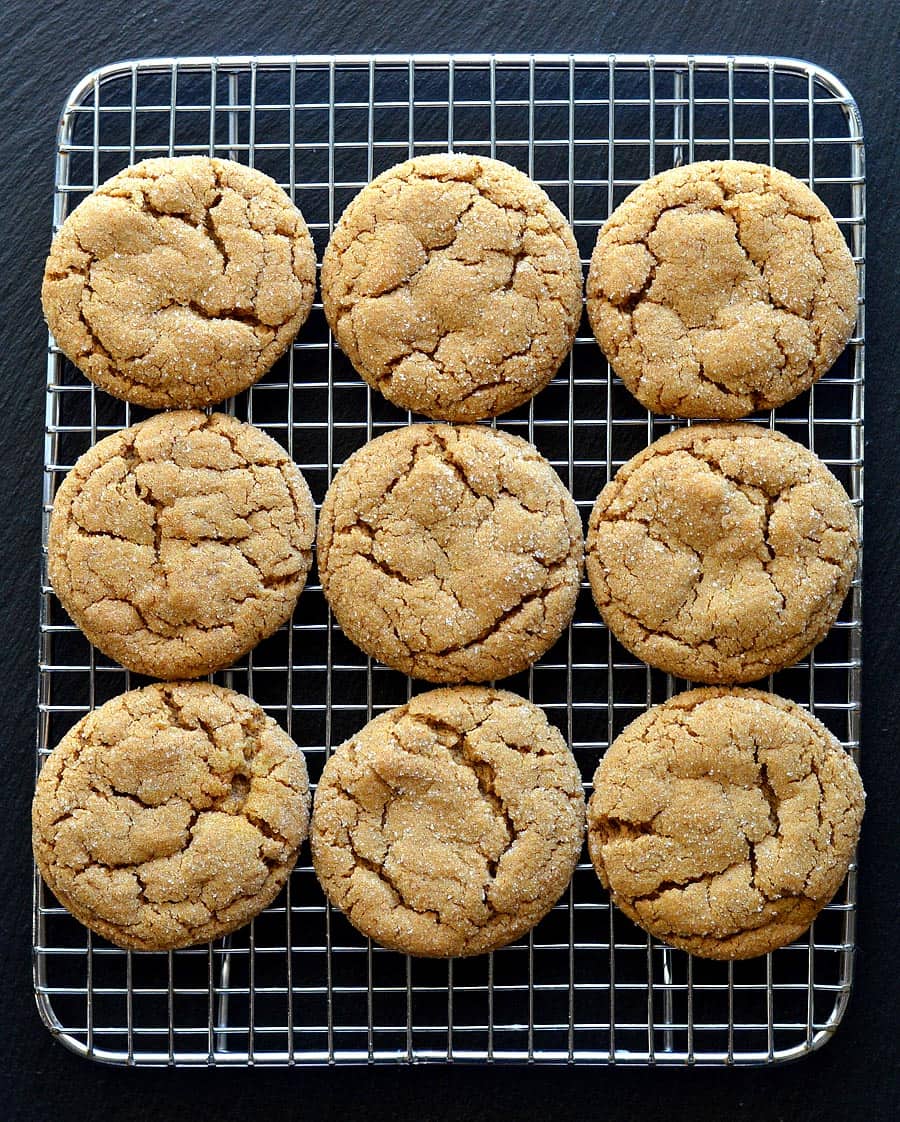 Way back when I was young, Archway used to make these old-fashioned soft molasses cookies and I attempted to reproduce it here.  My grandmother used to butter the cookies and cut them into little wedges for me.  Served, of course, tea party style.  That "tea" was actually Strawberry Quik.  Now called Nesquik I think.
These cookies would be amazing with a little bit of butter or vegan margarine on them.  Now that I am older, I'd skip the strawberry drink and opt for a real cup of hot tea with a splash of almond milk creamer and perhaps a zero calorie sweetener.
I used a 1-1/2″ cookie scoop to portion these out and then rolled in sugar for that extra sparkle and crispness.  They need to be spaced about 2″ apart on the baking sheet as they will spread.
***UPDATE: I've had a few people respond that theirs didn't flatten enough during baking. You can dip the bottom of a glass into sugar and lightly press the balls to flatten before baking.  That should do the trick 🙂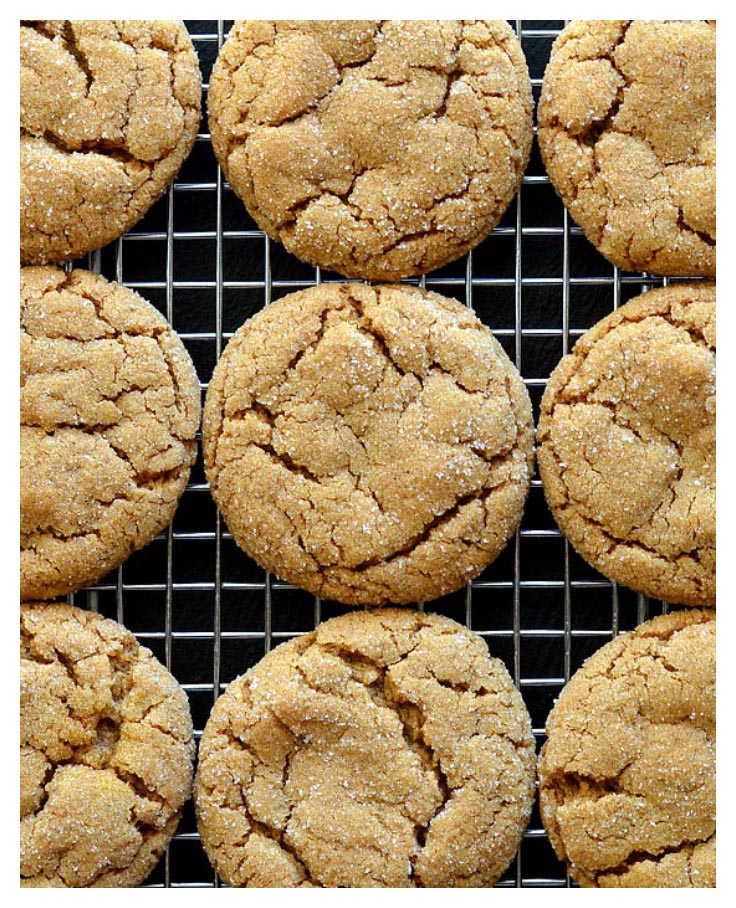 They'll seem soft when you remove them from the oven, but just let them cool for a few minutes on the baking sheet and then remove to a rack once you can handle them with a spatula.  They firm right up. I love that cake-like consistency in the center. Sooooo delicious.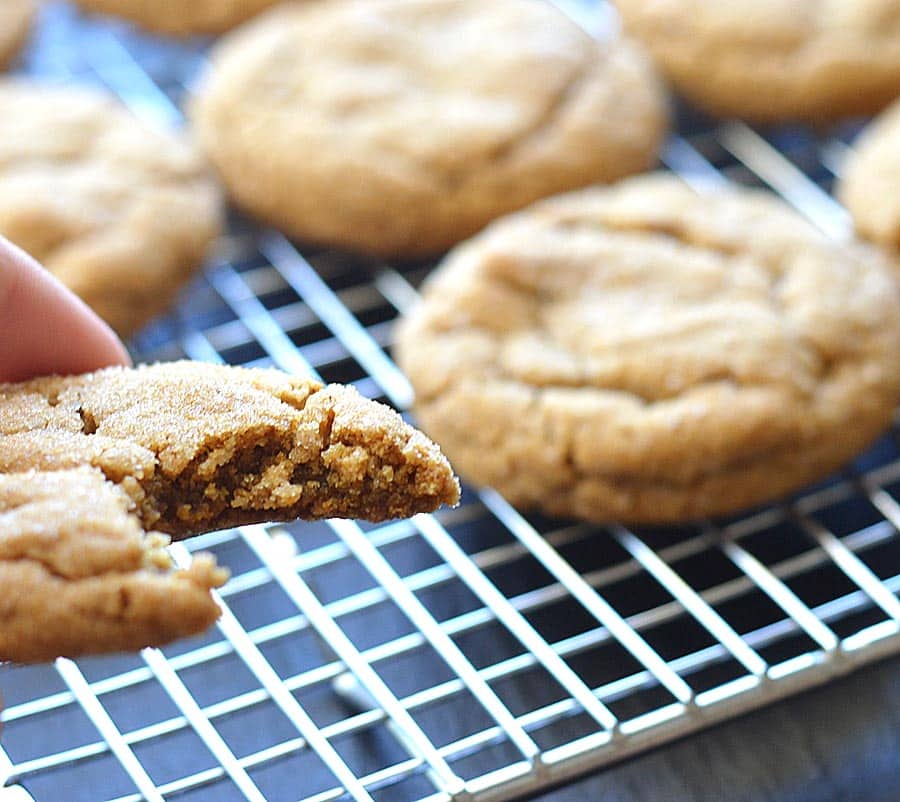 If you make these Soft Pumpkin Ginger Cookies, leave a comment for your fellow readers and let them know what you think! Your comments help others decide whether or not to make my recipes & I really appreciate your feedback. Enjoy! #PumpkinLoversUnite
And, if you enjoyed this recipe why not PIN IT FOR LATER! 🙂

SOFT Pumpkin Ginger Cookies
Tried this recipe?
Mention or Tag me @theveglife1
Ingredients
3/4

cup

butter/margarine/vegan margarine

softened

1

cup

sugar

1/4

C

Pumpkin Puree

not pumpkin pie filling

1/4

cup

molasses

2-1/4

cups

all-purpose flour

2

teaspoons

ground ginger

1

teaspoon

baking soda

1

teaspoon

ground cinnamon

1/2

teaspoon

ground cloves

1/4

teaspoon

salt

do not skip the salt, it really brings out the flavor

Additional sugar for rolling
Instructions
Preheat the oven to 350 degrees.

In the bowl of an electric mixer, cream together the softened butter or margarine and sugar until light and fluffy.

Add the pumpkin puree and molasses, mixing until well incorporated.

I like to combine the flour, baking soda and spices with a whisk before adding to the butter mixture.

Do not over mix.

Using a 1-1/2" cookie scoop, place the dough directly into the sugar. Roll into balls, coating well with the sugar. *Using the back of a small glass dipped in sugar, press each ball lightly to flatten.

Place onto a cookie sheet about 2" apart as they will spread.

Bake for approximately 10-12 minutes. You will see them start to form the cracks on top.

They will still be soft so let them cool on the cookie sheet until they firm up a bit

Using a spatula, remove to a cooling rack to finish setting.