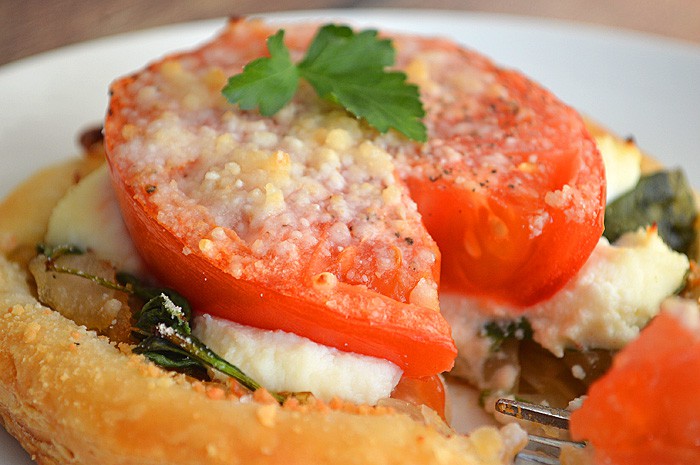 Tomato, Spinach and Ricotta Tart {Vegan}
Recipe adapted from
this one
from Ina Garten. We added spinach, substituted vegan ricotta for goat cheese, used a vegan version of parmesan and eliminated the white wine. Simply delicious!
Ingredients
1/2

package

1 sheets puff pastry, defrosted (Pepperidge Farm brand is vegan!)

1

Tbl Olive Oil

2

medium Onions

sliced

1

Garlic Clove

minced

¼

tsp

Salt

1/8

tsp

Pepper

2

tsp

plus more for topping grated vegan Parmesan (such as Go Veggie, Parma, etc.)

2

oz.

vegan Ricotta

such as Tofutti Better Than Ricotta

1

medium Slicing Tomato

2

C

fresh Spinach

1

Lemon wedge
Instructions
Defrost frozen puff pastry on the counter 40 minutes prior to using.

Unfold the pastry on a lightly floured surface and roll to an 11"x11" square.

Using a 6" cookie cutter, or a plate traced with a sharp knife, cut 2 circles from the sheet.

You can discard the scraps or, sprinkle with cinnamon sugar and bake for a sweet treat afterwards.

Place the rounds on a parchment or Silpat lined cookie sheet and refrigerate until ready to use.

Preheat oven to 425 degrees.

Heat oil in a saute pan over medium heat and add sliced onions and minced garlic. Stir frequently until onions are becoming translucent. Add salt and pepper, and continue to cook until onions are browned and caramelized.

Remove from heat to cool in a separate bowl.

In the same hot saute pan, add the spinach and a small squeeze of lemon juice.

Cook just for a minute or two to wilt slightly.

Using a sharp knife, score a ¼" wide border around the edge of each pastry round.

Using a fork, prick the pastry inside the score line and spinkle with parmesan.

Add a layer of caramelized onions, then spinach and top with dollops of ricotta.

Place a thick slice of tomato

in the center of each tart. Brush lightly with olive oil and sprinkle with basil, salt and pepper. Finally, top with additional parmesan.

Bake for 20-25 minutes, until the pastry is golden brown. Serve warm.