I have been meaning to make this Vegan Breakfast Biscuit forEVER but just never seemed to get around to it.  I was recently sent the book Domestic Chic for review which included a recipe for Panelle.  Panelle are basically just Italian chickpea flour fritters.  If you are familiar with making polenta, panelle will be nothing new for you.  There are just a handful of ingredients and preparation is a breeze.  We'll get to that in a minute…
The "sausage" patty in this biscuit was made from Lightlife's Gimme Lean Vegan Sausage.  You could use any vegan sausage, I just love this particular brand because you can form the uncooked patties into any size you like.
The cheddar cheese slices are also vegan, made by Go Veggie.  If you can't find this brand, don't fret.  There are many companies now making the cheddar-like slices.
In addition to the panelle recipe, I'll also include the recipe I used to make these fluffy vegan "buttermilk" biscuits!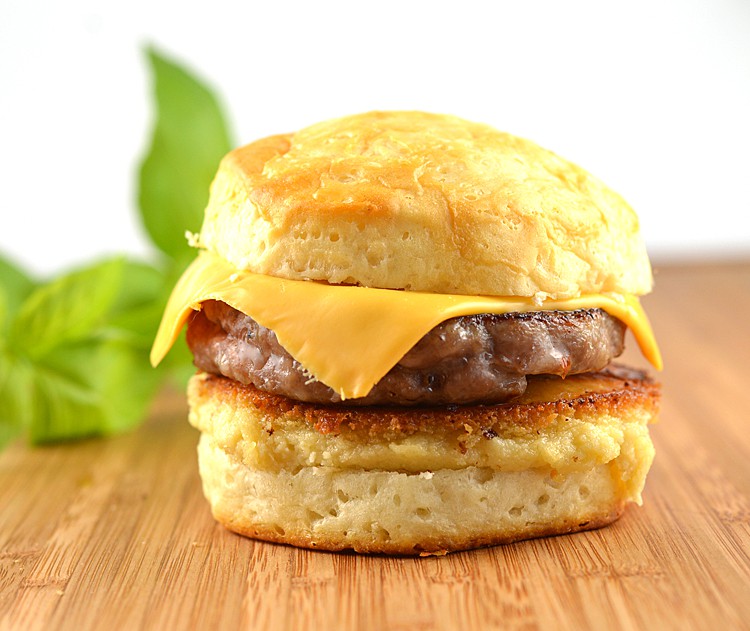 So let's begin with the with the panelle.  Now, if you'd prefer, you could always substitute polenta here.  It does provide a bit more structure and also comes in those handy pre-packaged tubes ready to slice.  However, if you are a little more adventurous and looking for a lighter texture, give this one a go.
Chickpea Flour (also known as garbanzo bean flour) is readily available in most grocery stores, Whole Foods, Trader Joe's and the like.  You can also buy it from Amazon.com  The flour is combined with the water and salt in a large saucepan over medium heat.  Once it begins to thicken, you must stir constantly.  The oil and vegan parmesan (or nutritional yeast) is added for that "cheesy" flavor.  Continue to cook until it is almost like a thick frosting consistency.  If you under cook, it will be too soft in the final presentation.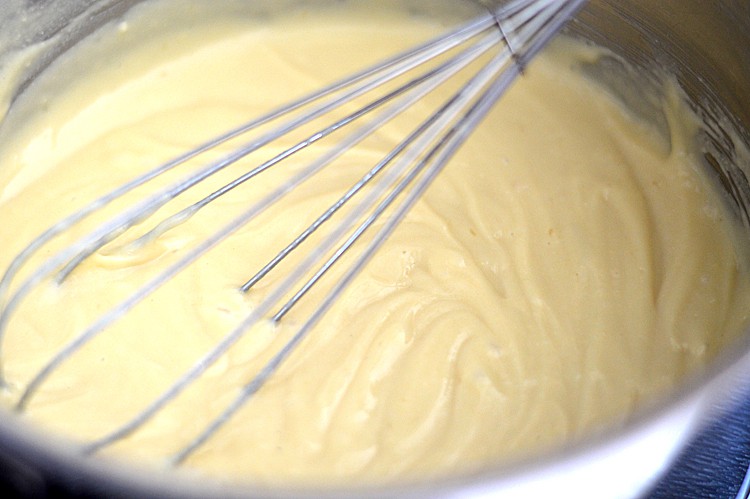 Once cooked, using an offset spatula, spread evenly onto a sheet pan.  Use a silpat or parchment to prevent sticking and easier removal.  Allow this to cool in the refrigerator until completely set.
I then used a round cookie cutter the same size as my biscuits and sausage to cut rounds from this chilled sheet.  I immediately transfer them to a pan with oil to fry until golden brown on both sides.  They will still be soft in the center and crispier on the exterior.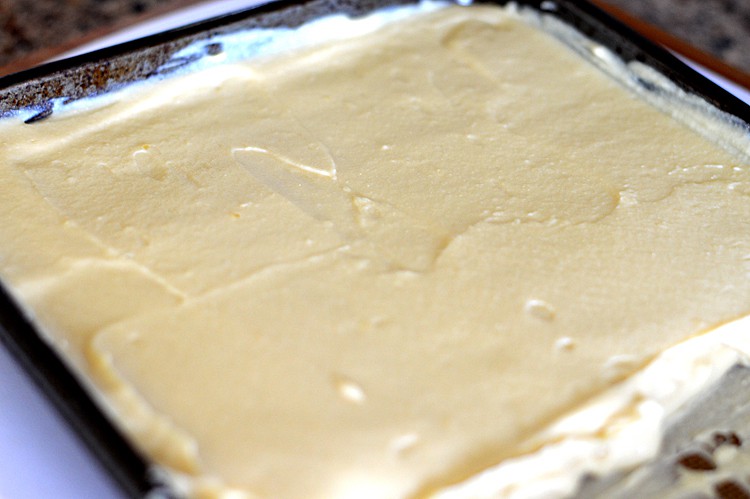 And this is what you end up with.  The thinner they are, the crispier they will get.  Thicker rounds produce a creamier center.  Think the consistency of extra firm tofu.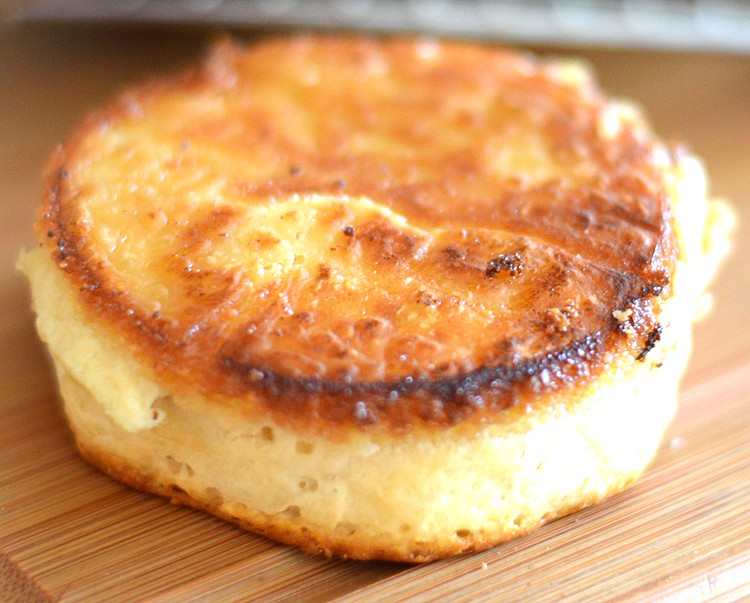 And there you have it!  A Vegan Breakfast Biscuit.  Looks pretty darn good, doesn't it? 🙂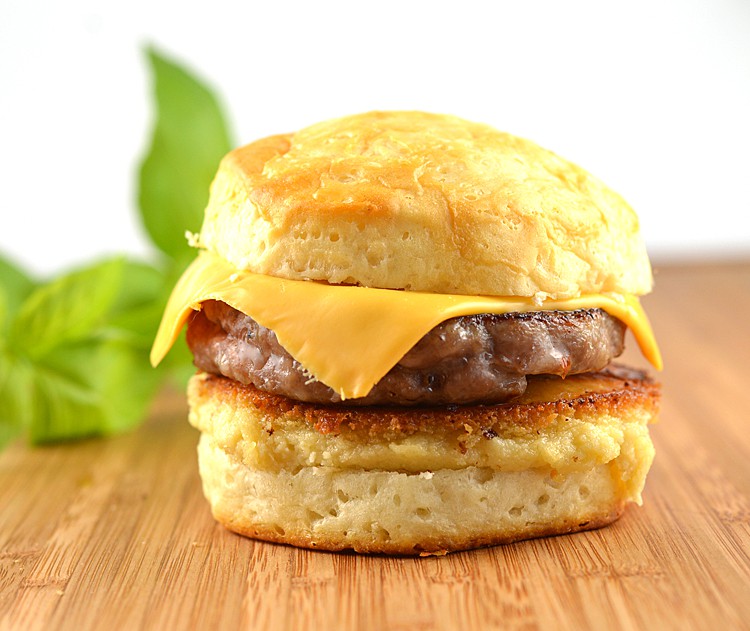 Before you go, why not check out some of our recent videos and be sure to subscribe to the YouTube Channel! 🙂
Vegan Breakfast Biscuit
Ingredients
FOR THE VEGAN BUTTERMILK BISCUITS:

2

C

All Purpose Flour

1

Tbl Baking Powder

1/4

tsp

Baking Soda

1/2

tsp

Salt

1

tsp

Sugar

1/3

C

Vegetable Shortening

1

C

Almond

allow to sit for 5 minutes, Coconut, Cashew or Soy Milk plus 1 Tbl Vinegar - this is our Buttermilk Mixture

Melted vegan Margarine

optional, for brushing

FOR THE PANELLE:

2

C

Water

4

oz

. Chickpea Flour

Also known as Garbanzo Flour

2-1/2

Tbl Extra Virgin Olive Oil

1/4

C

Vegan Parmesan or Nutritional Yeast

1/2

tsp

Salt

Oil for frying

ADDITIONAL INGREDIENTS:

Vegan Cheddar Slices

Vegan Sausage Patties
Instructions
FOR THE BISCUITS:

Preheat oven to 425 degrees. In a large bowl, sift together flour, sugar, salt, baking powder and baking soda. In a bowl using a fork or pastry blender, cut the shortening into flour mixture until mixture resembles coarse crumbs. Add buttermilk mixture. Knead the dough for about 10-12 turns. It should be smooth and soft. It is important not to over work the dough.

Roll dough to 1/2 inch thickness and cut out biscuits using a 2 inch biscuit cutter.

Place biscuits, with sides touching (which helps them rise), on an ungreased baking sheet.

Bake for 12 to 15 minutes or until biscuits are golden brown.

Optional: Brush with melted vegan margarine immediately after removing from oven.

Makes 8 to 10 biscuits.

FOR THE PANELLE:

Combine water, salt and chickpea flour in a large saucepan bringing it to a simmer.

Once this mixture thickens, add the olive oil and vegan parmesan.

Stirring constantly, allow to thicken. You should start seeing the bottom of the pan as you stir. You want a thick mixture that is still spreadable onto the sheet pan.

Spread with an offset spatula to about 1/2" thick and allow to chill completely in the refrigerator until hardened.

Using a round cookie cutter, cut rounds and place into a hot saute pan with a bit of oil. Cook until golden on both sides.

Place the panelle onto the biscuit, followed by the vegan sausage and one slice of vegan cheese.