My grandma didn't cook often, but she had a few recipes in her arsenal that us grandkids just loved and in my pre-veggie days, this was one of them. Finally, I can enjoy Vegan Chicken and Biscuits.
The challenge with vegan cooking (as you know) is in building flavor. I knew I wanted that traditional "yellow gravy" and Better Than Bouillon makes a vegan vegetable base that is AMAZING (if you can find it locally, it's only about $4.99 USD).  Also, a rich, dark veggie broth like this one from Imagine makes a world of difference.  I'll link both down below.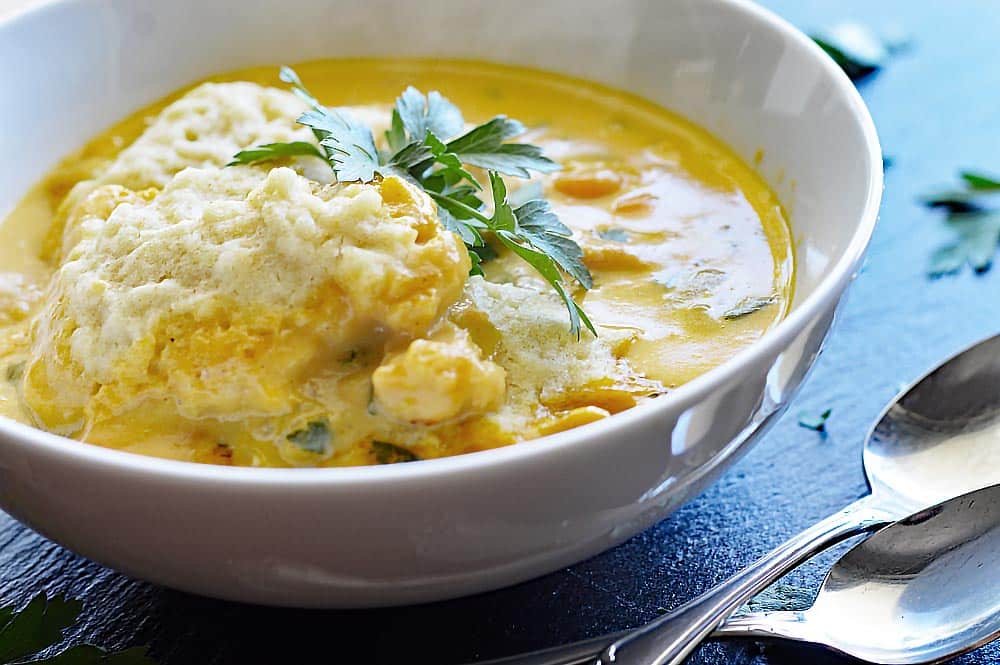 I begin with a traditional base made with onions, celery and carrots (I used frozen because I had them on hand) and saute in a very small amount of water, oil or broth.  You want them tender before proceeding.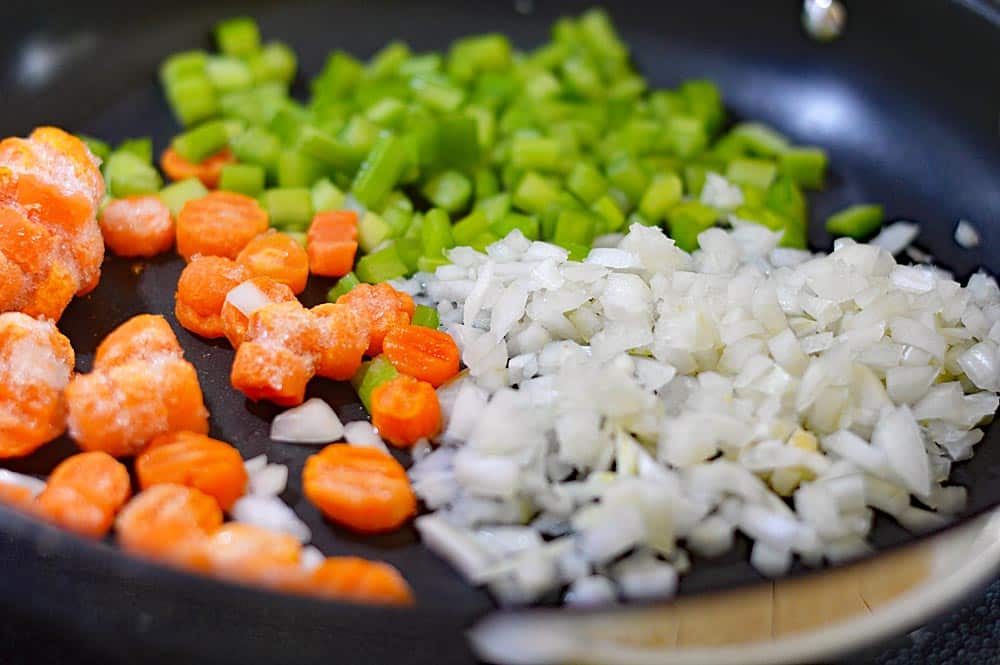 Now, let's talk "chicken".  I used what has become my favorite new product…soy curls from Butler Foods.  Not sponsored – just in awe of their versatility 🙂
I soak the soy curls in very hot broth, drain (reserving the broth for the gravy) and press them with paper towels. Saute them with the veggies until golden.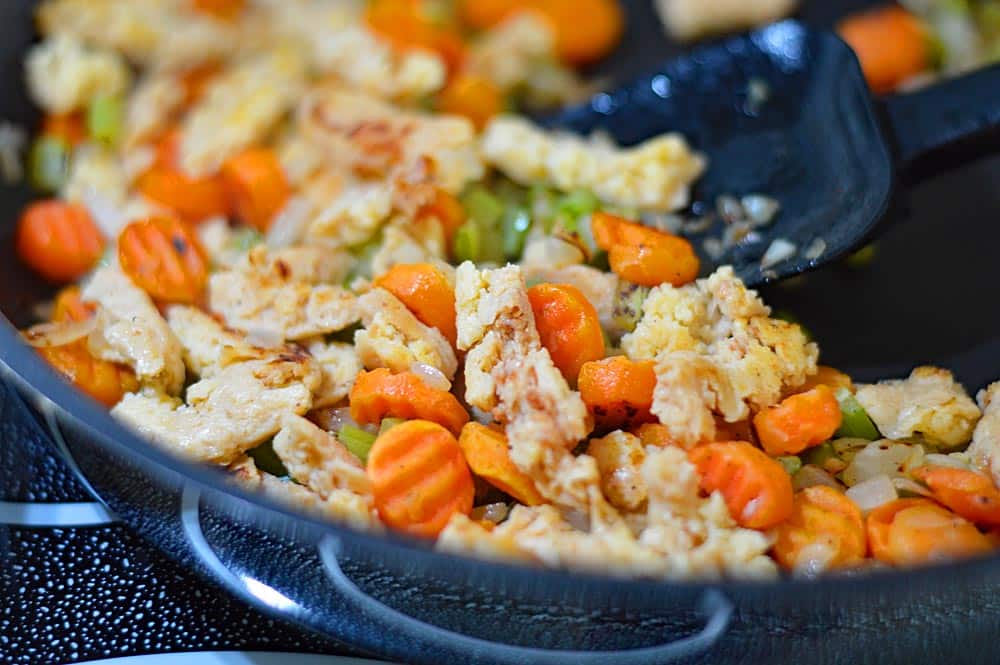 In goes the reserved veggie broth which I first whisked with just one tablespoon of the bouillon, parsley and vegan creamer (you can also use coconut milk or any non-dairy milk).  Season with salt and pepper, to taste.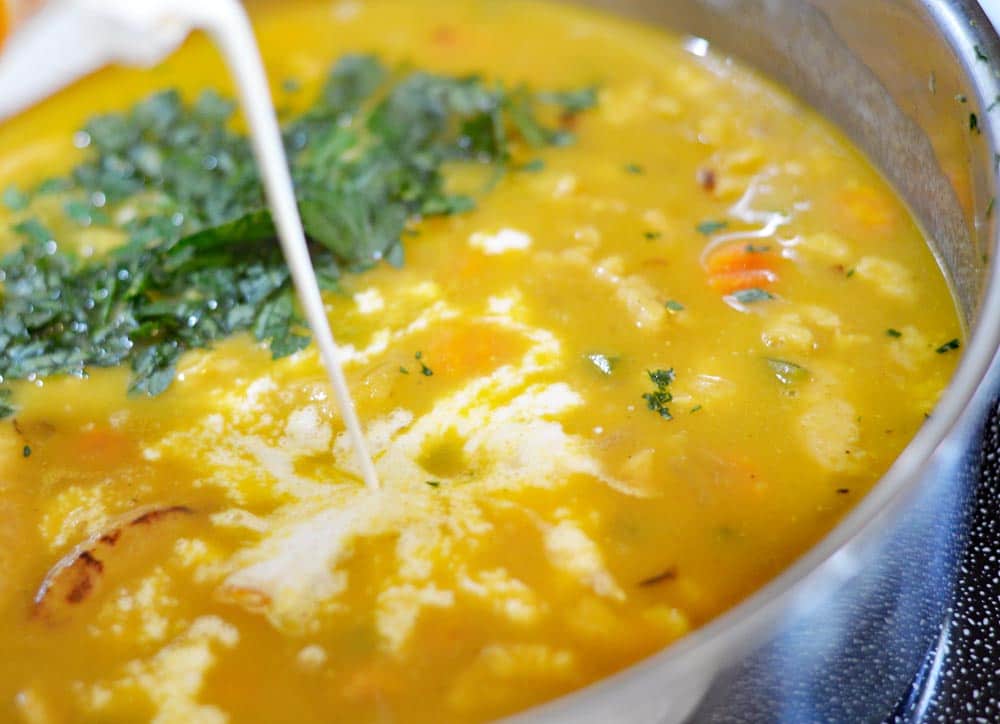 Cook for a few minutes or until it thickens just slightly.  You don't want to reduce this too much because the biscuits will absorb some of that moisture.  You can always add more stock or cream to loosen it even after the biscuits have risen.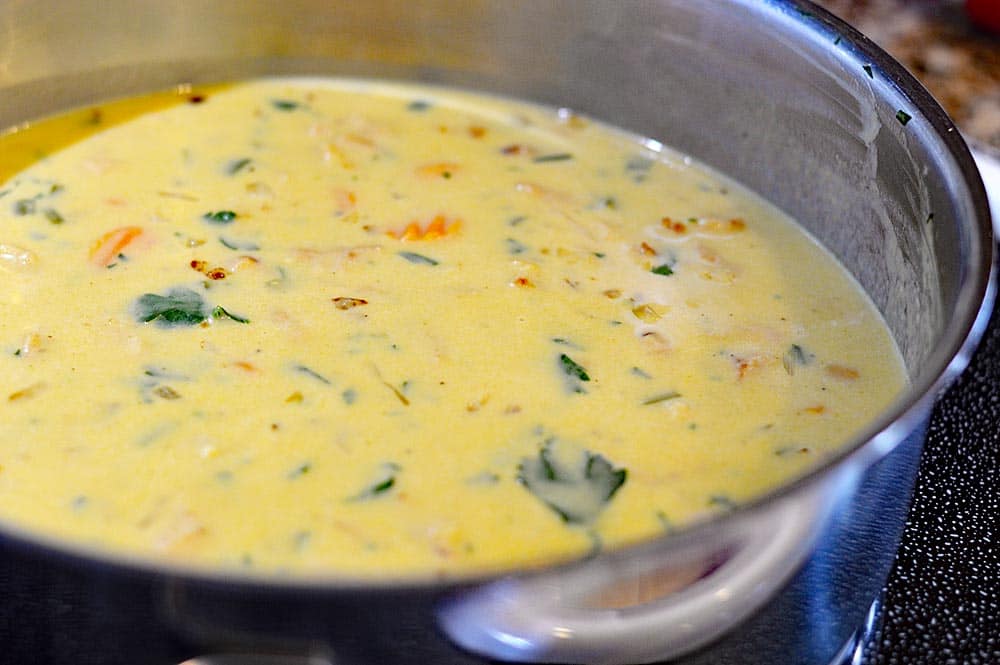 Speaking of those biscuits… These simple drop biscuits go right in, cover and let steam.  This is a very sticky batter, and in hindsight, I might have made fewer biscuits but larger.  Really mound them up because even though they will rise, they will sink into the gravy.
Regardless, they were delicious!  Two spoons or a large cookie scoop (sprayed with cooking spray) works well here.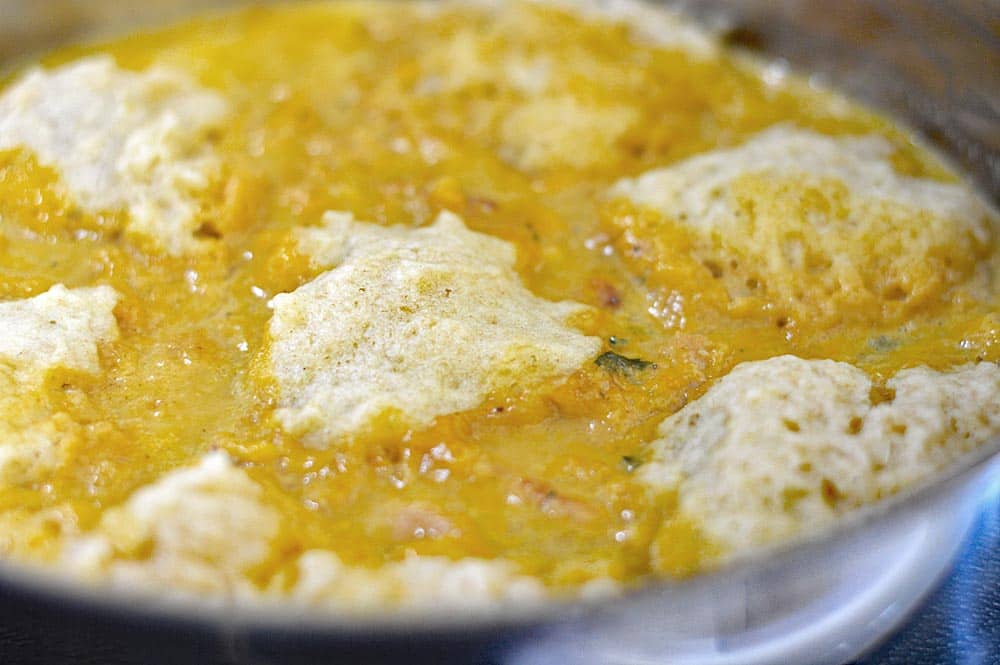 This recipe was so delicious that I will be definitely be making it again and again, and probably with variations on the theme.
If you're into this recipe, you can check out my Vegan Chicken Pot Pie with Puff Pastry Crust on my sister site Living Vegan!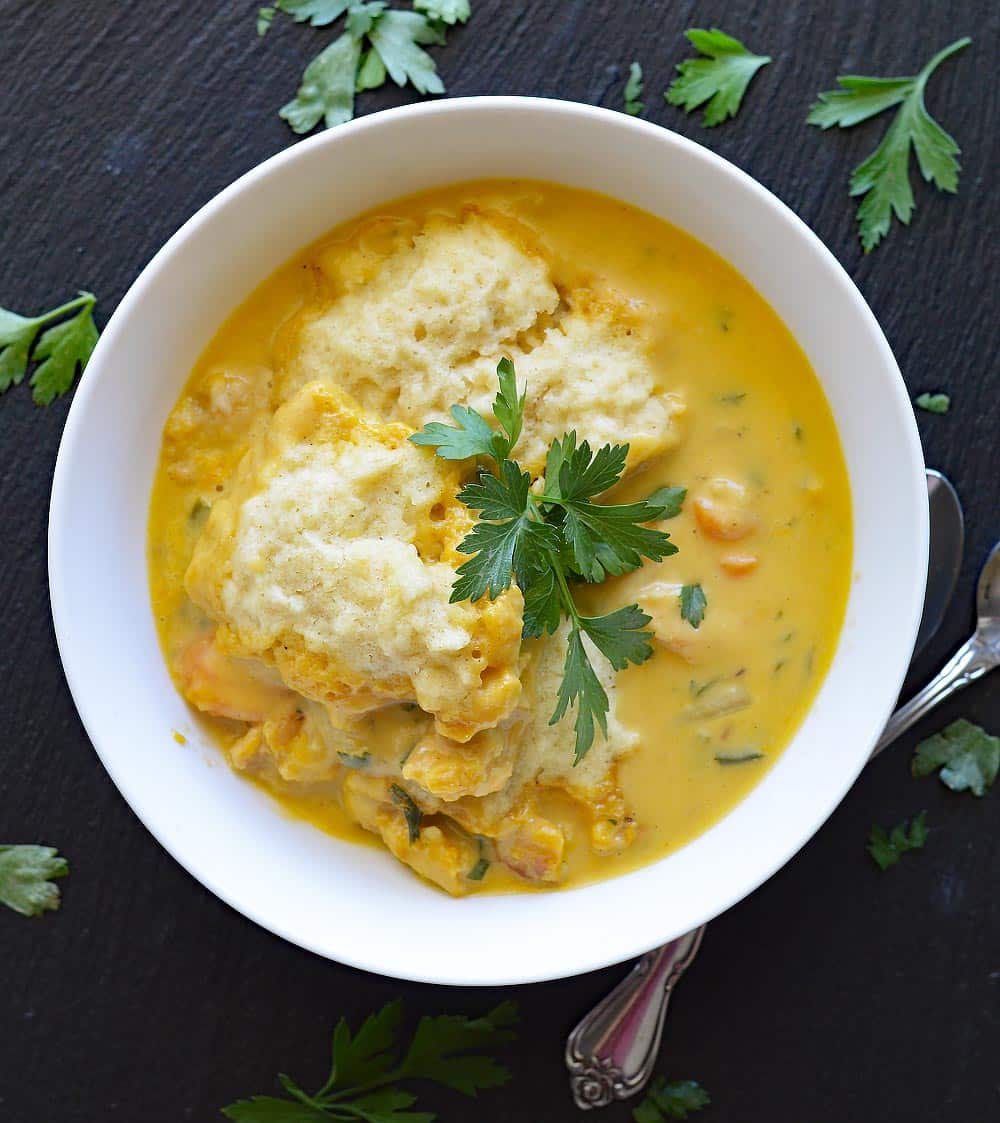 Tender biscuits, rich and flavorful gravy, loads of veggies…it's so good.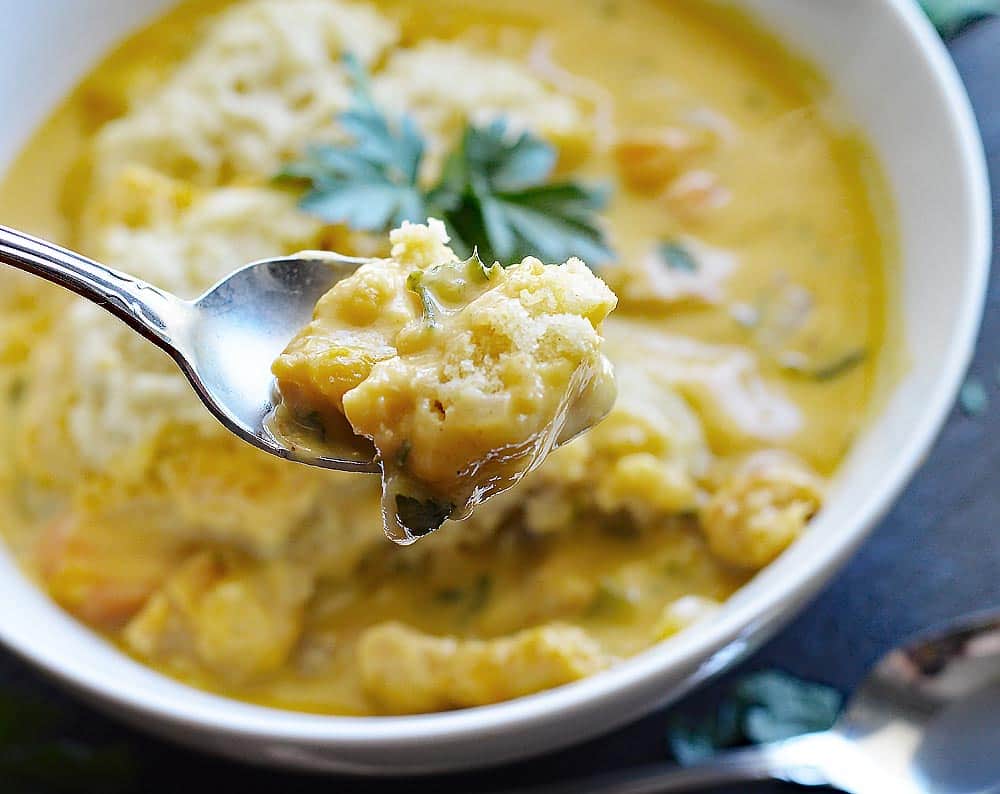 Did you make this recipe for Vegan Chicken and Biscuits?  Leave a comment below.
If you enjoyed this recipe, PIN IT FOR LATER! ?

Vegan Chicken and Biscuits
Vegan Chicken and Biscuits
Ingredients
1

tsp

Oil of your choosing

1

small

Onion

chopped

2

medium

Carrots

chopped

2

ribs

Celery

chopped

1

clove

Garlic

minced

1/2

tsp

Salt

1/4

tsp

Pepper

1/4

c

Flour

1-1/2

c

Vegan Soy Curls

rehydrated in broth, drained & pressed dry with paper towels

4

cups

Veggie Stock

plus more if needed to thin

2

tbsp

Vegan Bouillon Base

2

tsp

Sugar

1/2

c

Vegan Creamer, Coconut Milk or Non-Dairy Milk

1-2

Bay Leaves

OPTIONAL

1/4

c

Parsley

chopped

1

tsp

Thyme

OPTIONAL

Additional Salt + Pepper

to taste
DUMPLINGS:
1-1/3

c

Flour

2

tsp

Baking Powder

3/4

tsp

Salt

2/3

c

Vegan Creamer, Coconut Milk or Non-Dairy Milk

1

tbsp

Vegan Margarine

melted
Instructions
In 2 c of very hot broth, add the soy curls and allow to sit for at least 10 minutes. Drain, reserving the broth, and press the curls with paper towels to remove some of the excess moisture.

Add oil, onion, carrots and celery to a large saute pan, cooking until vegetables are tender. Add garlic; cook and stir 1 minute longer. NOTE: You can use some of your broth to cook the veggies instead of oil if you prefer.

Add the drained soy curls to the veggies and cook until golden and browned.

Stir in 1/4 cup flour to the veggie/soy curl mixture until blended. Gradually add stock with bouillon (including the reserved 2 cups used to soak the soy curls), stirring constantly. Stir in sugar and add bay leaves.

Cook, covered, until mixture reaches a simmer.

Meanwhile for the drop biscuits, whisk together flour, baking powder and salt. Add non-dairy milk and melted vegan margarine, mixing just until blended (do not over mix). Set aside.

Gently stir in vegan creamer, parsley and thyme. Season with additional salt and pepper to taste. Discard bay leaves.

Drop large scoops of dumpling/biscuit batter on top of simmering soup. Reduce heat to low; cook, covered (do not lift cover for 15-18 minutes). To check for doneness, insert a toothpick in center of dumplings. It should come out clean when fully cooked.