I am a mashed potatoes and gravy kind of girl, so of course I was going to create a Vegan Mushroom Gravy.   This is a very simple recipe with few ingredients, but does take some tending to as it cooks.  Think of it as building layers of flavor.  I chose to puree it but honestly, in hindsight…I kind of liked those bits of mushrooms and onions.  So next time, I am going to do it that way.  In the end, I chose to add sliced sauteed mushrooms to further "mushroom it up". In my opinion, you can never have too many mushrooms 🙂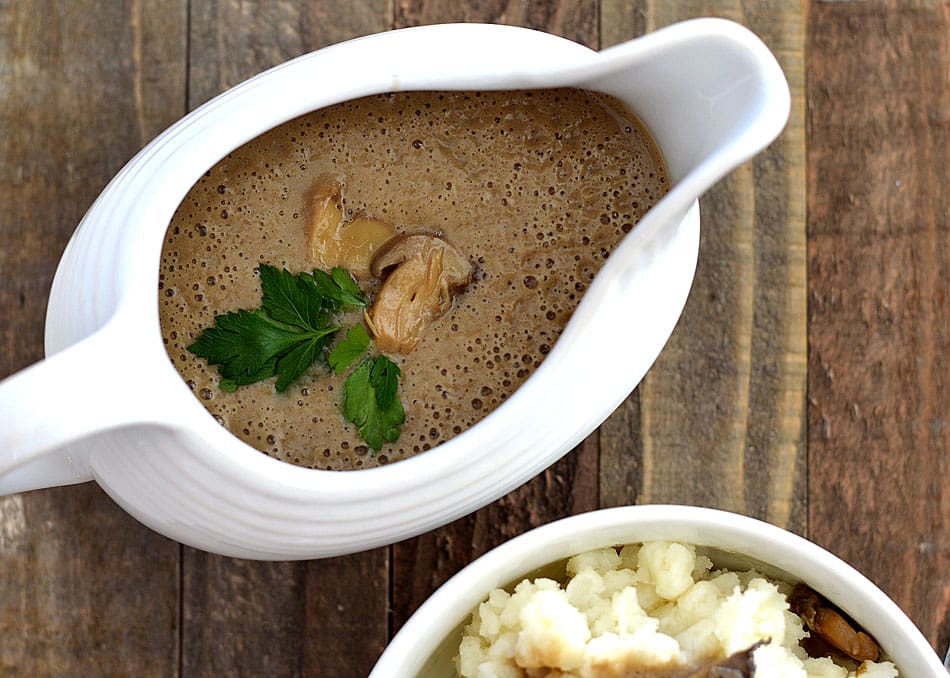 The first step is to saute the onions and herbs in oil.  Once softened, I add the garlic sauteeing for just a minute.  You don't want that garlic to burn!   Next up are the diced mushrooms and salt.  Allow this to cook down until the natural moisture in the mushrooms evporate.  The mushrooms and onions should both be tender at this point in the process.
While this is all happening, I make a cornstarch slurry.  It's just 3 tablespoons of cornstarch to 1 cup of the vegetable stock/broth in this recipe.  Here's a quick tip!  The darker and richer in color your broth, the darker your end result.  I always, always buy Imagine Vegetable Broth for this reason, but ran out and had a lighter version on hand.  Kind of a bummer.  They also make a mushroom broth (which if you can find it, is definitely worth it).  So in light of my situation, I opted to add soy sauce, both for color and flavor.  It worked in a pinch.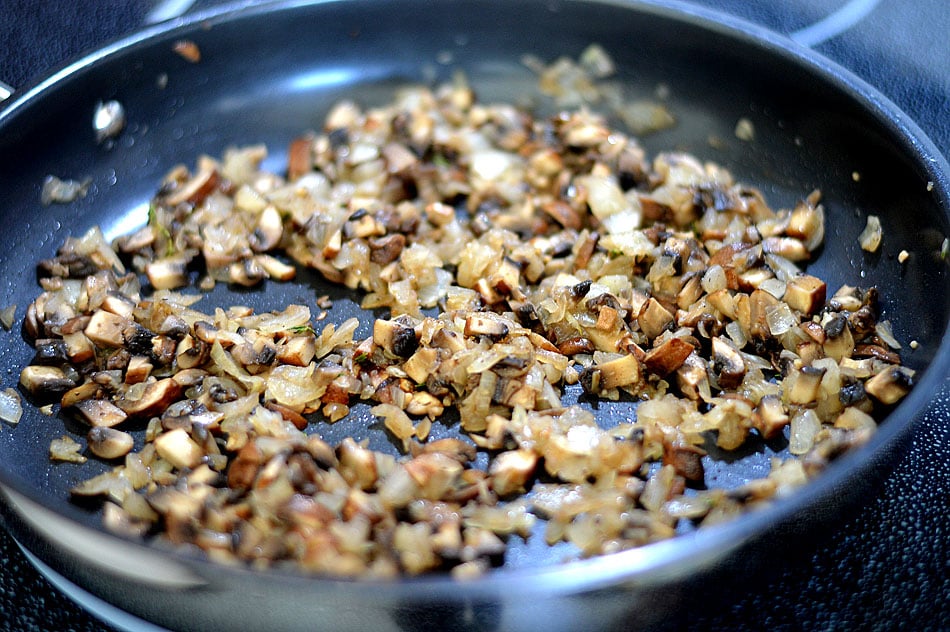 Once the mushrooms are all sauteed, I add the broth to the hot pan and bring to a boil.  Once it reaches a full boil, I whisk in the cornstarch mixture and reduce the heat to medium.  This is where the thickening happens.  If it gets too thick, feel free to add more broth.  It's not an exact science.
Continue to stir as it thickens.  I'd say, about 10 minutes or so.  Add soy sauce at this point and remove from the heat. I like to taste for seasoning after the soy sauce, as it does impart some saltiness.  Give it a good sprinkling of pepper as well.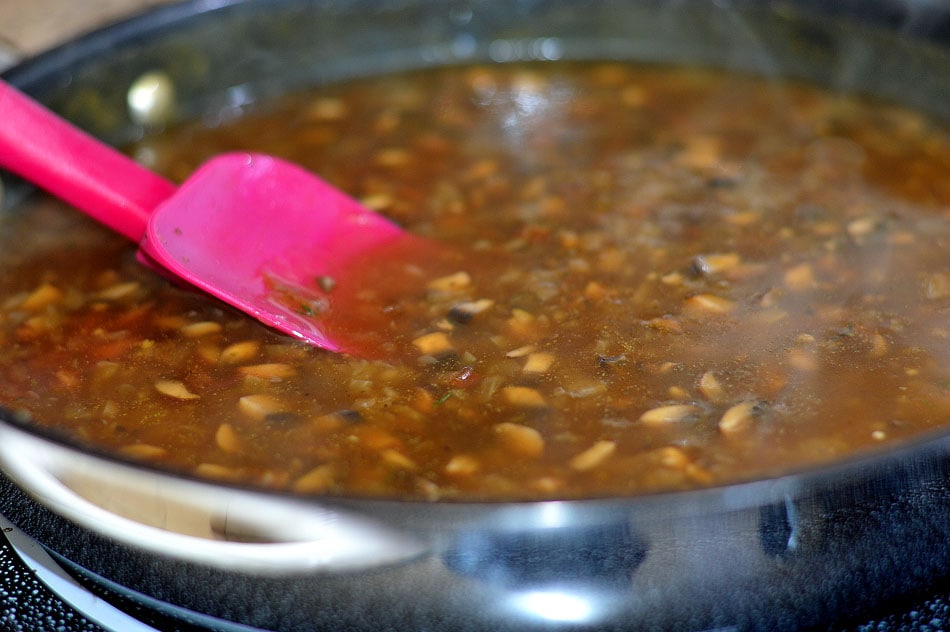 It's now ready to serve "as is".  To puree?  Or not to puree??  That is the question.  Hmmm, I liked it both ways, but since I am a certified mushroom freak, I almost preferred those little bits in there.  Ultimately, I added more sliced and sauteed mushrooms because … well, I couldn't resist.  Served over mashed potatoes, with stuffing…however you want.  It's super flavorful and freezes well too! 🙂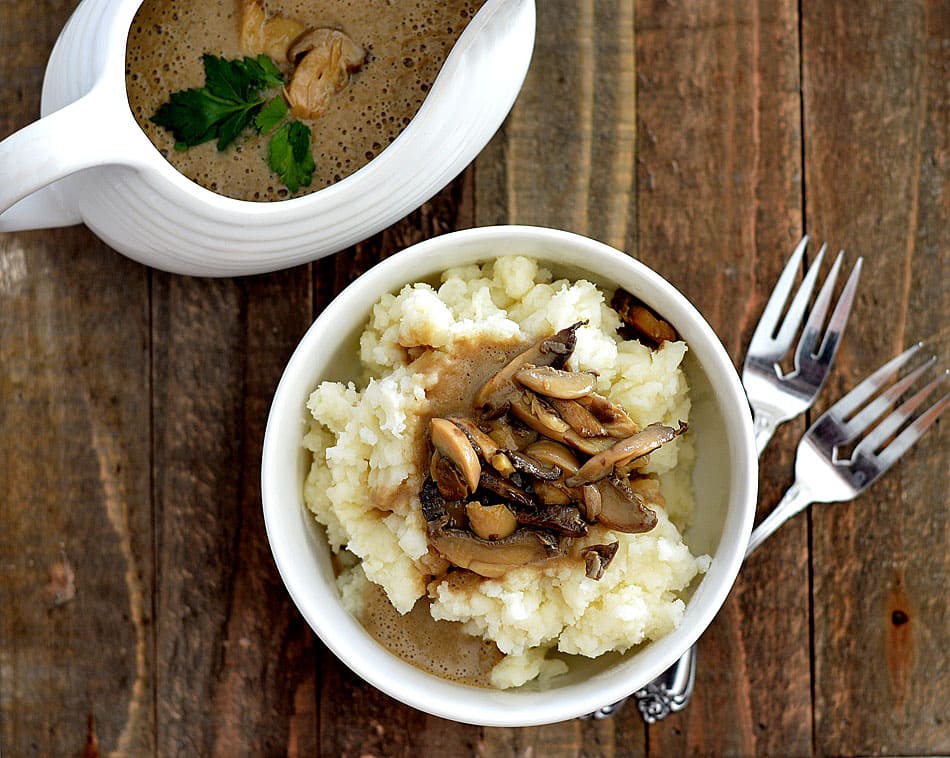 Did you make this recipe for Vegan Mushroom Gravy? If so, leave me a comment below and let me know what you thought!
And if you enjoyed this recipe, why not PIN IT FOR LATER! 🙂

Vegan Mushroom Gravy
Vegan Mushroom Gravy
Ingredients
1

tbsp

Oil

1

medium

Onion

finely minced

1/4

tsp

Dried Sage

1/4

tsp

Dried Thyme

1

tsp

Garlic

finely minced

10

med/large

Mushrooms (button, cremini, baby bella)

about 1/2 lb. diced

1

tsp

Salt

3

tbsp

Cornstarch

you can also use Arrowroot or Tapioca Flour/Starch

1

quart

Vegetable Stock

Low-Sodium

1

tbsp

Vegan Soy Sauce

optional

Black Pepper

to taste
Instructions
In a medium saucepan over medium/high heat, add oil, onion and dried herbs. Saute for about 5 minutes or until the onion softens and starts to become translucent.

Add the garlic and cook for just a minute.

Add the mushrooms and salt. Stir to combine the ingredients and cook for about 10 minutes, stirring occasionally while the mushrooms cook down and become browned.

Meanwhile, combine cornstarch (or arrowroot or tapioca starch) with about 1 cup of the vegetable stock and whisk until smooth.

Once the liquid from the mushrooms has cooked off, add the rest of the vegetable stock and let come to a boil.

Whisk in the cornstarch mixture and reduce heat to medium low. Stir constantly for about 10 minutes or until thickened.

OPTIONAL: Add soy sauce to taste and season with pepper (and more salt) if necessary.

At this point, it's ready to eat! You can puree it as I did, or enjoy it 'as is'. I kind of liked the little bits of mushroom and onion. I think I would skip the pureeing next time around. I added sliced, sauteed mushrooms for presentation.
Notes
This Vegan Mushroom Gravy freezes really well! 🙂