I partnered with Bob's Red Mill for this sponsored post to bring you a Vegan Spring Vegetable Spiral Tart recipe that's all the rage on social media lately.
Not entirely dissimilar to a ratatouille, the veggies in this dish are instead sliced into thin strips and spiraled vertically.  But what does set it apart, is that this tart has a crust.  What I love is that it looks difficult and a little bit fancy, but takes just minutes to complete. While not traditional in most representations of this recipe, I chose to add in bits of kale which after baking, literally become crispy kale chips.  I just love the contrasts in texture.  You could certainly omit this step if you aren't a fan of kale or maybe consider replacing it with something like baby spinach.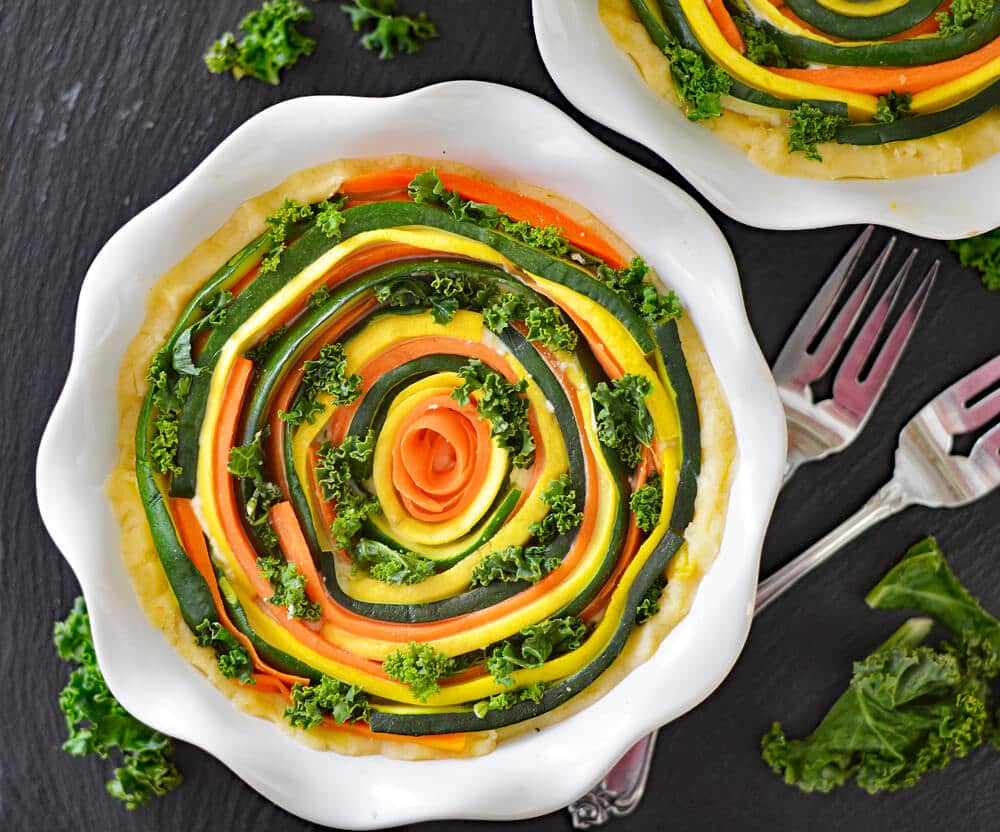 Today I am using Bob's Red Mill Organic Unbleached All-Purpose White Flour to make my perfect pastry dough.  It produces the most tender and flaky crust I have ever made!  This is my "go to" recipe and I use it for nearly all of my baked pastries.
To get a crust that is the correct size for your pie dish, lightly make an impression in the dough with your dish. Then, allowing about two inches or so excess around that impression, cut using a sharp knife.  This crust need not be perfect, so don't obsess.  Our veggies will cover any imperfections and this recipe is supposed to look a bit rustic.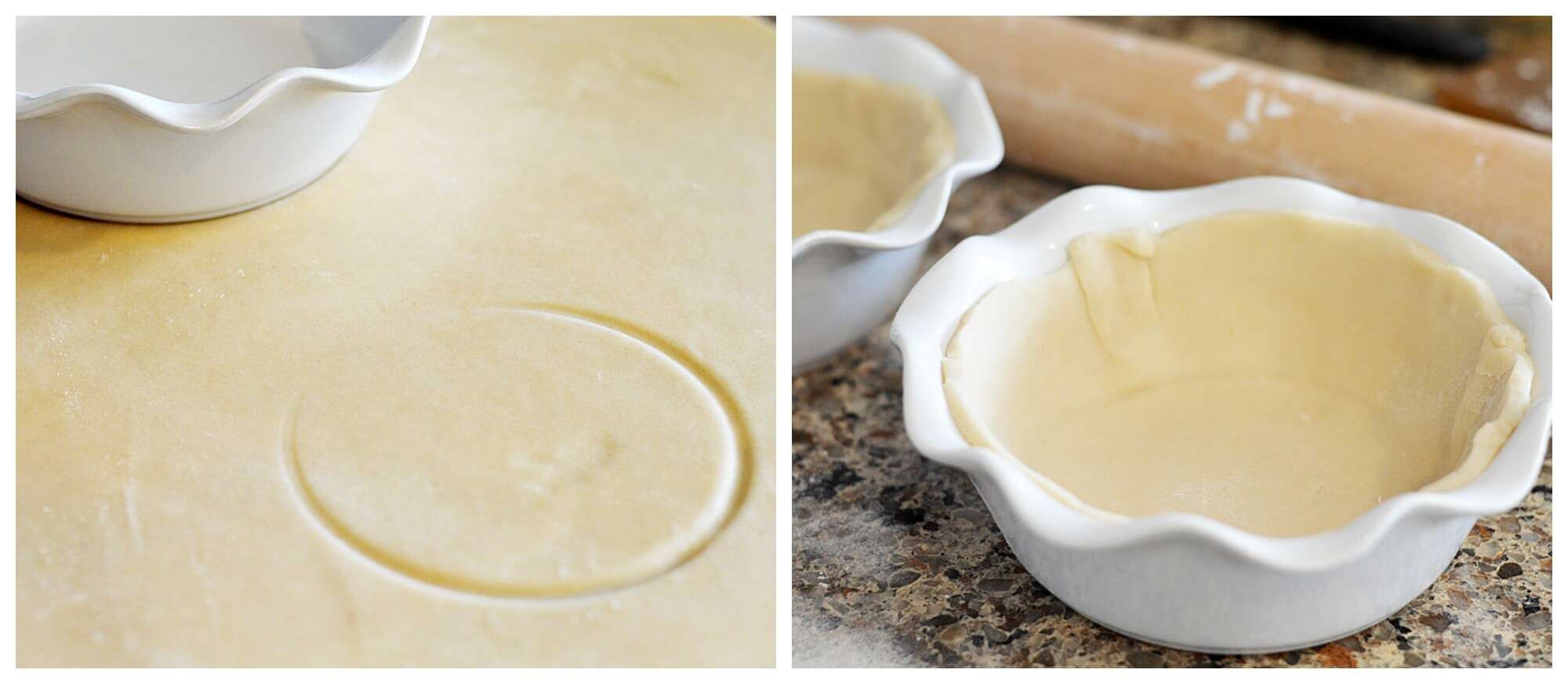 Bob's Unbleached White All-Purpose flour is freshly milled from Organic hard red wheat and is not enriched with any additives. This is the same high protein flour used by professional bakers and produces high, well-textured loaves of bread as well as our pastry dough here today.  You'll see many of my other recipes using this same flour.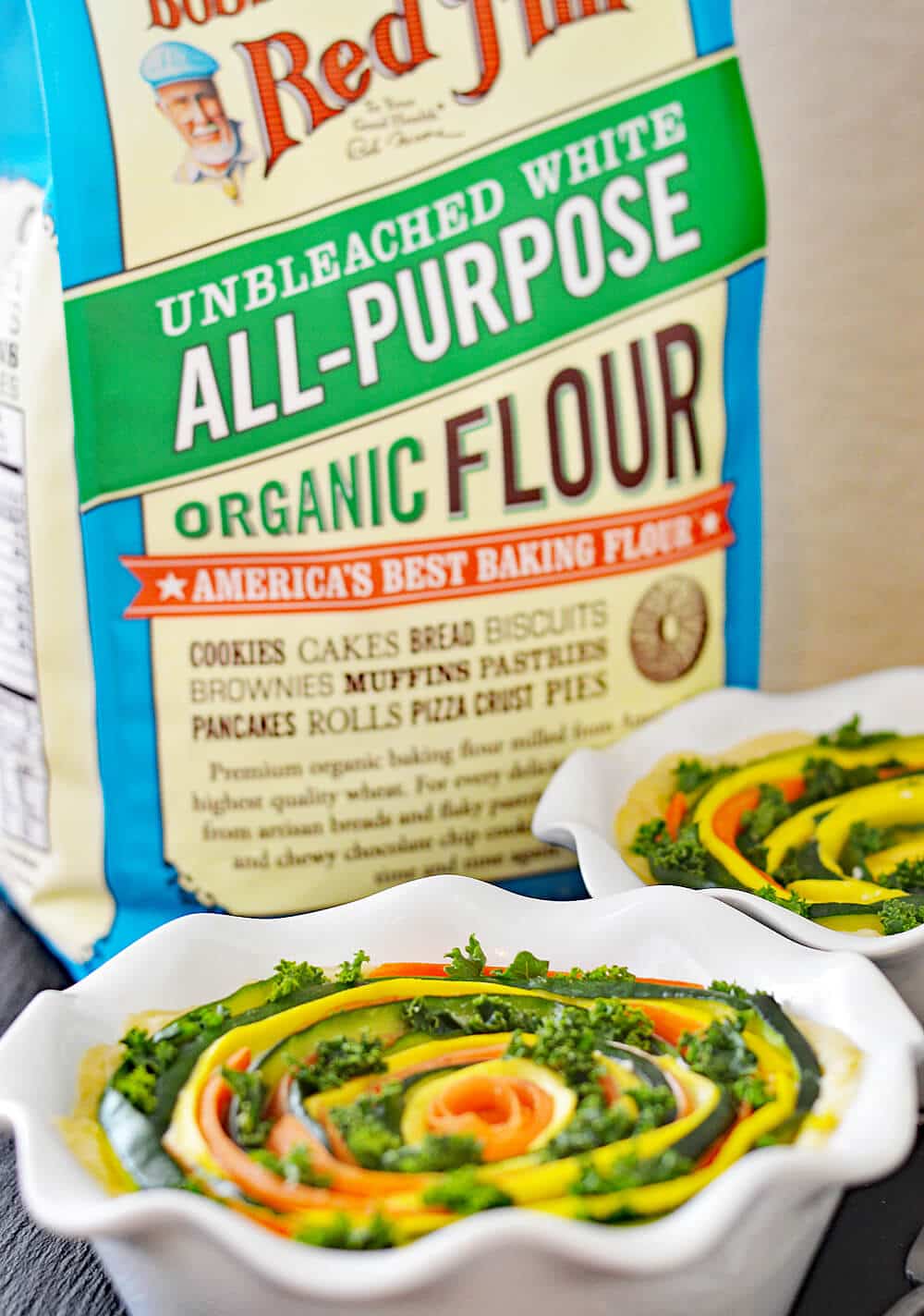 The veggie slices are anchored by an herbed cream cheese and parmesan mixture (I used the vegan versions) which helps keep things in place.  It helps make quick work of assembly and melds in between those layers when baking.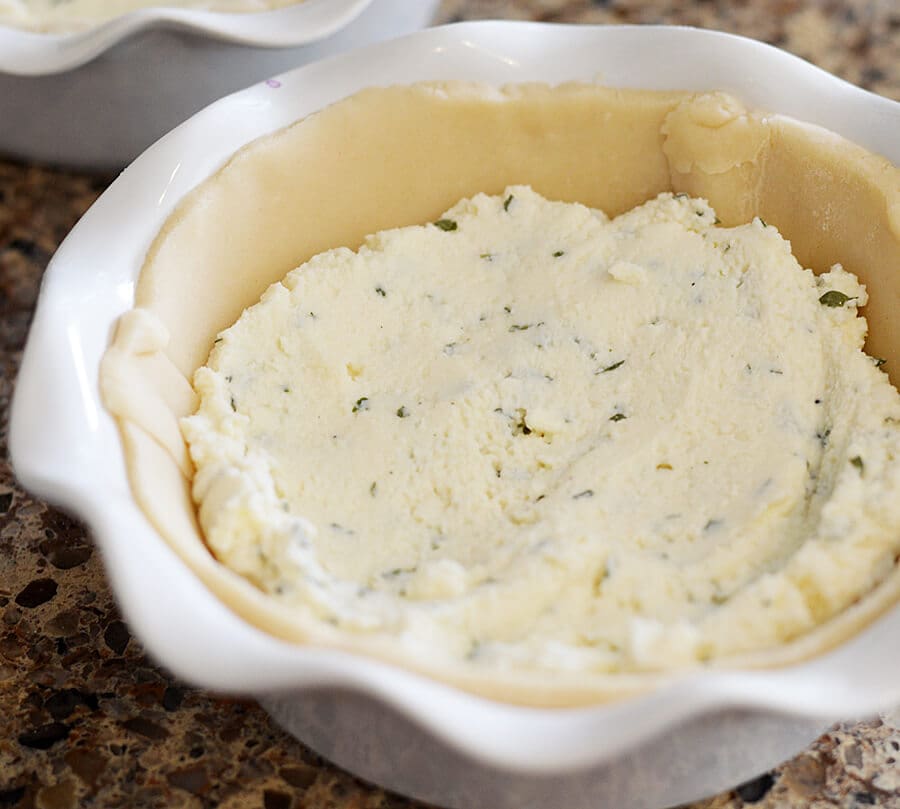 You can use any vegetable you desire, but I find that yellow squash, zucchini and carrots work best for me.  I will say, if you have a slicer or mandolin, making thin, even slices will be simpler for you.  However, it was not at all difficult to slice by hand, maybe just slightly more time consuming and a little less exact final product 🙂
To make them more pliable, you can either microwave, steam or even grill them first, keeping in mind that the carrots take a few minutes more.  You should be able to easily roll the veggies without breaking them. I gave the kale a quick few minutes in the microwave as well to soften it up.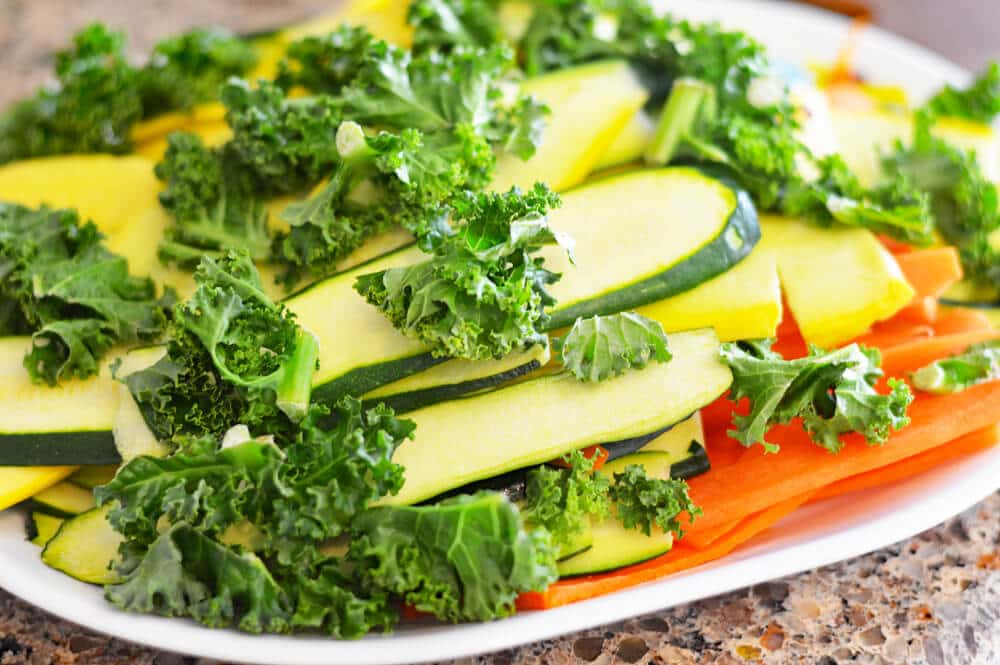 I began with a quick spiral of carrot and from there, you literally just keep wrapping and alternating the vegetable strips.  It's that easy!  You'll see I experimented with red cabbage, but opted to omit it.  While the color was pretty, it was too firm a texture for the look I was going for.
Once you get things assembled (which took me less than 5 minutes per dish), you'll want to fit in your kale and brush everything (except the dough) with melted margarine (I went with vegan margarine).  This will keep your veggies from drying out and also aid in the cooking process.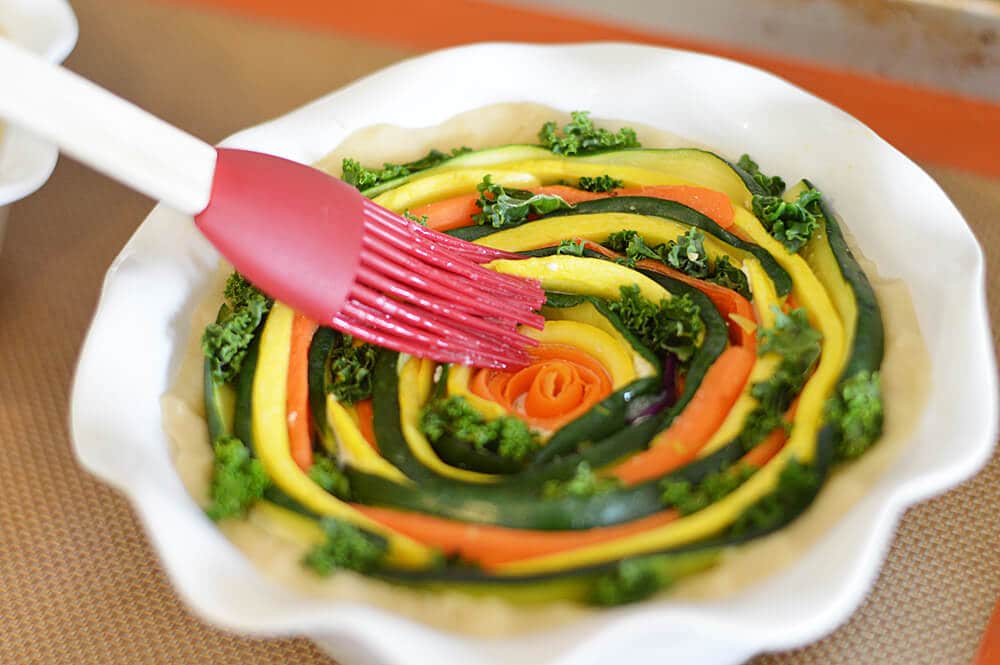 It bakes for about 30-40 minutes, maybe longer if you are doing larger portions, until the crust is a golden brown and the veggies are tender.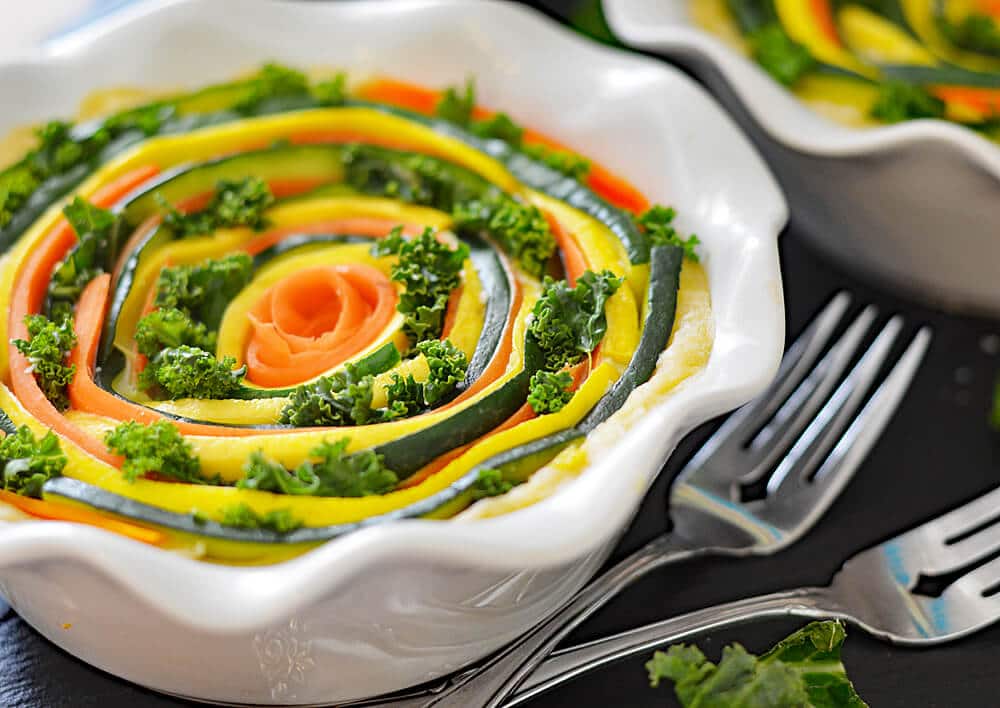 The result is a myriad of flavors and textures.  You have that tender, yet flaky crust; the creamy, cheesy layer and of course, your veggies.  I think you'll really love it!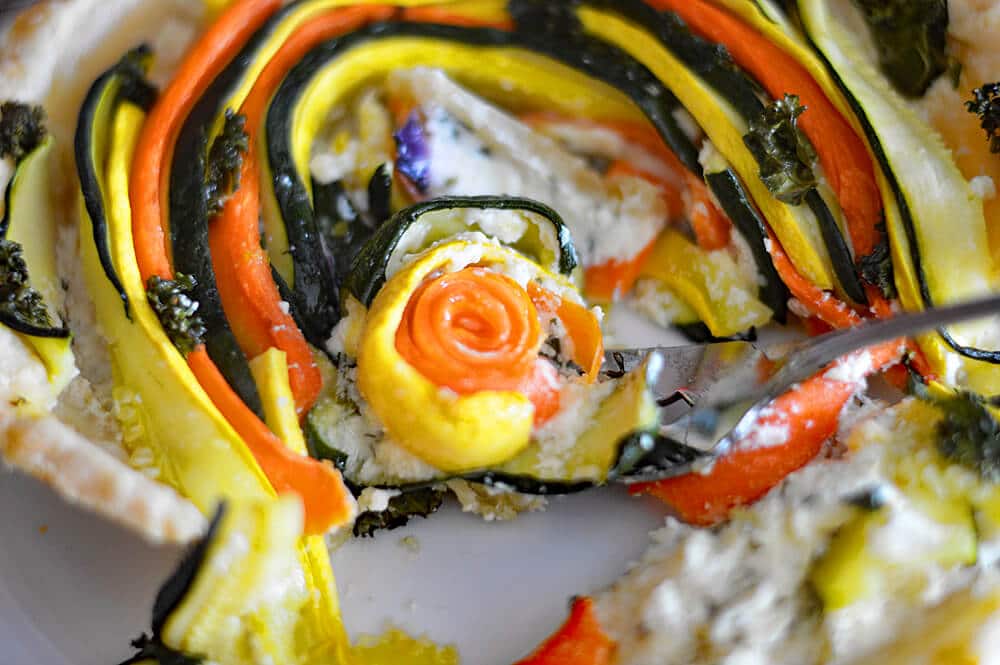 Did you make this recipe for my Vegan Spring Vegetable Spiral Tart? Leave me a comment below and let me know what you thought! 🙂
PIN IT FOR LATER!

*This is a sponsored post written by me on behalf of Bob's Red Mill.
Vegan Spring Vegetable Spiral Tart
Vegan Spring Vegetable Spiral Tart features a delicate, flaky crust and a filling made from and herbed vegan cream cheese and parmesan.
Ingredients
FOR THE CRUST:
6

tbsp

Very Cold Vegan Margarine

cut into cubes

1-1/2

c

Bob's Red Mill Organic Unbleached All-Purpose Flour

plus more for rolling

1/2

tsp

Salt

2-1/2

tbsp

Very Cold Vegetable Shortening

3-4

tbsp

Ice Water
FOR THE FILLING:
3/4

c

Vegan Ricotta

1/2

c

Vegan Parmesan

2

tbsp

Italian Parsley

chopped

Salt & Pepper

to taste
FOR THE VEGGIES:
2-3

medium

Zucchini

sliced into thin strips & par-cooked

2-3

medium

Yellow Squash

sliced into thin strips & par-cooked

2-3

large

Carrots

sliced into thin strips & par-cooked

1/4

c

Kale Pieces
FOR THE TOPPING:
1

tbsp

Vegan Margarine

melted for brushing
Instructions
TO MAKE THE CRUST:
In the bowl of a food processor, add all ingredients except the ice water. Pulse about 10 times until a coarse crumb forms. While the processor is running, stream in the water 1 tbsp at a time until a ball forms. Wrap in plastic wrap and refrigerate while we prepare the rest of the ingredients.
TO MAKE THE FILLING:
In a small bowl, combine the vegan ricotta, vegan parmesan and chopped parsley. Season with salt and pepper, to taste. Chill until ready to use.
TO PREPARE THE VEGETABLES:
Using a mandolin, slicer or even just a sharp knife, create thin slices. Once all of your vegetables are sliced, microwave, steam or grill just enough to soften the veggies. You should be able to easily roll them without breaking, but remember they will also be baked so don't over do. This step is just to make them pliable enough to work with.
TO ASSEMBLE:
On a floured surface, roll out your dough. Using your baking dish, create an impression in the dough for size reference and using a very sharp knife, slice about 2 inches outside of that circle to create your round. Place into your dish.

Evenly distribute the filling amongst your baking vessels.

Begin with a carrot, just wrapping it in a circle. Place into the ricotta mixture. Now just take slices and simply wrap around, alternately for color. This does not have to be perfect. Continue until completed.

If using kale, find areas where you have available to place them. I used the point of a knife to assist me in this process.

Finally, brush with melted vegan margarine and bake at 350 degrees for approximately 30 minutes or until the crust is golden and the vegetables are tender. Allow to cool slightly before serving as the contents are extremely hot.