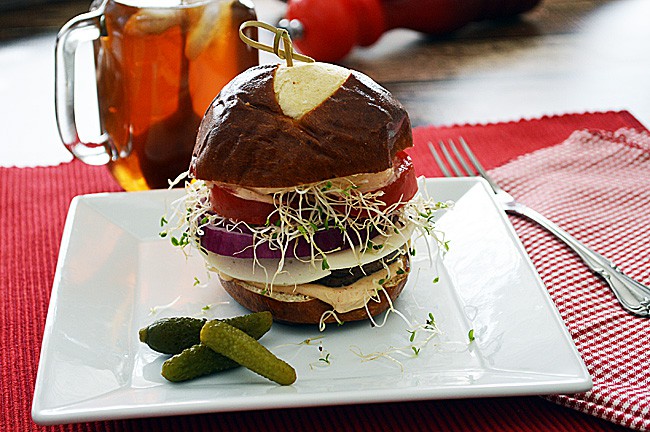 Baby Portabella Burger
Ingredients
Mini Pretzel Rolls

Medium Portabella Mushrooms

Salt & Pepper

to taste

Olive oil for brushing the mushrooms

Sprouts or mixed field greens

Tomato Slices

Red Onion

sliced thin

Vegan Swiss Cheese Slices

For the Sriracha-Style Mayo:

Vegan Mayonnaise

1

Tbl Tabasco

1

tsp

Lemon Juice

¼

tsp

Soy Sauce

Paprika

to taste
Instructions
Heat a skillet to medium high heat with 1 Tablespoon of oil. Remove the stems

and brush the mushrooms with olive oil. Season with a little salt and pepper, if desired. Saute until tender but still holding its shape.

Combine all of the ingredients to prepare the mayo.

To assemble, split the pretzel roll in half and spread both halves with the mayonnaise. Working from the bottom up, place the sauteed portabella mushroom. Add the swiss cheese, slices of red onion and tomato slices. Top with the sprouts (or field greens) and place the roll on top. We skewered ours to keep everything together.
[bha size='234×60′ variation='05' align='aligncenter']