This is a dish I have always wanted to try making from scratch and my Easy Homemade Vegan Gnocchi Recipe couldn't be simpler! Just two ingredients make up this gnocchi: potatoes and cake flour. Wait til you see the texture of this dough!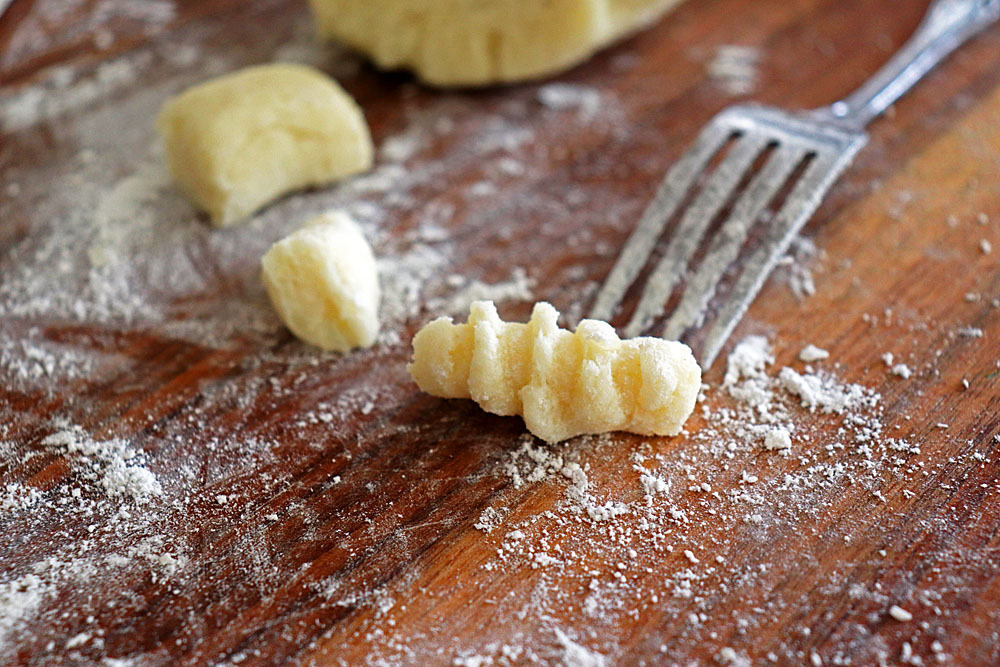 How to make my Easy Homemade Vegan Gnocchi Recipe
The first step to making the gnocchi is boiling the potatoes in salted water. Don't peel them, just cook whole. Once they are fork tender, we can proceed.
Can I bake or microwave the potatoes instead?
Yes, absolutely! I would just add a pinch of salt to the riced or grated potato as they wouldn't have had the advantage of boiling in that salty water.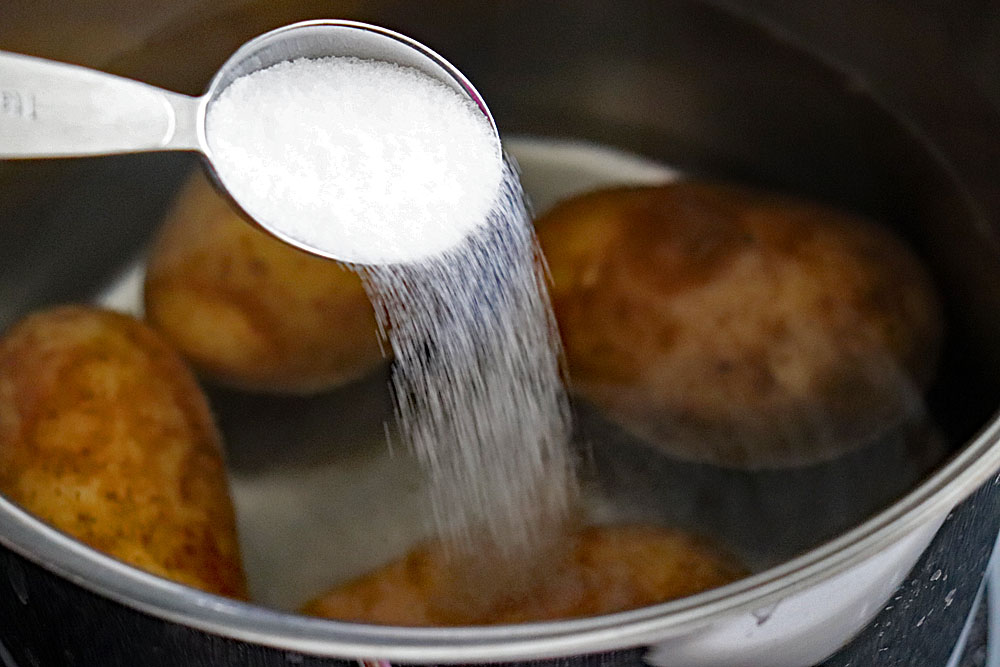 Allow them to cool just enough to handle (do not cool completely) and simply take a paper towel and rub away the potato skins. Easy peasy!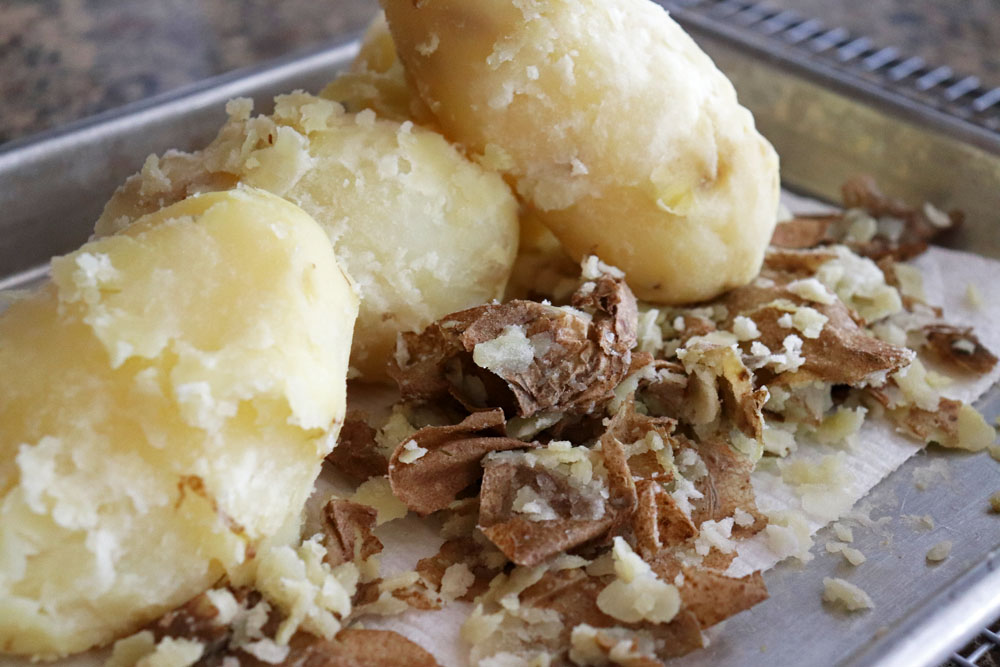 Using a box grater, just grate the whole potatoes. If you have a potato ricer, which I don't, you can definitely use that.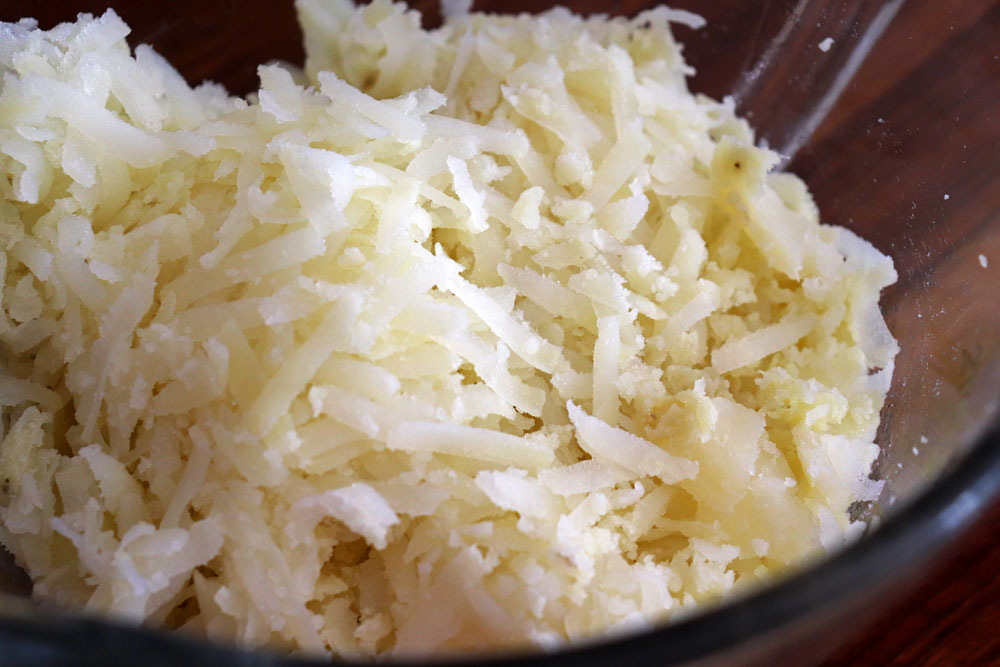 To the grated (or riced) potato, simply add cake flour. Cake flour is an enriched flour. Could you use all purpose flour? Sure! This is a great article to refer to to learn more about Cake Flour vs. All Purpose Flour and when to use it.
How to know when you have enough flour
You'll know you have enough flour in the dough when you can shape it and work with it without having a sticky mess on your hands (literally). If the dough is too sticky, add more flour. If it appears too dry where it cracks or won't come together in a smooth ball, you can add a bit of oil or water. However, this dough tends to lean more on the sticky side so as long as you add flour slowly, it's quite forgivable.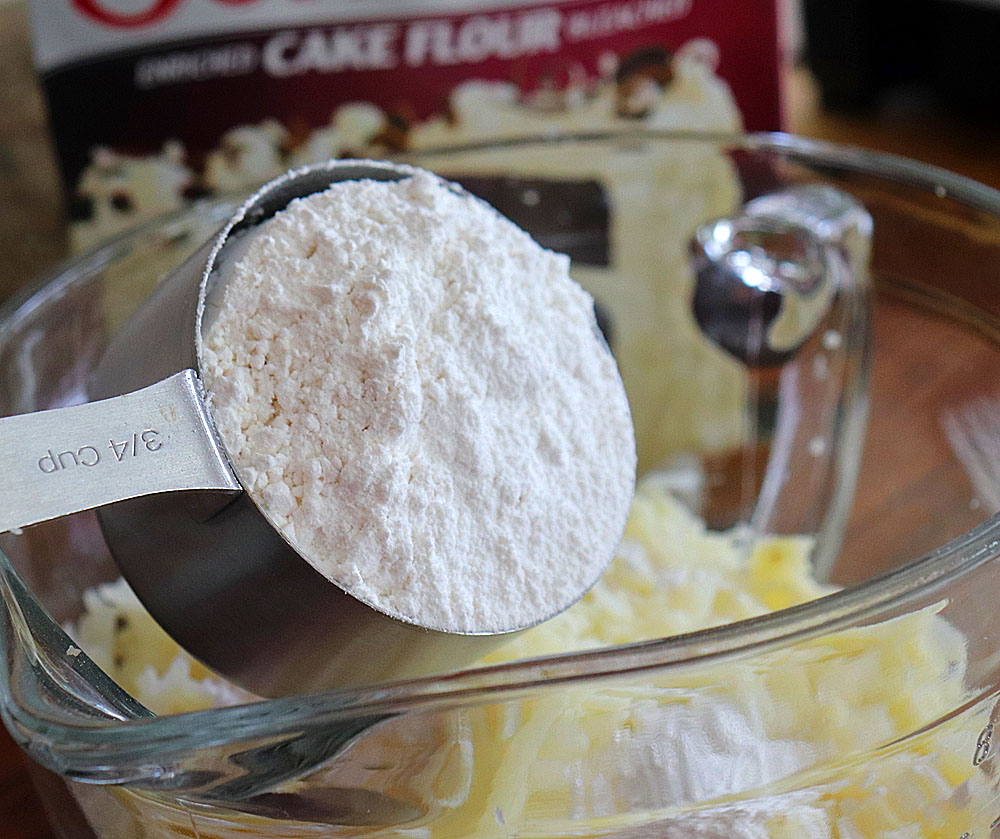 Keep kneading until your dough looks like this. That texture from just two simple ingredients is amazing! I divided the dough into four pieces to make it easier to handle.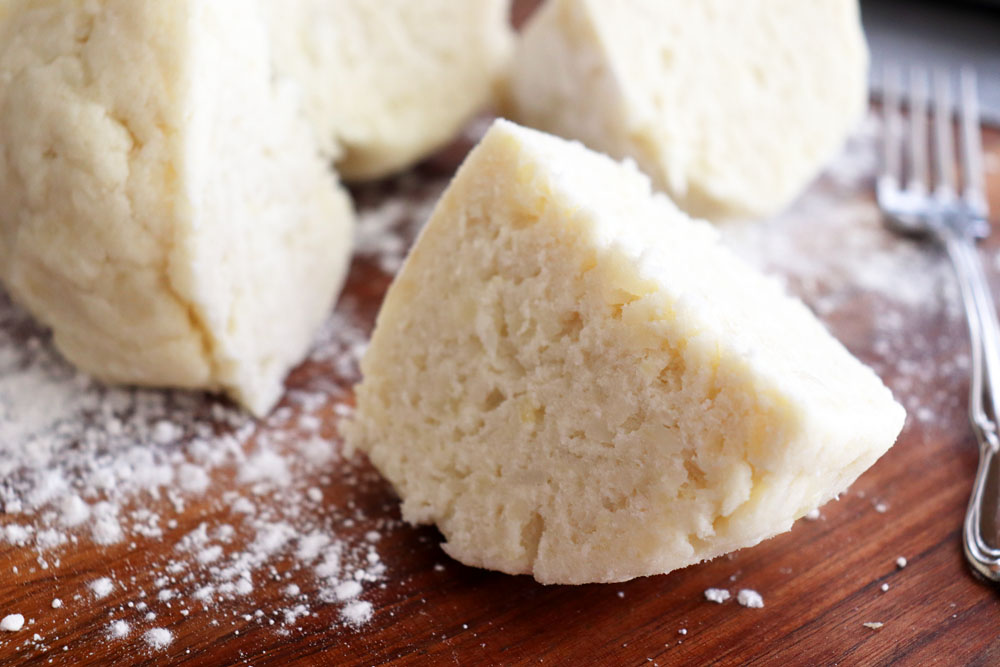 Take each quarter of dough and cut into smaller pieces. You can roll like a snake and cut into pieces, or just use the cut pieces as is.
I will admit, rolling the perfect gnocchi takes practice. I take my piece of dough and while pressing, roll it up the back of a fork. Alternately, you could take what I call the peanut butter cookie approach. Take that little puffed dough and make fork impressions in it. Then just pinch the two ends of the bottom together. Instant gnocchi and no one will be the wiser 🙂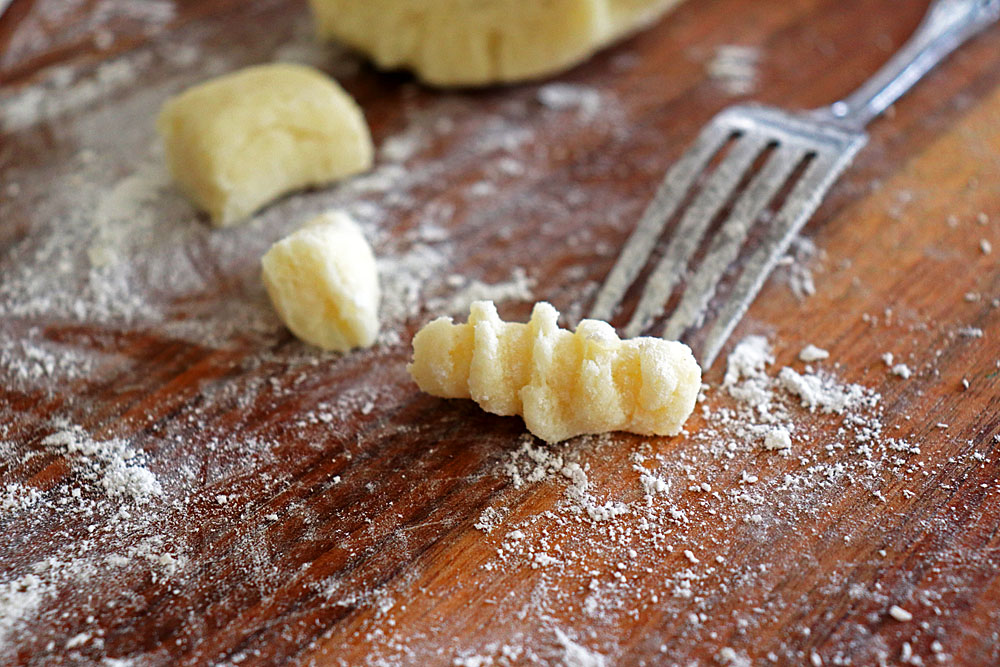 Once you have all of the gnocchi made, it's time to cook them.
Why the grooves? Do I NEED to make them?
The grooves are traditional and they are there to hold your desired sauce. That being said, it's not entirely necessary and if you choose to skip this step, I'd recommend rolling the dough into a rope and then into bite-sized pieces. A quick way to make a lot of gnocchi in very little time.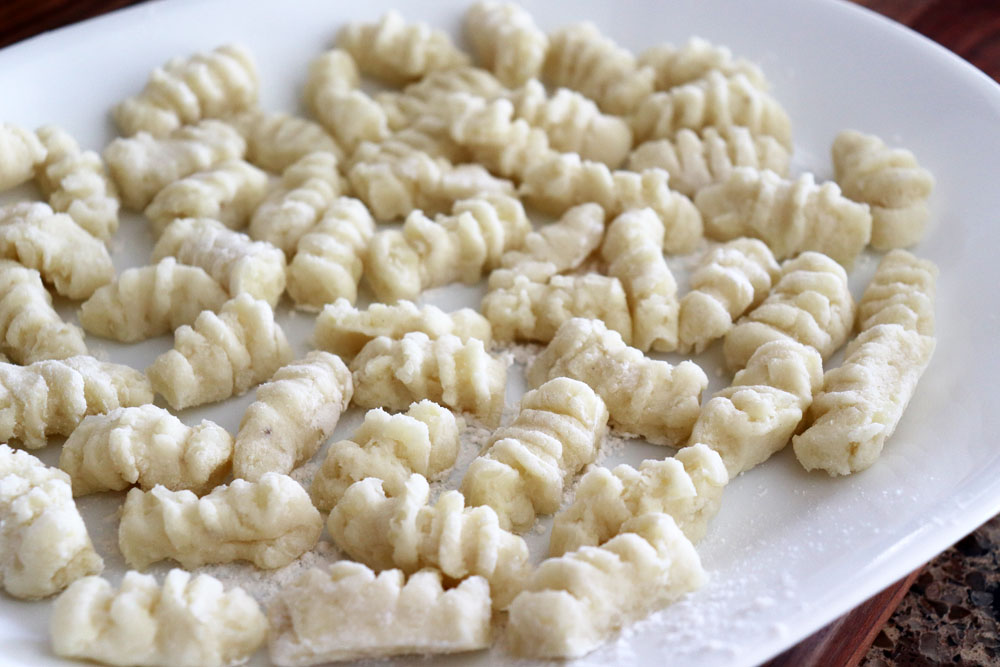 They first get boiled in plenty of salted water until they float. When they float, they are ready to remove.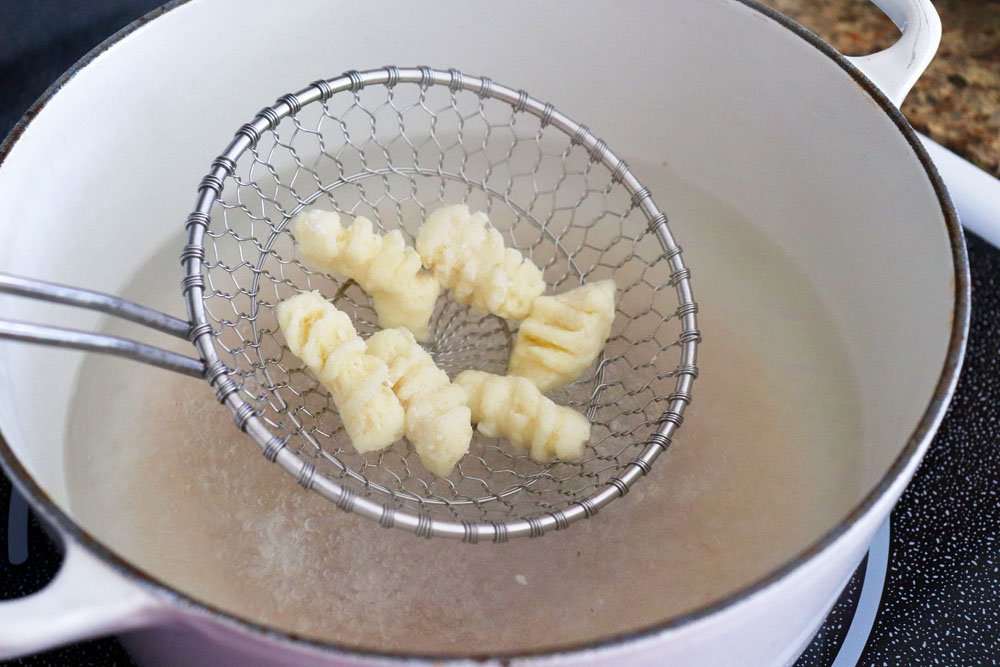 From here, you have many flavor options. Tomato sauce (with or without cream), pesto…whatever you prefer.
We pan fry them (following the boiling process) in vegan margarine, adding just salt and pepper. You could add herbs, veggies, proteins. The options are really endless.
Can I made the gnocchi in advance?
Yes, after the boiling process and an advantage is that they firm up a bit when cool which makes them much easier to work with. You can simply reheat them in the sauce.
Can I freeze gnocchi?
Yes! I place them on a sheet pan lined with parchment in a single layer until frozen, then place in a freezer safe container or plastic bag.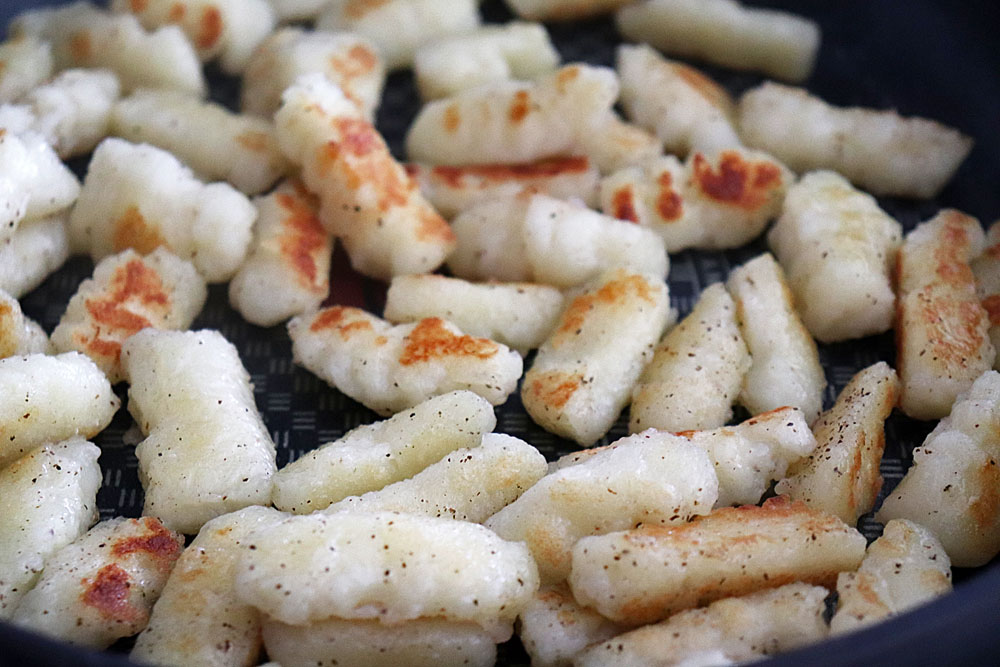 Did you make my Easy Homemade Vegan Gnocchi Recipe? Leave me a comment below and let me know what you thought!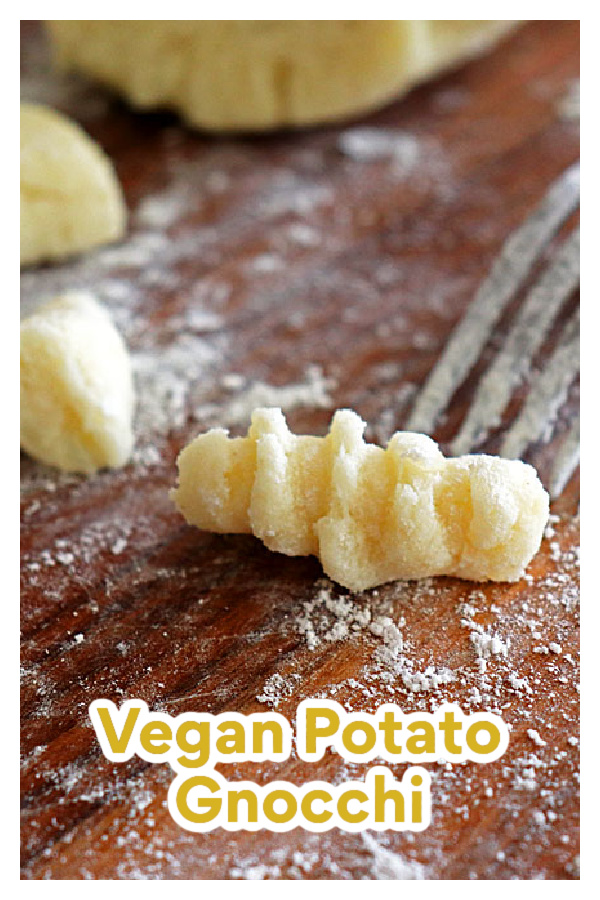 Easy Homemade Vegan Gnocchi Recipe
Easy Homemade Vegan Gnocchi Recipe
Ingredients
TO MAKE THE POTATO GNOCCHI
3-4

sm/med

Russet Potatoes

cooked, then riced or grated

3/4

c

Cake (or All Purpose) Flour
TO MAKE THE BUTTER SAUCE:
2-3

tbsp

Vegan Margarine

melted

Salt & Pepper

Herbs

optional
Instructions
Boil, bake or microwave potatoes, allowing to cool slightly. Peel and rice (or grate) and add flour. Knead until a smooth dough is formed, adding more flour if too sticky.

Cut the dough into manageable pieces and then into smaller pieces so that you can roll into a rope. Cut into 1" pieces, using a fork to form into traditional gnocchi shapes, if desired.

Place the formed gnocchi into plenty of salted, boiling water and remove when they float to the top.

Place the gnocchi directly into the melted butter and season with salt and pepper, to taste. Add herbs if desired or an optional sauce such as tomato cream, pesto, etc.