With just a few ingredients and a bit of patience, you can create this amazingly delicious Vegan Caramelized French Onion Dip! Vegan cream cheese, vegan sour cream and vegan mayonnaise all contribute to this popular appetizer. But first things first, let me show you how to get those juicy and golden caramelized onions.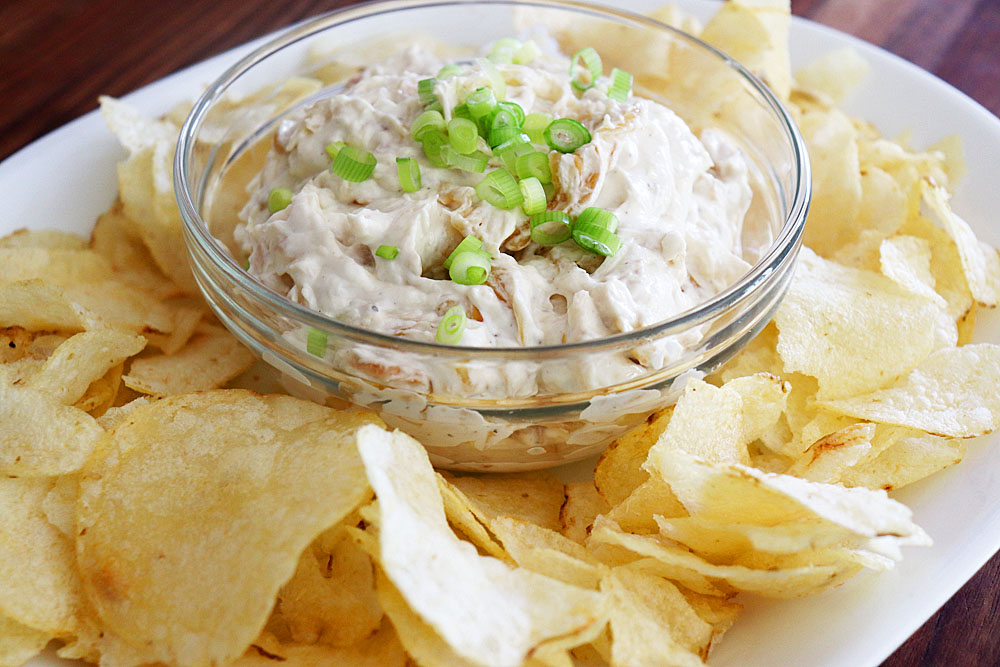 You'll need to soften the cream cheese, so place it in a bowl and then after a bit, give it a good mix. If it's too stiff, the remaining ingredients won't incorporate and/or it will end up breaking our chips.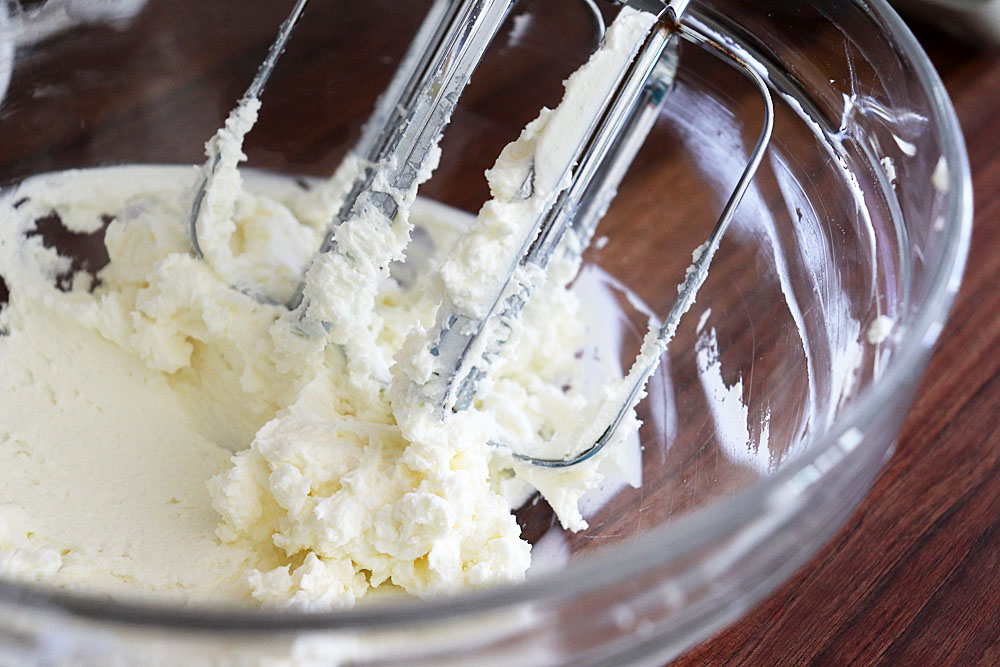 Meanwhile, I talk a lot on this blog about caramelized onions but I am not sure I have ever shown you a step by step photo collage of the process. Caramelizing onions takes time and over a medium high heat, add vegan margarine to a pan with thinly sliced onions. Stir occasionally.
We want to keep these onions juicy, so if you feel you need a bit more vegan margarine, add it. Just keep allowing it to cook, then stir and repeat. As you stir, the onions will take on the caramelized bits from the pan. The end result and reward for your patience is an onion that is so sweet you could eat it like candy! 🙂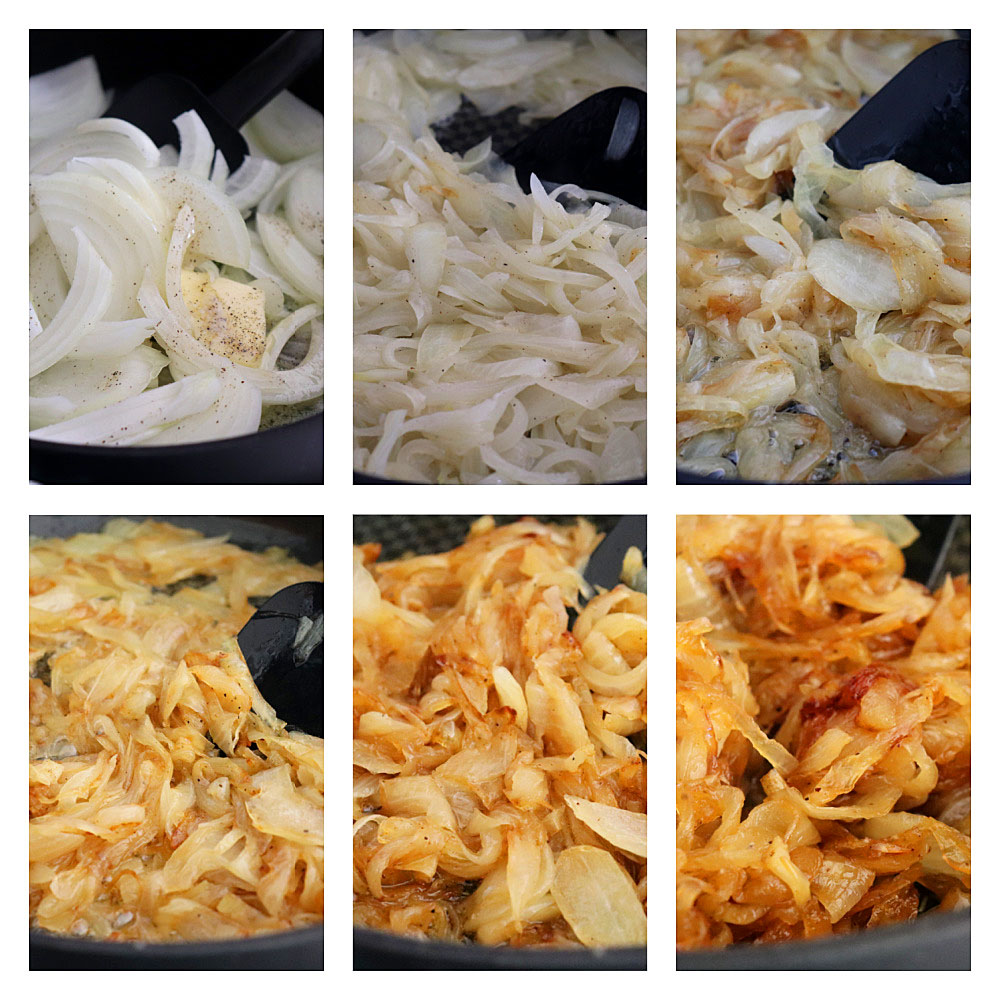 Allow the onions to cool completely then add to the beaten vegan cream cheese.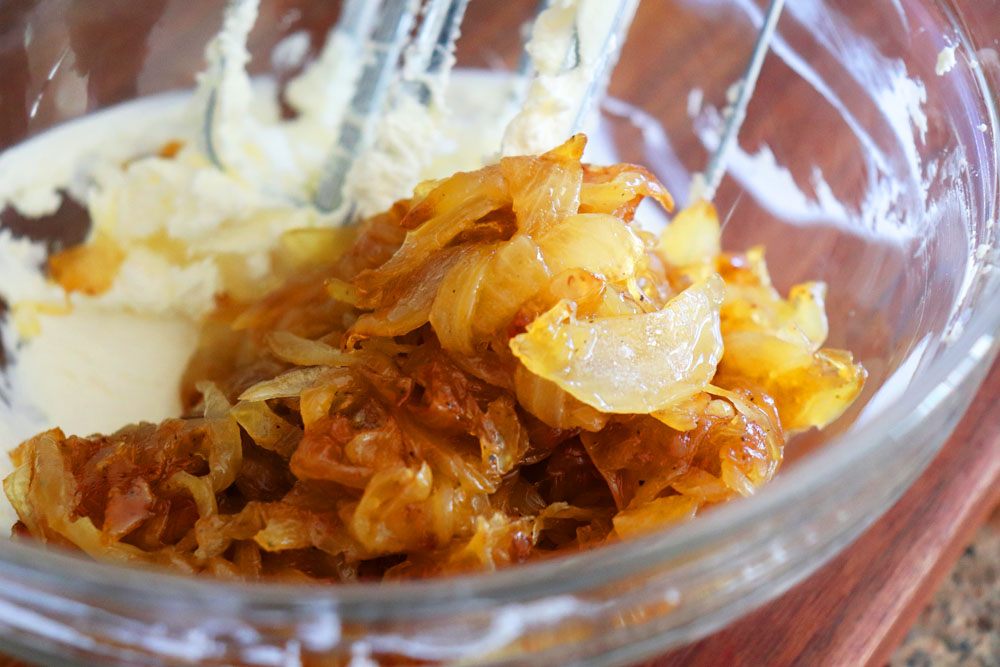 Add the vegan sour cream.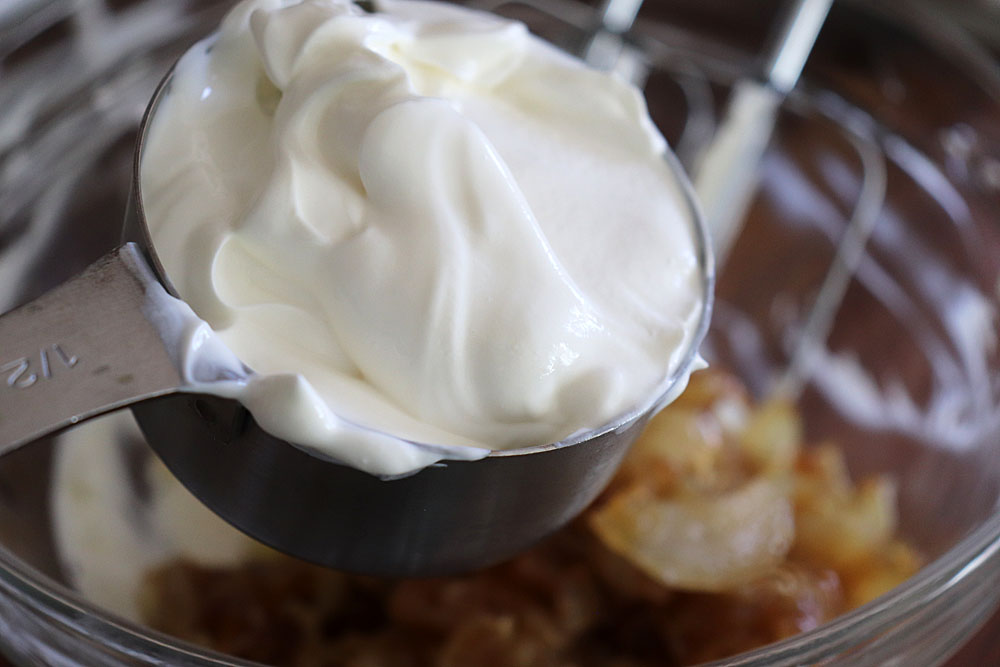 And the vegan mayonnaise. Use your favorite. I am partial to the Hellman's brand because it reminds me most of what I grew up with.
I stirred mine together, but in hindsight I think I might have preferred running the onions through the food processor to chop up those onions into smaller bits. I'll let you decide. It was still delicious.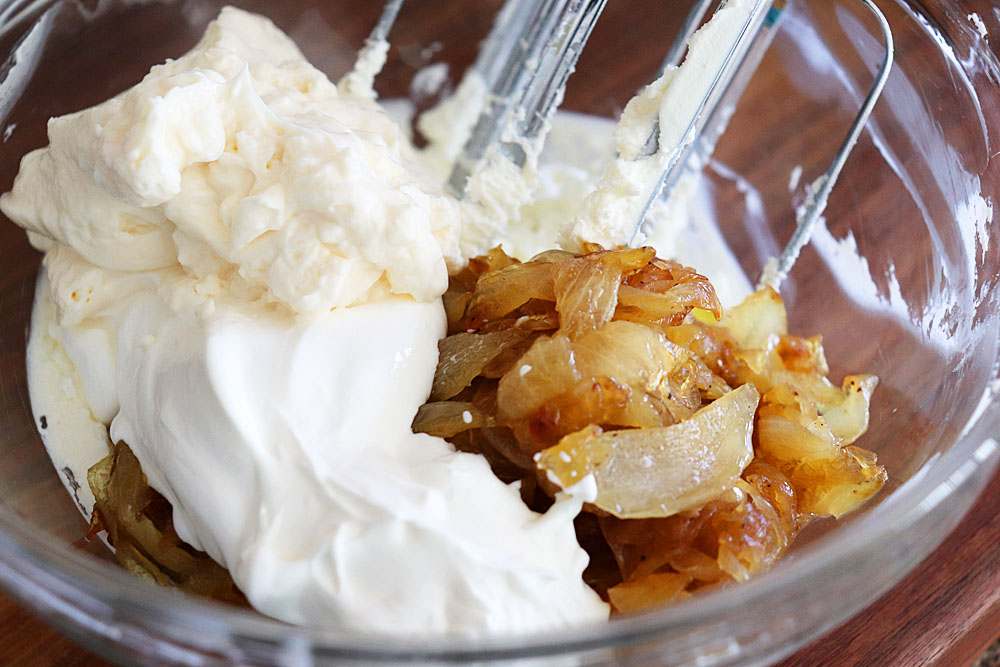 Top with a garnish of green onions and serve with your favorite chips.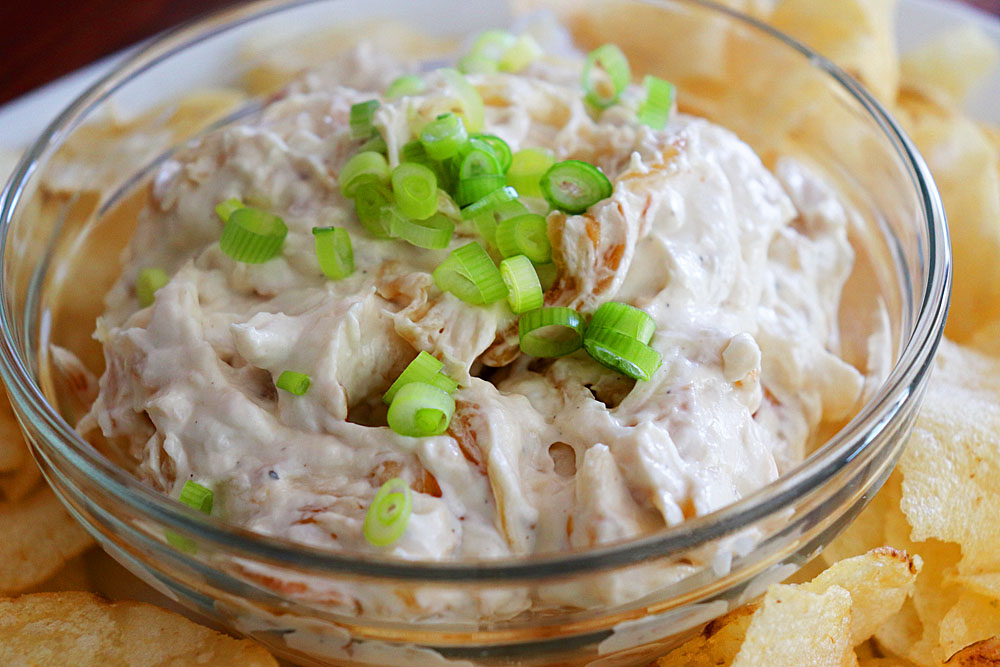 Obligatory chip dip shot 😉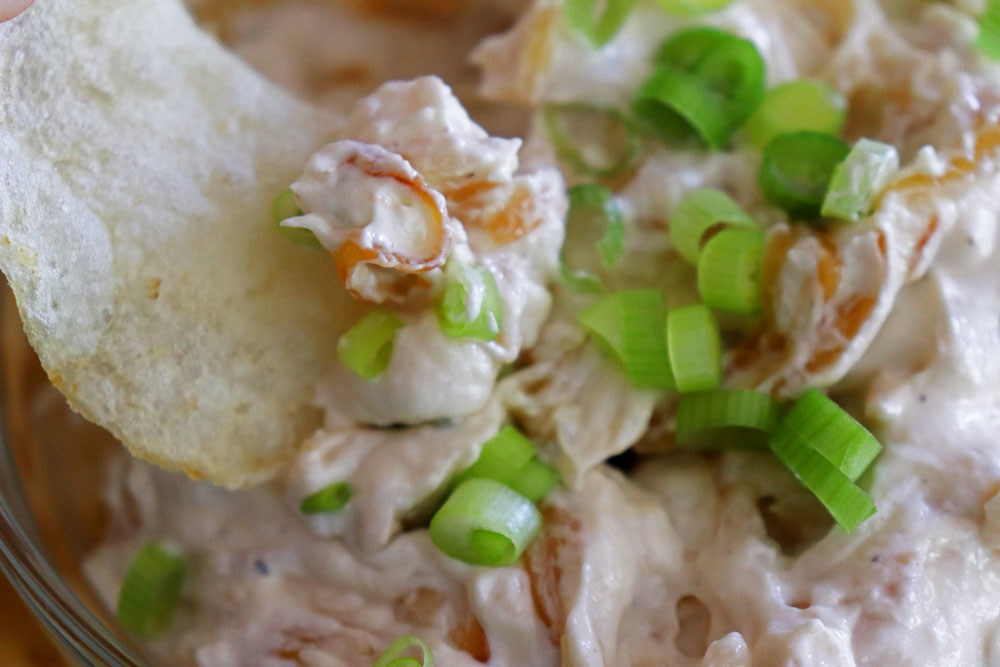 And bite shot! Doesn't that look amazing? YUM!!!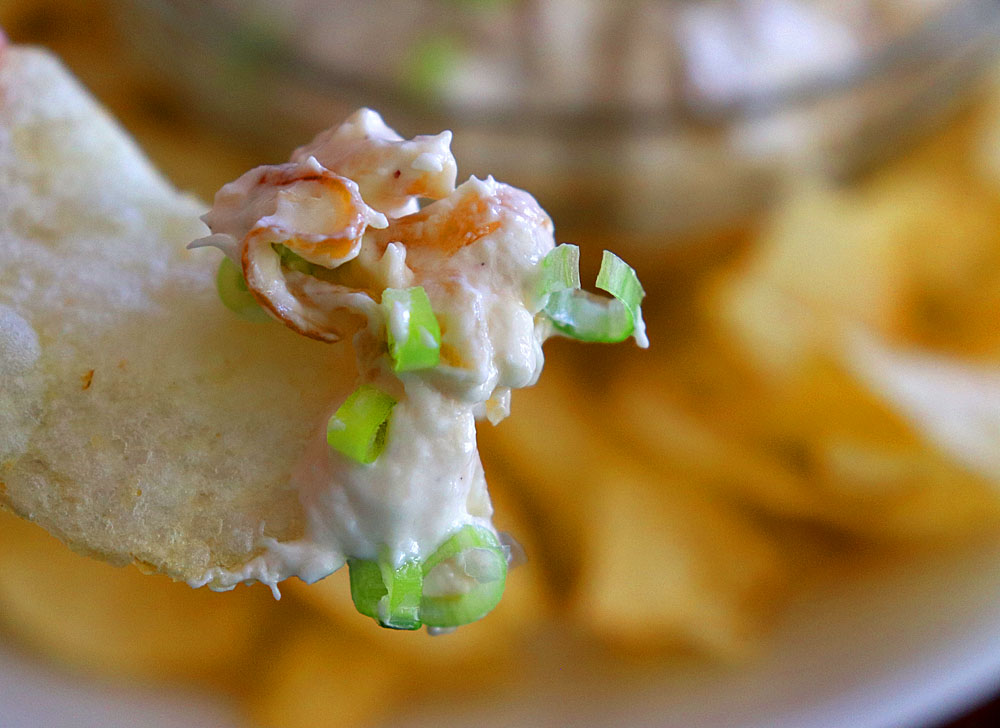 Did you make my recipe for this Vegan Caramelized French Onion Dip? Leave me a comment and let me know what you thought!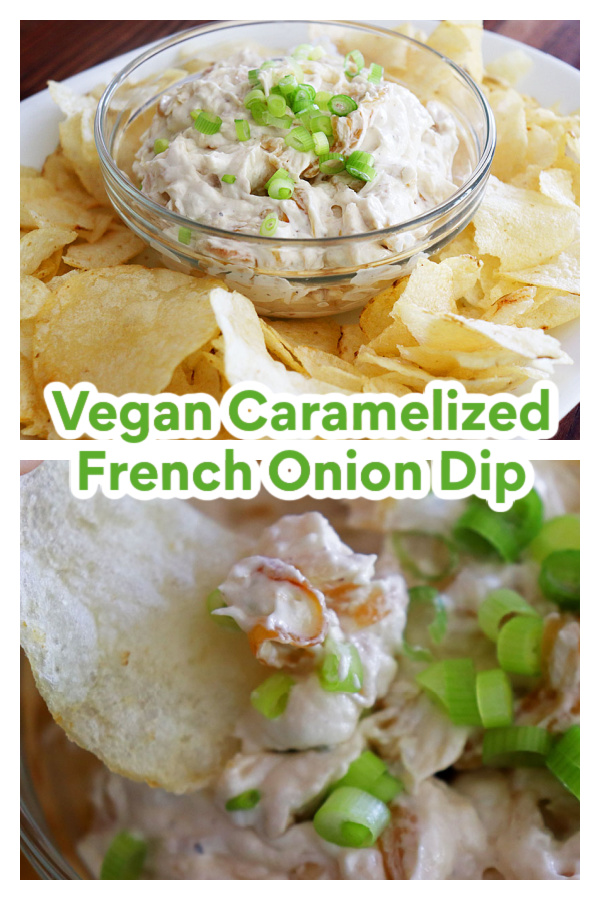 Vegan Caramelized French Onion Dip
Vegan Caramelized French Onion Dip
Ingredients
1

large

Yellow or Vidalia Onion

sliced thin or diced

2-3

tbsp

Vegan Margarine

2

oz

Vegan Cream Cheese

softened and mixed with a hand or stand mixer

1/4

c

Vegan Sour Cream

1/4

c

Vegan Mayonnaise

1/2

tsp

Salt

1/4

tsp

Pepper
Instructions
Slice onions and saute in vegan margarine over medium high heat.

Stir occasionally, allowing to turn golden and caramelized. Add more vegan margarine as needed to keep them plump and moist. Allow to cool. OPTIONAL: chop the onions into smaller pieces if desired.

Combine onions with softened vegan cream cheese, vegan sour cream and vegan mayonnaise. Season with salt and pepper.

Serve immediately or refrigerate for a few days. Scoop with your favorite chips!