This quick and easy Vegan Parsley Pesto Pasta Recipe is made entirely in a food processor. Serve with your favorite pasta and a sprinkling of vegan parmesan. If you are vegetarian, simply swap that out for a traditional parmesan.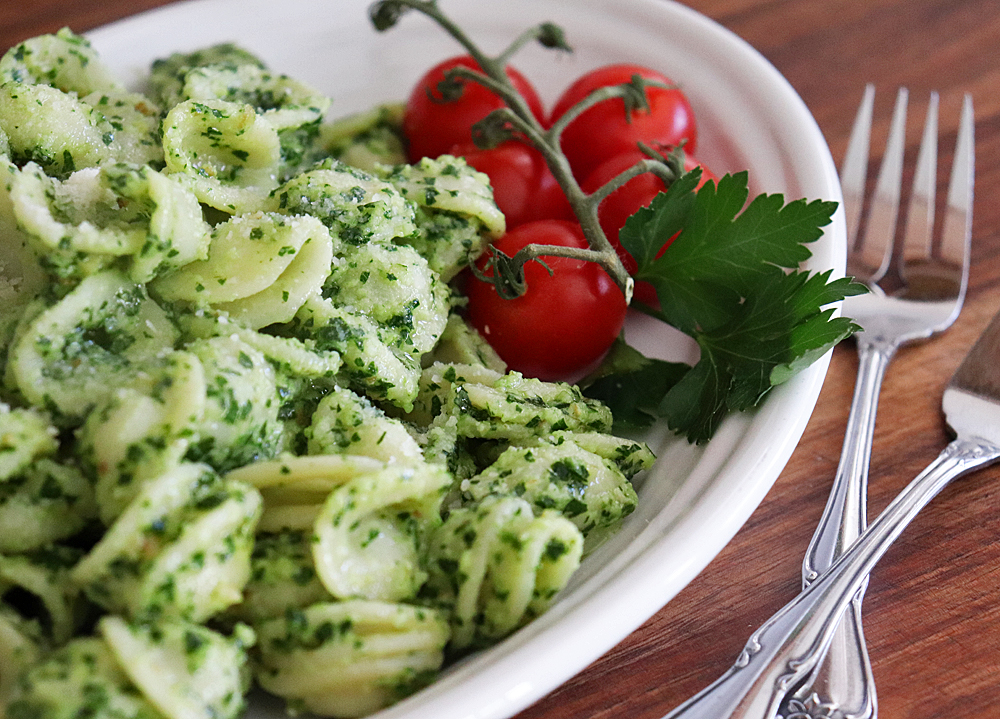 Parsley Pesto vs. Traditional Pesto?
The ingredients for this recipe are similar to a traditional pesto EXCEPT, some people (myself included) have a genetic thing that makes us think cilantro tastes like soap! It's true. Here's the scientific explanation. "It's in Your Genes: After surveying nearly 30,000 people, the scientists singled it down to the OR6A2 gene. This gene "codes for the receptor that picks up the scent of aldehyde chemicals" — these chemicals are found in cilantro and soap, which is why many people anecdotally say cilantro tastes like soap." 
How to make Vegan Parsley Pesto Pasta Recipe
About 14% of the population are estimated to be affected, but don't let that keep you from enjoying pesto. Make it with parsley instead! I swap out the traditional pine nuts for walnuts. The flavor is amazing. I really think you are going to love it.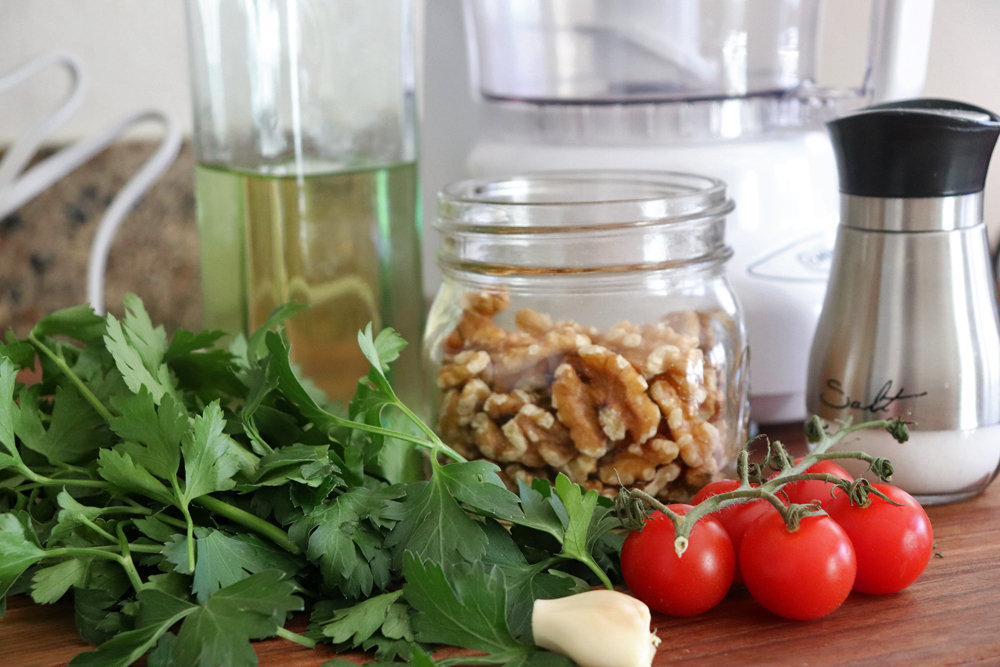 The other swap is of course, vegan parmesan. There are some really great options out there these days if you want to keep things completely vegan. They look and perform similarly to traditional parmesan.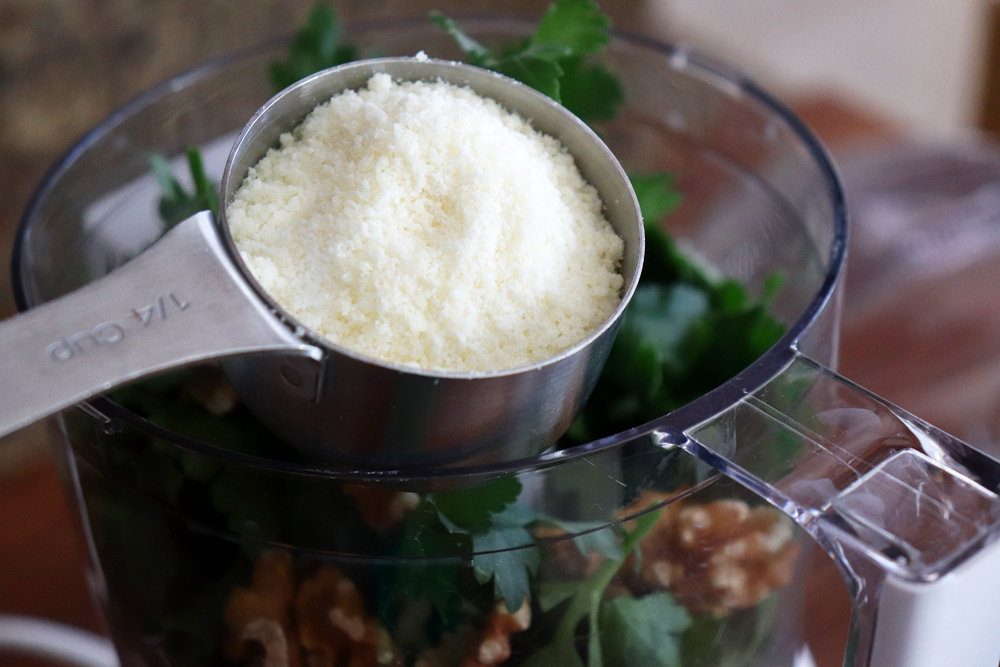 I use a neutral-flavored oil, but you could use olive oil, to bring all of the ingredients together in a food processor.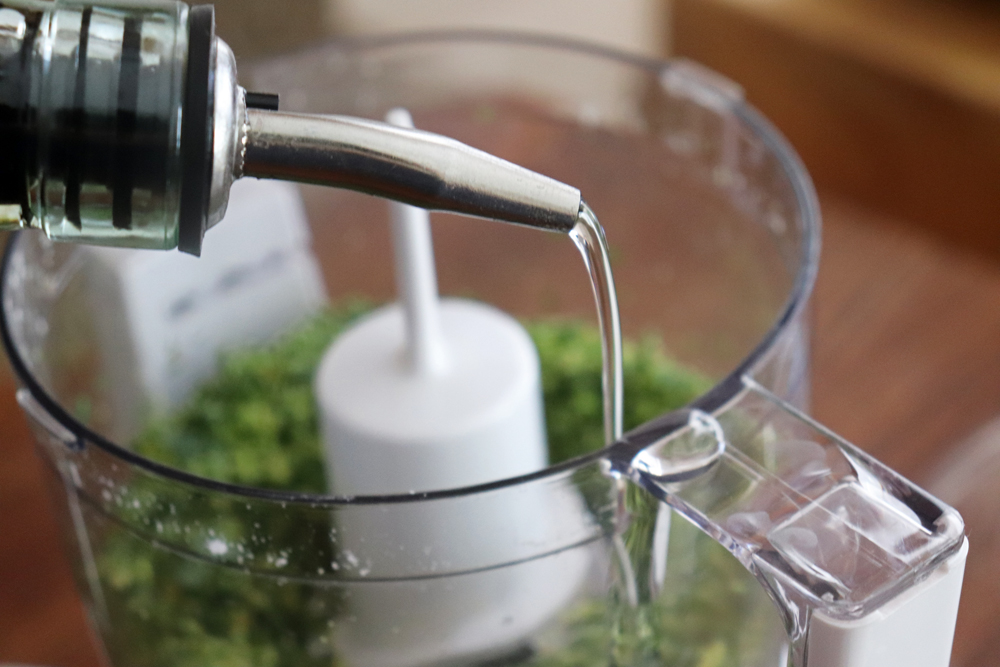 Just look at that color! Amazing. It's just a bright, fresh flavor.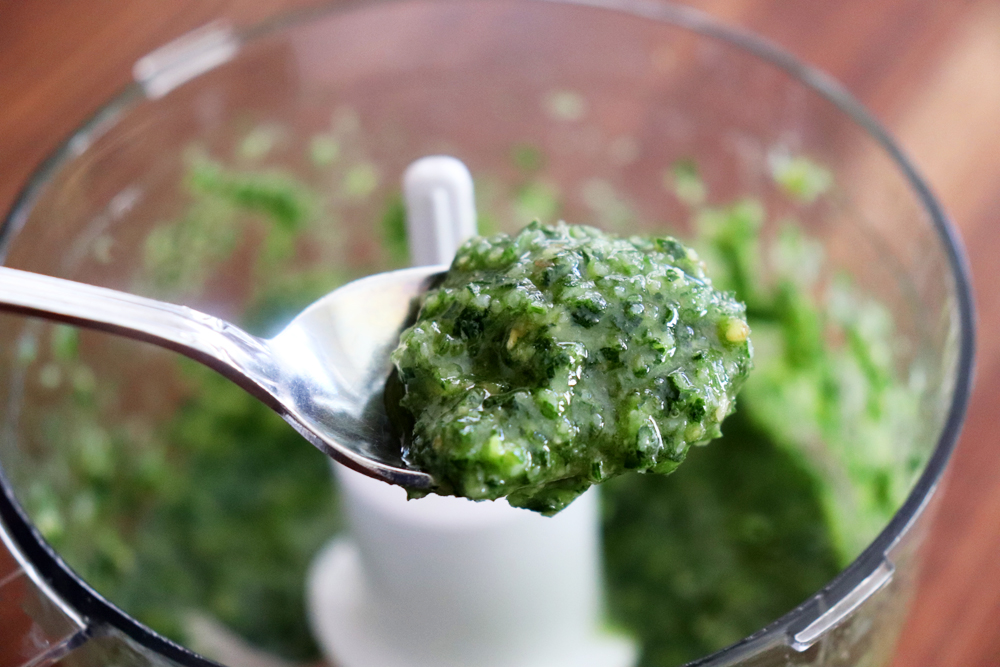 I chose Orecchiette pasta for this dish and it had great texture, but feel free to use your favorite pasta.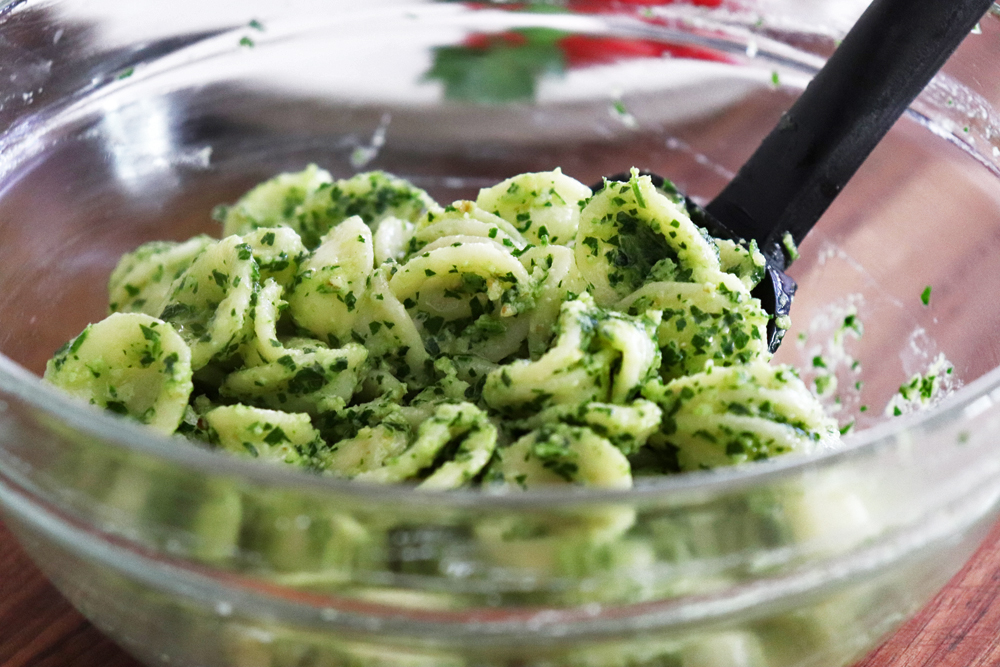 The hot pasta brings out the flavor of the parsley pesto making for an incredible combination. Don't you just want a bite right now?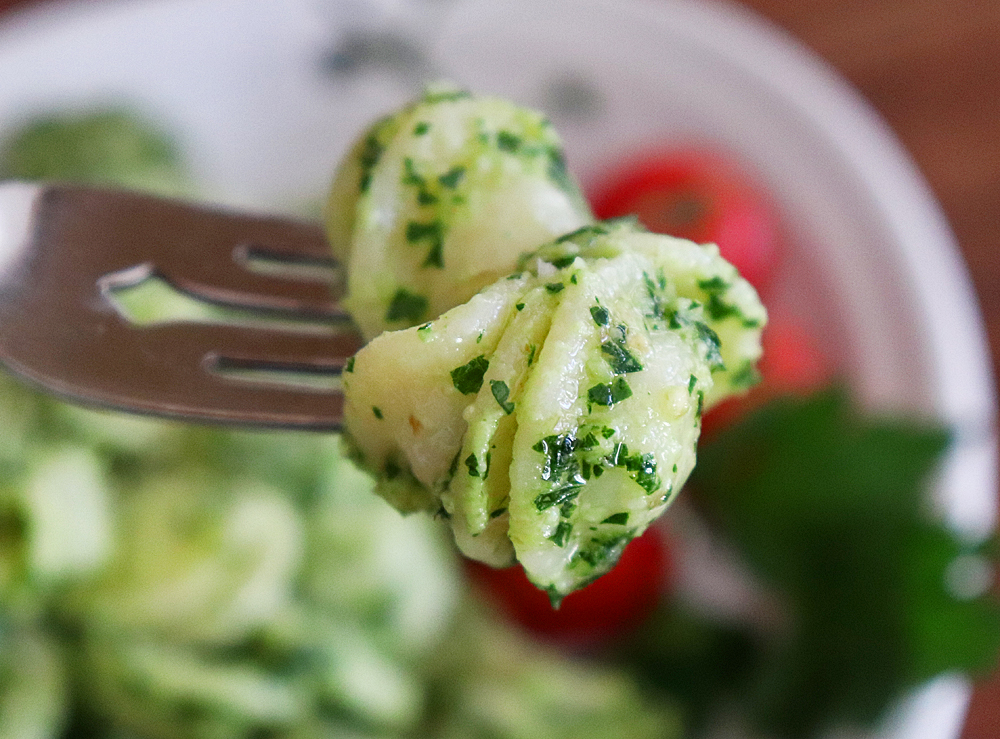 Did you make this Vegan Parsley Pesto Pasta Recipe? Leave me a comment below and let me know what you thought. Also comment if you are also inclined to think cilantro tastes like soap 😉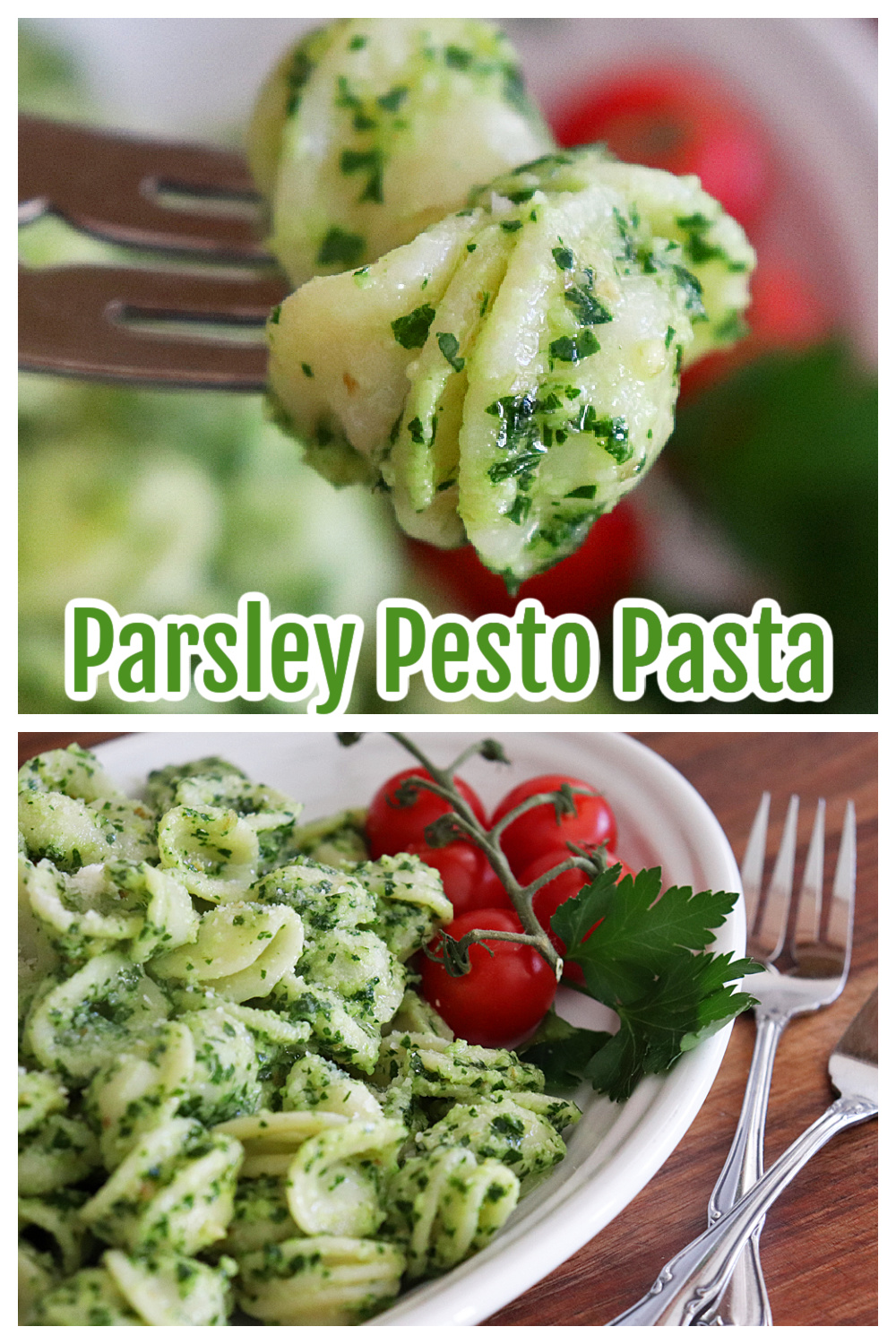 Vegan Parsley Pesto Pasta Recipe
Vegan Parsley Pesto Pasta Recipe
Ingredients
1/2

lb

Orecchiette Pasta

or similar sized pasta of your choosing

1

c

Flat Leaf Italian Parsley

2

tbsp

Walnuts

1/4

c

Vegan Parmesan

plus more for serving

1

clove

Garlic

1/3

c

Olive (or Neutral-Flavored) Oil

Tomatoes

for serving, if desired
Instructions
Bring large pot of water to a boil and cook pasta per package instructions. Drain, do not rinse.

Place all ingredients for pesto into a food processor and process until it resembles pesto.

Toss the pesto with the hot pasta and top with more vegan parmesan, if desired.

We served ours with tomatoes cut in half with a pinch of sugar. That's how we like them 🙂