Leftover cranberry sauce?  Me too.  What if I told you that you could create these little Leftover Cranberry Tarts with just 4 ingredients?
So you already have your leftovers and all you need is store-bought puff pastry (yep, it's vegan!), melted vegan margarine and sugar. It's really that simple.  The puff pastry comes chilled and you want to thaw it just enough to be able to unfold it into thirds.  You should be able to get 9 equal-size squares from one sheet of pastry.  Most boxes come with two sheets, so you can get 18 if you have enough cranberry to go that far.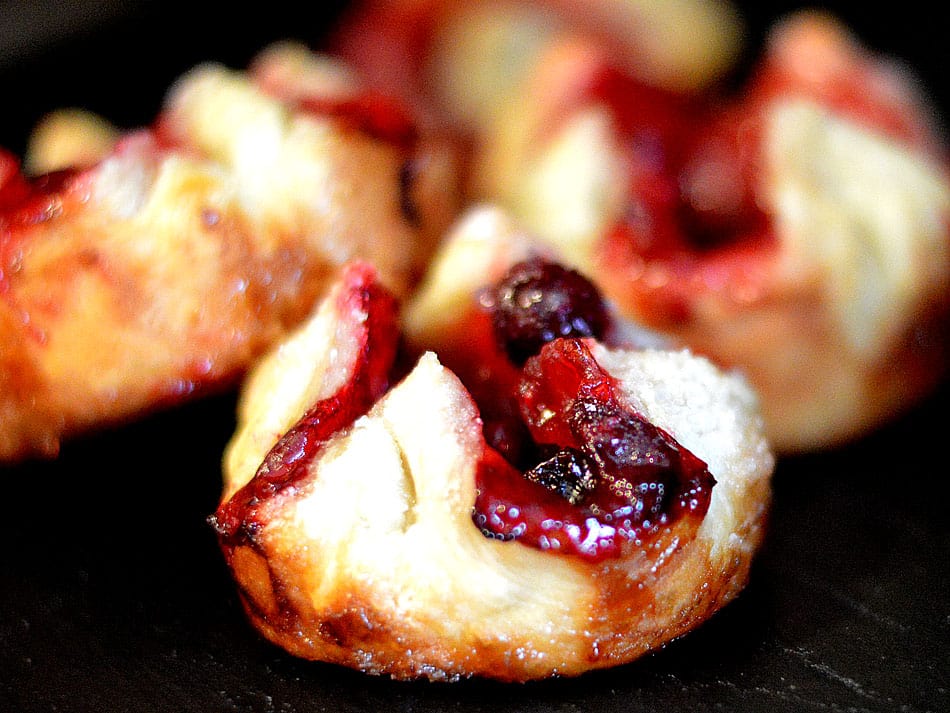 I simply sprinkle the squares with a bit of sugar, put a dollop of cranberry in the center, bring opposite points of the square together and place into a muffin pan that you have prepared with cooking spray.  Now brush with melted vegan margarine and give another sprinkling of sugar.  Bake at 400 degrees until golden and puffed up.  The sugar gets all caramelized and crispy, the puff pastry is flaky and that cranberry just got transformed from a dinner side dish to a dessert!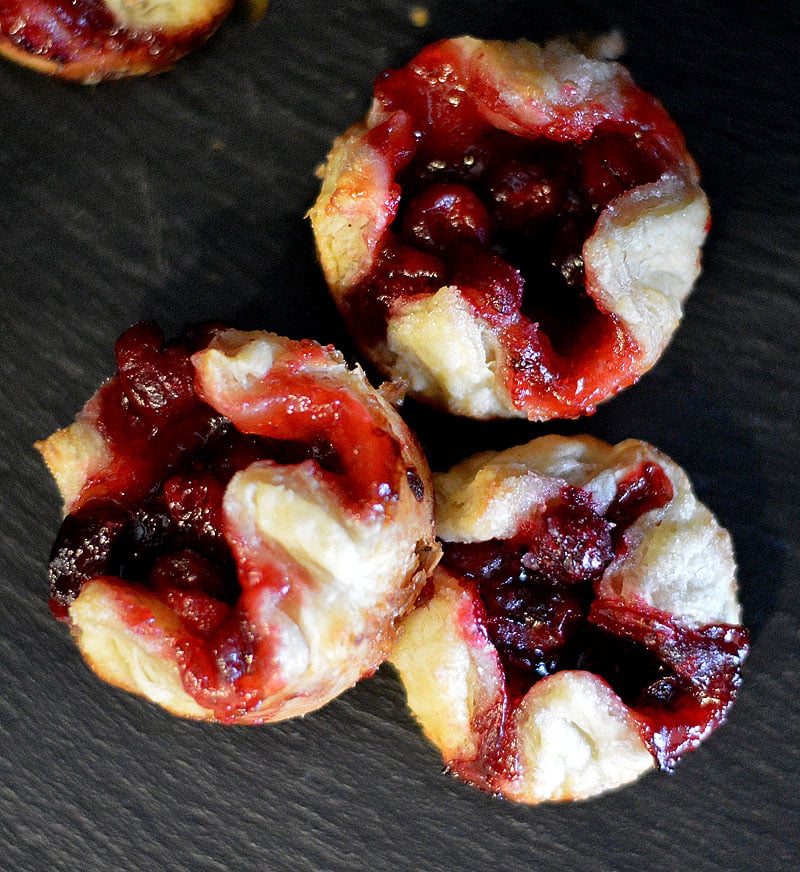 If you make this recipe for Leftover Cranberry Tarts, leave a comment below and let me know what you thought! 🙂
QUICK NOTE:  If your cranberries are quite tart, considering adding some sugar before putting this all together.
Leftover Cranberry Tarts
Ingredients
1

Sheet

Puff Pastry

check the ingredients, but many are vegan

9

Tbl

Leftover Cranberry Sauce

9

tsp

Sugar

1/2 for the dough squares, 1/2 for topping

2

Tbl

Vegan Margarine

melted
Instructions
Preheat oven to 400 degrees.

Thaw puff pastry sheets just enough to unfold them. They typically come folded in thirds. You should get 9 equally-sized squares from one sheet.

Lightly spray a muffin pan with cooking spray. Set aside.

Sprinkle each square with 1/2 tsp of sugar.

Place about 1 Tbl of the leftover cranberry in the center of each square and fold opposite points of the square together. They don't need to be sealed. Place the little puffs into the muffin pan.

Brush the melted butter over each puff and sprinkle with remaining sugar.

Bake until puffed and golden. About 8-12 minutes depending on your oven. Keep a close eye one them towards the end.