My Grandmother's Green Pepper Chow Mein has been in the back of my mind for a long, LONG time.  You see, the original version of this recipe was one my grandmother had made for us "kids" for years.  But back then, we were meat-eaters *cringe* and I wanted to somehow make it work simply using veggies.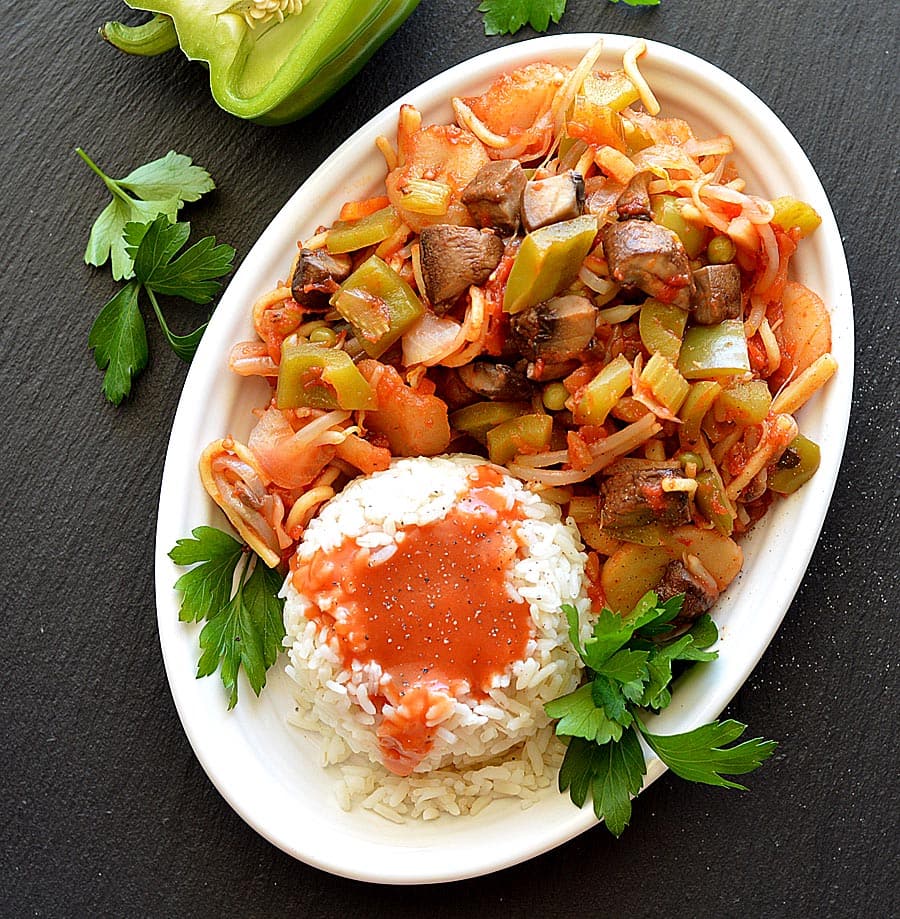 The challenge was in trying to build the flavor without altering the original recipe too much.  To do that, I called on my favorite meat-replacer of all time, portobello mushrooms!
"Gram" used to cook down the meat for literally hours which created a flavorful base.  But since I wouldn't have that component, I cooked the mushrooms separately and added them back in at the end to retain some texture.  The vegetables now bearing the burden of carrying the flavor.
My grandmother had few go-to recipes in her arsenal and like most of them, we have no clue where any of them originated from.  Here is her handwritten recipe card and all I had to go by.  As you can see, she created a tomato-based "gravy" from the reserved juices.  This was my favorite!  It always reminded me of tomato soup 🙂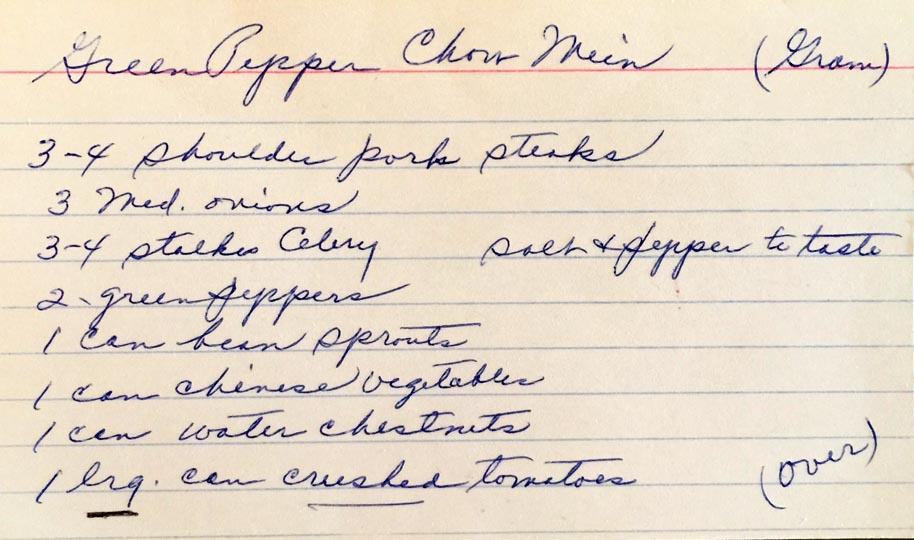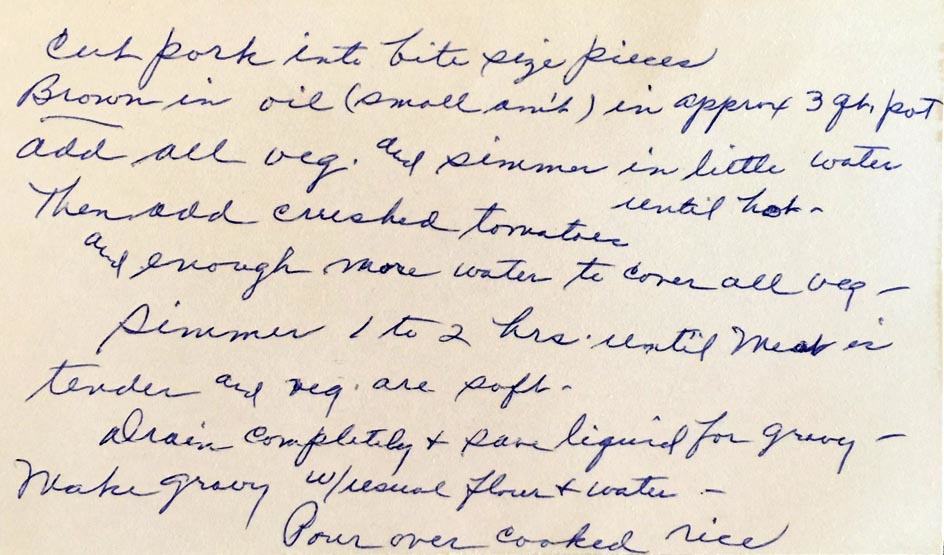 The other distinguishing characteristic of her chow mein…was that she served it to us over rice versus noodles.  You could do either, but since this is how Gram did it….this is how I do it.
So I began with the onion and celery, cooking for a few minutes in a small amount of oil to soften prior to adding the green peppers.  Once they are just tender, remove and set aside.  NOTE:  If you like things a bit more seasoned, go ahead and add the second green pepper.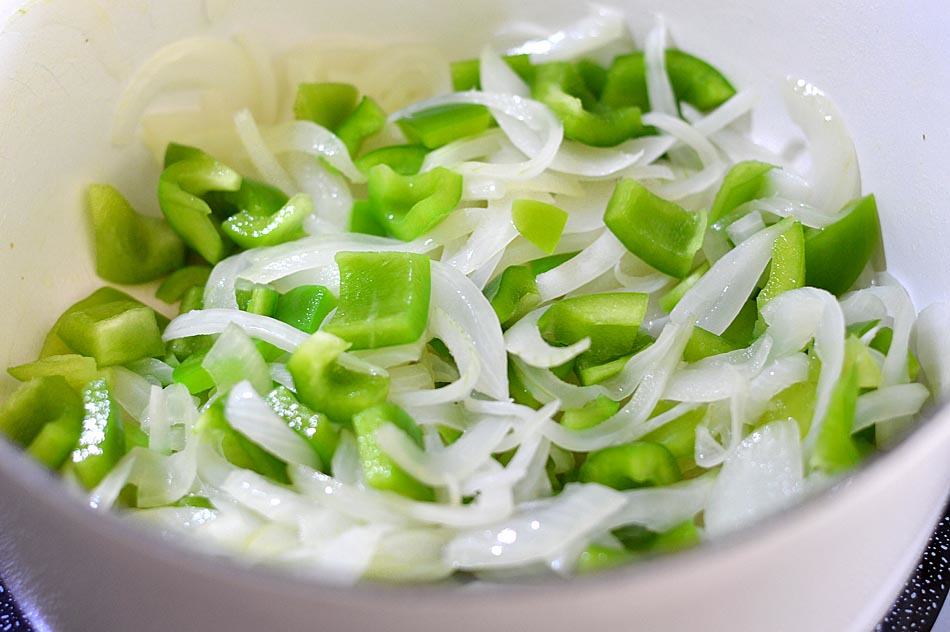 Using the same pan, I add a small amount of oil and the mushrooms.  I did it in this order because the mushrooms absorb some of the flavor from the onions and green peppers.  Remove the mushrooms once just tender.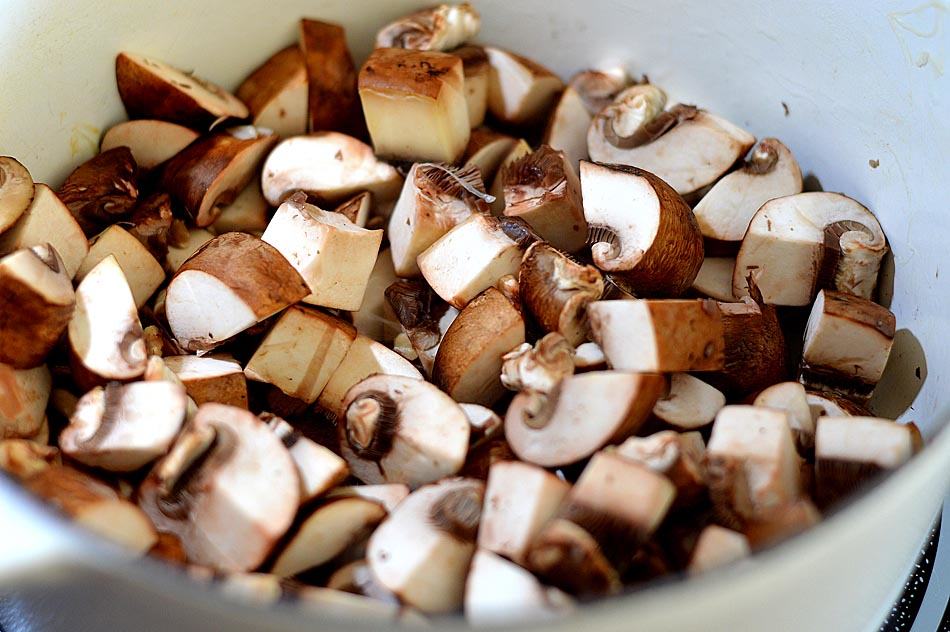 Add the green pepper mixture back to the original pan along with the Chinese vegetables, bean sprouts and water chestnuts. My gram always used canned Chinese veggies.  They contain a lot of flavor AND a lot of sodium.  I chose to use frozen Chinese veggies.  You could do either.  I like to control my salt.
The canned tomatoes with their juices and water go in as well.  Season with salt and pepper. We'll adjust for seasoning again later as the liquid begins to reduce.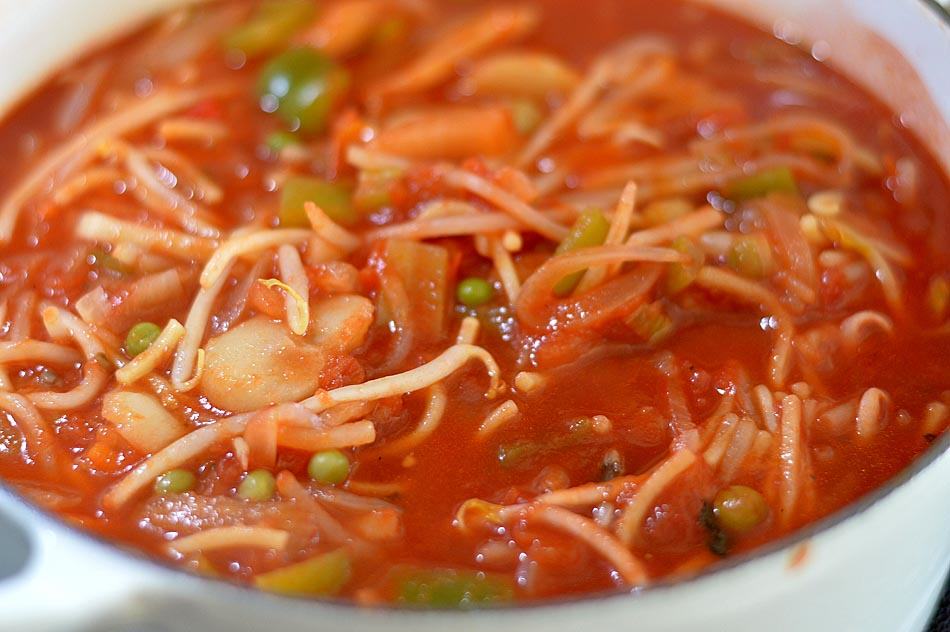 Take this time to prepare the rice.  Gram used good ole white rice so that's what we're using here today.
Add the mushrooms back about 5 minutes before all of the veggies are cooked and the liquid is slightly reduced.
Drain and reserve the liquids into a pan over medium high heat.   Cover the veggies to keep warm while we complete the next steps.
Create a flour and water slurry and slowly add to the liquids while whisking.  To create a gravy without lumps, simply whisk together flour and cold water forming a paste.  This allows the whisk to be more effective.   Then add more water.  The amount you will need is dependent on how thick the juices are.  Mine required maybe 1/4 C prepared slurry.
To serve, ladle the veggies alongside the rice and top with the gravy.  Gram always finished with ground pepper, so I did as well 🙂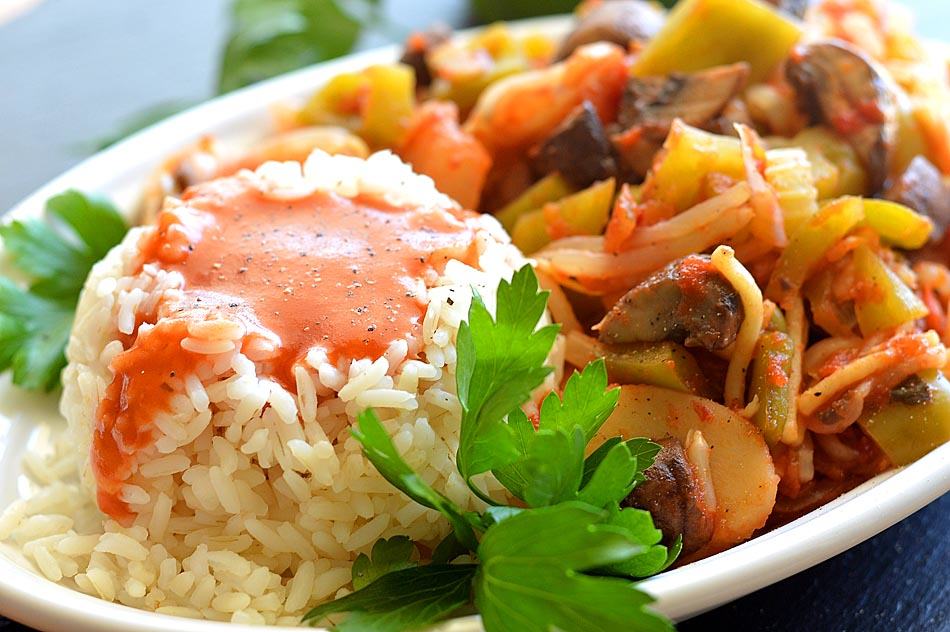 Another of my Gram's specialties were these Stuffed Cabbage Rolls (which I also veganized).  I don't think she would mind 🙂
If you make this veganized recipe of My Grandmother's Green Pepper Chow Mein, leave a comment below letting the other readers know what you thought.  Variations on the original are welcomed!
My Grandmother's Green Pepper Chow Mein
Ingredients
THIS HALF RECIPE FEEDS 4-6 PEOPLE!

2

Portobellos OR the equivalent in Baby Bella Mushrooms

large diced

1-1/2

medium Onions

sliced

1-1/2

to 2 stalks Celery

diced

1-2

Green Peppers

large diced

1

very large handful of fresh Bean Sprouts

or 1 can drained

16

oz

bag Frozen Chinese Veggies OR you can use a large can of Chinese Veggies instead

usually says Chow Mein Stir Fry, drained but cut back on the salt

1

small can of sliced Water Chestnuts

drained

28

oz

. can of Crushed Tomatoes with juices

Salt & Pepper

to taste

2

Tbl Oil

half for the mushrooms, half for the green pepper mixture, divided

2

Tbl Flour + enough water to create a slurry

White Rice OR Noodles
Instructions
In a large stockpot over medium high heat, add 1 Tbl of oil, onions and celery. Cook for a few minutes and add the green peppers. Cook until tender and remove from the pan.

Add 1 Tbl of oil to the hot pan and add the mushrooms. Cook until just tender. Remove from the pan.

Add the green pepper mix back to the pan along with the frozen veggies, water chestnuts and bean sprouts.

Add the crushed tomatoes and about 1/2 can of water. Stir, cover and simmer until the veggies are tender and the juices begin to reduce.

Taste and season with additional salt and pepper. Since these are all veggies, they really require it. If you are using the canned Chinese veggies, SKIP THIS STEP. They are high in sodium on their own!

While the veggies are cooking away, prepare some white rice.

Also prepare a mixture of about 2 heaping Tbl of flour and enough water to create a slurry. We are looking for thin pancake batter consistency. Whisk until smooth.

Strain the veggie juices and place into another pan over medium to high heat. Drizzle the slurry in slowly. You may not need it all. It will reach its full thickening ability after it returns to a boil. Taste for seasoning.

Cover the drained veggies to keep warm while you complete the above step.

Serve a large scoop of veggies with white rice and top with the tomato "gravy".