I don't do a lot of holiday-specific recipes but this year, I really wanted to bring you this Vegan Chocolate Chip Cookie Cake.  This is my chocolate chip cookie recipe in the form of a cake. Under cook it slightly and you have a molten chocolate chip cookie. Add a scoop of your favorite dairy-free vanilla ice cream, a drizzle of chocolate syrup and tiny heart jimmies if you can find them.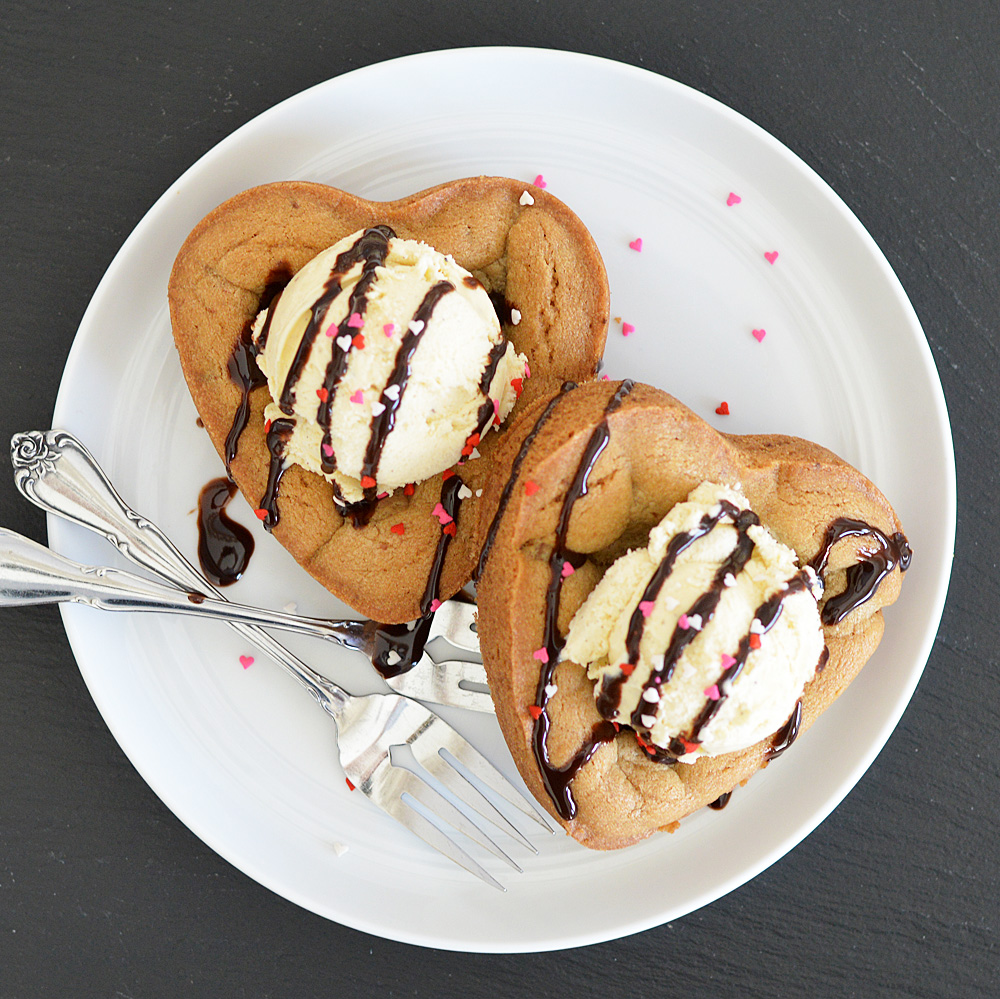 I used these mini heart springform pans to create the cookies and about six scoops using this cookie scoop.  I have a wooden tart tamper, but you can even use a small juice glass to press the dough into place.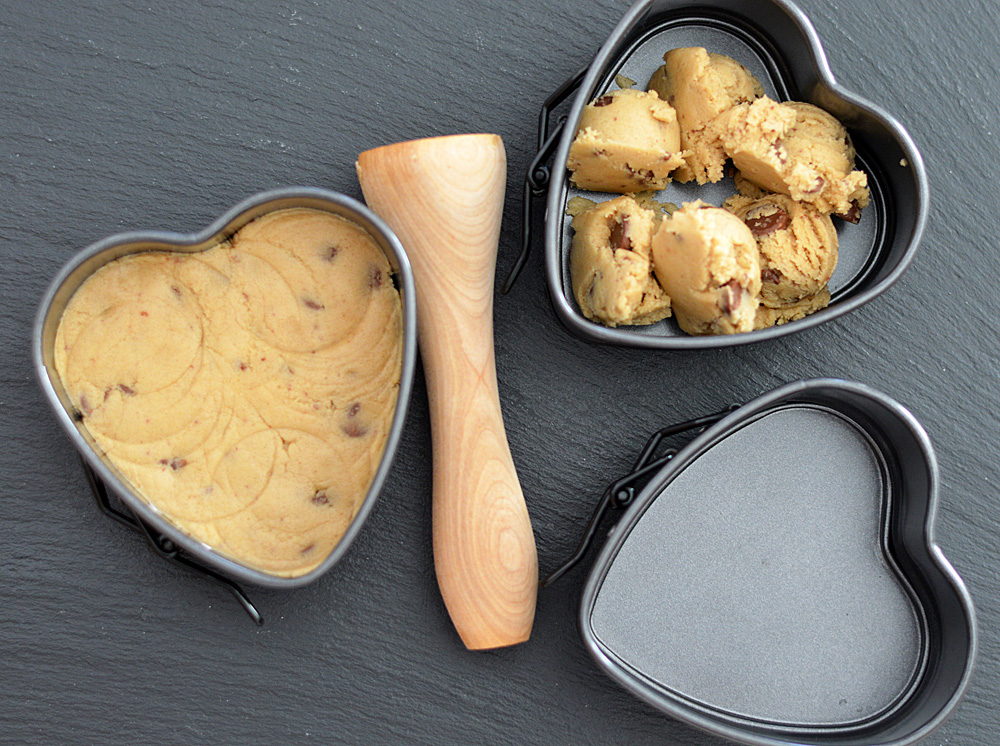 The cookie will take anywhere from 12-18 minutes (or more) to fully set in the center. Again, feel free to leave that center un-set for a molton chocolate chip cookie effect. It leaves the perfect receptacle for that scoop of dairy-free ice cream 🙂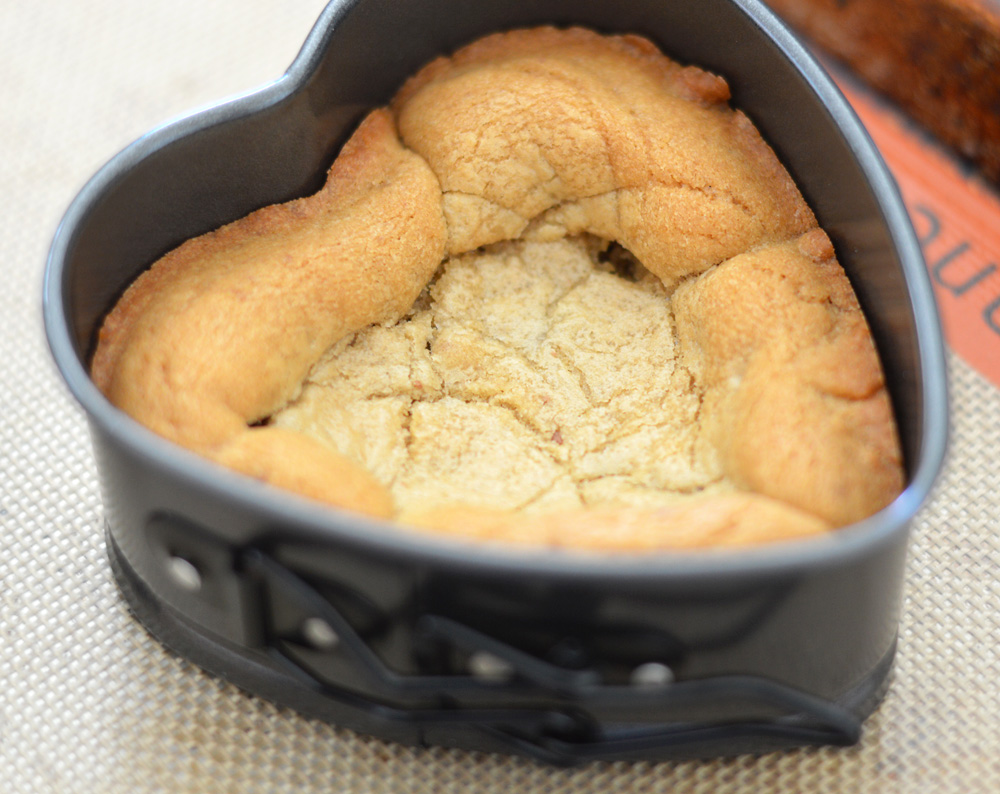 Aren't they pretty?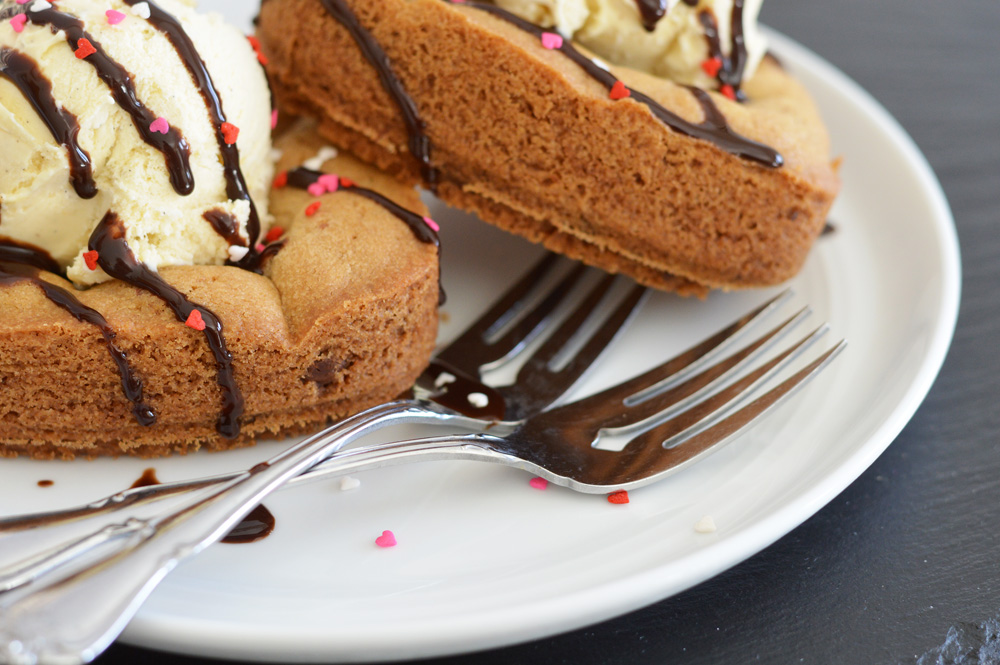 The exterior gets a bit crisp (take care not to OVER bake or they will be too crisp) and the center remains soft. The ice cream further softens the cake. Just delicious!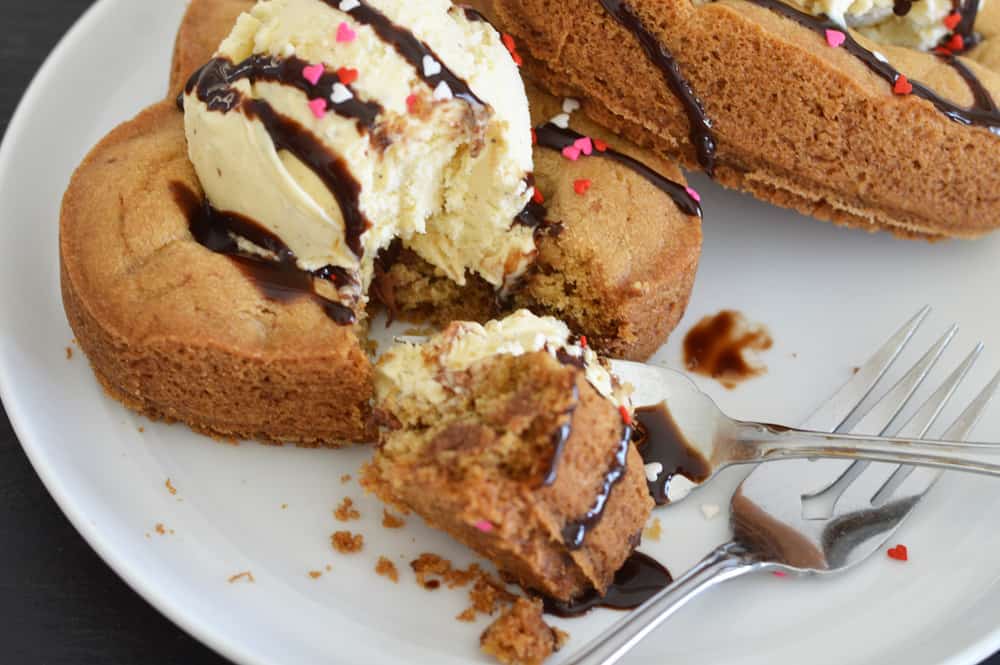 Did you make this recipe for Vegan Chocolate Chip Cookie Cake? Leave me a comment below and let me know what you thought!
And if you enjoyed this recipe, why not PIN IT FOR LATER! 🙂

Vegan Chocolate Chip Cookie Cake
Vegan Chocolate Chip Cookie Cake
Ingredients
1-1/8

c

All Purpose Flour

1/2

tsp

Baking Soda

1/4

tsp

Baking Powder

1/4

tsp

Salt

1/2

c

Vegetable Shortening

6

tbsp

Sugar

6

tbsp

Brown Sugar

1/2

tsp

Vanilla

1

Egg Substitute

I used 1/4 cup applesauce

1

c

Dairy Free Chocolate Chips

I like the Enjoy Life brand
Instructions
PREHEAT oven to 375° F.

COMBINE flour, baking soda and salt in small bowl. Beat shortening, granulated sugar, brown sugar and vanilla extract in large mixer bowl until creamy.

Add egg substitute and beat in flour mixture. Stir in chocolate chips. Using a scoop, place about 6 into the heart shaped mini springform pan. Use a juice glass to tamp down the dough until it is evenly dispersed.

BAKE for 12-18 minutes or until golden brown and just set. NOTE: EVERY OVEN IS DIFFERENT. DO NOT OVER BAKE. YOU MAY NEED MORE/LESS BAKING TIME.

Allow to cool on baking sheets for 5 minutes. Add a scoop of dairy free ice cream, chocolate syrup and sprinkles. Serve warm.

You will likely have leftover dough from this recipe, just make them into extra cookies 🙂