With summer quickly approaching, I decided to take this classic and veganize it. The only substitute in this Vegan German Potato Salad Recipe is a vegan bacon.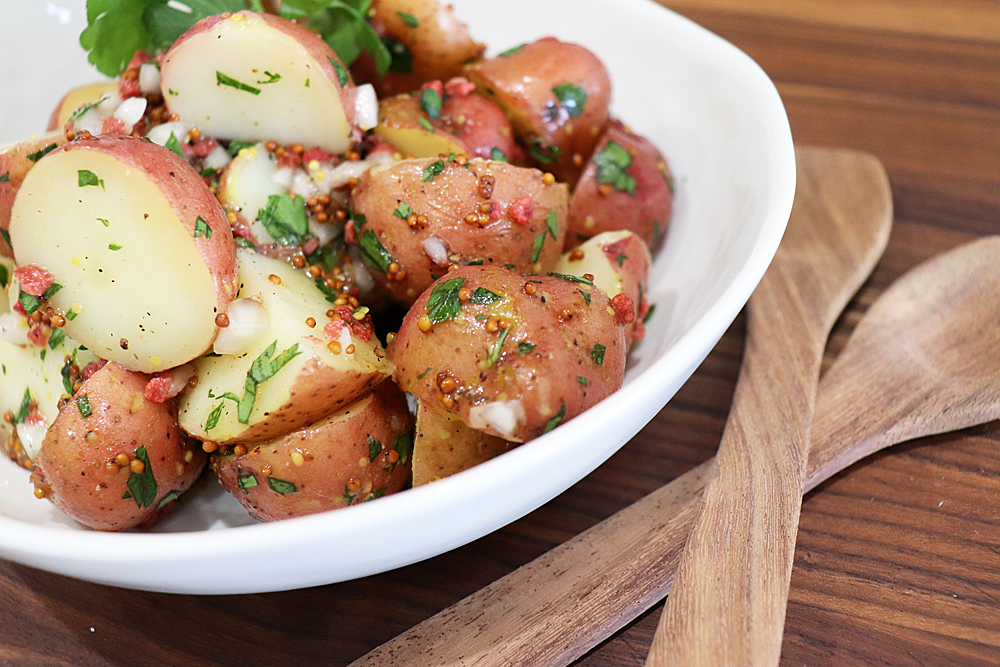 What is German Potato Salad?
According to the New York Times, German settlers brought the hot and tangy potato salad to America. A combination of vinegar and bacon fat made this salad popular in Pennsylvania and throughout the Midwest. This is my interpretation of that classic first published in the 1931 version of "The Joy of Cooking". Let me show you how I made it!
You can use any red potato cut into bite sized pieces, but I really love these mini red potatoes. I just halve the smallest ones and quarter those that are a bit larger.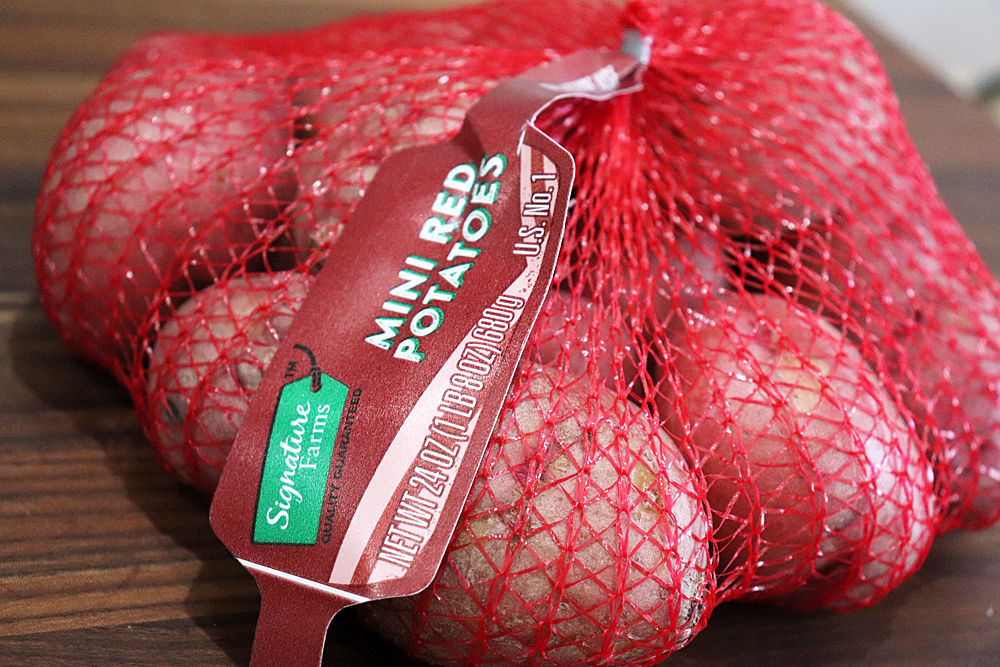 I boil them whole just until a knife inserts easily. The trick is to find that happy place between tender and not overdone or the skins will literally just fall off and the potatoes will crush when you try slicing them. We want nice whole cut pieces of potato.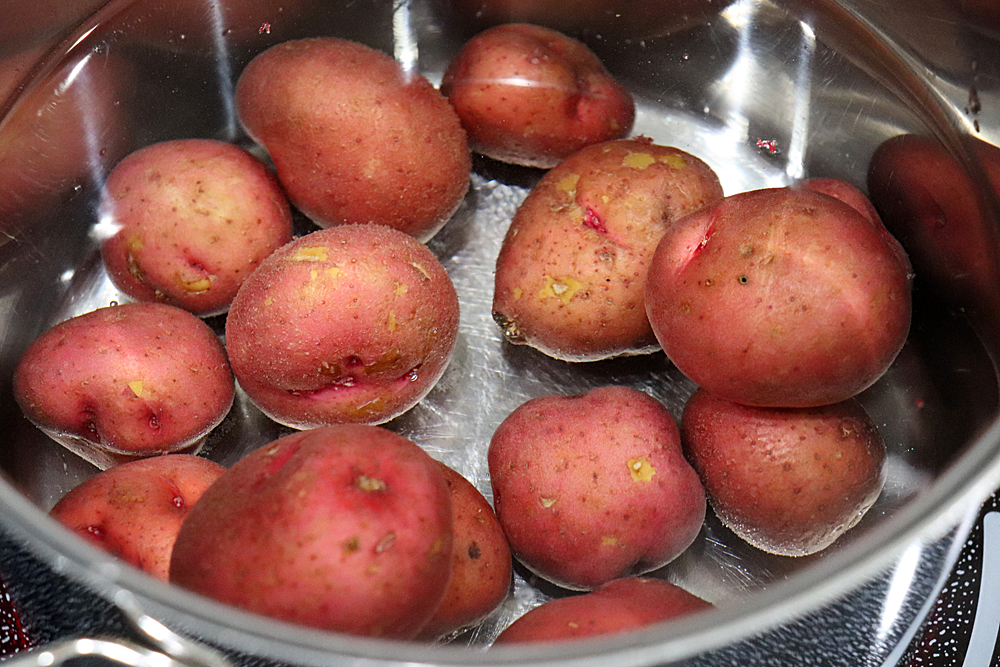 Once you've drained them, give them a few minutes to cool so that you can easily handle and slice them.
You want the potatoes to be warm when adding the remaining ingredients so that they absorb all of that yummy flavor!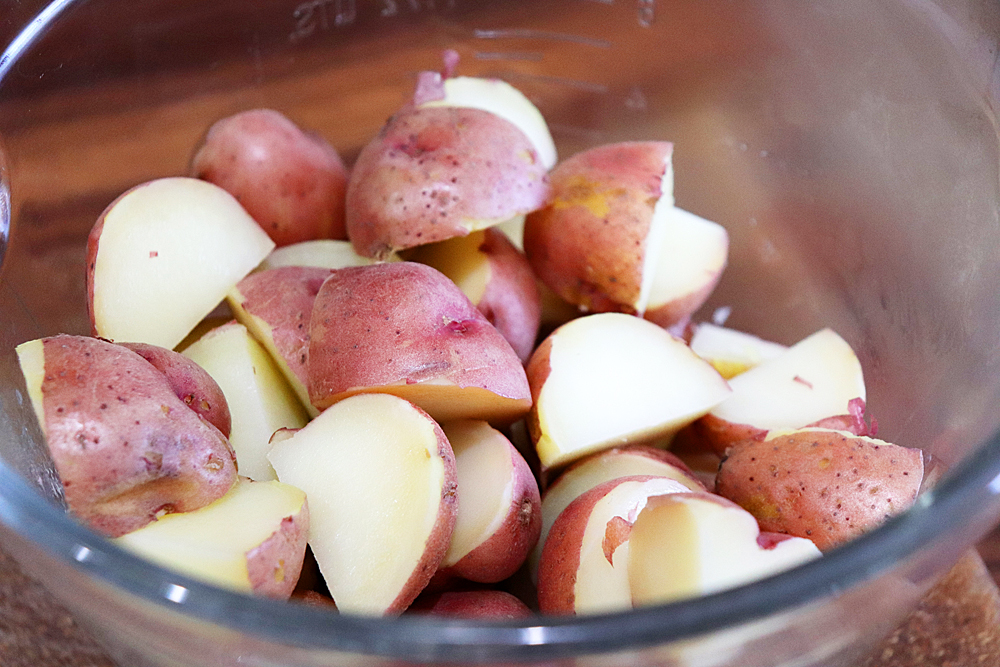 While the potatoes are cooling, I diced up the white onion. You can use as much or as little as you like.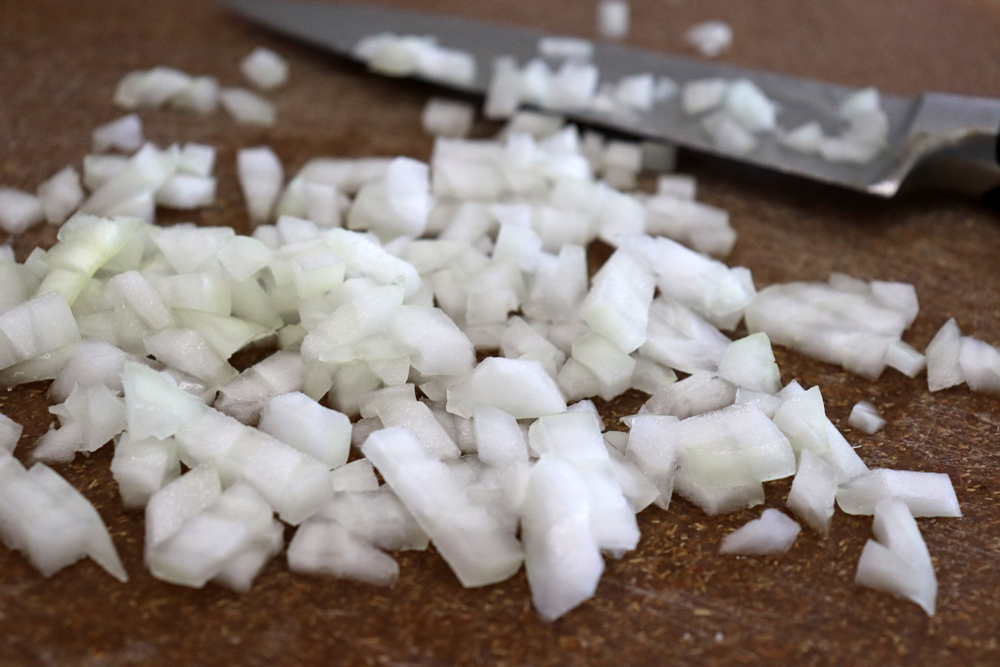 Can I make Vegan German Potato Salad without Bacon?
There are SO many options out there for vegan bacon alternatives, but I am just using a soy based bacon bit found in the salad dressing aisle of your local grocery store. They just add a bit of smokiness, but yes! You can absolutely feel free to omit them if you wish.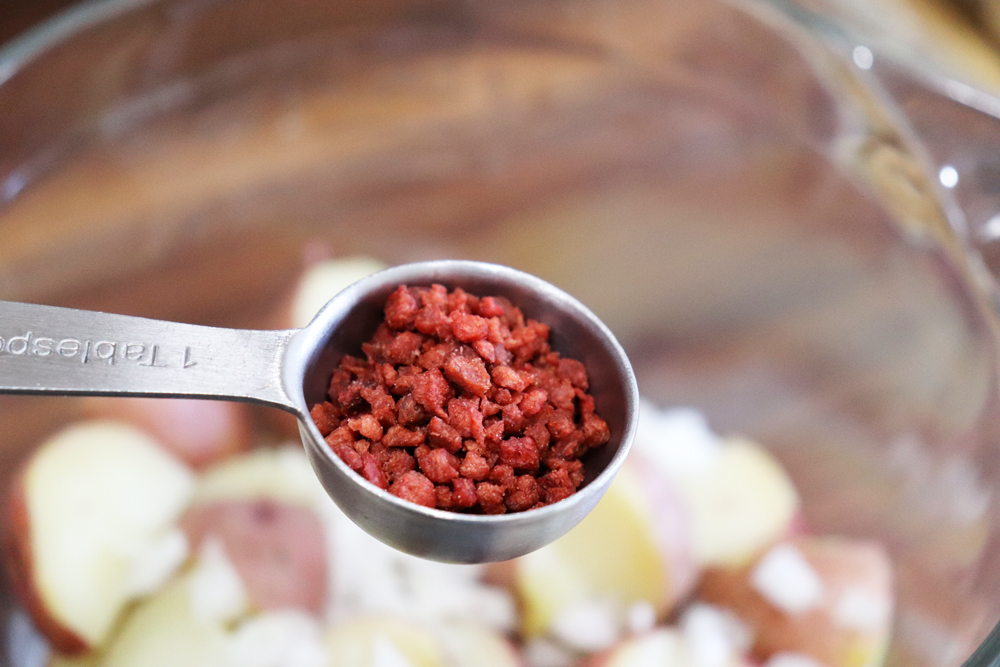 White vinegar is what sets this salad apart. Again, add more or less to taste.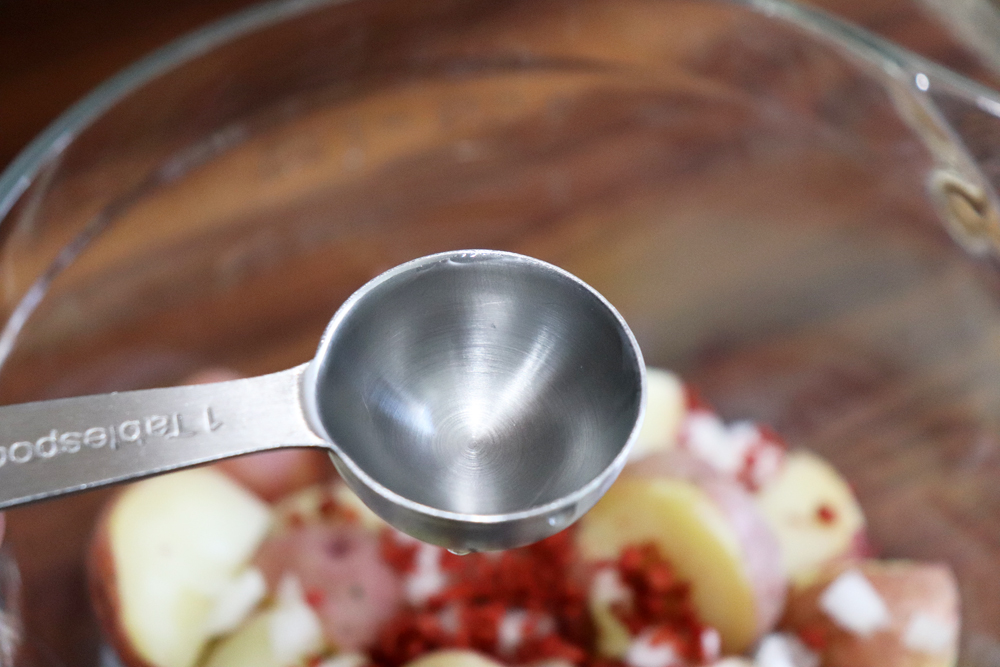 Sugar adds balance to that tangy flavor. I tend to add less to start but you can always taste and adjust as you go. Keep in mind, the flavors will continue to develop as the dressing soaks into the potatoes.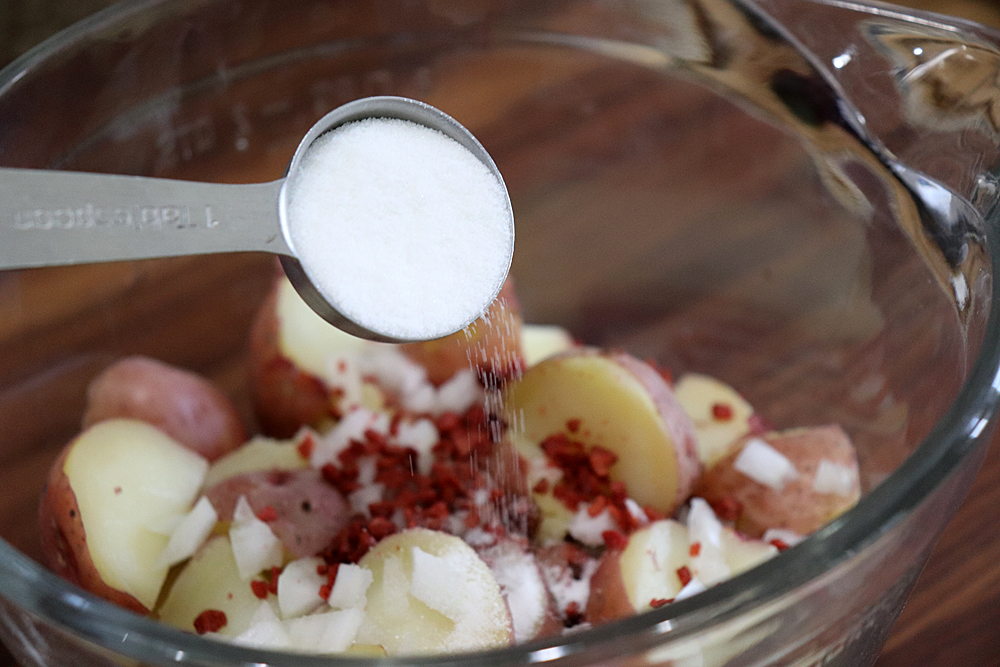 Season with plenty of salt, to taste.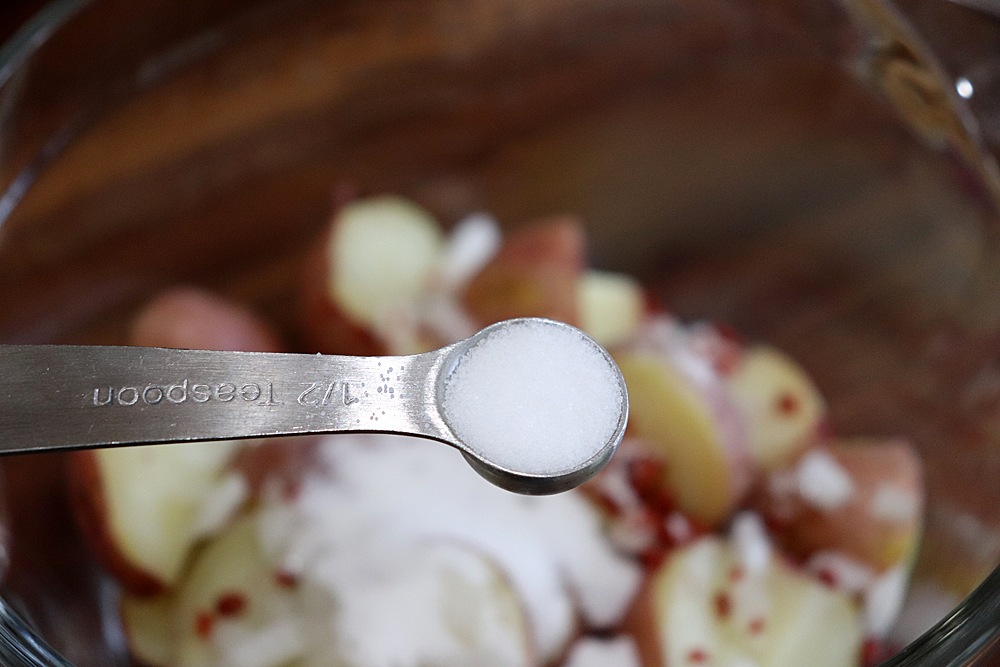 And a bit of pepper too!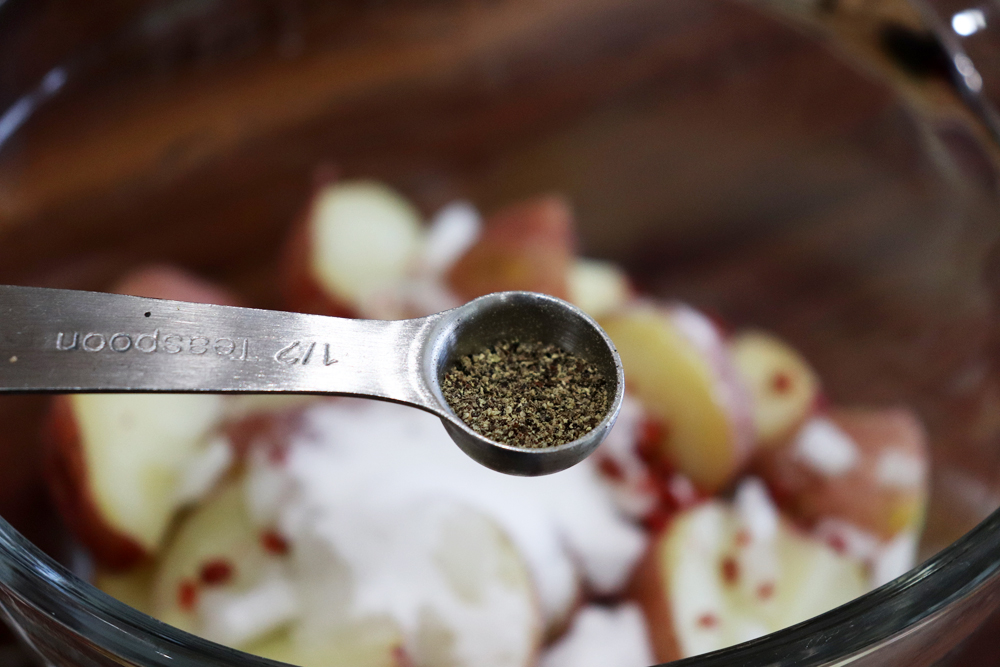 Whole grain mustard is a must.
Give everything a good toss until the potatoes are coated, adding in the chopped parsley.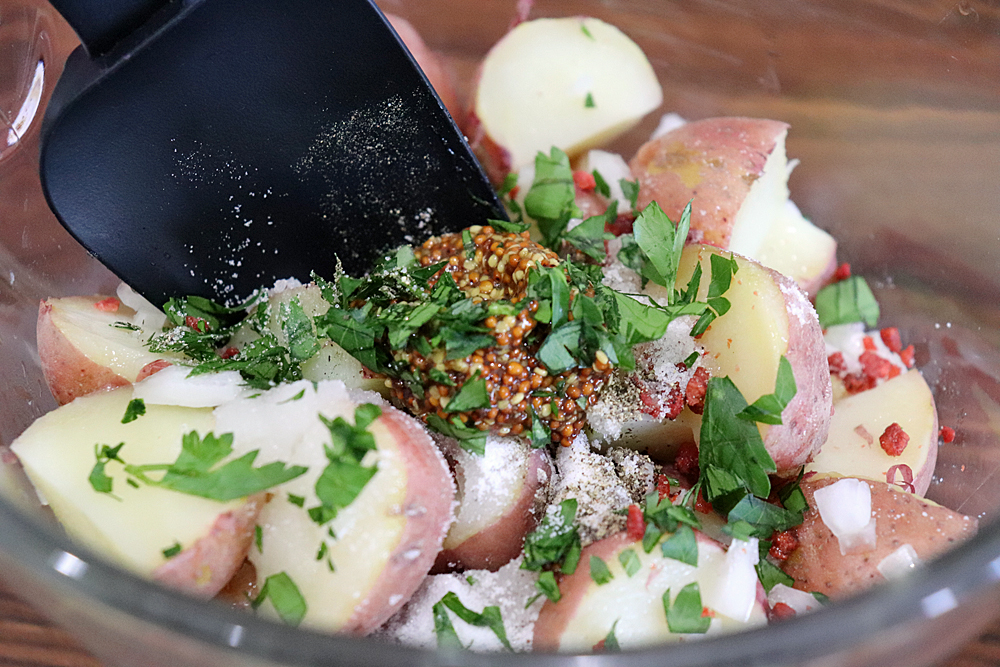 Can I freeze Vegan German Potato Salad?
I searched the Internet for this answer and everything points to yes! Because this not a mayonnaise-based salad, it should freeze well for you. However, in my opinion, this salad tastes best when it's warm and freshly prepared.
How long does German Potato Salad last in the refrigerator?
About 3-4 days if the salad was prepared and then refrigerated once cooled.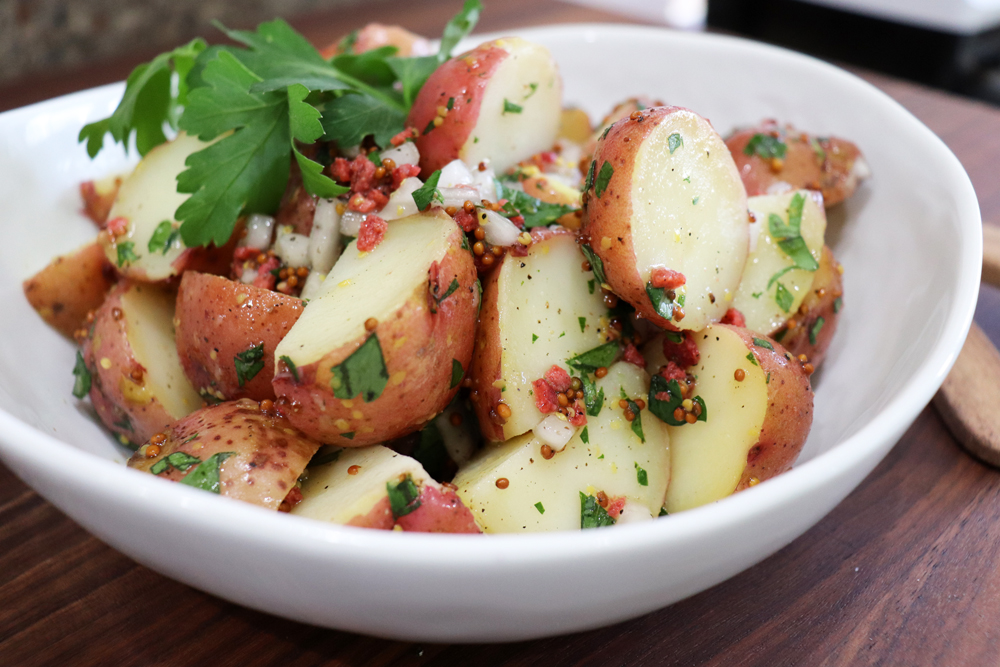 We are a participant in the Amazon Associates Program. As an Amazon Associate we earn from qualifying purchases.
*Affiliate Link
Did you make this recipe for Vegan German Potato Salad? Leave me a comment below and let me know what you thought!
And if you enjoyed the recipe, why not PIN IT FOR LATER! 🙂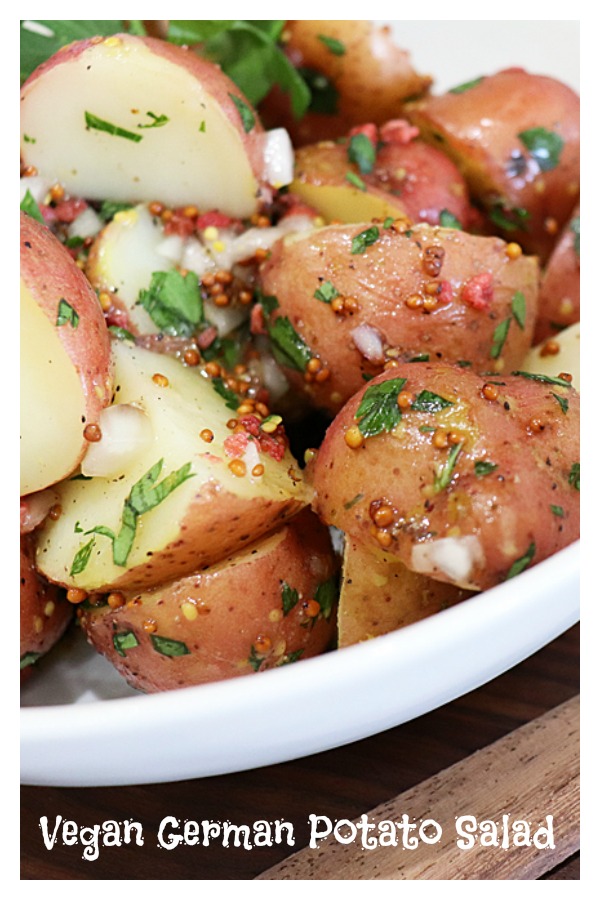 Vegan German Potato Salad
A simple Vegan German Potato Salad with only one substitution. Vegan bacon. The perfect side for your next summer get together!
Ingredients
1

lb

Red Potatoes

boiled, drained, cooled slightly & cut into 1" pieces

1/4

c

White Onion

diced

1

tbsp

Vegan Bacon

diced

2

tbsp

White Vinegar

more (or less) to taste

1-2

tbsp

Sugar

1/2

tsp

Salt

1/4

tsp

Pepper

1

tbsp

Whole Grain Mustard

1

tbsp

Parsley

chopped
Instructions
Boil approximately 3 cups of whole red potatoes until a knife inserts easily but just before they get too tender. Drain, cool slightly and then cut into 1" wedges.

Add the remaining ingredients while the potatoes are still warm and toss to coat.

Serve warm and garnish with more of the fresh parsley.