This shop has been compensated by Collective Bias, Inc. and its advertiser. All opinions are mine alone. #AlmondMilkUpgrade #CollectiveBias
How about a breakfast you can feel good about eating?  I have admittedly never been much of a breakfast person and it's something I am trying to incorporate into my own diet regimen. This Vegan Steel Cut Oatmeal Bowl is loaded with "superfood" ingredients and high in protein. I used Orgain Organic Protein Almond Milk® to prepare this delicious and nutritious start to my day.  Orgain Organic Protein Almond Milk® has 10 grams of protein per serving and is a completely organic, plant-based protein.  Full of calcium and vitamin D, it is also vegan, dairy free, gluten free, soy free and non-GMO, all things that are very important to me personally.
Although it varies daily, today I topped my steel cut oatmeal with walnuts, cranberries and banana slices dipped in a mixture of flax seeds, chia seeds, hemp hearts (wish I could remember where I first saw this done) and finished it all off with a sprinkle of cinnamon. I also added a splash more of the almond milk just prior to serving.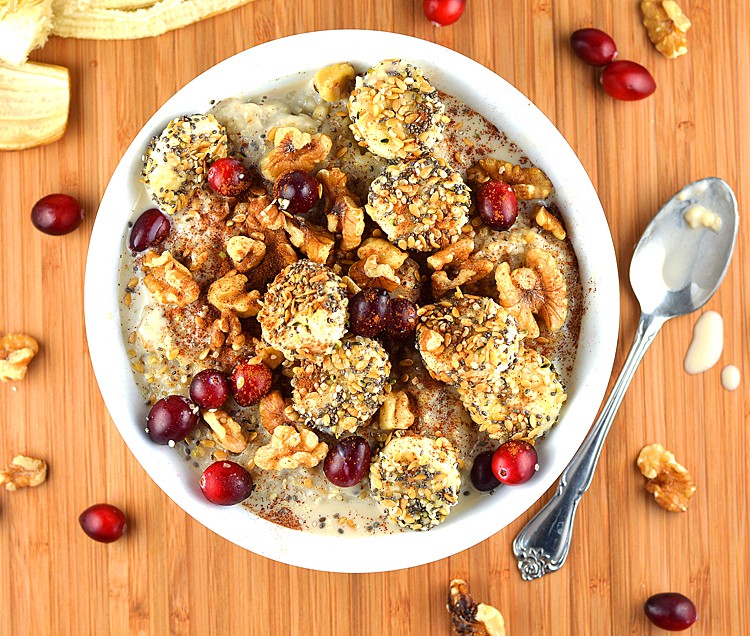 Just look at all of that yummy goodness!  If you prefer a bit more sweetness and to counteract the tartness of the cranberries, a touch of brown sugar would be a nice addition.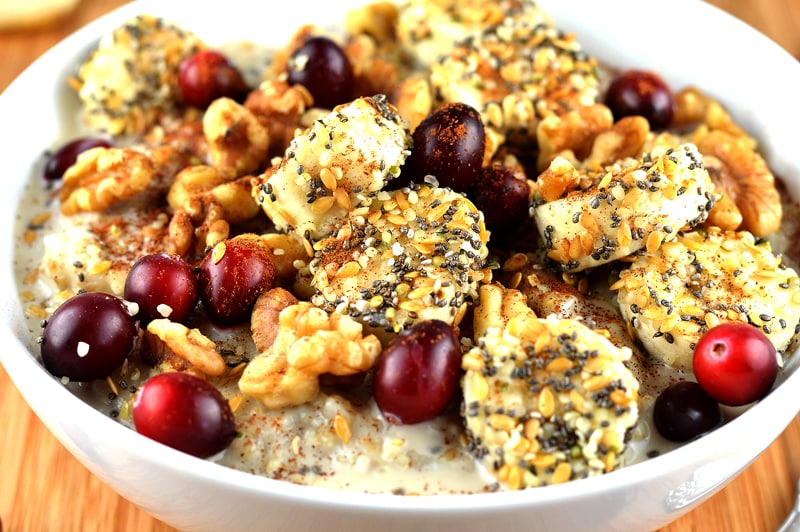 I found the Orgain Organic Protein Almond Milk® at my local Scottsdale, AZ Walmart and it was admittedly a little challenging to locate.  A very helpful store associate pointed me to the snack aisle where, along with the non-dairy milks, I saw it.  This store has been undergoing a bit of a remodel lately and I think because of that, my store might be the exception here.  Be sure to ask if you can't readily find it.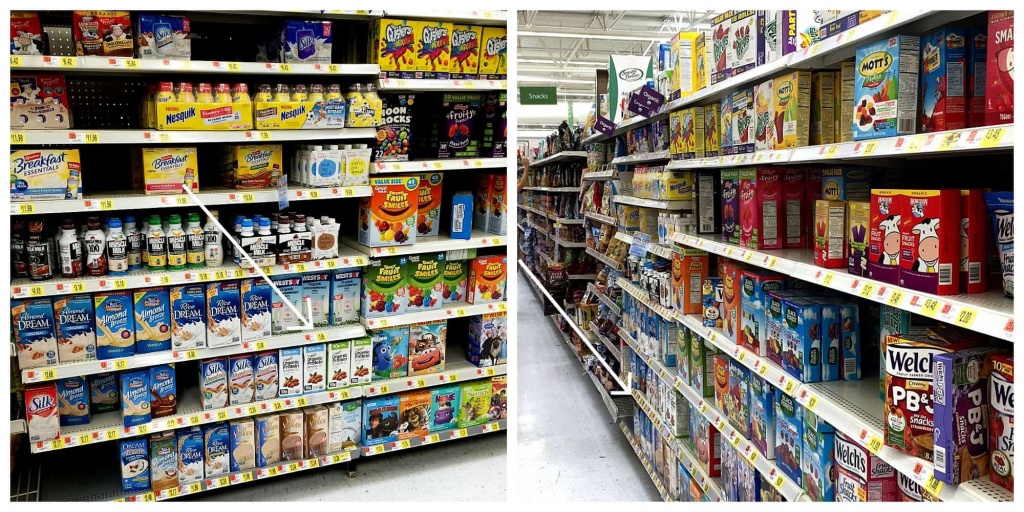 Orgain graciously allowed The Veg Life! to use this awesome infographic to highlight some of the benefits of their almond milk.

I went with a fall theme in my topping selections, but feel free to mix it up!  Add what you enjoy.  Recipes are meant to act as a guide, not a rule.  Make it your own.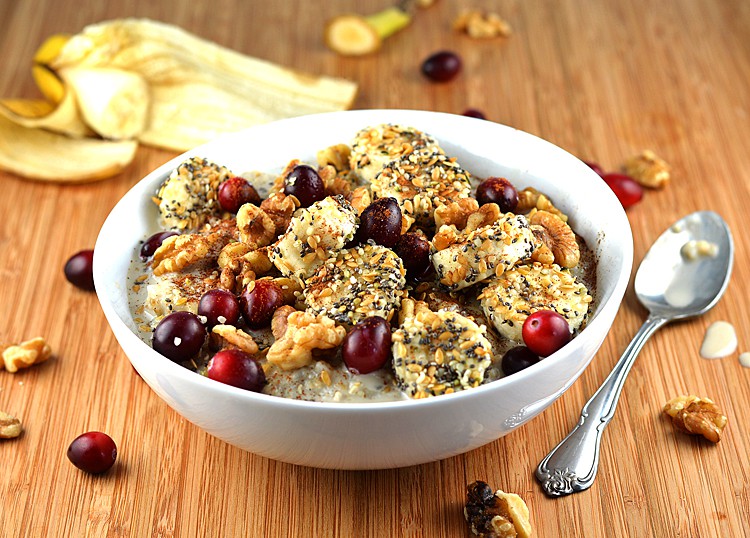 In addition to our Vegan Steel Cut Oatmeal Bowl, here are just a few more ideas on how to incorporate Orgain Organic Protein Almond Milk® into your diet:
-In your favorite smoothies
-To create creamy soups
-Potato, sweet potato or cauliflower mash
-Over your favorite cereals
-Vegan almond milk "ice cream"
-In recipes that call for milk (or buttermilk) for baking
-To make your own buttermilk (just add 1 Tbl Vinegar to 1 C Orgain Organic Protein Almond Milk®)
-Gravies and sauces (such as Bechemel – a white sauce)
and so much more!!!
If you'd like to try out Orgain Organic Protein Almond Milk® for yourself, click here for a coupon at Walmart.  The coupon offer will be for $1.50 off any one (1) container of Orgain Organic Protein Almond Milk®.
To learn more about Orgain Organic Protein Almond Milk®, please visit their website or any of their social media pages…Instagram, Facebook or Twitter
Before you go, why not check out some of our recent videos and be sure to subscribe to the YouTube Channel! 🙂
Vegan Steel Cut Oatmeal Bowl
Ingredients
1/4

C

Steel Cut Oats

1-1/2

C

Almond Milk

1/2

of a Banana

1/4

tsp

each flax

chia and/or hemp seeds

Cranberries

Walnuts

Ground Cinnamon

OPTIONAL: Brown Sugar for topping
Instructions
Into a saucepan, bring almond milk to a boil and add the steel cut oats.

Reduce the heat to low and stirring occasionally, cook for 25 minutes (or until the liquid has mostly evaporated and the oats are tender).

Meanwhile, slice bananas and dip into a combination of flax, chia and/or hemp seeds.

Spoon the prepared oatmeal into a bowl and top with the bananas, walnuts, cranberries and a sprinkle of cinnamon.

Add a bit more almond milk just before serving, if desired.