This Easy Cheesy Cauliflower Steaks Recipe is so simple and delicious at the same time! You can easily veganize this recipe by using vegan cheese alternatives. I'll provide those options in the recipe card below. Best enjoyed with a fork and knife, these tender "steaks" make the perfect main course. Feel free to play around with the recipe and add your own touch!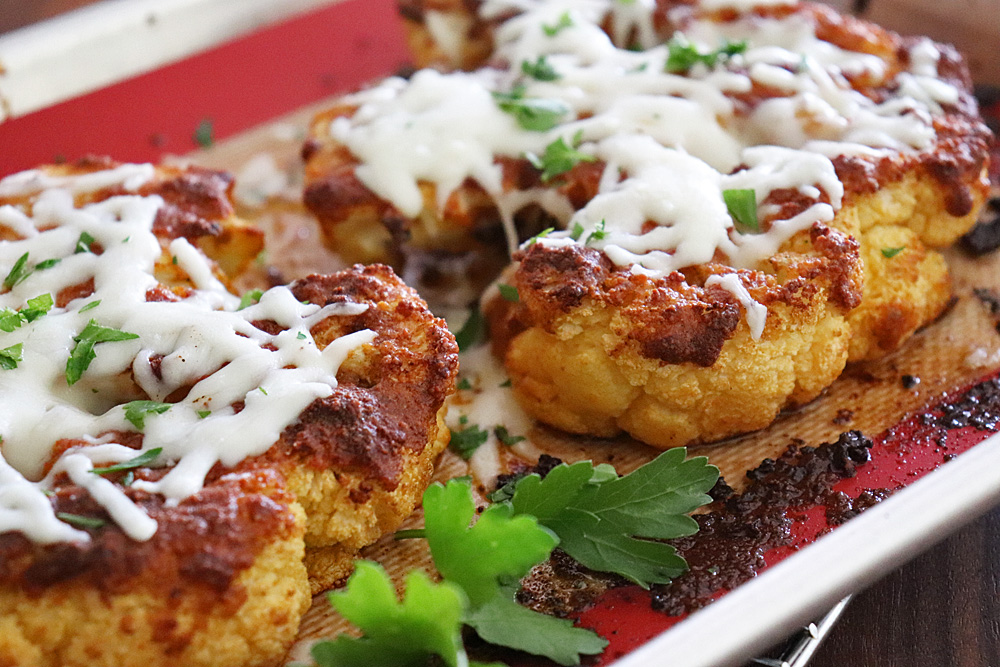 How to cut the cauliflower
While cutting a cauliflower may seem daunting at first, let me break it down into easy steps for you. First, trim all of the green leaves away from the stem so you can see it.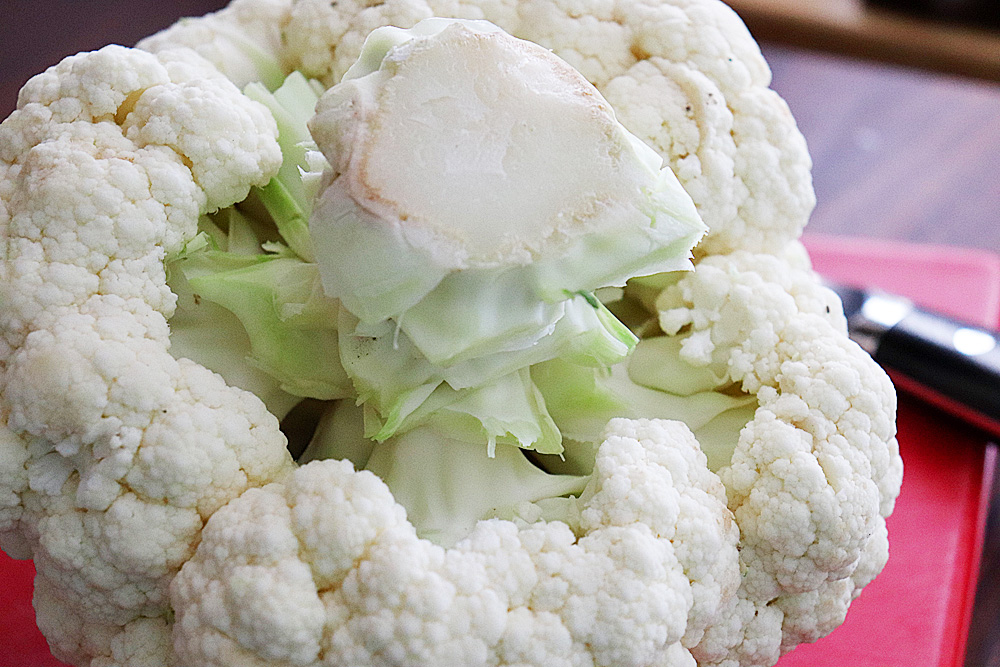 Slice the cauliflower directly in half right through that stem, then make another 1 1/2″ slice from each half creating "steaks". Easy, right? The remaining florets can be enjoyed at another time.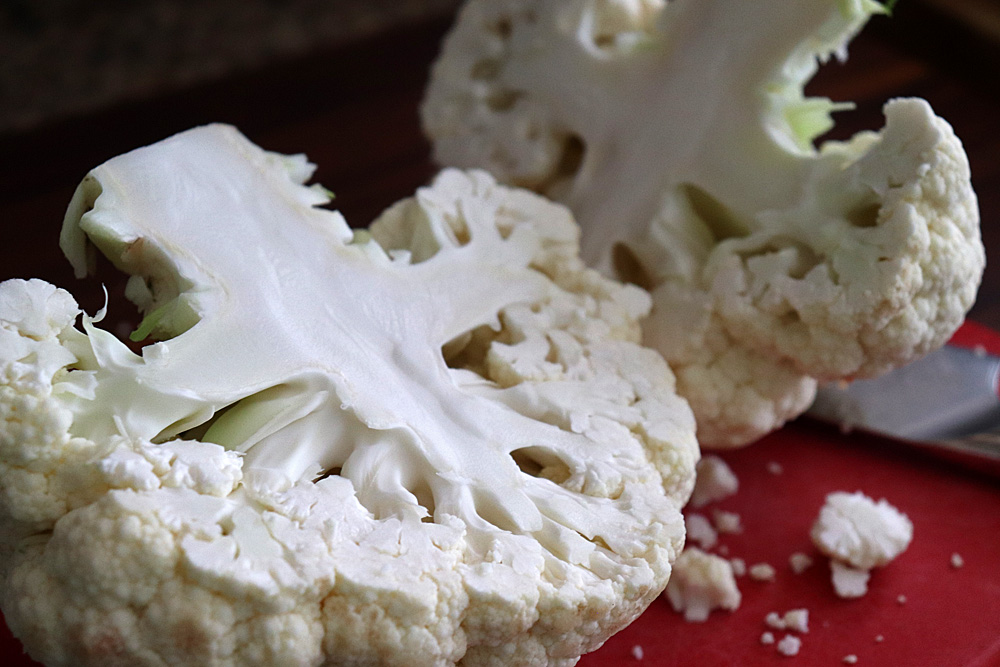 How to make Easy Cheesy Cauliflower Steaks
Place the thick steaks onto a lined baking sheet.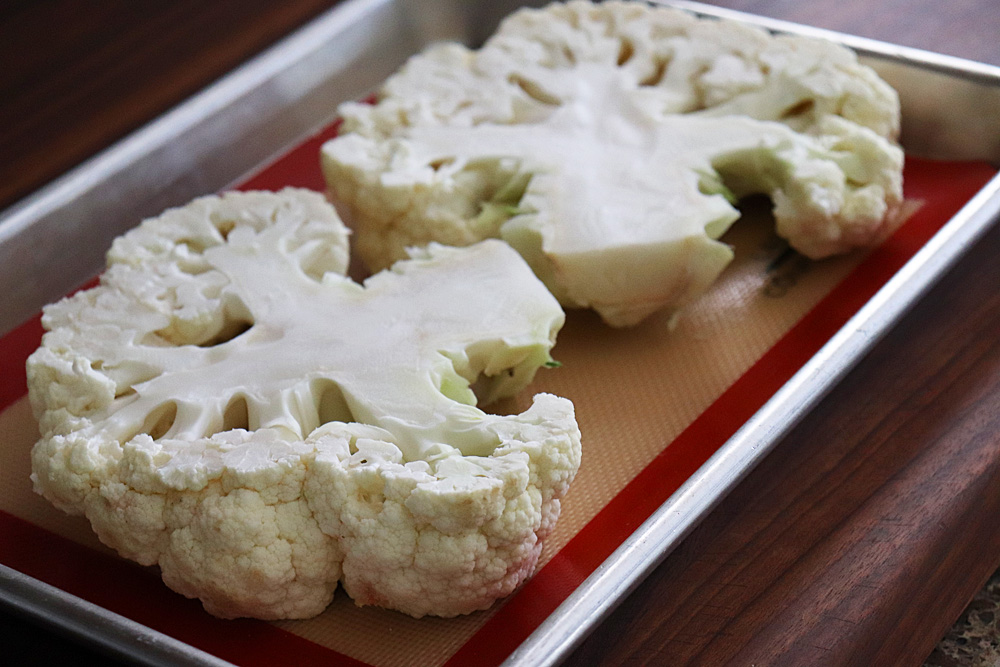 To make the marinade, you'll need:
Oil
Parmesan, or vegan alternative
Paprika
Salt
Pepper
Garlic Powder
Onion Powder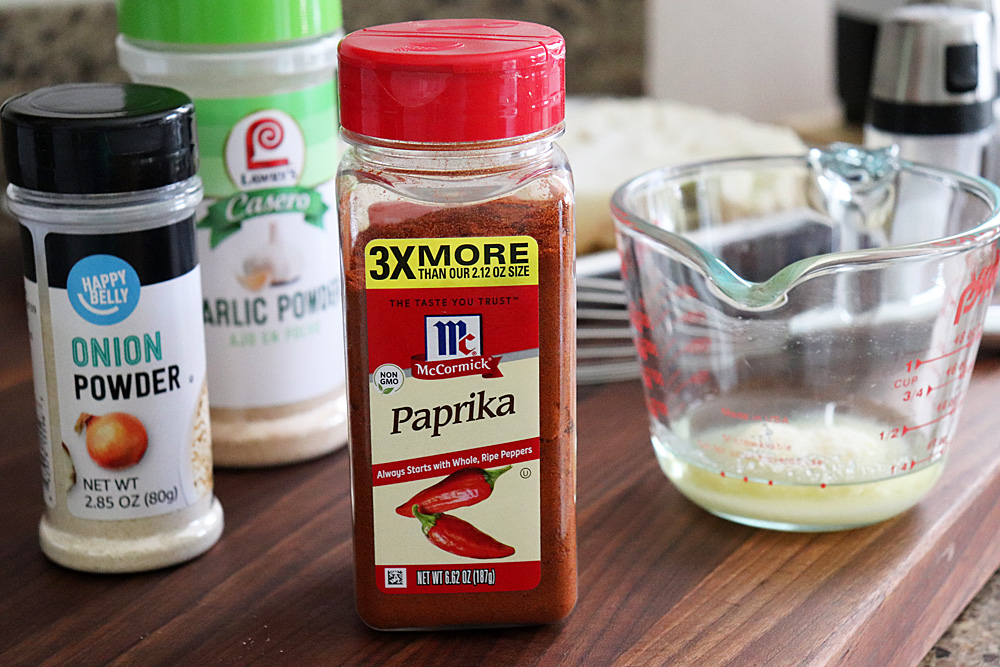 Whisk the marinade together. It will be thick and that's what we want. Be sure to make enough to coat all sides of your cauliflower steaks. If yours is larger, consider doubling or even tripling this recipe.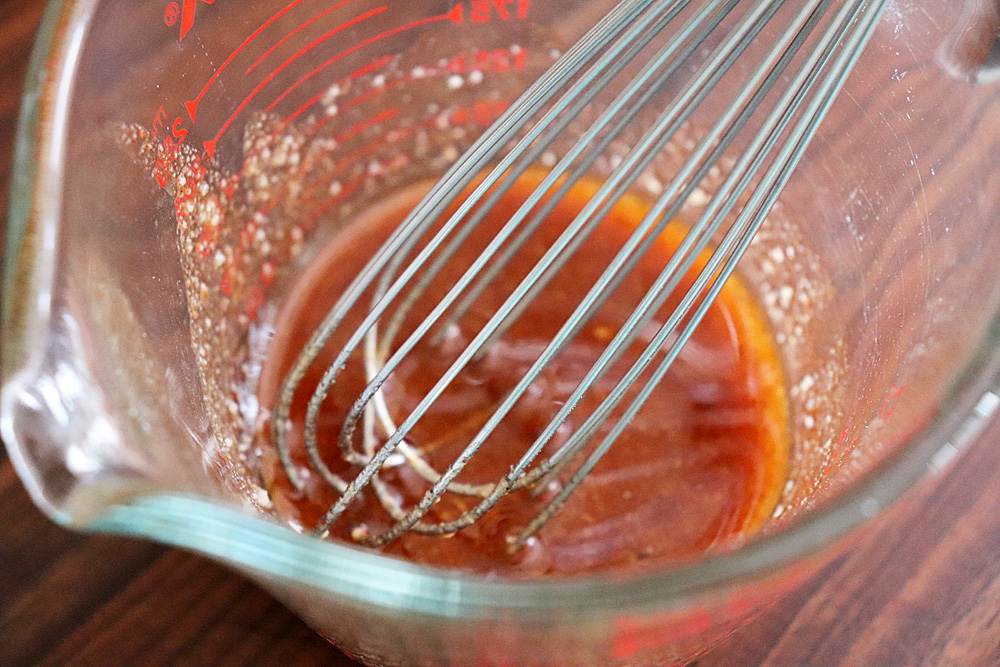 Brush the cauliflower with the marinade on all sides, top and bottom.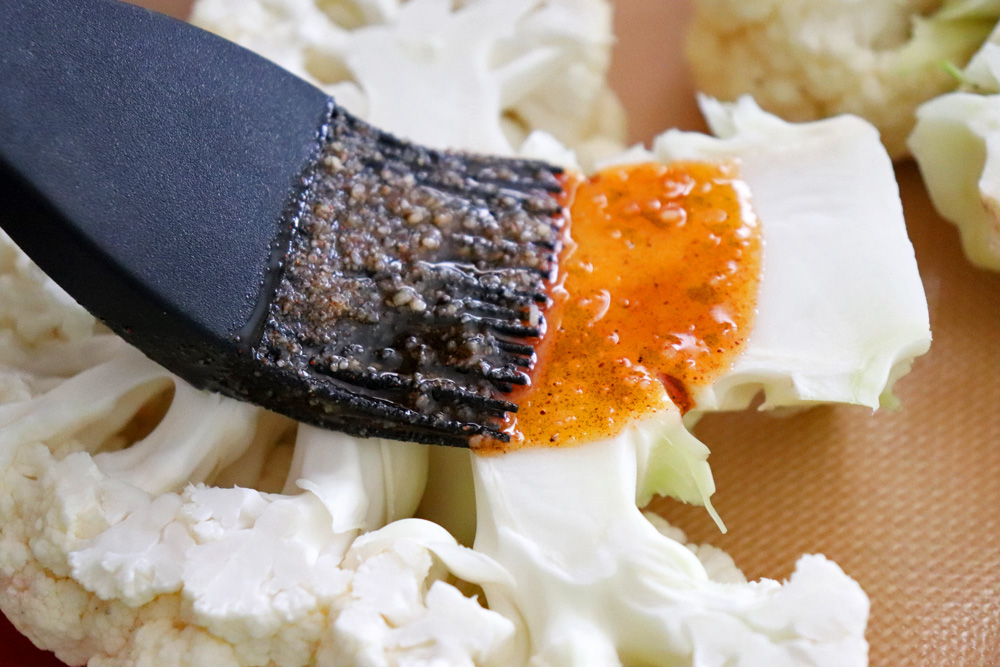 Roast at 400 degrees for about 25 minutes or so. It should be tender when pierced with a fork or knife, but take care not to over cook it. You could quit here and have an amazingly delicious recipe.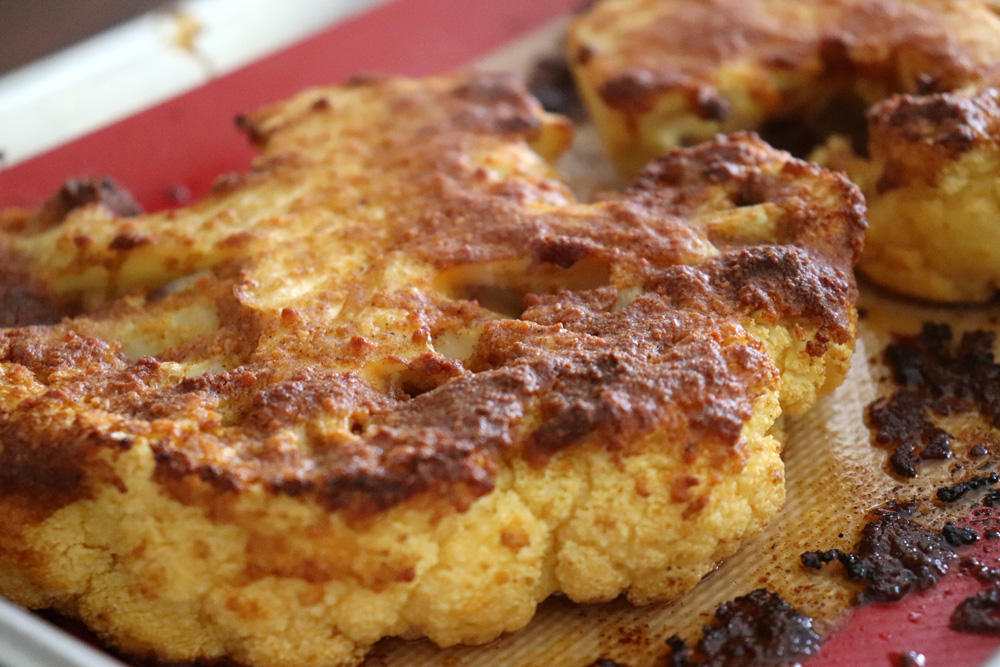 I chose to top with a mozzarella shredded cheese (feel free to use a vegan version). Place back into the oven on the top rack just until the cheese is melted.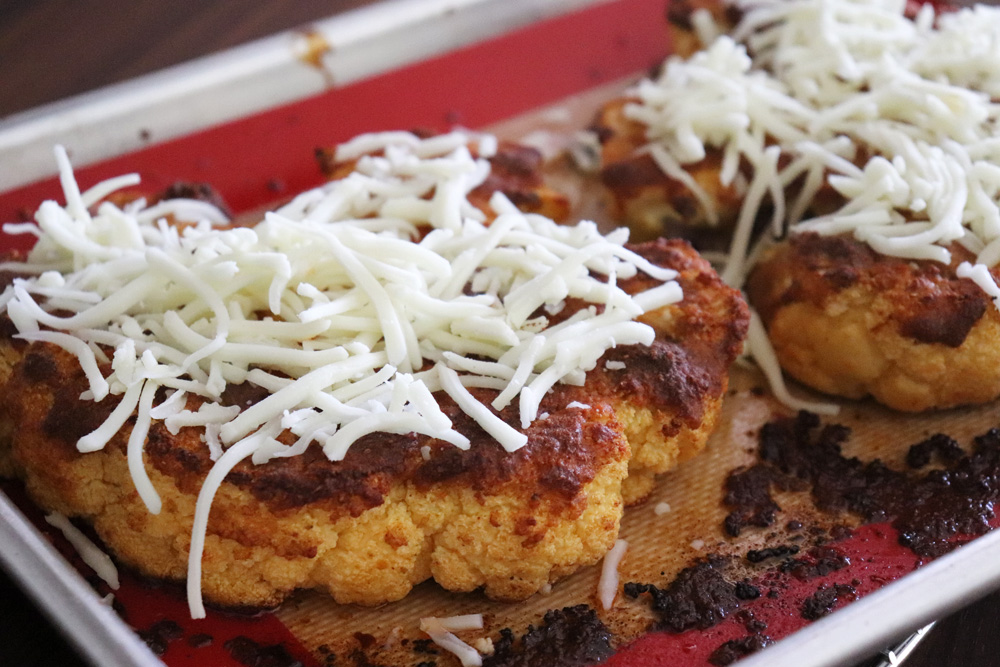 The end result is a tender and flavorful, cheesy bite!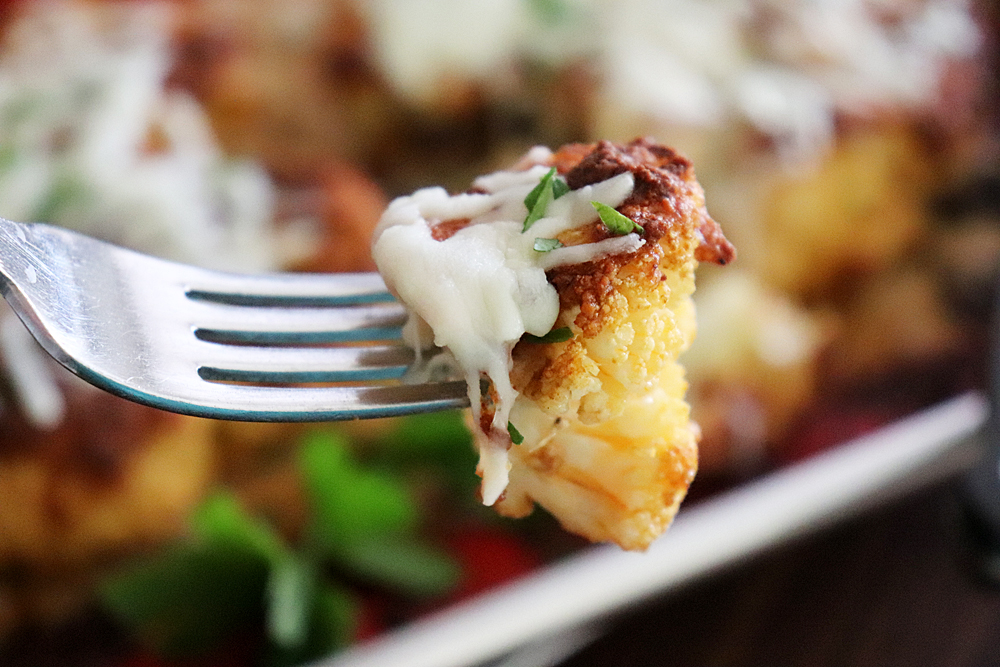 Did you make my Easy Cheesy Cauliflower Steaks Recipe? Leave me a comment below and let me know what you thought!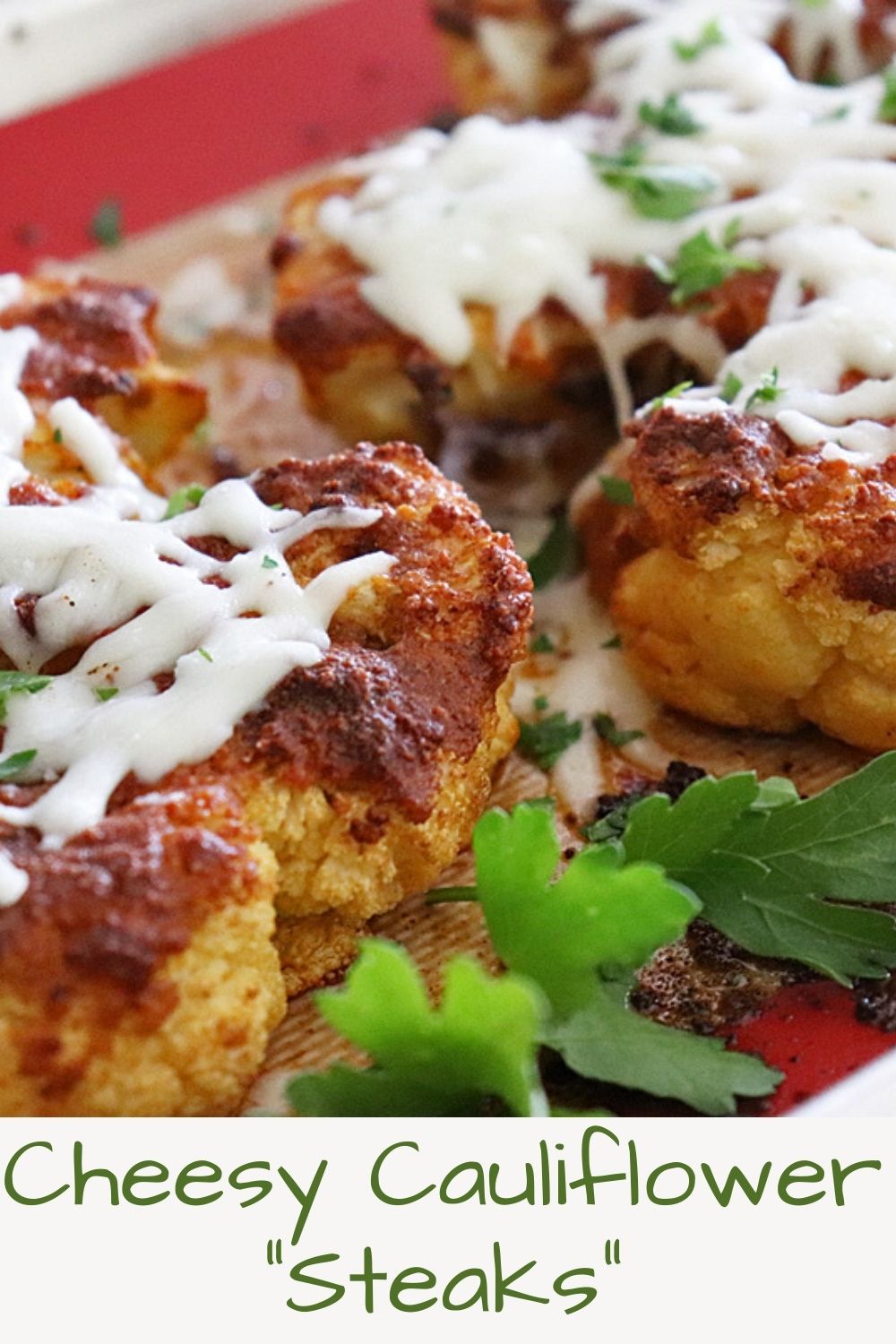 Easy Cheesy Cauliflower Steaks Recipe
Easy Cheesy Cauliflower Steaks Recipe
Ingredients
2

tbsp

Olive or Vegetable Oil

1

tbsp

Parmesan OR Vegan Alternative

1/4

tsp

Garlic Powder

1/4

tsp

Onion Powder

3/4

tsp

Paprika

1

head

Cauliflower

cut into "steaks" (see blog post for instructions)

1/2

c

Mozzarella OR Vegan Alternative

shredded
Instructions
Preheat oven to 400 degrees.

Slice the cauliflower in half, then cut to get an approximate 1 1/2" thick "steak" from each half. Reserve the remaining cauliflower for later enjoyment.

Place the "steaks" onto a lined sheet pan.

Mix together the marinade/sauce ingredients and brush each "steak" all over until fully coated. You may need to double the sauce recipe depending on the size of your cauliflower.

Bake for about 25 minutes or until fork tender.

Top with the shredded cheese and place back in the oven on the top rack to melt for about 5 minutes or so, taking care not to let it burn.