Kentucky Fried Jackfruit!  You know that song by The Cars, You Might Think I'm Crazy?  I was singing it as I had another one of those moments where I decided to tackle a recipe that I had never tried before. I had also never seen anyone else try it before, but I feel certain I can't be the only one who comes up with these crazy ideas.
And, I'm also sure there will be some of you who are thinking…can't this girl just make tofu?  Nope.  Can't do it.  I don't like tofu…yuck!  Please note:  If you are opposed to oil, walk away.  However, if you have an air fryer….I am sooooooo jealous!  This recipe would be awesome cooked in it. Regardless, if you fry at the right temperature, your food absorbs very little and any remaining can be drained on paper towels.
Now that we have all of that settled, let me introduce you to Kentucky Fried Jackfruit.  Yes, jackfruit!  I just heard a reader say that she tackled cutting open a 20# whole jackfruit and all I can say to that, is "e" for effort girl! All I did was buy case of the canned stuff 🙂  I do have to say that idea in my head worked SO well and these were crispy, tender and delicious.  Perfectly paired with my homemade bee-free "honee" mustard sauce. I was super proud of myself.  The neighbors probably heard me squeal.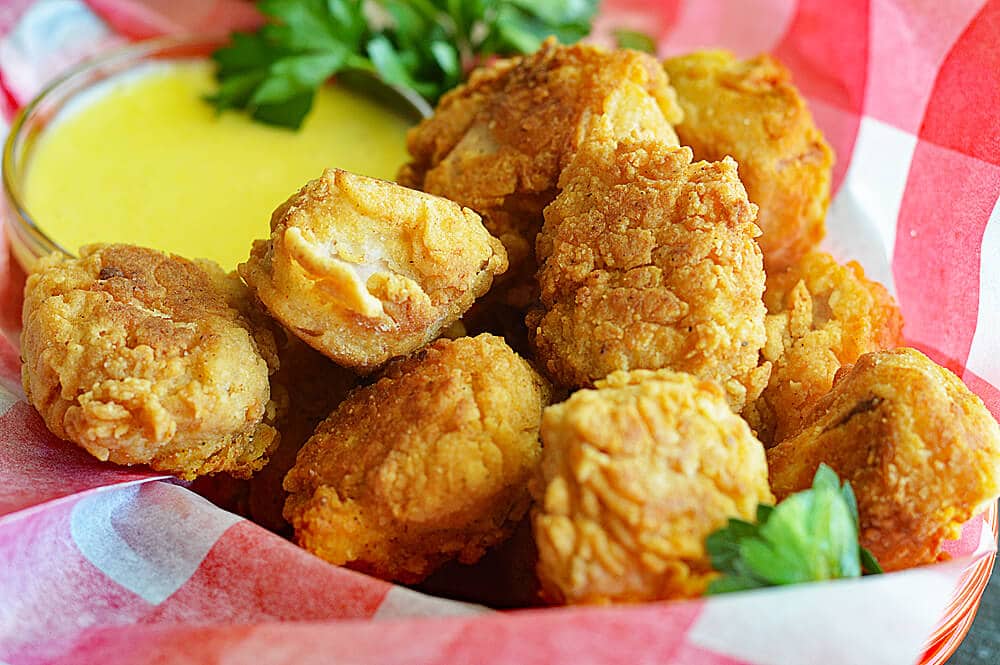 But let's start at the beginning.  Some of you may not be familiar with jackfruit.  Jackfruit is grown on a tree and is actually in the fig and mulberry family.  It is the fruit of the Jack tree that we consume.  Native to Asia, it is the largest tree-borne fruit.  Very mild in flavor, it's starchy and fibrous.  That is why it is heralded as a vegan meat substitute.  Here are a few canned options:
It comes packed in brine, in water or in syrup.  We do not want syrup – that's for dessert recipes.  I buy mine in brine and just omitted salt in the recipe.  If you can get the one in water, you can adjust salt to taste.  Here are two different brands below.  I picked out the largest pieces for this recipe and the rest, I pulled apart to make my Tortilla Soup (recipe coming soon!)  You'll see the edges are, by design, perfectly ready to pull apart.  They are tender and moist and by itself, jackfruit really doesn't have much of it's own flavor.  Which is great because it takes on the flavor of what WE want it to.  For instance, my Jackfruit Flautas with Sweet Corn Sauce, Pulled Barbecue Jackfruit and most recently, Teryaki Jackfruit.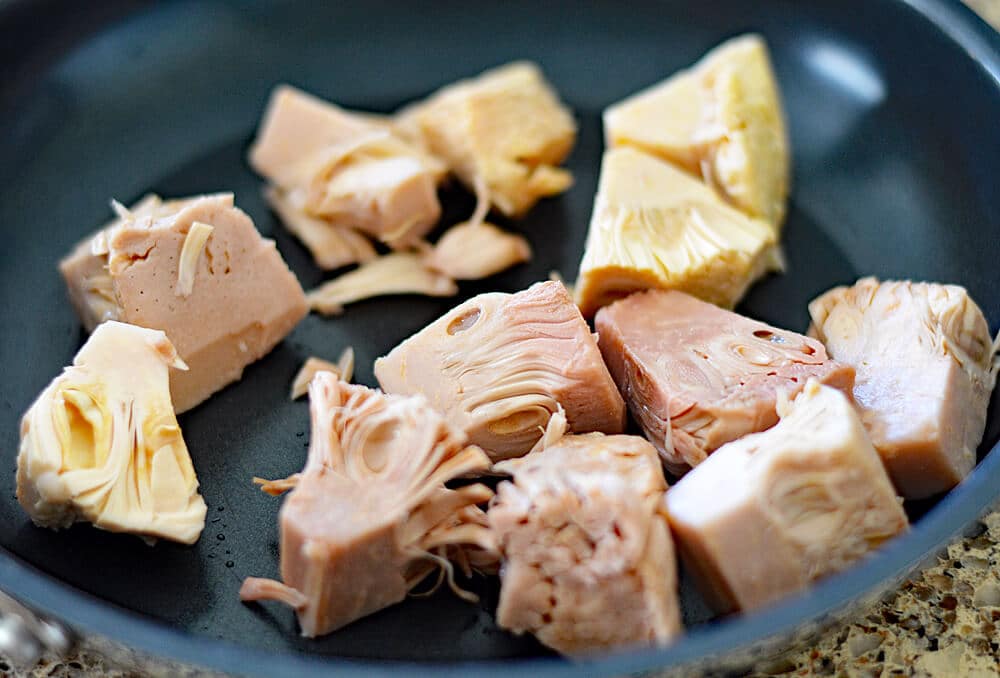 I carefully remove the fruit from the can, drain and rinse. Then, they go into a buttermilk bath (homemade from almond milk and vinegar) while everything else is prepared.  Toss them in the seasoned flour, back into the buttermilk and back into the flour before hitting that hot oil.  It looks like a lot of oil, but this is a small saucepan. Again, keep the temperature up, fry fast and turn often then drain on towels.  You'd be surprised just how little of the oil gets into your food.  Use an air fryer if you have one and just lightly brush or spray with a bit of oil and you'll use even less!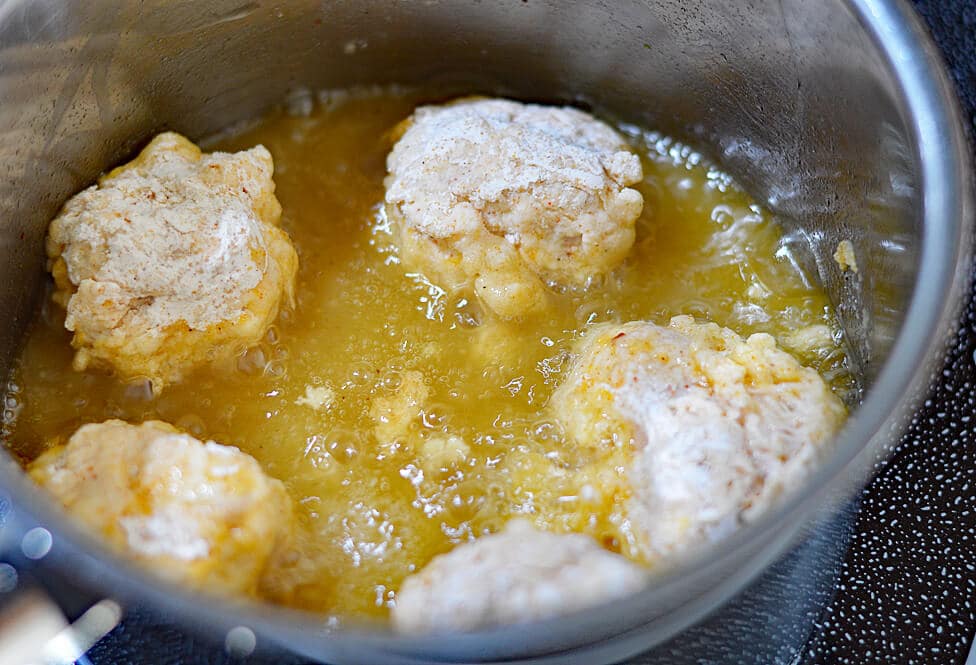 Here's a little tip I learned as I went along.  My first batch didn't have much personality.  I like that craggy, rough exterior.  BUT, the second time around, some of the buttermilk mixture had gotten into the flour which stuck to the next batch and bam!  Perfect 🙂  That's where all of the crispiness happens.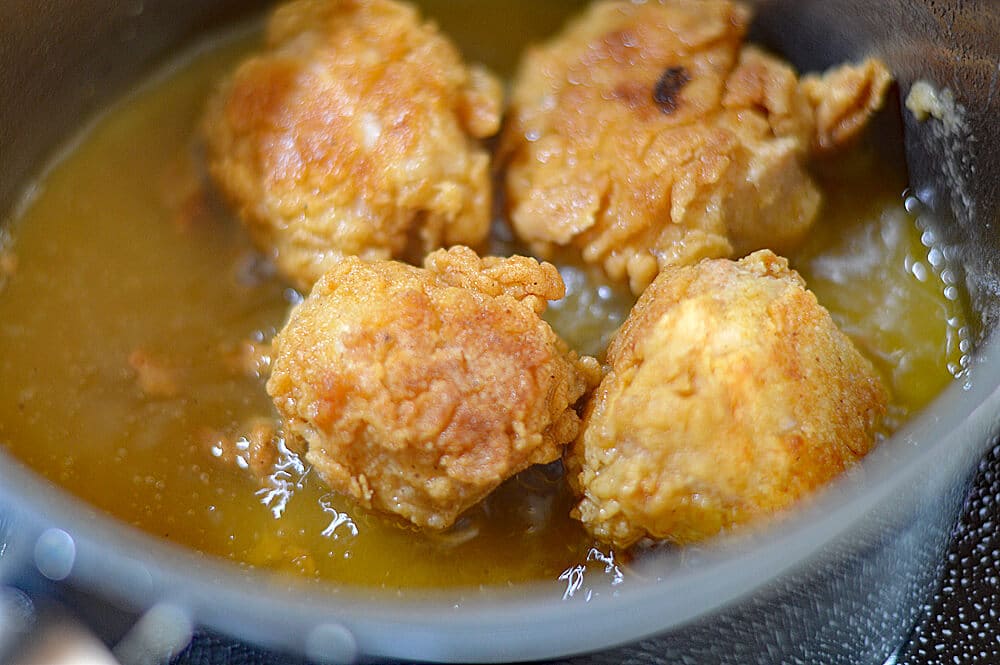 I preferred the ones that had accumulated more of the batter/coating…whatever you want to call it.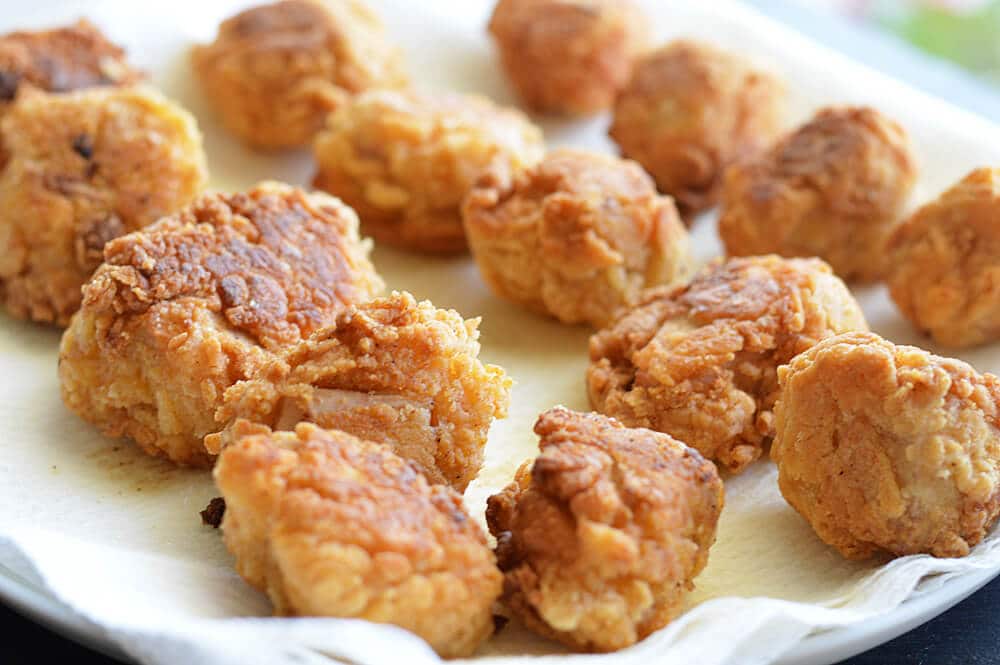 This is what they look like after frying.  They are tender and juicy, cooked just enough.  And that vegan Honee Mustard Sauce was a great choice for dipping.  Even my non-vegan mother was eating them!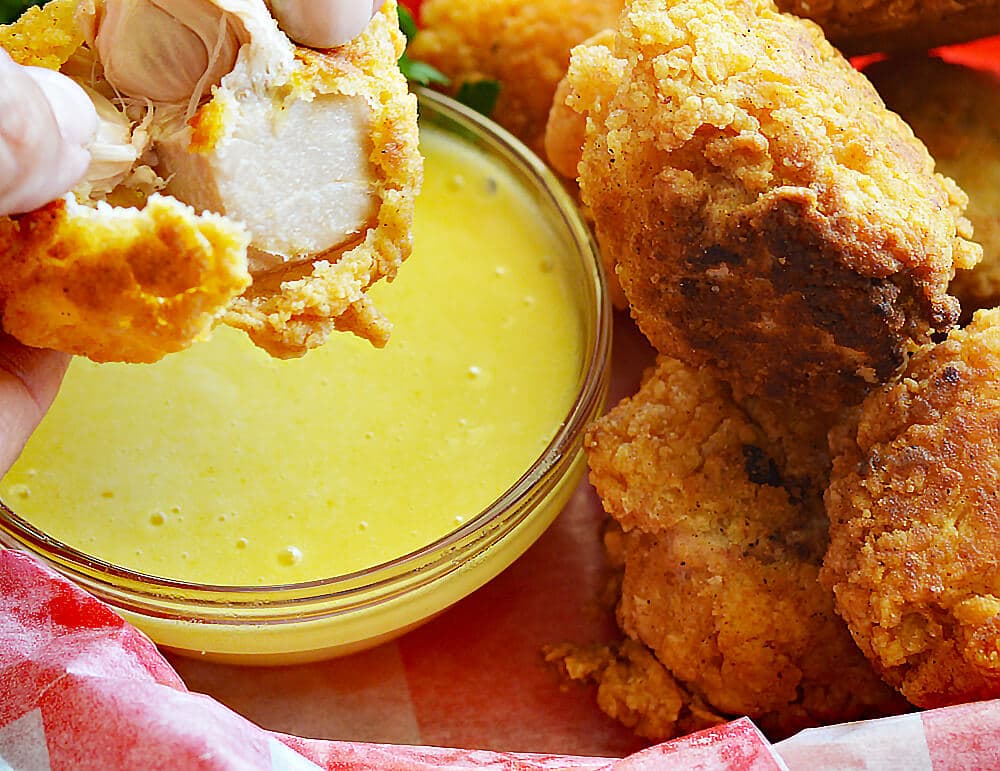 Here is an interior shot for you.  Isn't it the craziest thing?  I am infatuated with jackfruit.  The more I make with it, the more ideas I come up with TO make with it.  It's really affordable and I tried to link to several options for you on Amazon, so I hope you try some recipes along with me.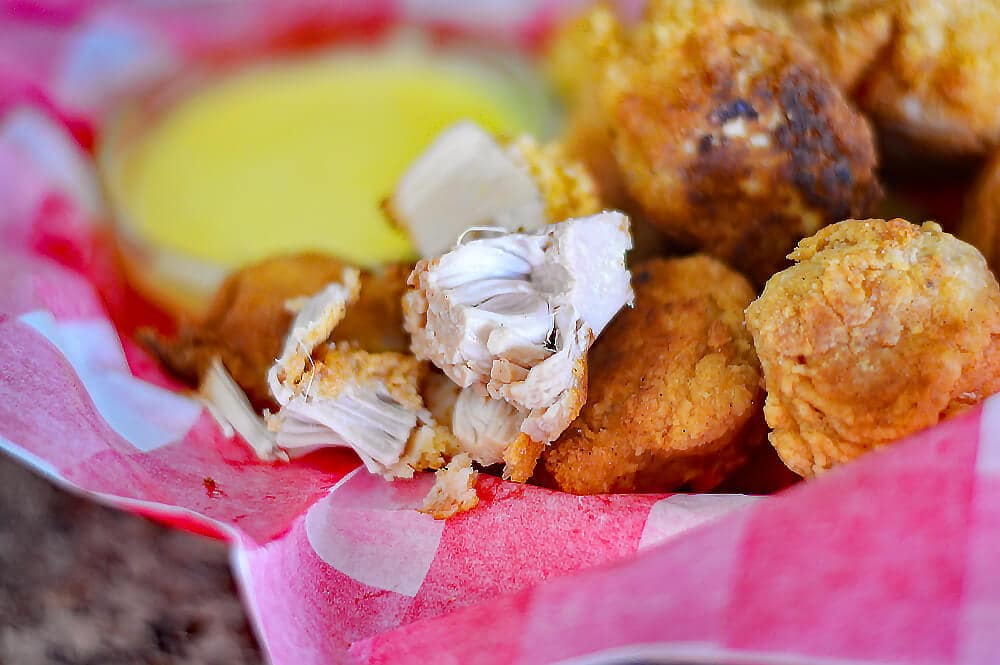 Yum…I think I ate about half of these.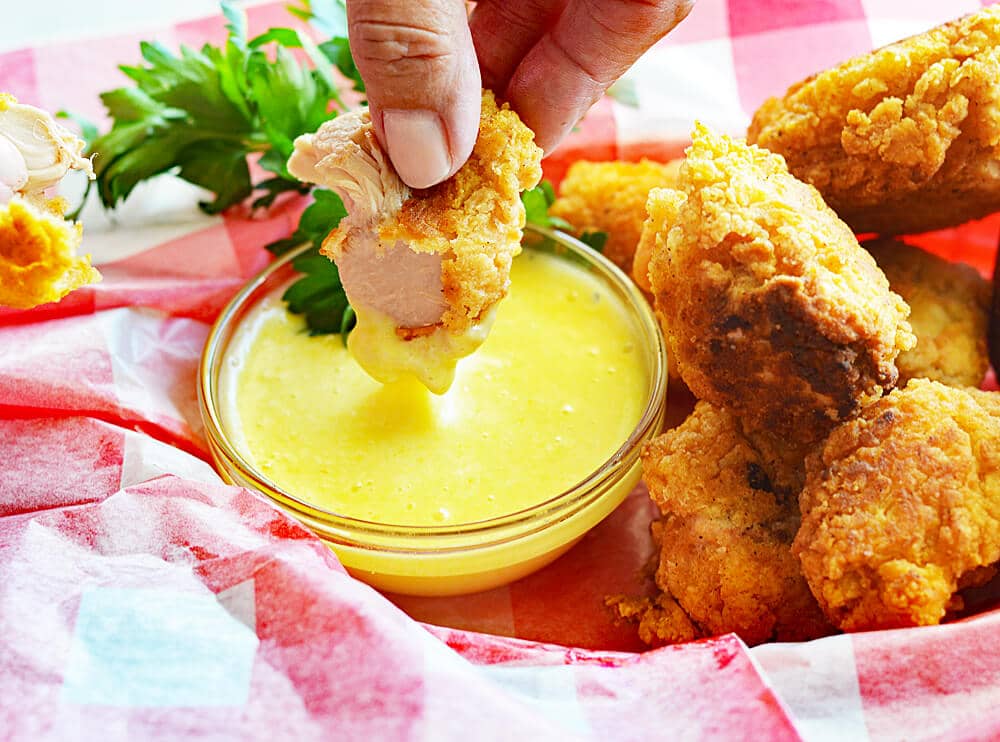 If you made this recipe for Kentucky Fried Jackfruit, let me know in the comments section below.
If you liked this recipe, PIN IT FOR LATER!

Kentucky Fried Jackfruit
Ingredients
2

14 oz. Cans

Jackfruit in Brine (or better yet, water if you can find it)
FOR THE VEGAN BUTTERMILK MIXTURE:
FOR THE BATTER:
3/4

c

All Purpose Flour

1/4

c

Cornstarch

1

tbsp

Baking Powder

1

tbsp

Your favorite SALT-FREE seasoning blend

(if you are using Jackfruit in WATER, feel free to use Season Salt)
FOR FRYING:
Any oil suitable for frying at high temperatures
FOR THE VEGAN HONEE-MUSTARD DIPPING SAUCE:
1/2

c

Vegan Mayonnaise

or more to taste

2-3

tbsp

Yellow Mustard

or more to taste

2

tbsp

Agave Nectar

or more to taste
Instructions
TO PREPARE THE JACKFRUIT:
Drain and rinse the jackfruit pieces taking care not to break them up.
TO PREPARE THE VEGAN BUTTERMILK MIXTURE:
Combine 1 cup of almond milk with 1-1/2 tablespoons of apple cider vinegar and allow to sit for about 5 minutes. After 5 minutes, add the jackfruit pieces. Set aside.
TO MAKE THE BATTER:
Whisk together all of the dry ingredients.
TO MAKE THE VEGAN HONEE MUSTARD DIPPING SAUCE:
Whisk together the ingredients and set aside.
FOR FRYING:
Heat oil over medium high heat. Test with a pinch of flour and if it sizzles, it's ready. Food will absorb more oil if it is too cool. Too hot and it will scorch.

Take a few pieces at a time from the buttermilk mixture and drop in the flour. Coat completely. Quickly coat in the buttermilk again and thoroughly coat in the flour mixture.

Gently place into the oil, toss occasionally and remove with a strainer when golden brown to paper towels to drain any excess oil.