Pesto Pistou Pizza Bread
This recipe is so incredibly easy to make and I'll give you several options for the crust.  I've made my own favorite focaccia bread which does take some time (mostly waiting for it to rise).  I use a bread machine for the bulk of the work and use this dough for absolutely everything.  I just love it.  However, let's say you are short on time.  You could buy a refrigerated, or even pre-made pizza dough and it would still taste great!  Did you know that Pillsbury Crescent Roll Dough is accidentally vegan?  So like I said, there are options.
What makes this recipe though are the oven-roasted tomatoes and the homemade pesto "pistou".  What the heck is a pistou, you ask?  Wikipedia gives this description:  Pistou, or pistou sauce, is a Provençal cold sauce made from cloves of garlic, fresh basil, and olive oil. It is somewhat similar to pesto, although it lacks pine nuts.  So let's make pistou, shall we?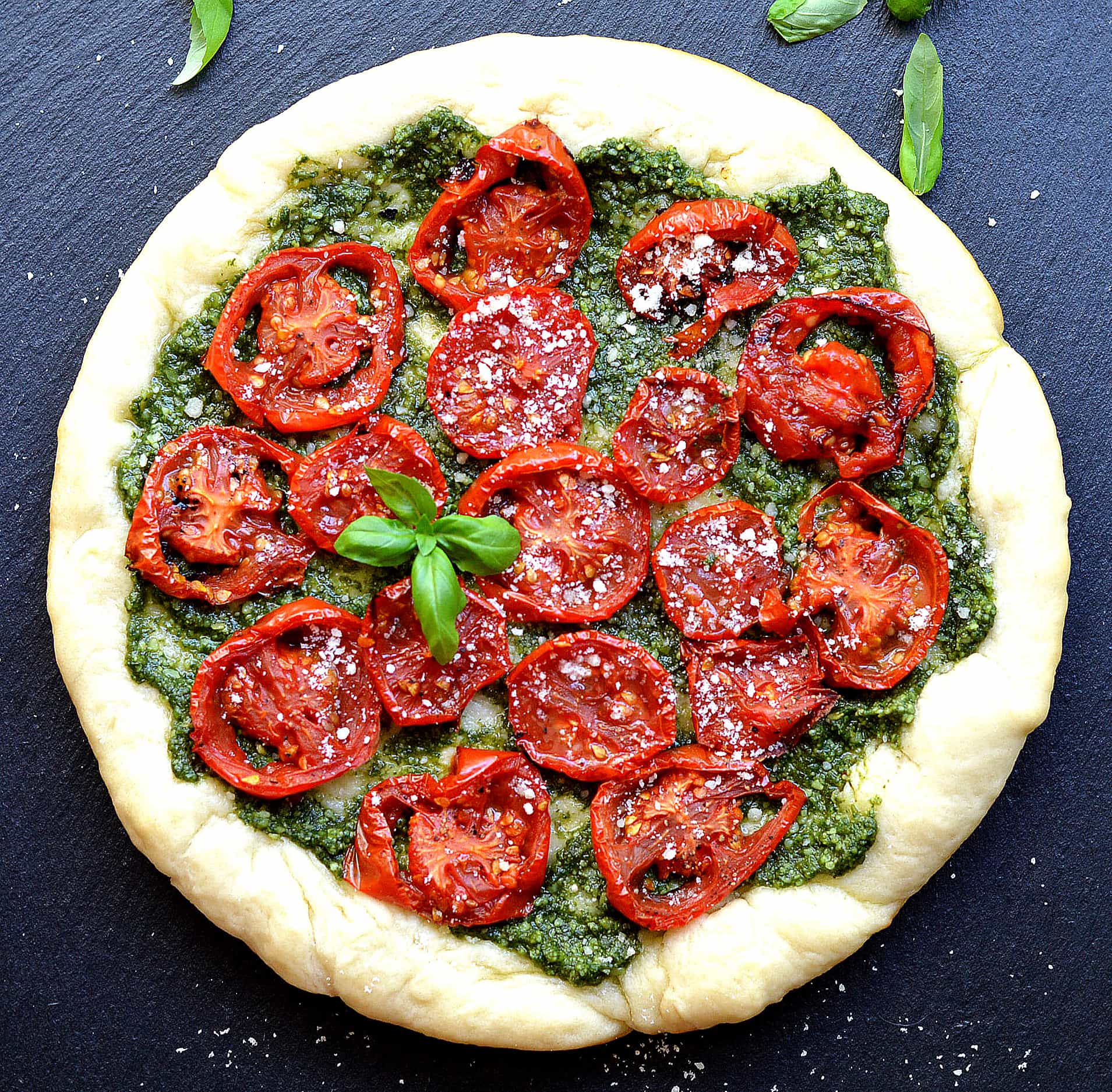 Pesto PISTOU Sauce
The reason I chose to make Pistou instead of pesto is simple.  I am not a fan of pine nuts and in researching nut-free versions, came across this one.  Of course, if you are a fan of the traditional pesto – feel free to use it!
The only ingredients required to make pistou are fresh basil leaves, a clove or two of garlic, vegan parmesan, lemon juice, olive oil and salt & pepper.  A quick whiz in a food processor and voila!  You have pistou.
Another money-saving tip:  Grow your own basil!  I have a little pot on my kitchen table with a few herbs such as basil, mint, etc. so I can snip whenever I want.   They require little maintenance (although you do have to pinch them back occasionally, otherwise … you end up making pistou…;) and it's much less expensive than buying fresh herbs.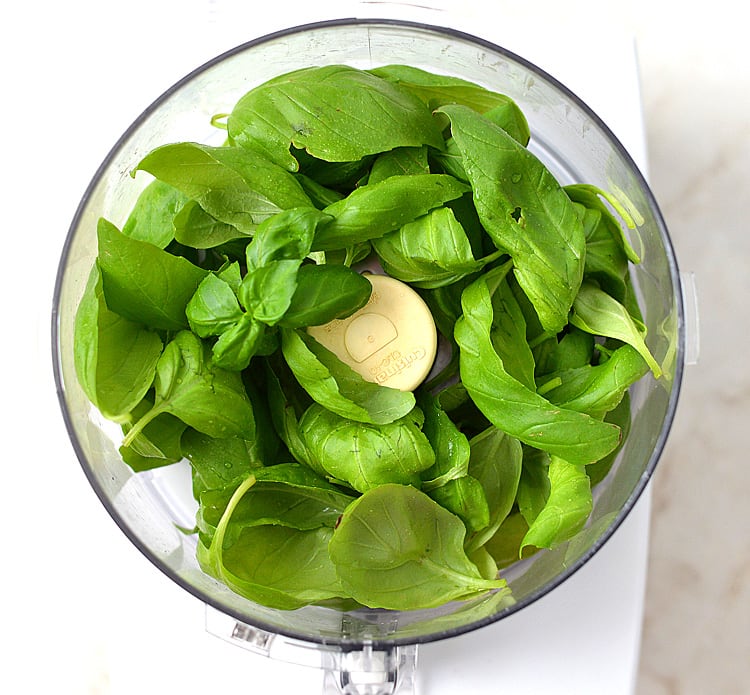 I love my Cuisinart food processor and man, I've had it FOREVER!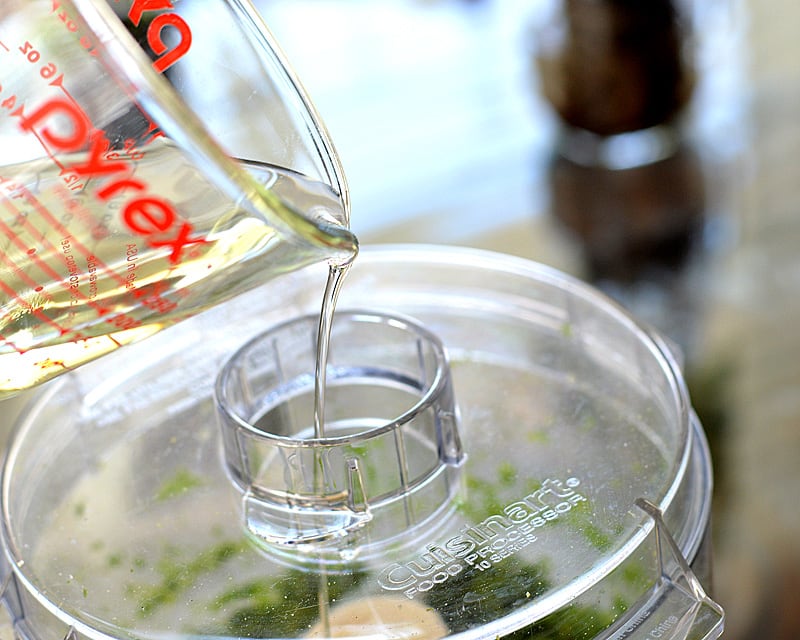 The pistou sauce gets spread evenly over your chosen crust.  It's important to note that with this recipe, the crust is baked BEFORE the toppings go on.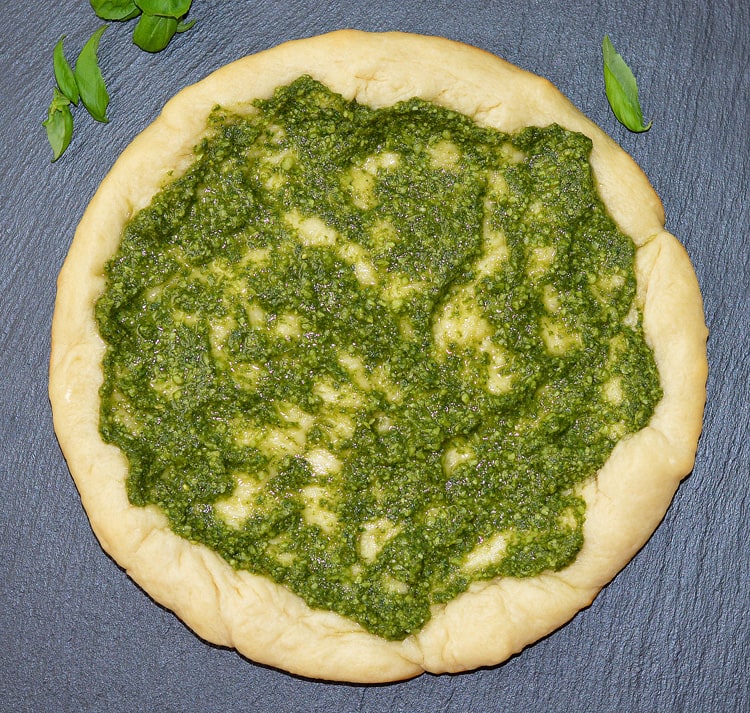 Oven-Roasted Tomatoes
I sliced Roma tomatoes about 1/4″ thick, drizzled with olive oil and seasoned with salt and pepper. They roast in the oven for about 20-30 minutes or until soft and just beginning to brown on the edges.  Allow to cool.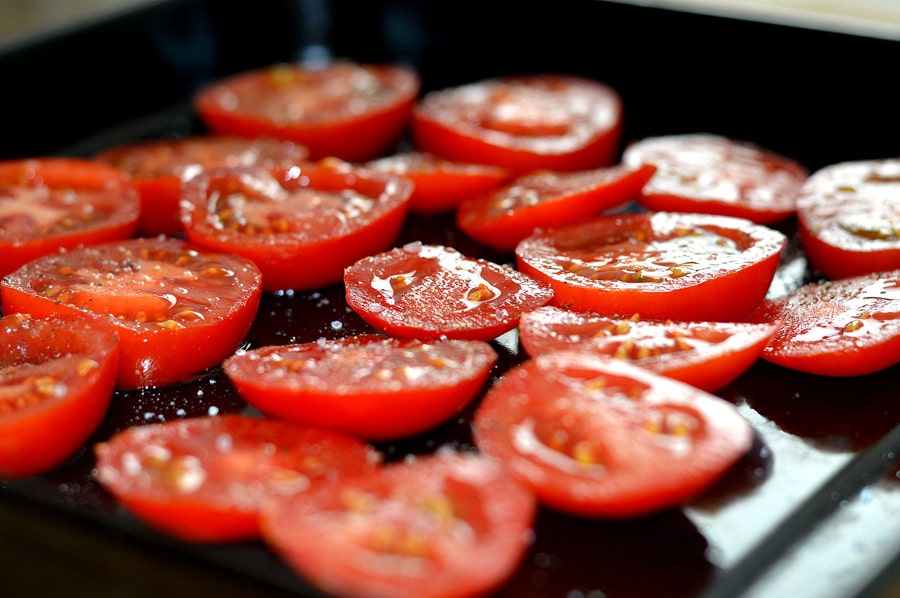 The tomatoes are pretty delicate at this point, so be sure to use a spatula.  I actually like this one because it's super thin and gets right under the tomatoes without breaking them.  Probably not the intended pur tool for the job, but it's the best one I've found 😉
Lay them evenly around the pesto base and sprinkle with vegan parmesan.  I like to garnish with a sprig of fresh basil if I'm feeling fancy.  Cut into slices and serve.  Simple, yet incredibly delicious!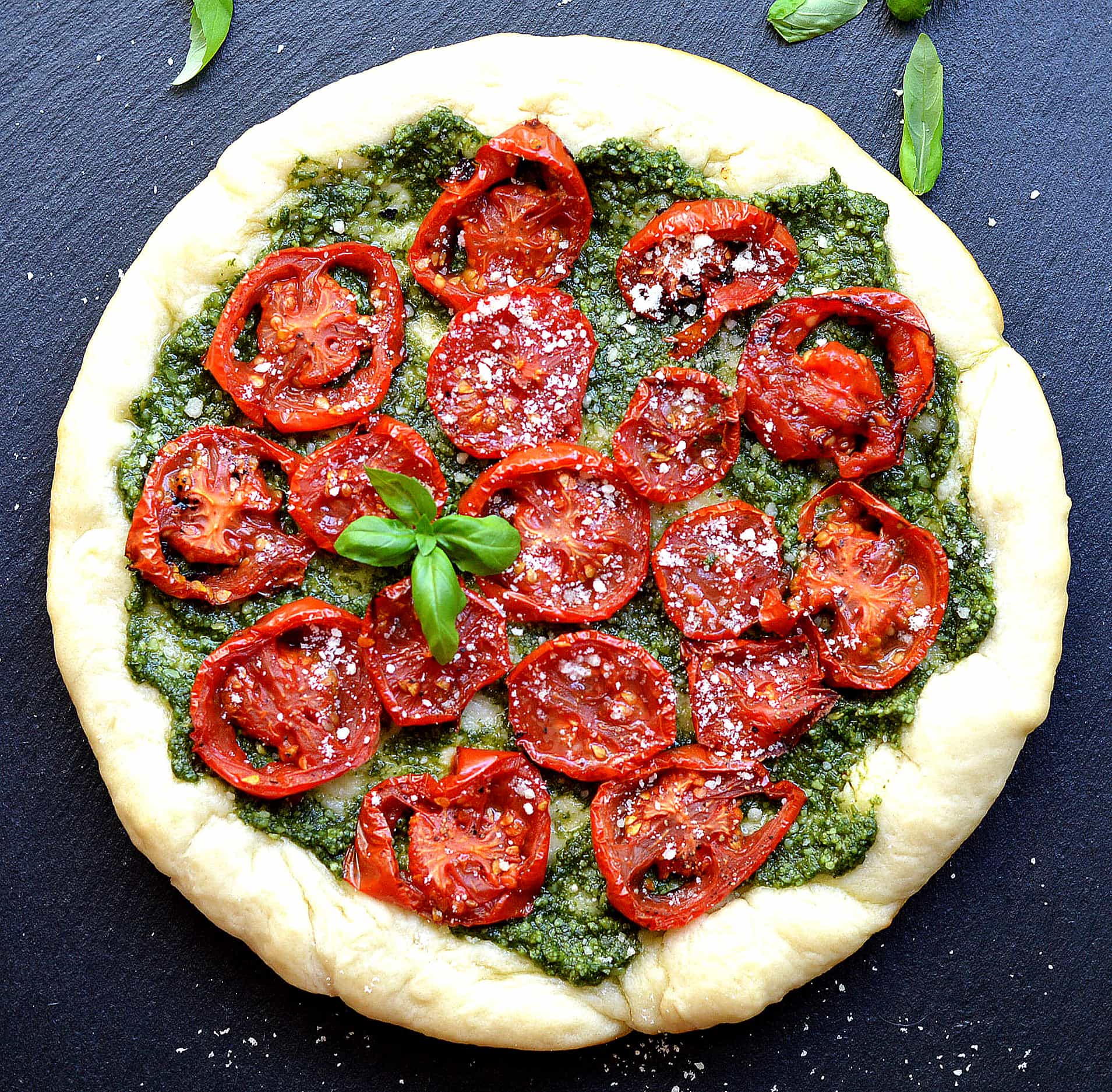 If you make this recipe for Pesto Pistou Pizza Bread, leave me a comment below. I'd love to know what you think! 🙂
Pesto Pistou Pizza Bread (Vegan)
Ingredients
FOR THE PISTOU:

About 1-1/2 C of Fresh Basil Leaves

1

or 2 Cloves of Garlic

2

Tbl of Vegan Parmesan

Squeeze of Lemon Juice

about 1/4 C of Olive Oil

Salt and Pepper to taste

*

FOR THE TOMATOES:

4-6

Roma Tomatoes

depending on their size

Olive Oil

Salt and Pepper

to taste

*

FOR THE FOCACCIA DOUGH:

OR you can use a prepared dough or crust

3/4

C

Water

room temperature

2

Tbl Olive Oil

2

C

BREAD FLOUR

not all-purpose

1

Tbl Sugar

1

tsp

Salt

1-1/2

tsp

Active Dry Yeast
Instructions
Using the dough cycle of a bread machine, process the dough. Punch down and allow to

rise in a warm place.

Spread into desired pan and allow to rise while the stove preheats.

Bake at 400 degrees for 15-18 minutes. The crust is baked prior to topping for this recipe.

You can also use a prepared dough or crust as a time-saver.

Oven-roast the tomatoes with a sprinkle of salt and pepper and a drizzle of olive oil.

Process the pistou ingredients and spread onto the prepared crust.

Top with the slices of tomato.

Sprinkle with vegan parmesan and garnish with fresh basil.

Slice into wedges and serve.
*Some of the links in this post are affiliate links.