I have been on a HUGE watermelon kick lately.  It's a great snack at just 46 calories per cup!  But there are always left overs and this Vegan Watermelon Ice Cream is a delicious way to use those up.
Making homemade ice cream may seem daunting, but it is really simple.  The hardest part is really just … waiting.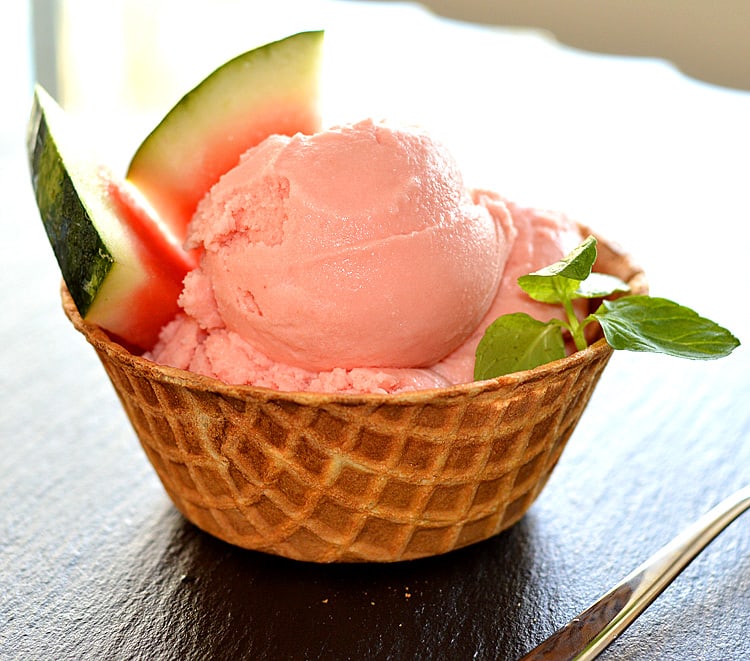 Let's make Vegan Watermelon Ice Cream!
The first step is to create our milk base.  We are of course using almond milk here.  This is not the time to use a thin, watery milk.  You want thick and creamy.  Therefore, I believe that almond milk works best.  You'll also be using canned coconut milk.
In a medium sauce pan, heat the sugar, cornstarch, almond milk and creamer (or coconut milk) over medium high heat until it begins to bubble and thicken.  For me, this took about 15-20 minutes or so.  Cool completely and then add the vanilla extract.  Refrigerate for a few hours to chill.  Remember, we want all of our ingredients to be super cold.
I always cut and cube up my watermelon as soon as I get it home, that way it's always ready to enjoy!  You are going to want about 2-1/2 C of liquid, so plan accordingly.  Each melon will have a different water content, so this make take some trial and error.  I use a high powered blender to puree which I think yields the best result.  It purees all of the pulp into liquid and even after straining, there is little waste.  We just want it smooth.
Now combine the chilled mixture with your chilled and strained pureed watermelon and pour into an ice cream maker.  Allow to churn for about 20 minutes or according to the manufacturers instructions.  It will be soft-serve at this point and is ready to enjoy.  This is the time to add in some extras if you'd like. Dairy free chocolate chips are a nice addition.
For scoop-able ice cream however, you are going to want to place this mixture into a glass dish or loaf pan and freeze a bit longer.  It helps to dip an ice cream scoop in water for more perfect scoops.
Store the ice cream in an airtight container.
I like to cut a few small wedges of watermelon for garnish and serve with a fresh sprig of mint.
NOTE: This recipe uses an ice cream maker or the ice cream maker attachment to a Kitchenaid stand mix. Alternately, you could attempt without a machine.  Begin by freezing and then vigorously beat the mixture every 30-45 minutes until completely frozen.  You could use a hand mixer or a stick blender as well. The goal is to get it as fluffy as possible if you don't have access to a machine.
If you liked this recipe for Vegan Watermelon Ice Cream, here are few more vegan ice cream recipes:
Roasted Blueberry Banana Ice Cream
Strawberry Tofu Ice Cream Cake
Watermelon Ice Cream
Ingredients
3/4

C

of Sugar

1

C

Almond Milk

3/4

C

Canned Coconut Milk

you can also use vegan creamer here

1

tsp

Vanilla Extract

1

Tbl Cornstarch

About 2-1/2 C of Pureed & Strained Watermelon Juice

I used about 1/2 of a mini watermelon
Instructions
In a medium saucepan over medium-high heat, combine the sugar, almond milk, coconut milk and cornstarch. Heat until bubbly and thickened. It will continue to thicken as it cools. Once cool, add the vanilla.

Refrigerate until thoroughly chilled.

Meanwhile, puree enough chilled watermelon cubes to equal 2-1/2 cups after straining,

Combine both mixtures and pour into an ice cream maker. Process for 20 minutes or per manufacturer's instructions.

It's ready to eat soft-serve at this point, but you can freeze for a few hours to make it scoop-able. An ice cream scoop dipped in warm water helps a lot here.

Garnish with wedges of watermelon and fresh mint.

Store in a covered container in the freezer.