Too soon for pumpkin recipes?  Nope 🙂  I love fall and am soooo ready for it.  The Arizona summers have been a brutal 108 degrees for literally weeks.  Pumpkin is my favorite flavor on this planet and fall = pumpkin, so bring on the Pumpkin Hummus with Cinnamon Sugared Pita Chips!
This recipe takes hummus to a whole new level.  Traditional chickpeas are combined with pumpkin puree (not to be confused with pumpkin pie filling) and flavored with pure maple syrup, pumpkin pie spice (don't worry if you don't have it, I provide a recipe here) and just a bit of oil to bring it all together.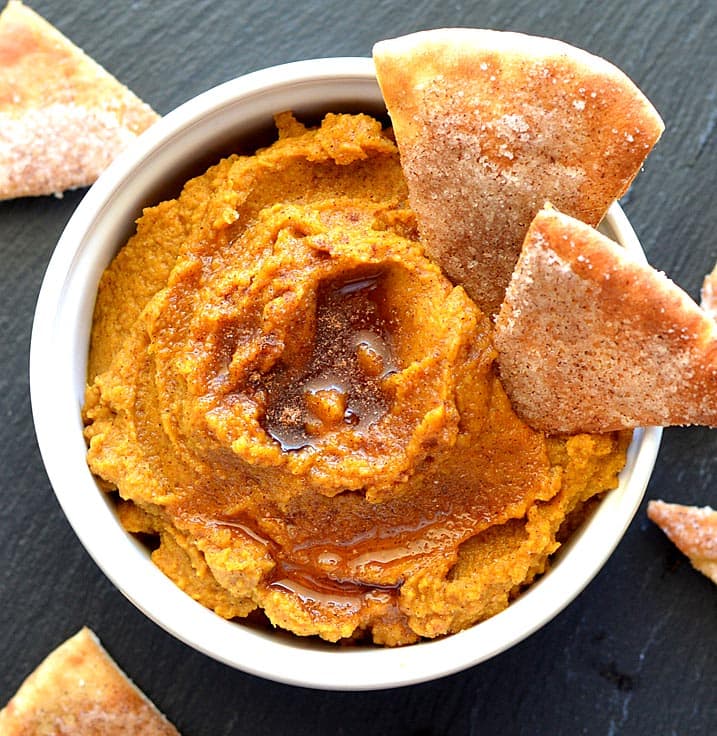 All of the ingredients are placed into a food processor and pureed until very smooth.  Depending on the power of your processor, this might take a few minutes.  Be sure to scrape down the sides a few times.
There is nothing difficult at all about this recipe however, I do want to mention that removal of the skin from the chickpeas is an absolute must in this recipe.  While they are perfectly fine to eat, they are not aesthetically pleasing in a recipe such as this one.  Just rub them between paper towels or your fingers and they slip off easily.  Don't shoot the messenger LOL But I promise, the effort is worth it in the end.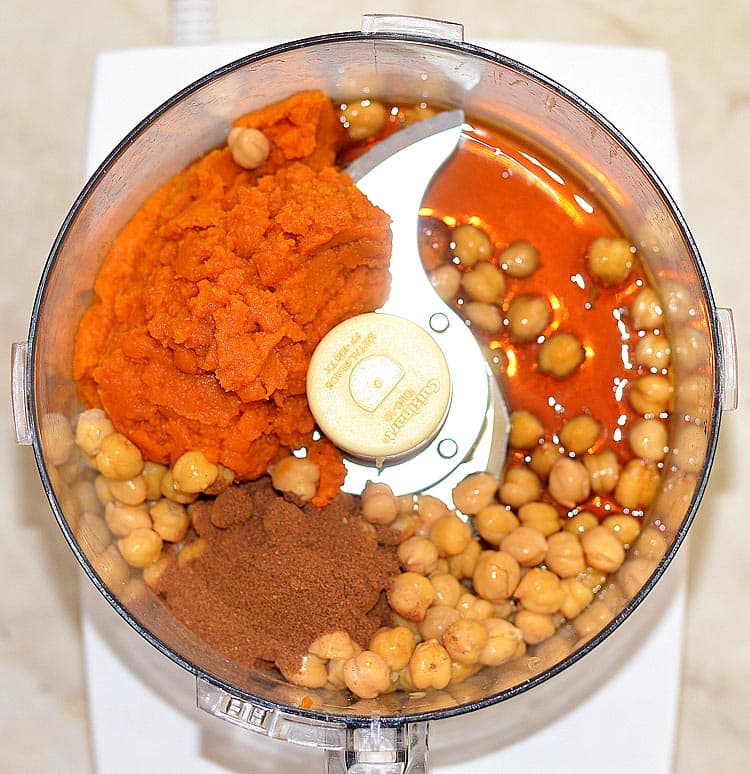 I chose to cut pita bread into wedges, brushed with a small amount of vegan margarine and gave a sprinkle of the same pumpkin pie spice that I mixed with sugar.  I like to drizzle a bit more maple syrup on the hummus prior to serving along with a pinch of the sugar mixture.  It's like dipping cinnamon toast into pumpkin pie!  Now THIS is a hummus I could love 🙂
It's an appetizer, it's a dessert…it's whatever you want it to be.  It's also really delicious and easy to make.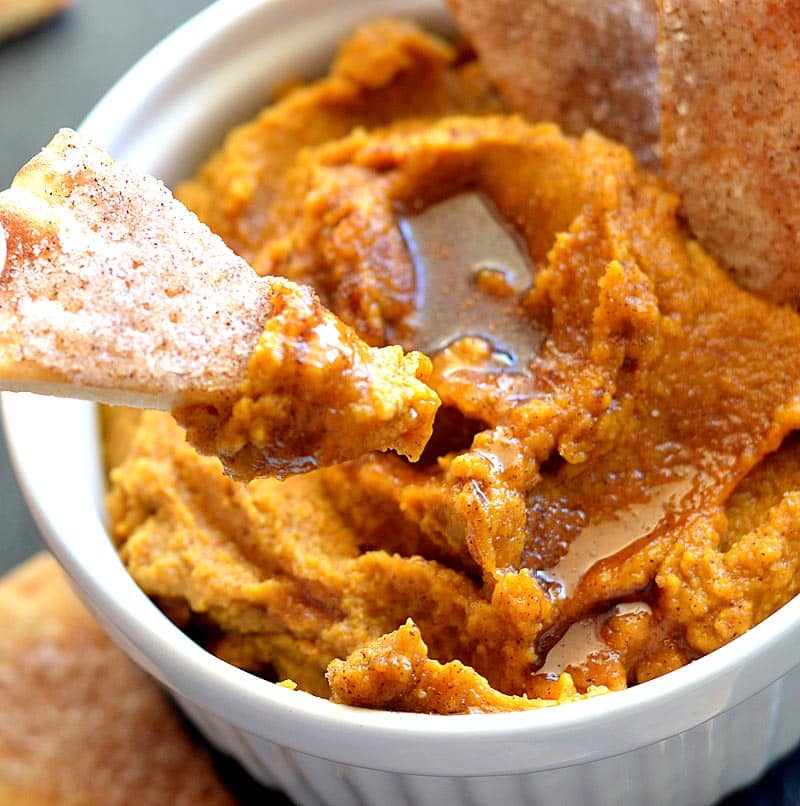 If you make this recipe for Pumpkin Hummus with Cinnamon Sugared Pita Chips, leave a comment below and let me know what you think! Did you switch up the ingredients to make it your own? I'd love to hear your variations.  You can also snap a pic and tag me on Instagram @theveglife1 so I can see 🙂
Pumpkin Hummus
Ingredients
FOR THE HUMMUS:
1

C

Chickpeas, Low-Sodium

skins removed

2/3

C

Canned Pumpkin

not pie filling

1/4

C

Pure Maple Syrup

2

tsp

Pumpkin Pie Spice

link to my homemade spice in the blog post

2

tsp

Oil

any neutral oil with little added flavor will do

1/8

tsp

Salt
FOR SERVING:
Pita Bread

cut into wedges

1

tbsp

Vegan Margarine

melted

2

tsp

Pumpkin Pie Spice

2

tbsp

Sugar

Pure Maple Syrup
Instructions
Combine sugar and pumpkin pie spice.




Cut pita into wedges and brush with melted vegan margarine. Sprinkle with the sugar mixture.

Place onto a cookie sheet into a preheated oven set at 350 degrees until golden.

Meanwhile, place all of the hummus ingredients into a food processor and blend until smooth.

Place the hummus into a serving bowl and drizzle with pure maple syrup and a sprinkle of the pumpkin pie spice.

Arrange the toasted cinnamon-sugared pita chips around the hummus and serve immediately.