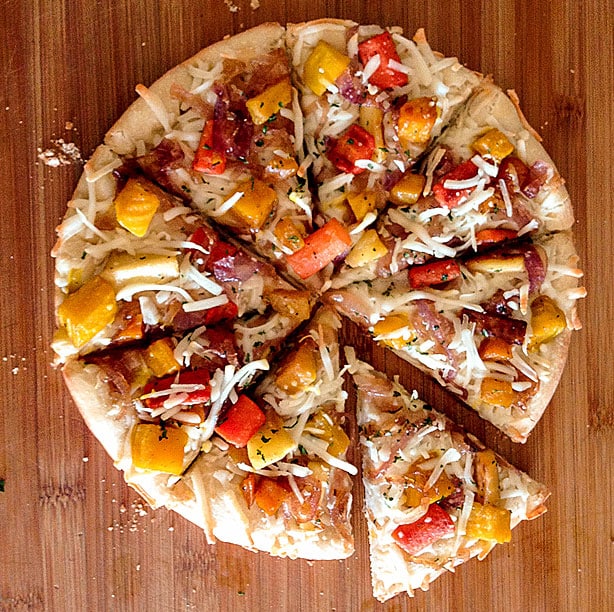 Ingredients
3/4

c

Water

a little warmer than room temperature

2

Tbl Olive or vegetable oil

2

c

<strong>BREAD</strong> Flour

1

Tbl Sugar

1

tsp

Salt

1-1/2

ts

Fleischmann's Bread Machine Yeast
Instructions
Select the Dough/Manual cycle for your bread machine. You are not baking it in the bread machine, simply using it to knead and rise the dough.Remove the dough from the machine and using cooking spray, lightly coat both the cookie sheet and the dough to keep it soft. Cover and let rise in warm place about 30 minutes or until almost double. A barely warm oven works really well.

Press into a 12" round or the shape of your pan. Cover and let rise another 30 minutes in a warm place.

Using your finger tips, make impressions in the dough — this allows your filling a place to settle into.

For the topping: Roast a mixture of carrots, parsnips, sweet potatos and red onions in 1 Tbl. Vegetable Oil and season with salt and pepper at 475 degrees until carmelized and tender.

Sprinkle the top with your favorite Vegan mozzarella (or other meltable cheese) and bake at 375 degrees for 20 minutes or until edges are golden brown and cheese is melted.
[bha size='234×60′ variation='05' align='aligncenter']