Now that I'm becoming more and more comfortable with jackfruit, I've been experimenting with new flavors and these Vegan Barbecue Pulled Jackfruit Nachos definitely hit the spot!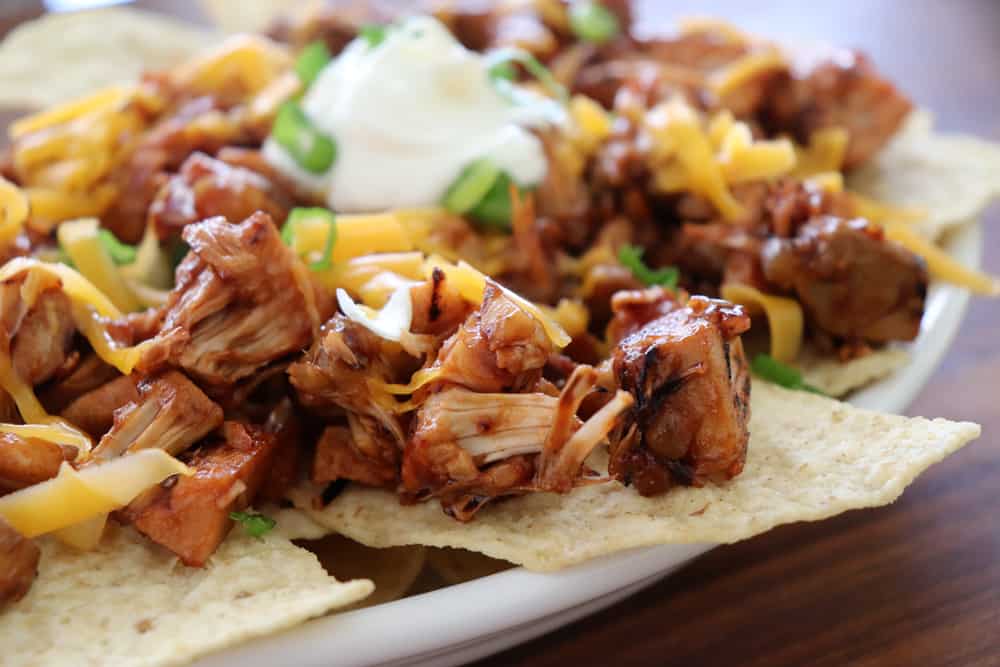 Let's prepare the jackfruit…
If you are new to jackfruit, let's get the first question out of the way. Fresh or canned? Most DEFINITELY canned and in water, not brine or it will be too salty. You need a lot of muscle and patience to cut open a fresh jackfruit (trust me and Google it!) 🙂
Drain the jackfruit, pat dry with a paper towel and using your fingers, just kind of pull apart and squish it at the same time and just like that…shredded jackfruit! Now, you will want to be sure to discard anything that looks or feels like a seed (see bottom right of this photo) and/or any of the pieces that just feel tough. If they start out tough, cooking them won't make them tender. At this time, also dice your onion.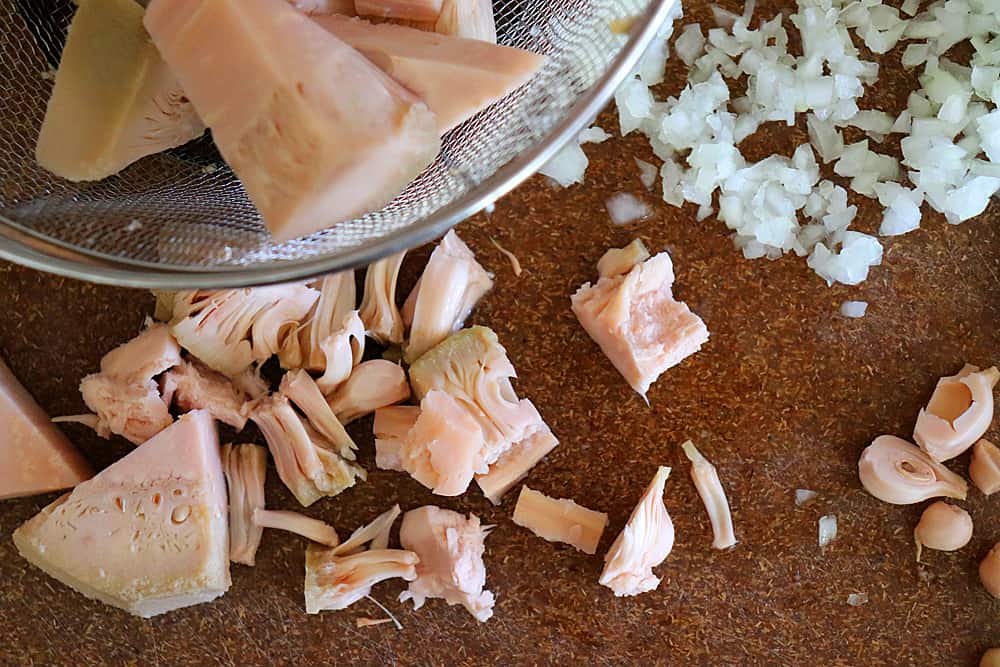 In a dry saute pan or skillet over medium high heat, cook the onions and jackfruit. It will take a few minutes for the residual moisture to cook away.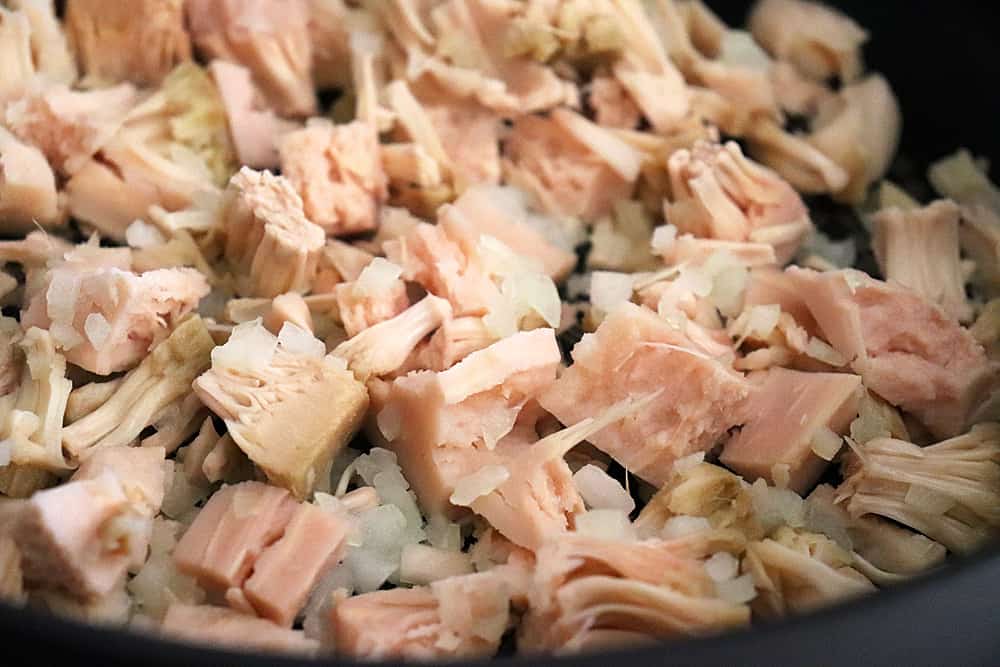 Once the onions are tender and the jackfruit is slightly golden all over, you're done!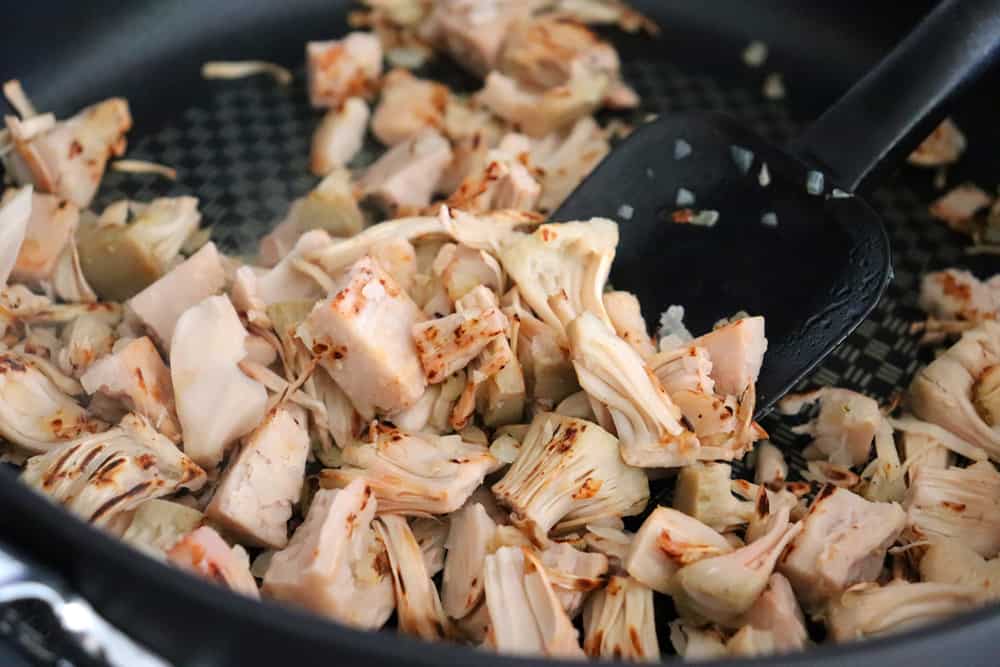 Add your favorite vegan barbecue sauce and cook until warm, about 1 minute or so will do.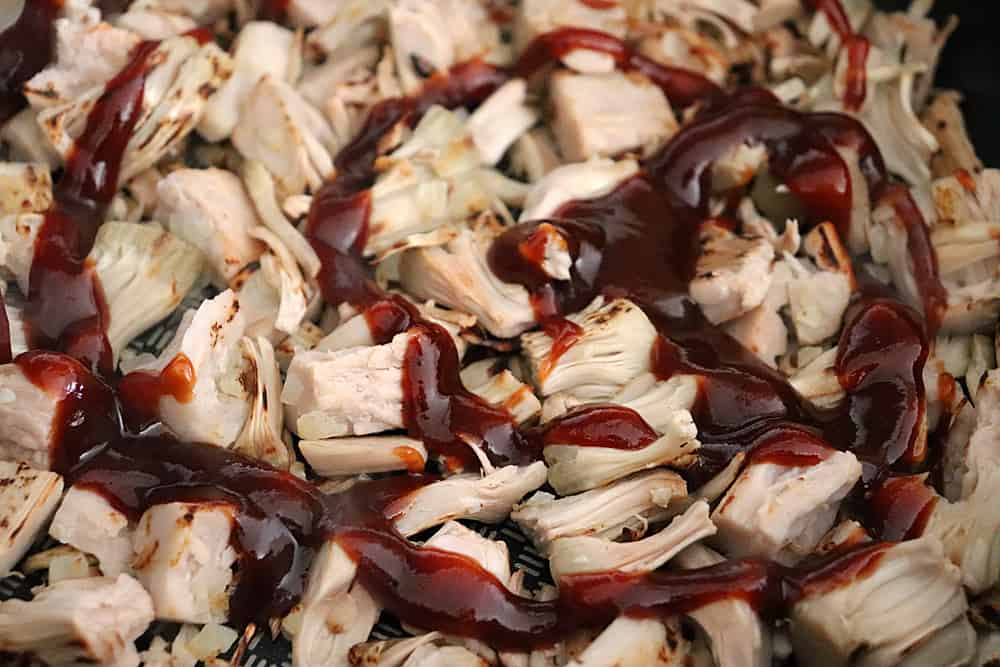 Spoon the jackfruit over the tortilla chips and top with a shredded vegan cheese. I could only find cheddar-style, but if you can find Mexican-style, that would be great here as well! Keep in mind that vegan cheeses do not generally melt the same way that traditional dairy-based cheeses do. But they still taste delicious 🙂
My local grocery store also carries vegan sour cream on a regular basis and I think it really adds to these nachos. Top with chopped green onions (also called scallions).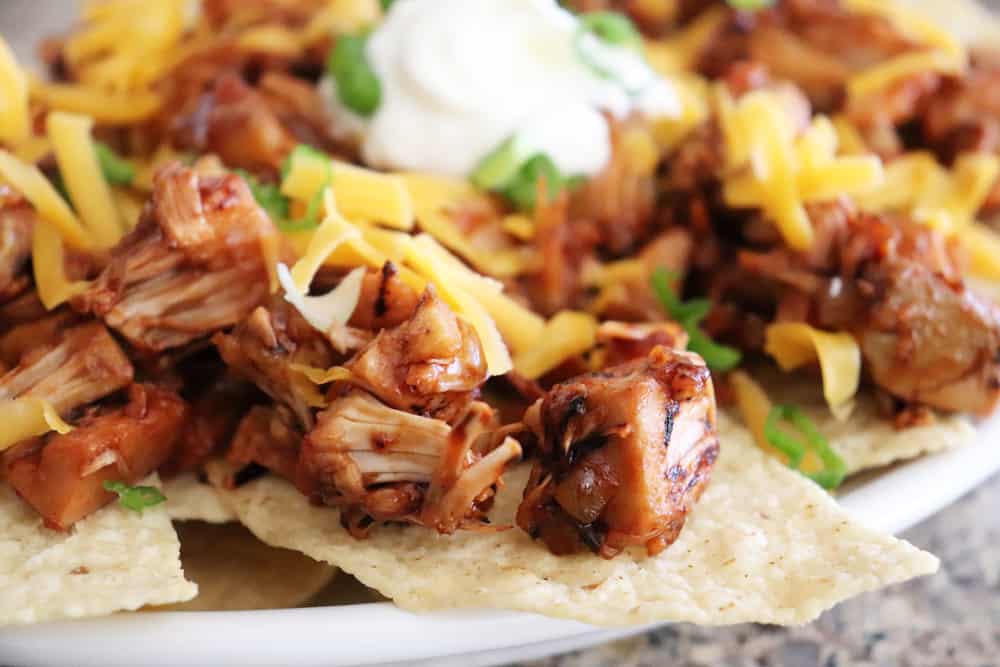 These were really simple to make and super yummy! I hope you give them a try and switch the ingredients up. Use what you love and make it your own now that you know how to cook jackfruit.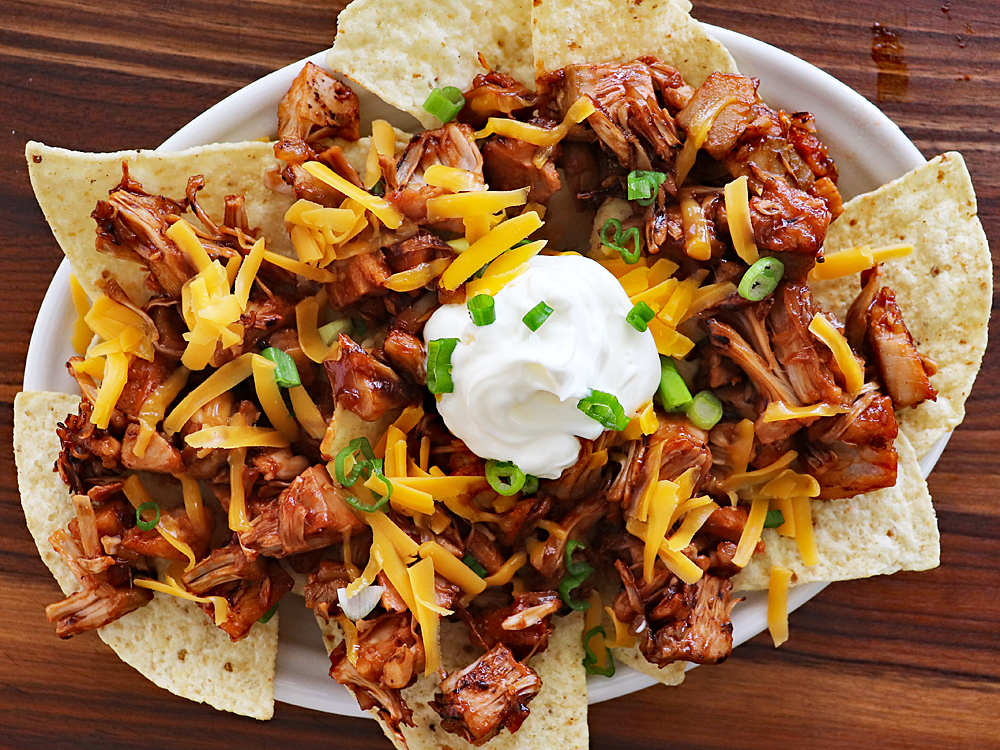 Did you make my recipe for Vegan Barbecue Pulled Jackfruit Nachos? If so, leave me a comment below and let me know what you thought. And if you enjoyed the recipe, consider PINNING it for later.
You may also enjoy some of my other jackfruit recipes, such as:
You can also head on over to our sister site, LIVING VEGAN and use the search term "JACKFRUIT" for even more recipes!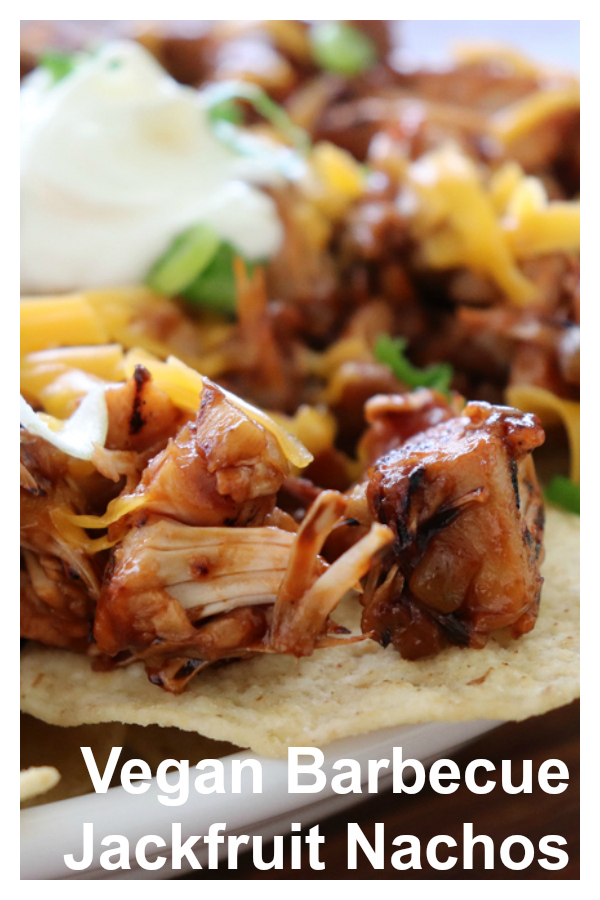 Vegan Barbecue Pulled Jackfruit Nachos
Vegan Barbecue Pulled Jackfruit Nachos
Ingredients
1/4

c

Onion

diced

1

can

Jackfruit in WATER

drained, pulled apart and seeds removed

1/4

c

Barbecue Sauce of your choosing

be sure to read the label to ensure it's vegan!

1/4

c

Vegan Cheddar Style Cheese

or Mexican blend if you can find it

2

tbsp

Vegan Sour Cream

optional, but recommended

1

tsp

Green Onions (Scallions)

chopped
Instructions
Begin by draining a can of jackfruit in WATER, not brine. Dry with paper towels and then begin to just pull the pieces apart with your fingers, removing any seeds or tough parts.

Dice the onion and add it to a saute pan along with the jackfruit shreds over a medium high heat. It will take a few minutes for the moisture to cook off at which point, the jackfruit can begin to cook and brown slightly. Stir frequently.

Add your favorite vegan Barbecue Sauce to the jackfruit and cook until warm.

Spoon the jackfruit mixture over your tortilla chips and top with things like vegan cheddar (or Mexican style) cheese, vegan sour cream and garnish with green onions.