December 16th is #NationalChocolateCoveredAnythingDay.  I'm not sure how that came to be a national food holiday, but who am I to complain about anything chocolate? 😉  So in the spirit of this "holiday" tradition, how about giving these super easy Vegan Buckeye Balls a try?
I used the classic peanut butter version to make ours, but why not great creative with your favorite nut butter.  You can even use a crunchy nut butter for a little bit of texture.  The dairy free chocolate chips are found everywhere these days.  I buy the chips from the Enjoy Life brand.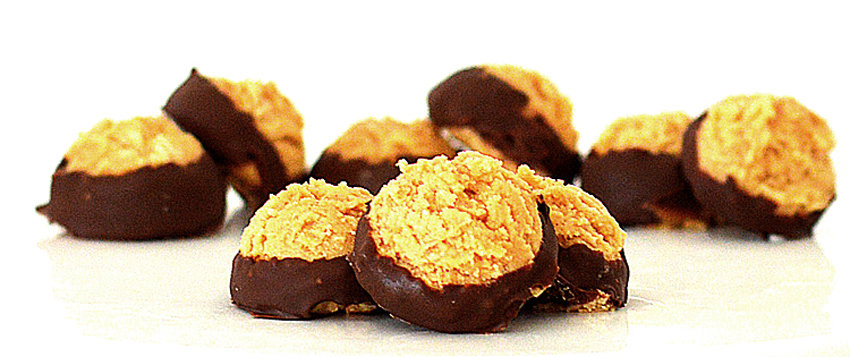 I used a small cookie scoop to form the balls rather than rolling them smooth.  I actually prefer the way they looked this way.  Once formed, they are dipped into melted chocolate and allowed to firm up in the fridge.
If you make this recipe, snap a photo and tag me on Instagram @theveglife1 🙂 I love to see what you all come up with!
You may also like….
DEC 1st – Peanut Butter Blossom Cookie
DEC 2nd – Powdered Sugar Snowball Cookie
DEC 3rd – Raspberry Bar Cookie
DEC 4th – Brownie Roll Out Cookie
DEC 5th – Holiday Biscotti Cookie
DEC 6th – Green Tea Shortbread Cookie
DEC 7th – Cherry Coconut Cookie
DEC 8th – Sugar Plum
DEC 9th – Moravian Ginger Cookie
DEC 10th – No-Bake Mint Cookie
DEC 11th – Apple Pie Cookie
DEC 12th – Soft Glazed Pumpkin Spice
DEC 13th – Thumbprint Cookies
DEC 14th – Coconut Macaroon Cookie
DEC 15th – Chocolate Peppermint Graham Cracker Cookie
DEC 16th – Pecan Raspberry Linzer Cookie
DEC 17th – Rugelach Cookie
DEC 18th – Italian Lemon Drop Cookie
DEC 19th – Chocolate Crackle Cookie
DEC 20th – Holiday Spritz Cookie
DEC 21st – Cherry Cheesecake Cookie
DEC 22nd – Peppermint Bark Shortbread Cookie
DEC 23rd – Stained Glass Cookie
DEC 24th – Half Moon Cookie
DEC 25th – Italian Rainbow Cookie
Vegan Buckeye Balls
Ingredients
1/4

C

Vegan Margarine

softened

1/2

C

plus 2 Tbl Powdered Sugar

1/8

tsp

Vanilla

1/4

C

Peanut Butter

peanut butter is traditional in this recipe, but you could improvise with any nut butter here

1/2

C

vegan Dairy Free Chocolate Chips

1

tsp

Vegetable Shortening
Instructions
In the bowl of an electric mixer, combine the margarine, sugar and vanilla.

Add the peanut butter and blend until smooth.

Using a small cookie scoop, portion onto a cookie sheet. I like to roll them and then place into the freezer for 20 minutes to firm them up before dipping into chocolate.

Melt the chocolate in the microwave on full power with 1 tsp of vegetable shortening in 30 second intervals. Stir frequently. You could also create a double boiler by bringing a pan of water to a simmer on the stove and placing a glass bowl over top. The water should not touch the bottom of the bowl at all. Stir continually to prevent scorching.

Insert a skewer or toothpick into the top of the ball & dip in-to the melted chocolate halfway up. Place onto the cookie sheet, smooth over the hole and place back into the

freezer to firm up.

Store in the refrigerator